Ten Bold NFL Predictions for the Upcoming Season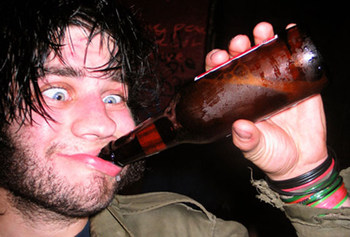 In my fantasy leagues, I'm famous—err, check that—infamous for my "bold predictions."
They typically end up as fodder for a good year-end roasting, but every so often I hit the nail right on the head.
Under the given premise of "very bold," you won't find anything that a right-minded sports fan would say. Rather, I'm trying to pinpoint the bizarre and unexpected before it happens.
Like I said, I'm not always right, but that's the nature of predictions. Besides, even Nostradamus made a few mistakes.
So without further ado, this year's 10 very bold predictions for the upcoming NFL season!
The New England Patriots Will Finish What They Started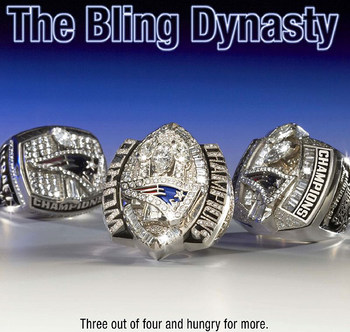 After falling just short in 2007, Tom Brady and Co. will take care of some unfinished business in 2009 by becoming the first team to ever finish a season a perfect 19-0.

Brady's return, along with the additions of Joey Galloway and Fred Taylor, will have the offense challenging its own records from two years ago.
The returns of promising young defensive talents Terrence Wheatley, Gary Guyton, and Shawn Crable, along with the continued development of young studs Jerod Mayo and Brandon Meriweather, should bolster an aging defense.
Rookie defensive backs Patrick Chung and Darius Butler (Go Huskies!) will provide immediate help in a secondary that desperately needs it.
Yes, it will be ring No. 4 for the NFL's Killer B's (Bill Belichick and Brady).
Speaking of the Super Bowl, their opponent will be...
Matt Ryan, 2009 NFL MVP
Mattie Ice and the Atlanta Falcons!
The Birds will run away with the NFC South; I'm thinking something along the lines of 13-3, as Matt Ryan ascends to the top of the NFL totem pole and has a Dan Marino-esque MVP season in year two. Look for 3,800 yards, 31 TDs, and 11 INTs.
Roddy White's continued emergence, the addition of HOF tight end Tony Gonzalez, and the rocket-powered running of Michael "The Burner" Turner will prove impossible to defend and vault the ATL into the Super Bowl
Your AFC Western Division Champion, the Kansas City Chiefs!
Chief Cassel will join Brady and Peyton Manning in the Pro Bowl this February after leading Kansas City to an 11-5 record and a division title.
Scott Pioli knows what he's doing, folks, and Matt Cassel is no fluke. He'll be the best quarterback in KC since a guy named Montana.
Tyson Jackson, Glenn Dorsey, and Tamba Hali will flourish in the new 3-4 scheme, and linebackers Mike Vrabel and Zach Thomas will add much-needed leadership to a linebacking corps that's just waiting to unleash its talent.
Oh yeah, and speaking of the Chiefs...
Larry Johnson Will Return to All-Pro Form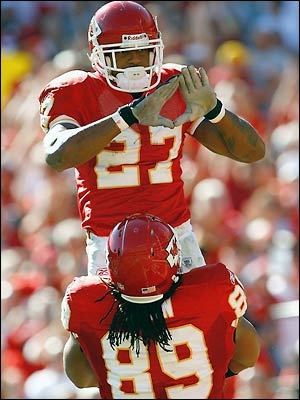 LJ will be throwin' up the Roc-A-Fella sign with increased frequency this year.
Cassel's ability to open up the offense through the air will create more lanes for Johnson to run through, and after a couple lackluster seasons, he'll be back with a vengeance.
Look for 1,500 yards and 14 or so TDs, good enough to finish second to Tom Brady in the Comeback Player of the Year voting.
Mike Vick Will Sign With Minnesota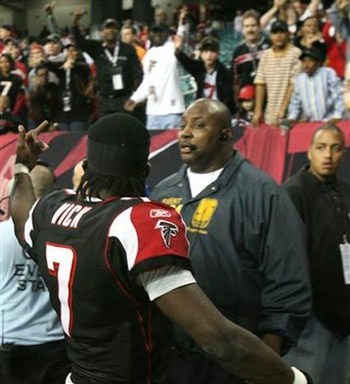 I can see the headlines now...Minnesota Vicking! Vick to Vikes!
Sometime around Week Four, the Vikings will realize that Sage Rosenfels is terrible—so bad that even handing off to Adrian Peterson 30 times a game can't hide it.
Notice I didn't say Brett Favre. I think he stays retired this time.
Vick (seen here exchanging pleasantries with fans) can't play until Week Six, which gives the Vikes a little extra time to woo him, to make sure he's not going to be a problem, and to recruit the Baha Men to perform "Who Let the Dogs Out?" live during his first home game.
With Vick, AP, and occasionally Percy Harvin in the backfield, Minnesota would have a whole array of attack options and keep defenses on their heels all season.
The Houston Texans Will Earn Their First Playoff Berth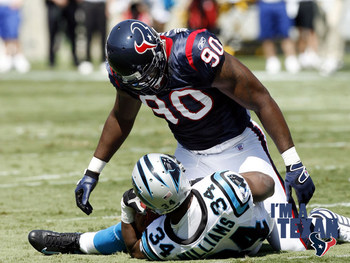 Finally, years of drafting high will pay off!
If Dunta Robinson returns healthy, that defense will be scary good with Super Mario Williams, Amobi Okoye, DeMeco Ryans, Cato June, and rookie Brian Cushing.

Offensively, the Matt Schaub-Andre Johnson duo will be among the league's best and Steve Slaton will be everything we all thought Reggie Bush was going to be. I also expect big things from WR Jacoby Jones.
Houston will represent the AFC as a Wild Card.
On a side note, Dan Orlovsky WILL get some playing time, and he WILL NOT sprint out of the back of the end zone.
In Fact, Only One of Last Year's AFC Division Winners Will Make It This Year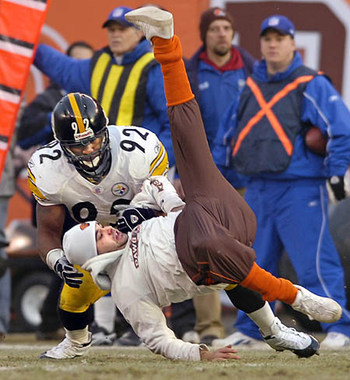 That would be Pittsburgh. And James Harrison (seen here laying the smackdown on a drunk fan), no, Barack Obama won't invite you to see him once the Colts end your season on your home turf.
No Albert Haynesworth and no QB to speak of means no playoffs for Tennessee. Chris Johnson and LenDale White will be just fine, probably racking up 2,000 yards between them, but there's only so far you can go when your philosophy is "run hard, then run harder"—especially when trying to keep pace with Indy.
Kerry Collins will be back on the sauce by Week Nine, forcing Vince Young to step in and immediately break down, weeping in the huddle because he hasn't looked at a playbook since high school.
Bye-bye San Diego and Miami. Those divisions belong to KC and New England, respectively. Forget about the Wild Card; look no further than the aforementioned Texans and a mystery team. Details to follow...
The Oakland Raiders Will Snag a Wild Card Spot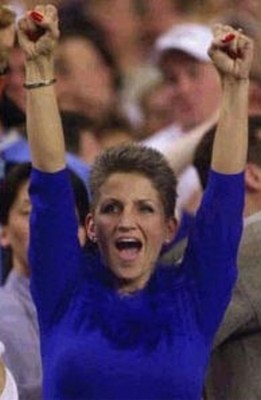 That's so crazy it just might work!
Al Davis making personnel decisions is like the Ghostbusters crossing streams...it's bad. Except when Gozer comes to town and desperation kicks in.
Now, I don't know if Kurt Warner's wife will be at the Coliseum this season or not, but desperation has definitely kicked in.
Davis has crossed the streams, and there's definitely a very slim chance the Raiders will survive. 9-7 or 10-6 oughta get it done.
Matthew Stafford Will Be an Instant Success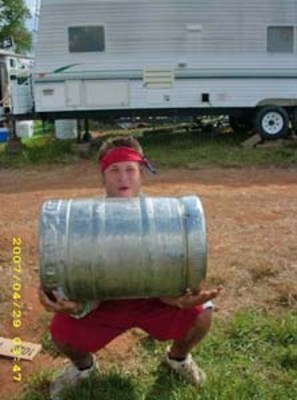 I'm not totally crazy. The Lions will still be lucky to win six games, but their offense will be just fine.
Stafford (seen here putting in some extra weight training on a weekend; talk about dedication!) has the luxury of Calvin Johnson, who is about to kick his HOF career into high gear, and an underrated Kevin Smith to take the load off his shoulders.
Anytime your team doesn't need you to be the best player on the field, it helps a rookie QB. Throw in the fact that Detroit will be playing a lot of catch-up, and I don't think 3,400 yards and 22 TDs are out of the question.
Think Peyton Manning circa 1998.
DeMarcus Ware Will Break the Single-Season Sack Record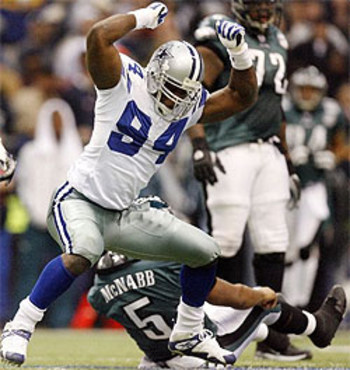 Move over Michael Strahan—there's a new kid on the NFC East block!
Ware was a disruptive force last season, leading the NFL in sacks with 20. I say he only gets better this year and finishes with 24, besting Strahan by 1.5 and putting the record firmly out of reach for the next 10 years.
For the record, I LOVE the Donkey Kong pound being exhibited here.
Keep Reading