CFL: Week Five Preview, Who's Hot and Who's Not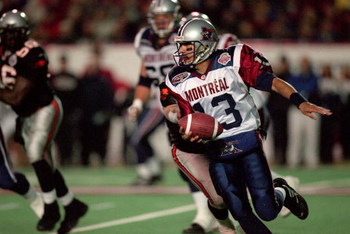 With four weeks in the books, the CFL seems to be very tight this year with no one taking charge of their conference asside from Montreal in the East. There are currently five teams who have a 2-2 record, the Calgary Stampeders, Saskatchewan Roughriders, Edmonton Eskimoes, Toronto Argonauts and the Hamilton Tiger-Cats. There is a three way tie for first in the West, and Montreal currently leads the East with a 4-0 record, and I don't see that changing anytime soon as they have been near flawless in their first 4 games. Going in to week five, Calgary seems to have regained their Grey Cup form and seem to be the team to beat in the West.
Game One: Montreal at Edmonton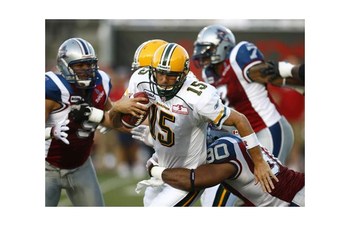 Coming into this week, the Montreal Alouettes are 4-0, and the Edmonton Eskimoes are 2-2. In their first meeting of the season in Montreal, Edmonton was embarassed in a 50-16 beat down given to them by the Als. The Eskimoes are coming off a big comeback win over the Roughriders at Mosaic Stadium and they are looking to turn the tide on the Allouettes.
Don't count on it.
In their last game, the D-Line of Edmonton embarrassed the offensive line of the Riders. Rider QB Darian Durant had no time to pass whatsoever, especcially in the second half, but I wouldn't count on the Eskies to be able to do that to Anthony Calvillo.
Montreal has arguably the best offensive line in the CFL and the best quarterback who rarely holds on the the ball for more than three seconds. Anthony Calvillo leads the league in completion percentage (minimum 3 attempts), yards passing with 1283 (over 200 more than second), touchdown passes with 7 and has the fewest interceptions of all quarterbacks who have thrown over 100 passes.
Ricky Ray isn't having nearly as good of a season, but finally seemed to be able to move the ball well against the Riders with the help of his running backs. Edmonton had their best offensive outing of the season last week and are hoping that they can continue on with their momentum and upset the Alouettes.
My pick: Montreal Alouettes
The Als are just to strong of a team than Edmonton and have nearly no flaws. They are much more balanced and will dominate the lines in this game which will leave them with a win.
Game Two: BC at Hamilton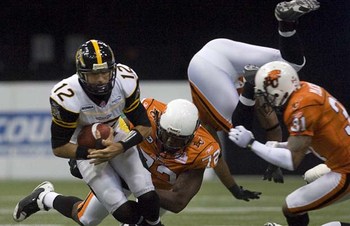 Hamilton is a very much improved team from last year. They have had one of the best starts to the season than they have had in a long time and have already gone into BC Place once this and taken down the Lions, which has been a very tough thing to do in recent years.
The Lions on the other hand, are in a complete opposite situation tha the Ti-Cats. Ever since I have started watching football, the BC Lions have always been a legitimate Grey Cup contender, and were a powerhouse in the West. This season, the Lions have started out the season 1-3 with their only win coming against the Edmonton Eskimoes who are equally weak. This season, I think the Lions, Eskimoes and Riders are all weaker than they usually are and are near identically unbalanced teams. They don't all have the same problems, but are all equally not good.
Both of these teams have a quarterback controversy of sorts, but Hamilton is a lot less of a problem. Hamilton has two quarterbacks, Quinton Porter and Kevin Glenn. Both are good quarterbacks, but Quinton Porter is an up and coming quarterback who looks as though he will be a star in the league once he gathers more experience. Glenn, is a veteran and former Eastern M.O.P. and is backing up and mentoring Porter, but is still ready to come in and lead the offence if Porter is struggling.
BC's quarterbacking situation is a lot less sound and controlled. Buck Pierce and Jarious Jackson are both around the same age (Pierce 28, Jackson 32) so there won't be too much mentoring going on. Pierce has started all the games, but because of some injury problems, Jackson has had to come in and has done a much better job. Jackson lead BC to their one win, and was the offensive player of the week. BC's coach and GM Wally Buono has decided he is sticking with his starter and going with Buck Pierce, despite the cry of Lions fans wanting Jackson.
My Pick: Hamilton Tiger-Cats
Hamilton is a very much improved team while BC is going downhill. I think home field advantage will be big in this game and Hamilton will come up with the win at home.
Game Three: Winnipeg at Toronto
This is the only back to back rematch in week five, and will have a old face coming back to Toronto. It was announced yesturday that the Winnipeg Blue Bombers have signed QB Michael Bishop, who used to play in Toronto. Last season, Bishop spent half the year backing up Kerry Joseph in Toronto before getting traded to Saskatchewan where he and Ken Miller sent the Rider season flying downhilll.
Toronto is one of the five 2-2 teams so far and to me look like the third best team in the East. They have a former M.O.P. in Kerry Joseph and have a very good team who has a receiving core who is decimated by injuries. Arland Bruce has been set aside with disciplinary problems and will probably be traded, and all other starters other than Reggie McNeil are injured.
Winnipeg had a terrible start to the season going 1-3. Coach Mike Kelly hand picked quarterback Stefan Lefors thinking he could lead the team to a Grey Cup. Kelly also said that he would rather have Lefors than any other quarterback in the league. That didn't work out so good. Yesterday, the Bombers signed Michael Bishop, who is expected to start, hopiing he will lead there offence forward.
My Pick: Toronto Argonauts
These teams are farely equal, the differance, quarterbacking. Kerry Joseph is much better than Michael Bishop, especially a Michael Bishop who doesn't know the Bomber offence very well.
Game Four: Saskatchewan at Calgary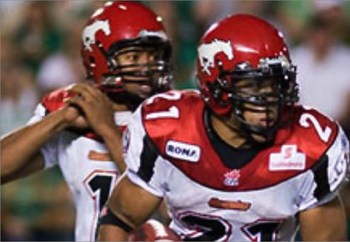 Finally, we get to the game I am most excited to watch, the Saskatchewan Roughriders visit the Calgary Stampeders. Both teams are 2-2 to start the year but have got there in different ways. Saskatchewan started the season 2-0, looking good being first place in the West, then dropping their last two. The Stamps have done the opposite, having a Grey Cup hangover and losing their first two, but are looking great now after winning their last two games by a combined 73 points.
The Riders are full of problems. Coaching and play calling has been terrible, offensive line decimated my injuries, bad defensive tackles, young and inexperienced QB etc. The Riders will be getting back veteran offensive lineman Gene Makowski back from injury this week that should boost their protection. The Riders despreately hope to turn around their slide and regain first place in the West with a win.
Although they had a very slow start, the Calgary Stampeders have finally regained there Grey Cup form and are hoping to gain the prestige of first place in the West for the first time this season. Henry Burris has looked fantastic in his last two games. He has combined for 511 yards, 4 touchdowns and no interceptions.
My Pick: Calgary Stampeders
These two teams are headed in two different directions. The Stampeders have way less problems right now, that combined with it being in Calgary, will have the Stamps come away with a victory in week five.
Keep Reading