Tilden, Federer, McEnroe, and Others Serve Greatest Tennis Draw Imaginable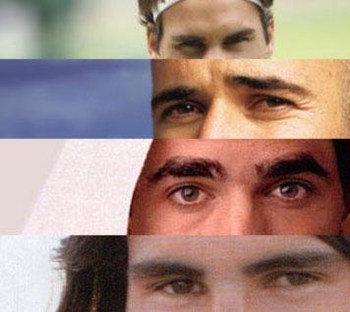 To paraphrase the Righteous Brothers: If there's a tennis heaven, it's got a hell of a club.
In late November, I wrote "Tennis' Tech-Free Five," in which I speculated as to which five players from a bygone era I'd like to see equipped with modern technology.
In mid-January, the piece entitled "Tennis: Talkin' Bout this Generation" imagined players from today I'd like to see taking on past players with similar records.
This, my 100th article on Bleacher Report, is a combination of the two ideas: Let's take some greats of the past and imagine them up against some of the best of more recent times, but employing today's equipment and technique.
Who wins? Well, use your imagination.
The Main Event: Different Definitions of 'Greatest'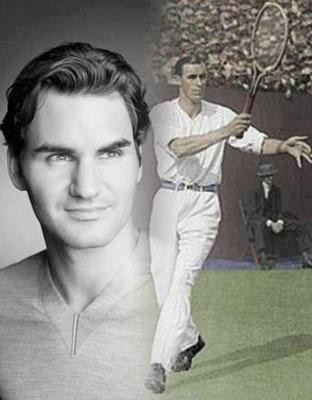 "Big Bill" Tilden vs. Roger Federer
How They're Alike: "(He) added bewildering change of pace...and all manner of over, under and lateral spin. Under (his) transforming touch, tennis has become a smashing, dynamic test of speed and power where stamina and quickness of brain, courage and the closest psychological probing for the weakness of opponents must all be fused into the mental and physical makeup of a champion."
The above passage was used by Marshall Jon Fisher in "A Terrible Splendor" to describe how Bill Tilden took tennis in the 1920s, then a form of expensive recreation, and turned it into an athletic contest people would pay to see.
No man has ever dominated the sport to the extent that Tilden did, nor has any tennis player ever done more, through both his play and his written legacy, to advance the sport.
Decades later, Roger Federer would apply a similar level of invention, offering an alternative to a seemingly endless wave of hard-hitting baseliners.
In doing so, he has shattered the game's most prestigious records, and given little indication that he's finished yet.
While Federer's is the highest-quality tennis product yet produced, after studying today's players, I wouldn't be surprised if Tilden had some more new ideas to introduce.
How They're Not: While his strokes are among tennis greatest spectacles, Federer's mentality is pure business. Tilden, however, was a consummate showman: He patronized linesmen, the umpire, the crowd, and even his opponents to give fans more to watch. He intentionally lost games and even whole sets to keep them in their seats.
It's doubtful he could get away with that against modern competition, but how else might his circus mentality manifest itself?
Why We Want to See Them: These two men of nearly identical height had similar stature in the game during their peak. Born and raised in similar conditions, who would inspire the most awe?
Surface of choice: Grass would probably be the best venue to display their on-court prowess.
Pride of the Yankees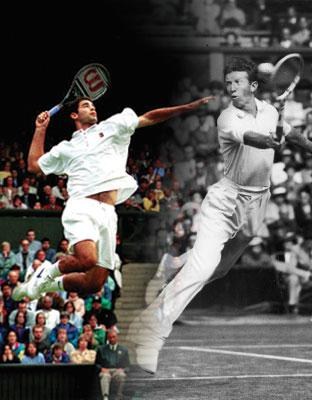 Don Budge vs. Pete Sampras
How They're Alike: These two sons of immigrants to America grew up in middle class households before becoming tennis royalty. Their backhands were the first great shots they developed before they become well-rounded powerhouses with among the biggest serves (and the very best second serves) of their day.
Both were the dominant players of their eras, known just as much for their consistency and mental strength as they were for their talent.
How They're Not: While Sampras increasingly relied on his forehand as he grew into a better player, Budge's backhand remained his best groundstroke.
Budge's career was also greatly hampered, first by his service in World War II, and then by the shoulder injury he sustained during the conflict.
Why We Want to See Them: In the proud tennis history of the United States, four names stand above the rest. From a chronological perspective, the first, Tilden, was in the previous slide. The third will be in the next, but the second and fourth are here.
If both are healthy and the surface isn't too fast, this looks to be a timeless contest of all-court tennis.
Surface of choice: Both were tremendously accomplished on grass, but a slow hard court might be the best place for them to show off their full range of shots.
The Pure Power Players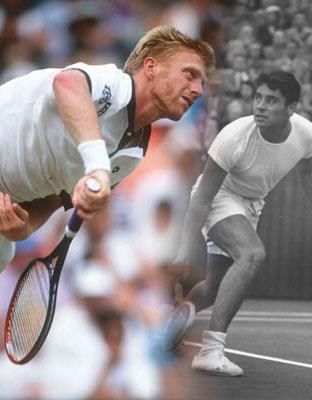 Pancho Gonzales vs. Boris Becker
How They're Alike: At 6'3", both of these men were huge servers but their size belied their natural athletic ability. Both were fierce competitors who became stars at a young age and remained a threat at majors more than a decade later.
How They're Not: Becker's career doesn't fare well in comparison to Gonzales, who was the world's No. 1 tennis player for eight years.
Among the factors contributing to this is that Becker was much more prone to discouragement, especially in the early half of the '90s, than Gonzales, who even Jimmy Connors saluted for his ferocity.
Why We Want to See Them: Their results may be divergent, but the idea of seeing either of these bruisers playing with modern equipment ought to make a tennis fan's mouth water.
Surface of choice: Boom-Boom might like his chances against anyone on a fast indoor court, especially in front of German fans, but Pancho would definitely wouldn't back down.
The Best Hands in the Business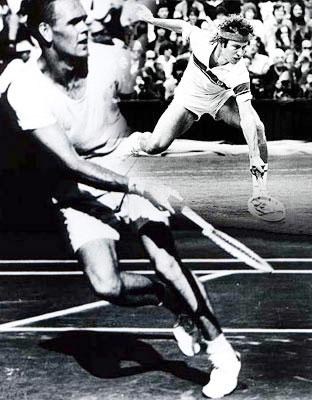 Jack Kramer vs. John McEnroe
How They're Alike: Both applied tremendous amounts of spin to their serves, which better enabled them to close in on the net and put their magic hands to work.
During the time when they were the No. 1 players on tour, their smothering net play denied baseliners the time to play the game they wanted.
How They're Not: Kramer was right-handed, and of course McEnroe was not. Kramer also was not known for a temper of the sort for which Johnny Mac was, and that may have contributed to him staying No. 1 for a longer period of time.
Why We Want to See Them: In the 1940s Kramer, one of the hardest servers of his day, discovered that hitting heavy-spinning first serves allowed him to put more first deliveries in play, and also provided more time to reach the net.
In the process, he became the first pure serve-and-volleyer; the first top pro to attack on both first and second serves.
Three-to-four decades later, this style of play reached its zenith when McEnroe, through his devilish left-handed service delivery and immaculate feel at net, posted possibly the most dominant season of any male pro in 1984.
A match between these two would surely be a masterclass on service placement, spin, and touch at net.
Surface of choice: Grass, of course.
The Baseline Battle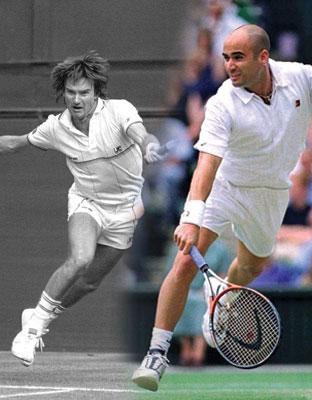 Jimmy Connors vs. Andre Agassi
How They're Alike: As the two best returners of serve in the history of the game, Agassi and Connors are perhaps the two men most responsible for the way tennis is played today.
Neither was a great server or volleyer, but their ability to attack the return and take their groundstrokes that split-second earlier than opponents was revolutionary, and made both men No. 1 in the world for a time.
Furthermore, the ability to consistently keep the opponent on the defensive paid long-term dividends, as both men won majors in their 30s.
How They're Not: Connors was seemingly born with the heart of a pugilist, while Agassi struggled under pressure early on.
In his later years, though, Double-A became known for his fitness, something Connors never was. Furthermore, he improved his serve greatly late in his career, while Jimbo's remained, for a pro, mediocre.
Why We Want to See Them: This contest is different from the others we've seen, in that these two actually have played on the pro tour.
At the 1988 US Open, an 18-year-old Agassi dominated the 36-year-old Connors, winning in straight sets. In their encounter the next year, Double-A overcame Connors in five.
Peter Bodo at Tennis.com recently speculated that Jimbo played an outdated game, with a weak serve that today's players would jump on, and a too-flat forehand that would lead to too many errors on short balls.
For my part, I think Bodo has a point, but that doesn't mean that Jimbo couldn't update his style to play today's game. If he did so, their encounter would be a classic.
Agassi has the forehand edge; Connors the backhand. Agassi serves bigger; Connors is more comfortable at net. Agassi is fitter; Connors has more fire and is more ruthless.
Who has the edge in the return game? I think it's Agassi, but they'd have to play the match to find out for certain.
Surface of choice: Agassi won six majors on hard courts to Connors' three. Jimbo won four on grass to Agassi's one.
Each player, though, has one clay court major to their credit (for Connors it's the 1976 US Open; for Agassi the 1999 Roland Garros) so let's put it on the dirt.
The Clash of Styles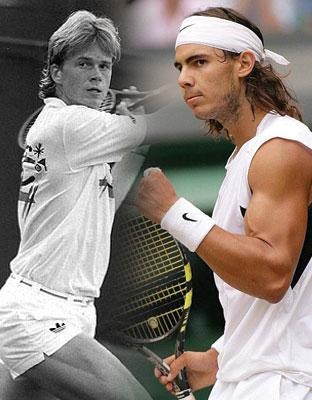 Stefan Edberg vs. Rafael Nadal
How They're Alike: Neither overpowers the opponent with the serve, but rather uses service placement and spin to set up their main weapon.
Both men are exceedingly fast and amazingly athletic, having won six majors each at three venues.
How They're Not: Just about everything else.
Why We Want to See Them: Armed with today's technology, could Edberg, at the top of his game, find a way past the Spaniard's unparalleled passing shots? Or have the new rackets, balls, and strings made Edberg's approach a relic of the past?
Edberg has surely never seen topspin like Nadal hits, but then again, the Spaniard has never faced an opponent who covers the net as doggedly as the Swede.
Surface of choice: If this match doesn't take place on a medium-speed hard court, the question remains unanswered.
In Conclusion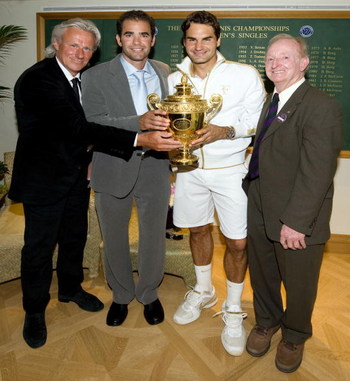 My apologies to fans of some of the game's all-time greats, Bjorn Borg, Rod Laver, Ken Rosewall and Ivan Lendl especially, who weren't omitted because of any lack of worthiness, but more because I couldn't think of an appropriate opponent from a different era.
If you can imagine a good matchup involving these players (or others), feel free to share your own imaginings on the message boards.
Keep Reading