Who Will Dethrone Lionel Messi as the World's Best Player?
Being that it's the twilight of summer means that the 2008-09 season is long done with. And while Ballon d'Or and FIFA World Player of the Year honors will not given until the end this year and the beginning of next, respectively, it's blatantly clear that Lionel Messi will win them.
The Barcelona forward stormed the footballing world as he led his side to an unprecedented feat. Barcelona were the first team to win a Spanish treble consisting of the League, Copa del Rey, and the UEFA Champions League. They were also just the second team to tally over 100 goals in a season during league play.
- 38 goals in all competitions
- Top Scorer in the UEFA Champions League
- Second highest scorer in Copa del Rey
- 4th highest scorer in La Liga
The statistics alone are enough for him to praised as the world number one. And when you consider his majestic and clutch play, along with the consistency to produce with seemingly every touch, it's impossible to really believe someone else is currently better.
Yet with a new season on the horizon the question is now who will succeed the Argentine as the globe's best player. In this slideshow, we will look at the ten men who will most likely challenge Messi for his title. Some are no strangers to the recognition, while others are poised for seasons to launch them into such spotlight. So Lionel, here's your personal competition for this season...
10. Zlatan Ibrahimovic, Barcelona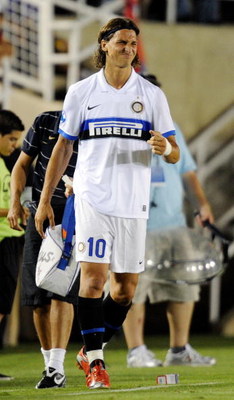 Zlatan Ibrahimovic's appearance against Chelsea in the World Football Challenge was the last time we'll see him in a Inter kit. After a player plus cash swap deal, Ibracadabra will now play for Barcelona.
Logically, Zlatan will automatically slot into Eto'o's vacant position as the center forward in Barcelona's 4-3-3. There's little doubt that he can be successful in Spain, but the wonder is if he can be as compatible with the Catalan giants as his Cameroonian predecessor.
Ibra doesn't quite work back as much and onto the wings as Eto'o did. And being a link man or instigator in constant one-twos on the back four wasn't exactly his forte at Inter. It's something he will surely have to get used to at Barca.
He does however give La Blaugrana the added dimension of crossing the ball into the box. And creativity is a department in which he certainly isn't lacking. You can also include the fact that his positioning, which often comes off as laziness, is superb and will make him a terror for La Liga defenses.
So while he may not be better for the team's overall play, he will surely be able to knock his fair share of goals in. Look for him to be a competitor for the Pichichi Trophy as a strong Barca side look for more silverware in the coming season. A new challenge and being able to legitimately compete in Europe will give the Swede inspiration to prove himself at even higher levels.
9. Cristiano Ronaldo, Real Madrid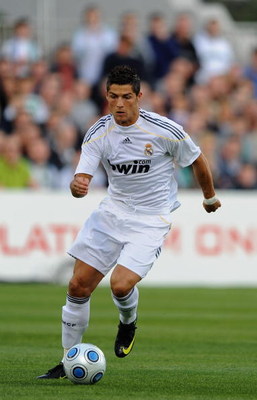 Last year's winner had a great follow up campaign despite missing the opening month of the season. Cristiano Ronaldo managed to regain his world class form and netted 26 goals in all competitions.
In a season in which he displayed his positional versatility and always-present knack for goals. It wouldn't be foolish to say that he will again join Messi at the prestigous award presentations, though he won't be in the spotlight.
It's hard to tell at the moment exactly how well Ronaldo will adjust to his new team's style of play and La Liga. The time to adjust could see CR9 temporarily fall off and not be at all considered for next year's award.
Manchester United's fast paced counter-attacking style, and even their setup towards the end of his time there, largely promoted the abilities of the winger. A large matter of importance is whether or not Madrid will do the same.
The scary thing is that he may not need them to. Look at Thierry Henry of Barcelona. Upon his move to Spain, the former center forward was forced to move out to the left wing to accommodate Samuel Eto'o.
He has been very effective creating opportunities and his own shots while playing out of his original position. Now Ronaldo, a natural winger with more ability pertaining to the position has arrived in Spain.
While the slower play may initially take some getting used to, it only seems to promote the bagful of talent he has. As likely as it is that he will flop in his debut season, it's even more likely that he'll be better.
8. Wayne Rooney, Manchester United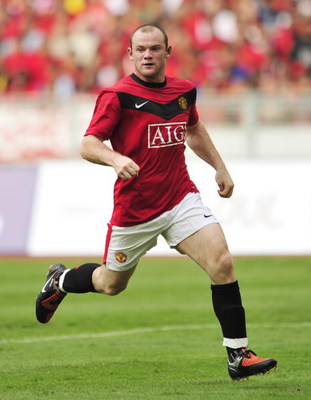 Despite playing in the shadows of others, 2008-09 was a fairly strong year for the Englishman. It's even more impressive considering he was out of position for most of it.
Following the departure of CR9 to Real Madrid, all signs point to WR10 reverting back to his favored center forward role in the United starting XI.
That happens to be the same exact role in which he's recently lit up World Cup Qualifying.
All of United's forward play will now center around Rooney. And if they are to be as successful as recent years, it will be due to a magnificent effort on his part.
We've seen a glimpse of it as he has heavily paired with strike partners Dimitar Berbatov and Federico Macheda in the preseason thus far. Not only has he shown his instincts for scoring when in the middle, but he has worked well to create chances and make an impact across the field.
Under Fabio Capello, the English side is looking as strong as ever and Rooney is a vital piece to that puzzle. It's much easier said than done, but if he can duplicate his recent national team exploits come next season and World Cup time, Wayne Rooney will be considered in the same breath as the world's very best.
7. David Villa, Valencia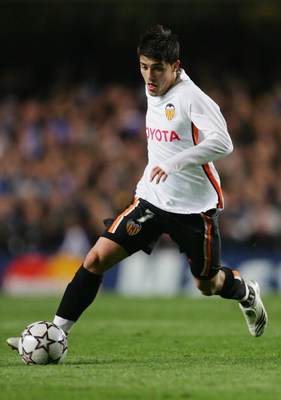 With Barcelona and Real Madrid transfers almost certainly dead, David Villa will be donning the Valencia kit for a least another year. It's not the worst thing in the world, especially for Valencia fans.
For the past couple seasons Villa has always finished near the top of the standings for La Liga's top scorer. And he's also had great performances in the Spanish national team's most recent tournaments. Those would be the 2008 European Championships and the 2009 FIFA Confederations Cup. Absolutely nothing suggests that he isn't capable of doing it again.
In Spain, Valencia's talisman will once again be the focal point of attack. His side will look push at the top on the table with Barca and Madrid and perform well within the Europa League. All the while they'll be providing their hitman with numerous opportunities to sustain his phenomenal strike rate.
On the world stage, Spain will still be touted as a favorite in South Africa next year. And Villa's partnership with Fernando Torres will be one of the reasons. He's done well over the past year to find the back of the net and La Roja will be looking for more of the same in 2010.
Both individually and in terms of his team's success, he will require strong outings on the club and international level to really be considered, but he can do it.
6. Kaka, Real Madrid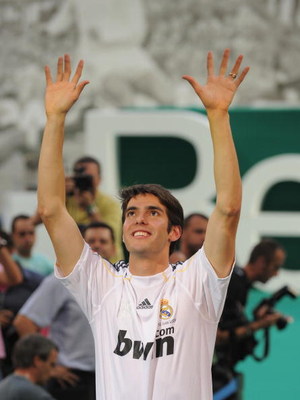 Kaka is familiar with being crowned as Europe and the world's best player. The attacking midfielder grabbed both honors in 2007 while playing for AC Milan.
Others may have passed him, but he has still performed to high level. He finished fourth as Cristiano Ronaldo claimed WPOY and will likely finish close to the top of the list when Lionel Messi wins it.
Kaka has recently played the toughest competitive action of anyone on the this list. That would be June's FIFA Confederations Cup with the Brazilian National Team. He was easily the best player through tournament and deservedly handed its Golden Ball for his efforts. He clearly seems to be back on his way to the form many have claimed he's dropped off from.
He figures to possibly settle in quicker than the other Galatico that appears on this list due to the fact that his play will likely set the tone for Madrid going forward. If somehow ineffective from the onset of a match, he knows how to become a force. With him comes all the adaptability and capabilities of Madrid great Zinedine Zidane.
It is Kaka who will offensively lead the Brazilian National Team and its rediscovered form at the World Cup. Many are now tipping the Selecao to win the title after the midfielder led them to the aforementioned Confederation's Cup.
If he can duplicate Zidane's immediate impact in Madrid and succeed at winning the World Cup where Zizou barely failed, Kaka will again be on top in 2010.
5. Frank Lampard, Chelsea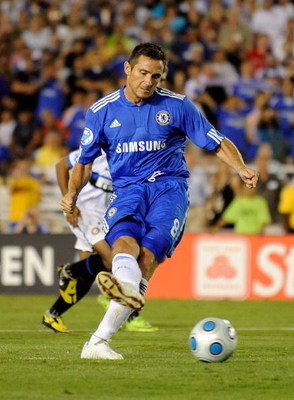 Other than the number five spot on this prestigious list (haha), Lampard is already garnering quite the compliment. New manager Carlo Ancelotti has already proclaimed the midfielder as his new Kaka.
Lampard has consistently been one of the Premier League's top players for the past four or five years. He has also come close to WPOY and Ballon d'Or triumphs, finishing second.
It seems Ancelotti's proclamation is dead serious as Lampard looks to be playing in even more of an advanced role in Chelsea's United States tour. He's adjusting well.
His play appears devoid of any traces of simplicity which have thus far hindered his game. He now looks to have the creativity and swagger for which Xavi or Messi are often credited.
A rediscovered Nicolas Anelka, injury free Didier Drogba, and new signing Yuri Zhrikov will only help him. They bring along the capability to opening space in the final third and finishing off assists.
2009 could indeed present us with the new Kaka. His impressive consistency and innate ability to remain focused come game time will once again make him a threat to top the world.
4. Franck Ribery, Bayern Munich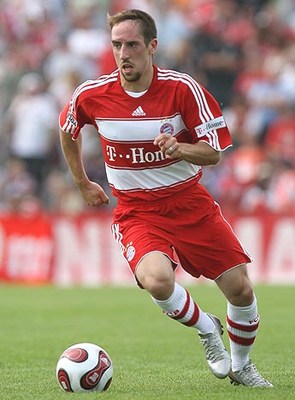 After months of transfer speculation have finally cooled, it appears the Frenchman will stay in Germany with Bayern. Another thing that will not change is his ability as one of the world's best creators.
Out of all the arguments that this slideshow will inevitably receive, the biggest could be that Ribery is much too high on this list. Such criticism will likely come from those who don't watch the Bundesliga. A quick look at his impact to the Bayern side with and without him will show his vast importance. Had he not missed the onset of the season due to injury, it's quite possible that they would've won the league's title ahead of Wolfsburg.
Fellow Frenchman Zinedine Zidane has proclaimed the player as better than both Ronaldo and Messi, denying any bias. Even if that's not the case, he'd be considered right behind them if he played in a bigger league.

Ribery will also be the primary reason for the success of both club and country in the coming footballing year. We know his importance to Munich but he also will have a strong effect on Les Bleus. This has been shown as he has scored clutch goals in all of France's last three World Cup Qualifiers.
Maybe most importantly he's going to be looking to prove he's worth any price tag that Bayern slap on him.
3. Steven Gerrard, Liverpool
As Liverpool edge ever closer to regaining the title in England's top flight, Gerrard is smack dab in the middle of it. Along with that fact, Gerrard is poised to have possibly his best chance ever to finish on top individually.
2008-2009 was a fantastic season for the England international. He led the Reds to a second place league finish behind Manchester United. In 31 league appearances he finished as the third highest scorer. And while Liverpool crashed out of Europe earlier than they would've liked, Gerrard still tied for second in the competition with seven goals in eight appearances. That two less than Messi who played 12 games.
He would've undoubtedly received the PFA Player of the Year (for the EPL's best) accolade if not for Ryan Giggs being awarded the honor on sentiment.
And in a constant struggle to make up his mind, Zidane also regarded Gerrard as the world's very best during last season ahead of Ronaldo and Messi. Even though he won't be recognized as such just yet, the Reds fresh Premiership title hopes along with their uncanny exploits in UCL will give him the opportunity.
Stevie G has also stepped up his game on the international level under Fabio Capello. His new role slightly out to the left sees him interchanging with Wayne Rooney to create and score chances. Albeit, it has been against fairly weak competition, but the platform is set for him to have an monster World Cup performance.
2. Fernando Torres, Liverpool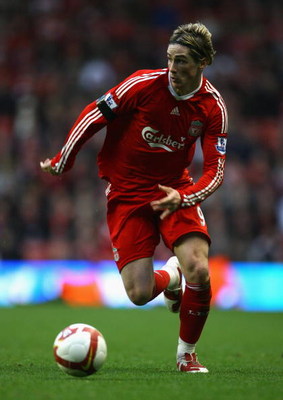 "You'll Never Walk Alone" Steven. Just off to the side of Gerrard being the centerpiece to Liverpool success is Spaniard Fernando Torres.
Torres was an absolute terror during his inaugural season in the Premiership. His debut campaign with Liverpool during any other season likely would've comfortably crowned him as the EPL's top scorer. Unfortunately, United's Cristiano Ronaldo chose to play lights out and be the best on the planet.
He also did well with he national side as Spain ended their silverware drought by winning EURO 2008. El Nino made the team of the tournament and scored the only goal in final against Germany. He ended up finishing third in the World Player of the Year standings behind Ronaldo and, guess who, Lionel Messi.
Last season wasn't so fruitful on the club level as injury kept him to just 20 league starts. He still finished fourth in the Premier League with 14 goals. How ever well he works with Steven Gerrard in 2009-2010 will largely affect Lliverpool's title hopes and each player's chances of unseating Lionel Messi.
In terms of international play in the coming year many will be looking at his partnership with David Villa. Numbers-wise it's possible that Villa will net more goals. But the more he gets essentially means the better Torres is playing.
A lot of his work up top and moving out to the wings goes unnoticed as Villa scores. The fact is that he is indeed the better and more influential player. If Spain can live up to expectations next year, this will become evident.
A healthy Fernando Torres will be a dominant Fernando Torres. And that could possibly be the best footballer on the planet.
1. No One (Hehe! Gotcha!)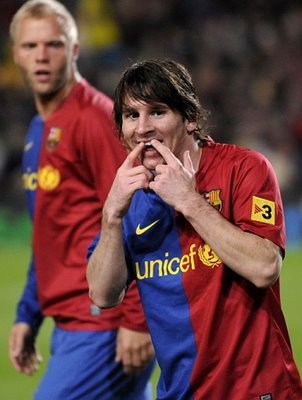 And the top candidate to replace Lionel Messi and be named 2010's best player is....(drumroll)...Lionel Messi! (No, not you Eidur, keep walking haha) All jokes aside, he really may the most logical choice.
His 2008-09 season has already been overviewed and it could all happen again. Right now, he seems to have the game in the palm of his hand much like the last guy to wear Barca's number 10 (oh, and he managed to repeat too).
He fits incredibly well in Barca's free flowing attack and more often than not shows up in the biggest of games(both El Clasicos and the Champions League Final). He often makes easy work of opponents in one-on-one scenarios. Now, we gasp 'Oh my Gosh!' when he somehow fails to dribble his way around a defender in his way.
While he may not measure up statistically to his recent effort, a largely unchanged Barcelona squad will still be looking to the Argentine as the spark for its attack. It will be interesting however to see if he can mesh with Zlatan as well as he did with Samuel Eto'o. The difference in their styles could affect his impact. In all likelihood it won't though.
The one thing that could really hamper his quest for a repeat win is the World Cup. If Messi and Argentina continue their qualifying woes during the finals (if they get to finals), his stock could drop. Especially if someone on a successful side, i.e. anyone on this list, does well.
Honorable Mention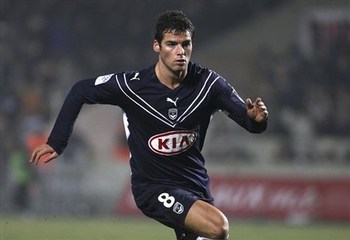 Here I acknowledge the players who barely didn't make the list.
1. Yoann Gourcuff, Bordeaux - The only reason he missed this list is because he plays in Ligue 1. That fact could easily figure into whether or not he plays top competition. After not making it at Milan in large part due to Kaka, Gourcuff found a home as the French League's best player while leading Bordeaux to the title. Will most definitely factor into France's World Cup plans.
2. Xavi, Barcelona - I sit here and wonder what is wrong with me to have not included Xavi in the top ten. Huge cog in the machines that are Barcelona and Spain. Superb vision and intelligence. Genuinely a great player but doesn't put up the scoring totals that we've seen from recent winners.
3. Iniesta, Barcelona - Wow, that Barcelona youth system is something else isn't it? Easily one of the top 5 players in terms of ball control when taking on defenders. Lacks a scoring touch and it may be because of his unselfishness. Really in the same boat as midfielder partner Xavi. Fantastic footballer who has yet to even reach his potential.
4. Diego, Juventus - Many forget how great he is with the fact that he plays in Germany and is overshadowed by big names whenever he slips into that yellow jersey. Posted solid scoring numbers as he led Werder Bremen to two German Cup triumphs (Ligapokal and Pokal) and a UEFA Cup final during his time there. A bigger side in a bigger league could soon have many singing his praises. He and fellow Brazilian Felipe Melo in the midfield could be just what the doctor ordered as Juve look to challenge domestically and in Europe.
5. Sergio Aguero, Atletico Madrid - While strike partner Diego Forlan has knocked in goal after goal over the past few seasons, Aguero was actually the better overall player. Not only has he spawned a number of chances for Forlan in a supporting role, he also collected his fair share. He scored 20 times in all competitions last season. He will also be an important player for Argentina in 2010.
6. Samuel Eto'o, Inter Milan
7. Cesc Fabregas, Arsenal
8. Diego Forlan, Atletico Madrid
9. Nemenja Vidic, Manchester United
10. Didier Drogba, Chelsea
Sleepers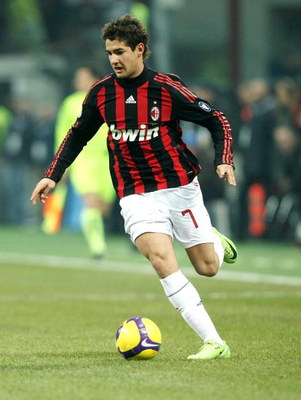 Here are the players who have the potential to burst into the picture.
1. Alexandre Pato, AC Milan - Continues to quickly improve and will easily be Milan's number one striking option. He will be fed the ball continuously and with his pace and ability to take on defenders, could really explode onto the world scene. More than just a finisher. When he has to (which he will this upcoming season), he can work in and out of the midfield and on the wings, great all around player.
2. Daniele De Rossi, Roma - Great defensive midfielder who rarely seems to make a mistake. Phenomenal at determining when to hold back and when to get involved in attacking play. If Italy can be successful at the World Cup, it will likely have a ton to with De Rossi.
3.Gianluigi Buffon, Juventus - Presence of Felipe Melo and a healthy Chiellini from the onset, and the return of Cannavaro will only bolster the defensive capabilites of Juventus. Italian national team is more likely than anything to continue on with its defensive dominance. A repeat performance of the last World Cup will definitely boost Buffon's case.
4. Ronaldinho, AC Milan - Big longshot to return to form, but they don't call them sleepers for nothing. Kaka's farewell opens the door for Dinho to once again be a club's sparkplug in attack. Could be argued that injury and weight were the only hindrances that kept him from stardom in his debut season at the San Siro. Preseason friendlies show that he may be on the right track now.
5. Robinho, Mancester City - Assuming he shows up for training sessions and matches, Robinho could be a dangerous player this season. Currently has the best chance to consistently start alongside City's multitude of talented forwards. Debut season in vastly different Premier League was productive and he should improve. With the duo of Ireland and Barry in support, things are setting up well for the Brazilian.
6. Carles Puyol, Barcelona
7. Xabi Alonso, Liverpool (Real Madrid?)
8. Lucio, Inter Milan
9. Luis Fabiano, Sevilla
10. Andrei Arshavin, Arsenal
Your Turn!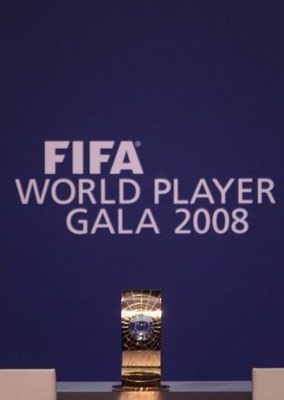 Alright, I'm sure for many of you this list is completely wrong. I've undoubtedly left out multiple great players and/or ruined the order of this list.
Heck, in my own opinion I'm sure I've left someone out.
So, please I encourage you to post your own top ten or just a top contender in the comments below. Feel free to discuss my list, or I'll be happy to comment on yours. Thank you for taking the time to view this and let me know what you think.
Keep Reading