10 Pitchers the Milwaukee Brewers Should Target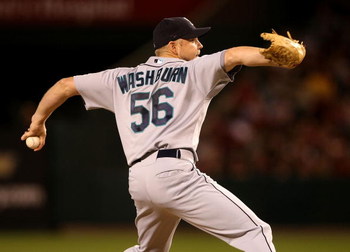 It's no secret that the Milwaukee Brewers need pitching this year if they want to reach the playoffs for the second consecutive season.
Owner Mark Attanasio and GM Doug Melvin can do one of two things in order to be playing in October.
They can either try to pull off a trade and get a top notch arm, or they can do nothing and see if the can contend in the NL Central with what they've got.
The six teams in the division are still relatively close to one other, considering it's almost August, and the crown may still be up for grabs.
When the Brewers' hitters are on, they are one of the most dangerous in the league, but the pitching just can't match the offensive fire power this season.
I don't Milwaukee will play meaningful baseball for long with the current pitchers on its staff.
So, here's a list of 10 pitchers (starters and relievers) that I think the Brewers should try to pull of a trade for within the next six days.
SP: Roy Halladay, RHP, Toronto Blue Jays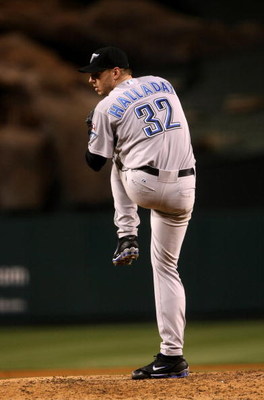 He is the hottest pitcher on the market, so why shouldn't Milwaukee try and get in the Halladay sweepstakes?
Last year, I thought the Brewers had no chance getting Sabathia, and look how wrong I turned out to be. Halladay could be the same thing.
Doug Melvin did mark prospects Mat Gamel and Alcides Escobar as "untouchable", but I have a feeling that would change if the Brewers had a shot at landing "Doc".
Reports have said that Milwaukee could work on a package that also include Manny Parra in any trade offers.
Even with a Parra, Gamel/Escobar, and whoever else in a deal, would that be enough to entice Toronto into shipping the 32-year old Halladay to the Brew City?
Halladay in 2009:
11-3, 2.62 ERA, 1.05 WHIP, 123 K, 20 BB, 141 IP, 4 CG
Career stats:
142-69, 3.45 ERA, 1948.2 IP, 1,410 K, 440 BB, 44 CG
SP: Cliff Lee, LHP, Cleveland Indians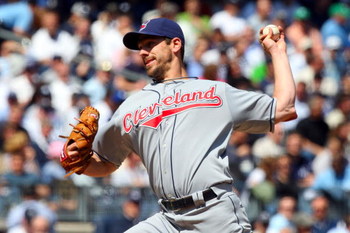 A former left-handed Cy Young winner from the Cleveland Indians is drawing interest from the Milwaukee Brewers. I know I've heard this before.
Would Doug Melvin do it again?
In this game, at the trade deadline, anything is possible.
The 30-year old Lee would provide the Brewers with a strong left-handed arm in the rotation and will bring plenty of experience to wherever he lands.
Could Lee match the performance that Sabathia did in Milwaukee?
No way. No pitcher in the game would be able to what he did, but Lee can help a struggling rotation turn things around.
Lee in 2009:
6-9, 3.17 ERA, 1.32 WHIP, 145 IP, 103 K, 33 BB
Career stats:
82-48, 1,110 IP, 822 K, 322 BB, 4.02 ERA
SP: Jarrod Washburn, RHP, Seattle Mariners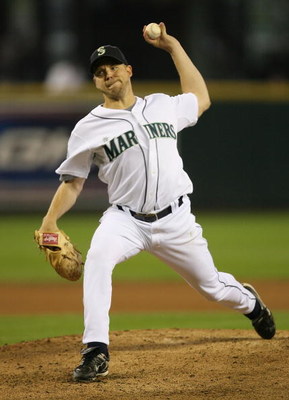 Other lefties in the trade rumors are Jarrod Washburn (along with teammate Erik Bedard). Washburn has good stuff, but just hasn't got the run support this year due to Seattle's lack-luster offense.
Seattle is still in contention out west though, but perhaps they'd be willing to part with a lefty to add some punch to their lineup.
Mariners GM Jack Zduriencik knows a thing or too about what Milwaukee's got (as a former Brewers scouting director), so a deal between the two teams might just be possible.
However, a deal will depend on two things. Can Seattle make a run in the AL West? If not, who is more expendable—Bedard or Washburn?
Despite his numbers, I think the 34-year old Washburn will be the cheaper option, compared to Lee, Halladay, and even Bedard.
Being from La Crosse, WI, I'm sure Washburn would welcome a trade that brings him back home if a deal can be done.
Washburn in 2009:
8-6, 2.71 ERA, 1.06 WHIP, 78 K, 30 BB, 126 IP, .224 opp. avg.
Career stats:
106-106, 1,813 IP, 1,081 K, 550 BB, 4.03 ERA
SP: Doug Davis, LHP, Arizona Diamondbacks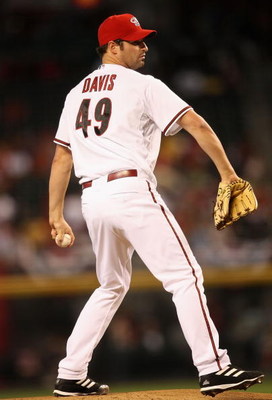 I'm still not 100 percent as to why there have been talks about the 33-year old Davis returning to Milwaukee, but let's go with it.
Davis has average stuff, and certainly won't blow you away with any of it, but he will lull you to sleep with his s..l..o..w, s..w..e..e..p..i..n..g delivery.
Perhaps that will be a plus in his second go-around with the Brewers, because his number of walks will always be his downfall.
Milwaukee needs a left-hander who is more reliable than Parra, and right now, the Brewers may be desperate for an arm.
Davis in 2009:
4-10, 3.95 ERA, 1.50 WHIP, 92 K, 59 BB, 118.1 IP
Career stats:
85-93, 1,546.2 IP, 1,115 K, 692 BB, 4.31 ERA
SP: Jonathan Sanchez, LHP, San Francisco Giants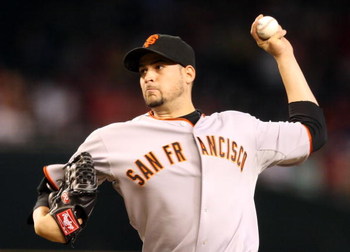 Again, Sanchez could be the more reliable left-handed arm that the Crew needs. Plus, he's thrown a no-hitter already this season.
The 26-year old might be the future of that Giants staff, but that position can't be too solidified as long as I continue to see his name in trade rumors.
His no-no did come against the hapless Padres, but still; no tweener, no duck, no ground ball with eyes, no Texas leaguer. I could go on, but you get it.
Sanchez has pretty good stuff, and a powerful fastball, but his control still needs a little work. That's were Bill Castro comes in if Milwaukee can deal for Sanchez.
Sanchez in 2009:
3-8, 4.68 ERA, 1.45 WHIP, 87 K, 48 BB, 84.2 IP
Career stats:
16-26, 5.06 ERA, 339 K, 173 BB, 334.2 IP
SP: Andy Sonnanstine, RHP, Tampa Bay Rays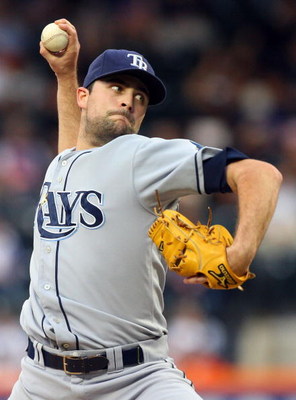 Sonnanstine's numbers are nowhere near impressive, but perhaps a simple change of scenery will do him good.
The 26-year old wouldn't bring in much experience, except for the fact that he was part of the AL Champion Rays—a team no one thought would be any good.
If Milwaukee somehow landed Sonnanstine, he might be able to gel with Yoavni Gallardo, and they could be a powerful young duo.
Sonnanstine in 2009:
6-7, 6.61 ERA, 1.53 WHIP, 50 K, 22 BB, 81.2 IP
Career Stats:
25-26, 405.2 IP, 271 K, 85 BB, 5.30 ERA
RP: Mike Gonzalez, LHP, Atlanta Braves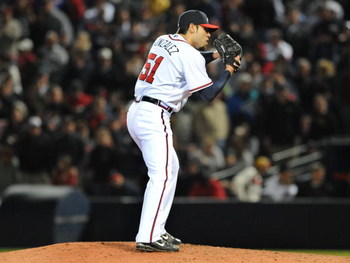 The Brewers could also beef up their bullpen with some quality arms (right or left), especially in the late innings to set up for the best closer in the game.
Gonzalez has been in both positions of set up man and closer, and that's just this season.
He has electric stuff and if Milwaukee could pull off a trade for Gonzo, he would definitely take some pressure off Mitch Stetter as the only lefty in the pen.
Plus, Gonzalez isn't just a lefty specialist; he can pitch to anybody.
The 31-year old Gonzalez's weeble-wobble motion in the eighth would be the perfect setup to Hell's Bells in the ninth.
Gonzalez in 2009:
3-3, 3.25 ERA, 1.26 WHIP, 57 K, 10 holds, nine saves
Career stats:
12-15, 250.2 IP, 297 K, 115 BB, 53 saves, 49 holds
RP: LaTroy Hawkins, RHP, Houston Astros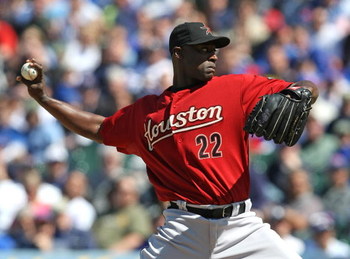 Hawkins would provide that experienced bullpen presence, to go along with Hoffman and Coffey.
Don't let his high career ERA fool you, as he was also a starter for a good portion of his time in the MLB.
Nowadays, if you give a lead to the 36-year old Hawkins, there a real good chance that he'll keep it for you. That's something that Milwaukee has been having problems with, especially with Villanueva and McClung.
Like Gonzalez, Hawkins is a prime set up man, but can also close out games if needed. I'm not sure if the 'Stros would agree to a trade with a division rival, though.
Hawkins in 2009:
1-4, 2.36 ERA, 1.24 WHIP, 30 K, 11 holds, 10 saves
Career stats:
60-81, 1,176 IP, 778 K, 392 BB, 86 saves, 118 holds, 4.56 ERA
RP: George Sherrill, LHP, Baltimore Orioles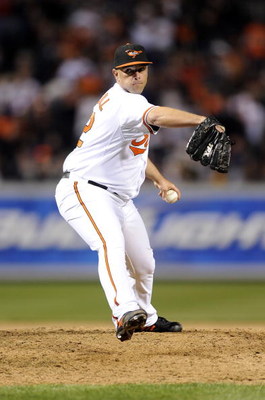 The 32-year old Sherrill is an established closer for the Orioles, but Baltimore isn't going anywhere this year, if ever, and might be willing to part with him.
Again, it could potentially bring in another left-handed arm for Milwaukee, as well as provide a very reliable set up/closer-in-a-pinch role.
What would Baltimore want in return?
Who knows, but they're most likely going younger, and the Brewers have plenty of young guys to choose from in their farm system.
Sherrill in 2009:
0-1, 2.52 ERA, 1.17 WHIP, 38 K, 20 saves
Careers stats:
13-14, 221 IP, 234 K, 106 BB, 55 saves, 51 holds, 3.71 ERA
RP: Ocatavio Dotel, RHP, Chicago White Sox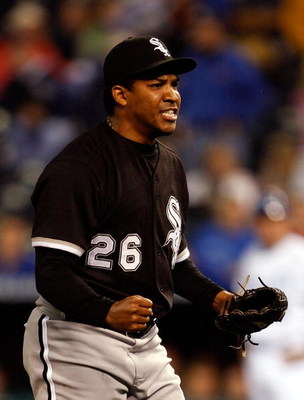 Another established late-inning guy in the mix, and perhaps a better option due to the crowded White Sox bullpen.
The 35-year old Dotel has some pretty electric stuff, and can still rev up that fastball when needed.
Like the three other relievers on this list, Dotel could also close out games if Trevor Hoffman was ever over-used.
He is a solid option out of the bullpen if the Brewers can manage to work something out with the South Siders.
Dotel in 2009:
1-3, 3.16 ERA, 1.46 WHIP, 49 K, 11 holds
Career stats:
44-39, 745 IP, 914 K, 334 BB, 83 saves, 97 holds, 3.73 ERA
Keep Reading

Milwaukee Brewers: Like this team?