Titan-ic Struggles: Seven Under-the-Radar Position Battles in Tennessee
As training camp approaches for all 32 NFL franchises, positional battles turn into huge story lines as rookie QBs battle for the starting job and new coaches settle in to their surroundings.
Tennessee however, with its history of continuity on the field and in the coaching staff, has not usually been the centre of positional controversy.
Almost all the media coverage of the Titans at the moment is focused on Vince Young's situation and the untimely passing of legendary QB Steve McNair, so training camp is not on many people's minds in Nashville.
However, in this slideshow you'll find seven low-profile yet crucial positional battles in Tennessee that could have a big impact on the 2009 season.
Position Battle One: Third-string Running Back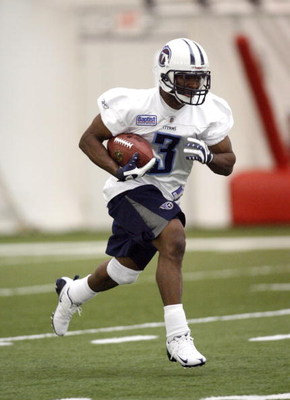 The Titans are now famous league-wide for their two-headed backfield monster comprised of the electric Chris 'Crazy Legs' Johnson and the punishing LenDale White.
These two running backs offer a deadly combination, but behind them, there is a serious drop-off in talent and experience. If one of these two backs was to go down injured (as happened against the Ravens in the playoffs last year), then someone will have to step up and fill the void.
The position appears wide open. 2007 second-rounder Chris Henry is a workout warrior who has never panned out as a runner or kick returner, and Tennessee's drafting of former Michigan State stud Javon Ringer (pictured) seems to indicate that Henry's days are numbered. The smart money says the former Arizona man will struggle to keep his place on the roster.
The job then, seems Ringer's to lose, with Quinton Ganther seen as more of a situational fullback/H-back and unproven Rafael Little injured all of last year.
However, Little could prove a bit of a surprise package. The coaching staff were high enough on him to keep him on the roster despite his injury-ruined '08 season, and all reports indicate he's tough and determined, so don't count him out just yet.
Likely position winner: Javon Ringer.
Position Battle Two: Slot Receiver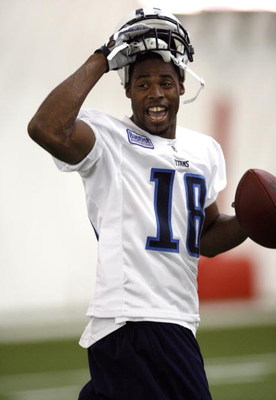 Tennessee has had a problem at Wide Receiver ever since Derrick Mason bolted for Baltimore some years ago.
Since he left there has been a void of talent at the position, with free-agents like David Givens falling way short, and drafted guys like Brandon Jones and Roydell Williams being let go.
However, Justin Gage emerged in the playoffs as the legitimate no.1 option, and free-agent acquisition Nate Washington (who was the slot guy in the Steel City) seems poised to start opposite him.
The slot position, though, is not solid and Tennessee would do well to find a safety valve for Kerry Collins for when Bo Scaife isn't on the field.
The Titans (much to your author's boundless joy) FINALLY drafted a wideout in round one, selecting Rutgers star Kenny Britt (pictured).
Despite Britt's talent and production at Rutgers, he doesn't have the prototypical size to play in the slot, and he seems to be more likely to take over as the eventual number one guy rather than play inside. Add to that the struggles that rookie WRs usually have, and Britt doesn't seem to fit the slot role well.
Chris Davis and Paul Williams have done precious little since they were drafted, and neither really has the speed to outrun corners in the way the slot receiver will be asked: both may struggle to make the roster.
That leaves second-year man Lavelle Hawkins and rookies Dominique Edison and Dudley Guice as the remaining options.
Out of these three, ex-Golden Bear Hawkins is the clear favourite. He's a smaller guy at just 5'11 and 190lbs., but he's fast, hard-working and has great hands. He had just seven receptions in '08, but he could fulfill a role for the Titans in the same way that Wes Welker does for New England or Mike Furrey did a couple of years ago in Detroit: run the shallow crossing routes and occasionally go deep to keep DBs honest.
I think the Titans' No. 87 is the leading candidate for the job, and I think the Titans will like his work ethic, talent and experience enough to give it him.
Likely position winner: Lavelle Hawkins
Position Battle Three: Center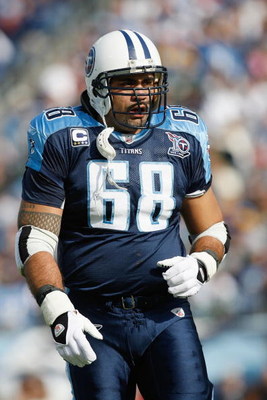 This might not be a position which many Titans fans would consider 'up for grabs', with incumbent center and team captain Kevin Mawae (pictured) having had a few good years in Music City.
However, Mawae is getting a little long in the tooth these days (he's 38 with 16 NFL seasons under his belt) and he missed a good amount of last year with a nasty elbow injury.
Mawae is a consummate pro too, and so has been helping up-and-comers Leroy Harris and Doug Datish to improve their games and challenge him.
Harris played in Mawae's absence last year, and played well. The third-year man from NC State can also play guard, but it's becoming apparent that he's a talented center and Mawae has no doubt passed on a lot of wisdom to him the last few years.
It must be said that Mawae is still definitely going to start if he's healthy, and rightly so, but if he has trouble coming back from his elbow surgery or picks up another nagging problem, Harris could easily move into his spot.
One to keep an eye on, as the center will clear the way for the punishing running attack the Titans boast and have to stop DTs like Amobi Okoye and John Henderson twice a year.
Likely position winner: Kevin Mawae (barring injury)
Position Battle Four: Defensive Tackle Rotation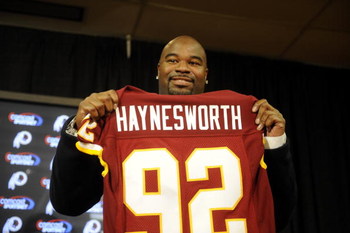 Defensive tackle has not usually been a problem for Tennessee, but since man-beast-machine Albert Haynesworth went to Washington for a pile of money weighing about the same as he does, there's a big gap.
Tennessee signed free-agent Jovan Haye and have him and returning Tony Brown tapped to fill the starting roles, but as the Giants showed when they won the Super Bowl, the rotation can be just as important as the starters.
D-line coach Jim Washburn has been making players out of nobodies for years, and should continue to groom the next generation of DTs in Nashville.
Behind Haye and Brown, second-year Jason Jones figures to be next in the rotation, with former 7th-rounder Kevin Vickerson not far behind. However, the Titans drafted ex-Auburn tackle Sen'Derrick Marks in round two this year, so he figures to compete, as does rookie free agent Mitch King from Iowa, who has apparently wowed the coaches, no mean feat in an organization famed for stout D.
King could really be the joker in the pack here, so don't be surprised if he passes Marks on the depth chart, especially if contractual holdout limits Marks' time in camp.
Likely position winners (in order): Jason Jones, Kevin Vickerson, Mitch King, Sen'Derrick Marks.
Position Battle Five: Left Defensive End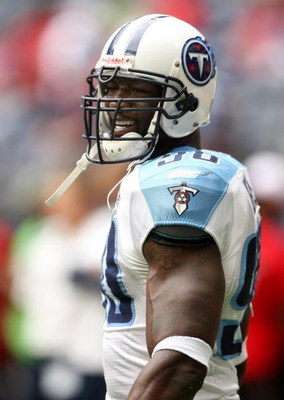 Since Jevon Kearse (pictured) came back to Tennessee last year, he's been the starter at left defensive end opposite the relentless Kyle Vanden Bosch. However, The Freak is now 32 and has had two major knee surgeries in his 11-year career, so he is not the every-down guy he was when he first arrived in Tennessee.
Last year, Kearse registered only 3.5 sacks and may now transition into a situational pass-rushing role where he could be more effective and explosive. With The Freak only in for a few snaps per series, the starting spot is open for competition.
Jacob Ford and William Hayes both saw some time last year, so they would be the heirs apparent to Jevon's spot (although Dave Ball, normally a right DE, may also have a shot).
Between the two of these, Hayes has the road-grader size (6'3, 272), but it's Central Arkansas' own Jacob Ford who's more likely to start the season. He registered an impressive seven sacks a year ago despite starting only three games, and Washburn seems to like him a lot. Ford should be the guy come Week One.
Likely position winner: Jacob Ford
Position Battle Six: Nickel/Dime Corner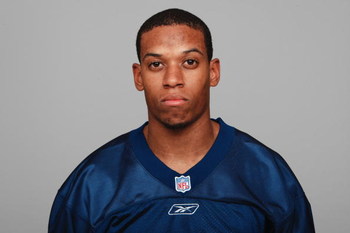 Cortland Finnegan has established himself as one of the league's best young CBs and Nick Harper probably has one more year of starting left so the starting corners for Tennessee are fairly locked-in.
However, to bolster a weak position, the Titans acquired DeMarcus Faggins, Tanard Davis and three rookie CBs this offseason: Hawaii's Ryan Mouton, Rutgers' Jason McCourty and McNeese State's Jeremy Haynes to add to the two starters and second-year Cary Williams (pictured).
Faggins was once a starting CB in the NFL, but his age (30) and less-than-stellar speed mean he's not really that well-equipped to deal with speedy slot receivers; he figures to be cover for Harper, who missed some games last year.
The remaining five guys have a combined 0 tackles and 0 starts in the league, so it's really wide open. Out of the remaining mixed bag, Williams seems to be the most likely to start at the nickel corner position.
At 6'1 he has good size for the position and has a year within the system already, as well as good speed and awareness on the field. He may well start the season behind Faggins as the dime corner, but we may well see more of Cary in '09.
Likely position winner (in camp): DeMarcus Faggins
Likely position winner (season): Cary Williams
Position Battle Seven: Kick/Punt Returner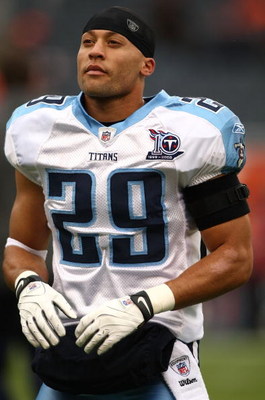 Kick returners can change the outcome of games. Josh Cribbs, Devin Hester, Leon Washington and their ilk have won games for their teams either with a return for a TD or a run-back that puts their offense in great field position.
I think the last dynamic kick return I remember Tennessee having was the Music City Miracle itself, so it's become a bit of a problem position for a ballclub with quality kicking play from Rob Bironas and Craig Hentrich.
Chris Carr (pictured) was the return man last year, but he has since left Nashville over a contract dispute, so the team signed free agent Mark Jones to return punts and kicks. However, Jones has never returned a kick for a score in his five NFL seasons, so he's perhaps not the dynamic game changer Tennessee want. Behind him, Chrises Davis and Henry have proved ineffective, so rookie CB Ryan Mouton could be the answer.
Mouton spent some time returning at Hawaii and could see some looks if Jones falters at the position. Expect to see Jones start as the favourite, but Mouton may well beat him out by preseason's end.
Likely position winner: Mark Jones
Keep Reading

Tennessee Titans: Like this team?