SmackDown Xplosion: Putting Everyone on Notice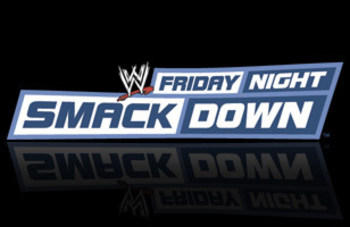 Last Friday Night: Main Event is announced Cena & Rock vs. Angle & Styles in a barbed wire cage match, Goldberg comes after Angle and his group and Adrian and Goldberg is announced against New Event Mafia at Victory Road.
New Age Outlaws def. Team 3D by DQ as D-Von says you have to beat us to get a shot at the titles.
X-Division speak and Adrian gives them a chance of a life time with a shot at the X and TNA Championship.
Masked Man beats Lethal and gets a World Championship match and finds out to be Mohammed Hassan; Lethal gets a X Championship match
Savage calls Lethal a poser
Goldberg, Henry and Jeff def. New Born Thrillers via pinfall
Sting says Steve Borden has been unleashed and he will beat on Cena at Victory Road
Bret says the choice is in the fans hands to see who he will face at SummerSlam.
Angle and AJ win match after Goldberg spears Angle through the cage; All hell breaks lose and everyone comes out until Sting comes out and clears house as a Promo of the return of Undertaker
Vince announced that he is selling the company to either Adrian or Shane and sets up a match or pick a wrestler for the match for SummerSlam' Shane ask why, Steph comes out kisses Adrian as Vince says my girl gets what she wants.
Last Sunday at Victory Road: Backstage Adrian with Steph and Vince says if they break up the Mafia and Thrillers then he gets Angle in three weeks
Adrian & Goldberg def. New Event Mafia via pinfall and breaks up the N E M and N B T; Steph goes to ringside for the match helps Adrian and Bill and Adrian kisses her
After the Bill and Adrian match, they go to Angle locker room who is throwing stuff around and HHH locker room where he is getting ready for his match and throws the sledgehammer through the TV
Sting def. Cena via tap out with help from two late lumberjacks in Jericho and Williams as they have been traded to Raw for the Undertaker who came out after the match and pointed to Sting and then vanished
Jeff attacks Matt backstage and tells him he will se him at SummerSlam
Rock def. Angle and AJ to become the New TNA World Champion
Backstage with Adrian, Steph and Vince as Triple H comes out after his loss and gets in Adrian's face but Adrian tells him to turn around and is meet with Sweet Chin Music as Adrian walks over him saying Game Over
This Week: The aftermath of Victory Road
Rock, Styles, Adrian and Stephanie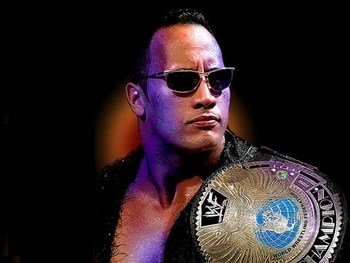 Styles: Welcome to SmackDown, I am Joey Styles and we have breaking news out to the start of the show. Don West has been fired as one half of the announcing team and I will be running the show until Adrian can find a replacement.
Styles: We have the Ultimate X Match for the X-Division Championship tonight, Hassan will be in action a week before his title match, Adrian and Steph have a big announcement and much more tonight on this episode of SmackDown.
IF YOU SMELL WHAT THE ROCK IS COOKIN…..
The Rock comes out to a sea of cheers as he walks down to the ramp into the ring as the new TNA World Heavyweight Champion.
Rock: Finally, The Rock has come back to Philly.
Crowd cheers……
Rock: I have come back and conquered the SmackDown roster and became the TNA Champion and that's not it, The Rock is going to…..
AJ Styles music hits……..he walks to the ring and confronts Rock.
Styles: Congratulations Rock, you are holding my title for the next month.
Rock: Who in the blue hell do you think you are?
Styles: AJ Sty…….
Rock: It doesn't matter who you are, what matters is The Rock is on top of the wrestling world once again and you or anyone else will get in The Rock's way of cementing his legacy in the wrestling world.
Styles: You had a lucky break last night, that's it.
Rock: Let The Rock tell you something kid, I have been in this business for a….
Styles: YOU WALKED OUT ON THE BUSINESS THAT MADE YOU.
Rock: Kid, I am going to say his once, you better know your role and shut your mouth.
Styles: Why don't you make me?
Crowd is chanting Rocky Styles….
Cult of Personality hits……Adrian walks out with Stephanie McMahon and heads to the ring.
Adrian: Wait a minute, Rock and AJ you two need to cool it. Me and Steph have thought about it long and hard and we have come to a decision. At SummerSlam we are going to have a tag team match. It will be the TNA World Heavyweight Champion and the X-Division Champion vs. the Tag Team Champions in a Three Stages of Gold Match.
Crowd cheers……
Stephanie: This means that for the next three weeks we are going to have a X-Division, TNA World and Tag Team Title matches and the winners of those matches will be in and the losers will be out. Tonight it will be Styles against Jay Lethal, next week The Rock against Mohammed Hassan and in three weeks its going to be the New Age Outlaws against Team 3D against the unique team that will be in action next week, John Cena and Dolph Ziggler in the match that was a post to happen tonight with Team 3D and New Age Outlaws, as it will be a TLC match in three weeks.
Adrian: The first fall in the Three Stages of Gold Match will be for the tag titles, the second fall will be for the X-Division title and the last fall will be for the TNA WORLD HEAVYWEIGHT CHAMPIONSHIP.
Crowd cheers…….
Commercial……Undertaker Promo Returns Tonight: http://www.youtube.com/watch?v=lcsJiIO7UYA
Hassan return against Maven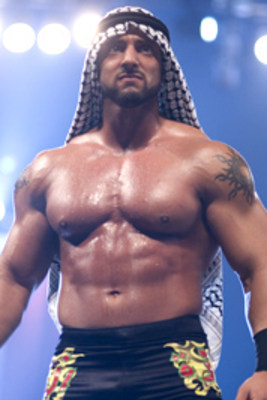 Mohammed Hassan comes out as he has heavy heat on him as the Iron Sheik is with him…..
Hassan: I spit on America and everything it stands for, I will take my rightful place in history and beat "The Great One," your champion, The Rock.
Maven comes out…gets a good pop.
Match gets underway as Hassan goes right for Maven right when the bell rings as Hassan dominates at the start of the match with knee combos.
Maven tries to get some offense going but it is stopped by Hassan as he has complete control over the match and continues to work on Maven and goes right after his head.
Hassan hit's a suplex, he hit's a knee to the face and then he is about to go for the Camel Clutch but goes out of the ring gets a chair and puts it around Hassan throat.
Hassan puts a modified version of the Clutch and Maven starts to spit up blood as he continues the move as the Ref calls for help to try to get him to let go of the move.
Winner: Maven via DQ
IF YOU SMELL WHAT THE ROCK IS COOKIN…….
Rock runs out as he attacks Hassan. As they are exchanging hits back and forth as Rock hits away and spears Hassan even though the ref, security and roster is holding him back as The Rock is going crazy as he picks up the chair and throws it at Hassan.
The Rock gets a mic and says "You want blood, well next week I am going to give you blood in a First Blood match.
Rock checks on Maven as Maven looks bad as he is getting brought to the back as the show goes to a commercial…..http://www.youtube.com/watch?v=lcsJiIO7UYA
Backstage with Adrian and Stephanie, Bill Goldberg and ???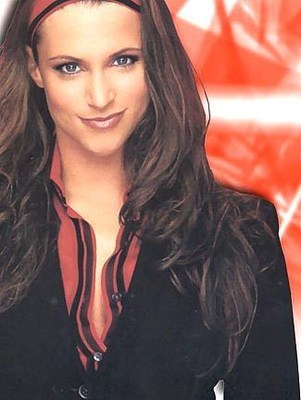 Adrian and Stephanie are backstage…..
Adrian: What a start to the show, well tonight is a big night and we have a huge announcement to.
Steph: Yeah, about that...what is it?
Adrian: You will just have to wait and see.
Door open...Goldberg walks in….
Bill: Hey guys, what is going on? You needed me.
Adrian: Yeah, I got you a valet to the ring
Bill: WHO?
Door opens...Karen Angle walks in.
Bill: Wait a minute...
Adrian: It is fine Bill; trust me.
Promo http://www.youtube.com/watch?v=nBM8_ehWN3g
Jeff Hardy vs Sonjay Dutt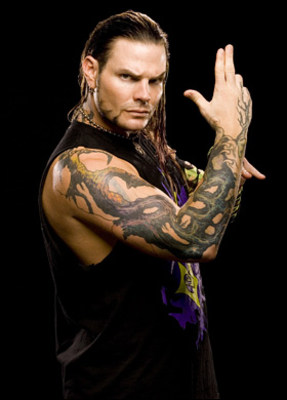 Jeff Hardy comes out for his match but grabs a mic
Jeff: I want to counter a offer my brother made for the TLC match, I want to have a TLC match but this will be a different TLC match. IT IS GOING TO BE TABLES, LADDERS AND CELL.
The winner will grab the contract for a World Championship match for one of use to see who really has it to get to the top, what do you say brother?
Sonjay Dutt comes out……
Hardy goes after Dutt as he starts the match hitting all of his signature moves and just when you think Dutt is going to get some offense, Hardy stops it and hits Whisper in the Wind, Hardy only gets a two count and starts to get mad.
Hardy goes outside the ring and grabs a chair but the ref takes it, Hardy has a pipe in his boots and hits Dutt over the head, Dutt is busted open.
Hardy throws out the weapon and hits Dutt in the head screaming "COME ON MATT, FIGHT BACK", the ref calls for the bell and says Dutt is losing a lot of blood and Hardy looks like he has snapped.
Winner: Jeff Hardy via Ref stops match
Jeff watches as Dutt is put on the stretcher and he is on the his way up the ramp until Hardy goes to the top rope and hit's the Swanton Bomb as the stretcher breaks in half.
The camera gets a close up on Hardy's face as he is laughing as the show goes to commercial…..
Backstage with Adrian and Stephanie McMahon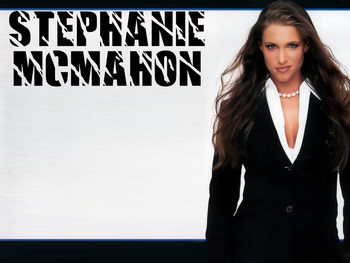 Adrian and Steph backstage……
Adrian; Next week is going to be a big night because Saliva is going to play the new song for Smack Down, "Hunt You Down,"and if ECW doesn't find a boss then I am claiming some of their superstars and that Legends Championship.
Step: WOW, so is my news a lot bigger than that?
Adrian: Oh YES.
Bret Hart vs ??? at SummerSlam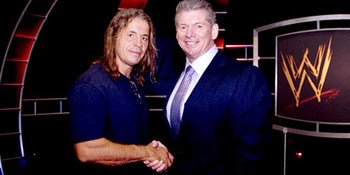 Bret Hart's music hits……
Bret Hart comes to the ring as he looks like he is in better shape….
Bret: At SummerSlam it is going to me vs. Vince McMahon in a one-on-one match.
Styles: OH MY GOD
Bret: I am going to get what I deserve, Revenge.
Vince McMahon comes to the ring…..
Vince: Who in the hell do you think you are, you think you're getting a match with me, Vincent Kennedy McMahon.
Bret: Oh Yeah.
Vince: Over my dead body
Stephanie McMahon comes to the ramp: Daddy, I got the word from the board of directors that you will be facing Bret Hart in a Sharp Shooter Match. The only way you can win is to put your opponent in a Sharp Shooter and they either have to tap out or be unconscious.
Vince looks shocked as Bret has a big smile on his face.
Kurt Angle vs Christopher Daniels
Kurt Angle comes out with a mic…..
Angle: I don't know what the hell is going on around here but Bill get your ass out here right now so I can make you tap out like the bitch that you are.
Christopher Daniels comes out as he will be the opponent in the match against Angle.
The match starts off with Angle hitting a couple of uppercuts to Daniels as he starts hitting him with German suplexes. Angle goes for the Angle Slam early but Daniels reverses and hit's a kick to the back to the head.
Daniels starts to work on the neck of Angle as he starts to get the momentum going as he gets he crowd behind him as he does a flip of a arm bar and hits Last Rites but only gets a two count, he goes for a BME (Best Moonsault Ever) but misses.
Angle waits for him to get up and hit the Angle Slam but its reversed into Angel's Wing but is reversed into a Ankle Lock and Daniels taps out.
Winner: Kurt Angle via pinfall
After the match, Goldberg runs out and looks to attack Angle but Angle gets out and walks to the ramp but is meet with Karen his ex-wife and she slaps him and he gets really mad and takes her by the hair until Bill runs to save her as he lets go and runs to the back.
Commercial…….Ultimate X Match: Promo http://www.youtube.com/watch?v=nBM8_ehWN3g
The Rock vs Kevin Nash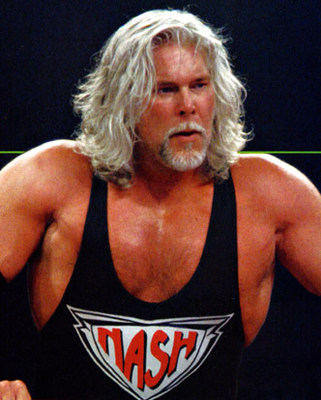 IF YOU SMELL WHAT THE ROCK IS COOKIN……
The Rock comes out as he will be in a non-title match against Kevin Nash.
Kevin Nash comes out and gets a good amount of cheers as he stares down at the World title and The Rock.
The match starts with Nash attacking as The Rock had his back turned. Nash starts to work on all parts of The Rock and gets the advantage going into the commercial.
The Rock starts to work his magic on Nash as he starts to build the momentum as Rock has it going with a few hits there and hit's a DDT but only gets a two count.
Rock starts to build more and more as he works on the neck of Rock but The Rock reverses and hit's a flying clothesline and only gets a two count.
Rock looks frustrated but keeps his composure and looks for the Rock Bottom but reversed and Nash hit's a Big Boot but only gets a two count.
Rock looks dazed and confused as he looks around seeing where he is at and turns around to a forearm to the head by Nash as Nash looks to have it going and sets up for a body slam but The Rock reversed into a spine buster and looks to hit the People's Elbow, but just as Rock looks to hit it, he is met with a huge clothesline.
Rock gets up and looks like he is going to get hit with the Jackknife but hit's the Rock Bottom. Rock pops up and connects with the People's Elbow and pins Nash for the 1, 2, 3.
Winner: The Rock
After the match, Rock helps Nash up and shake hands as Nash shows his respect towards The Rock. Rock celebrates as Nash leaves and Rock gets a mic.
Rock: Much love to you Nash, so now getting down to business Hassan get your Toga wearing ass out here right now so The Rock can give you a ass whooping of a lifetime.
Hassan doesn't come out from the ramp but attacks him from behind. Rock gets hit in the back of the head but really is not effected by it as he turns around slowly and goes after Hassan.
Rock starts to go at it with Hassan as the ref, security and roster have to come out for a second time to split these two up.
Commercial……Ultimate X Match
Sting and Undertaker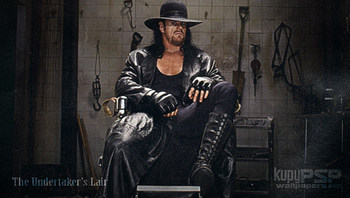 Sting comes out with his face reversed as where it's more black on his face then white.
Sting: I have faced a lot of men in my career but there is one man that I have never gone toe-to-toe with, so Taker come out here right now and lets go.
The lights go out as Undertaker's music hits and the lights come back on as Taker is in the ring, he has a mic in his hand.
Taker: You & Me at SummerSlam…..
Lights go out and when they come back on Taker is no where to be found.
Sting looks shocked as he grabs the mic that he dropped when Taker appeared and says he accepts.
Promo for SummerSlam……
AJ Styles vs Jay Lethal for the X-title in a Ultimate X Match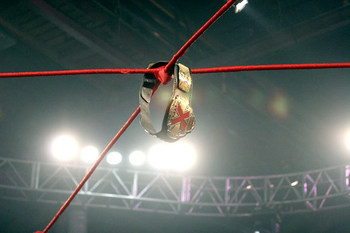 AJ Styles comes out with the X-Division Championship as he gets a huge pop and walks to the ring and hands the title to the ref as it hangs from the Ultimate X Match.
Jay Lethal comes out to some heat as he looks at the title and then AJ as the match is underway.
Styles goes after Lethal with aggression as he wants to get into the Main Event for his TNA World title that he lost.
Styles climbs the ropes and hit's a drop kick, Styles has the advantage as he works on the torso and mid-section of Lethal and throws him out of the ring.
Styles does a flip outside of the ring and lands on Jay Lethal as the crowd is hot as they are pumped for this match.
Styles brings Lethal back into the match and works his neck and looks to have the match won as he goes to the ropes and climbs towards the title but Lethal knocks him off with an Electric Chair.
Lethal works on the back of Styles and works to get the title and on his way to SummerSlam.
Lethal climbs the rope but uses his feet to slide towards the title and out of no where Styles hits the Pele on Lethal but he is still holding on so he cranks his neck and drops his face to the mat and starts to climb.
Styles looks like he is going to in the match until, Eric Young comes out and attacks AJ. EY starts to attack AJ until, Dolph Ziggler comes out surprisingly and helps AJ and throws EY out of the ring and attacks him.
Styles and Lethal get up and start to hit each other back and forth as it looks like Styles is getting the advantage and hits another Pele but misses, Lethal hit's a low blow as Styles falls to the ground, Lethal goes for the flying elbow until Ziggler comes out of no where and hits Lethal with a devastating drop kick and knocks him out and leaves the ring area.
Styles gets up and hit the Styles Clash and goes up for the title for the win.
Winner: AJ Styles via Ultimate X and is in the Three Stages of Gold Match.
Commercial….SummerSlam Promo
Adrian and Stephanie in the ring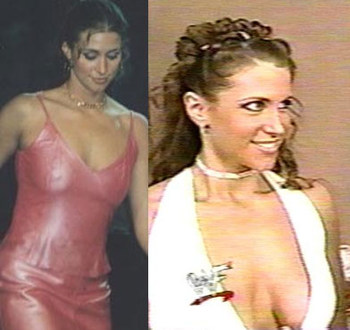 All superstars or most of them except Taker are out there.
Cult of Personality hits as Adrian and Stephanie walk out and come into the ring.
Adrian: Wow, I think SmackDown is going to blow out Raw and ECW out the water at SummerSlam with Jeff Hardy going to beat Matt in that TLC match (Tables, Ladders and Cell), we got the Three Stages of Gold, Sting vs. Undertaker in a match announced next week, Bret Hart vs. Vince McMahon in a Sharp Shooter match and me and Shane will go at it for the company.
Crowd cheers…..
Adrian: Now getting down to me and Stephanie.
Stephanie: Triple H has signed the divorce papers that I had put together months ago, me and Adrian have been together for about a year behind your back, Hunter, and now that we are done……
Adrian: Now that you two are done. Stephanie McMahon will you marry me/
The Crowd is in shock, The Rock raises his eyebrow and Joey Styles says "WHAT THE F***".
Stephanie: Yes, I will.
Step jumps on Adrian and they kiss as the crowd starts to boo them…..
The show fades to black…………………..
Keep Reading