INTEGRITY: Journalism and Sports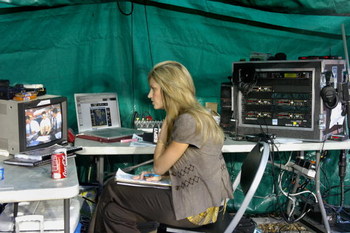 I am shocked at the reaction to the Erin Andrews issue swirling around the media.
At this point I would like to take a moment and VERY PUBLICLY say THANK YOU to all of the men who are defending Ms. Andrews. You are truly her, and our Champions for a cause we cannot fight by ourselves. It will take working together to accomplish that goal. We appreciate all of your votes of confidence.
Back to the story at hand, there are many articles and comments swirling around in the media in reference to Erin Andrews that are invalid.
Yes, she was named by Playboy as America's Sexiest Sportscaster for 2007 and 2008. She was also hired by EA Sports to commentate their March Madness 2008 basketball video game, as well as appearing on their NCAA Football '10 providing sideline updates.
To insinuate that she had any responsibility what so ever is frankly irresponsible journalism.
The impression for some is, that women can be smart OR attractive. We are saying,"We can be both"
As far as I recall, Descartes' said, "I think therefore I am", not "I think therefore I am unattractive"
And blondes are the dumb ones!
July 15,2009 ESPY's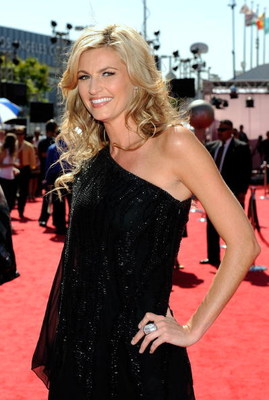 Nor did he say, "I'm pretty therefore I'm dumb!"
Erin Andrews graduated from the University of Florida in 2000. Sure a college degree does not give you the chops to follow NCAA college football from the sidelines.
However, a degree in Telecommunications coupled with three years on the Gators danceteam sure gives her a foot in the proverbial door. Conducting herself as a lady and professional on the sideline has ensured her success.
Why is it that NO ONE is discussing her rock solid resume?
Has anyone done research other than Google web images?
I have, and I'll tell you why. Being an attractive female, many see us as the stereotype airhead waiting for a missed step to be exploited. We must check and recheck every fact.
We cover games that we were accessories to, but we have the edge of covering stories that we have had an up-close and personal view of.
I have seen and heard too many times the implication that Ms. Andrew's and ESPN have some sick responsibility for someone breaking the law.
As Lisa Guerrero, a former MNF sideline correspondent, now with Inside Edition stated, "some people just go too far!"
If we say, "Hello", wave or even comment on a thread to someone's article, we open ourselves up to unwanted advances. Sometimes even bombarded by emails with phone numbers requesting us to call. When ignored they tend to get graphic, but we continue to do our jobs.
We are dedicated to our craft and we will not let anything or anyone stand in our way.
July 12,2009 MLB Allstar coverage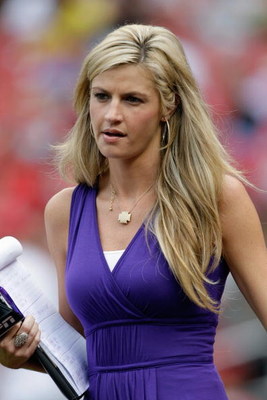 At this point I would like you to take a good long look at this photo. Check out her jaw and chin. For all of those who "don't watch her", but sure pipe in on her ineptness, this is for you.
On July 8,2009, Erin was hit by a foul ball during the Mets vs. Dodgers game.
ESPN issued this statement after Ms.Andrews visit to the ER at a local hospital.
"She's totally fine. The producers on site suggested she go to the hospital as a precaution. Doctors released her soon thereafter. She flew home as scheduled and is looking forward to working MLB All-Star events and the ESPYs in the coming weekend."
You heard right, this woman was back working for the MLB All Star weekend just a few days later, hence this photo. She does have on make-up to cover her badly brusied chin.
Once the game had ended in St.Louis, she was off to Los Angeles for the taping of the ESPY awards.
July 15,2009 ESPY's Natalie Gublis,Dara Torres,Erin Andrews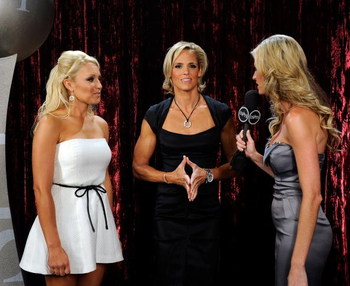 It is beyond ridiculous to believe in the notion that Ms. Andrews or ESPN fed the monster. However, I would not be surprised if during the investigation of this criminal act that the perpetrator ends up being an individual whose advances were rebuffed by Erin.
Growing up in a household of policemen, four generations to be exact, as well as having the National Fraternal Order of Police scholarship fund named after my uncle, my mind automatically switches gears.
I quickly go into detective mode:
-possible motive
-opportunity
who had access to her where abouts not once but twice at two different hotels? Who knew her schedule?
On a more personal level, during my time with the Saints there were more than one of us with a stalker.
This is very disconcerting.
We had escorts to our cars and separate entrances. During one game, peep holes were found in our locker room! It was an ancillary room that nobody dressed in, thankfully. When at practice, no one got out of their cars alone. We always stayed in groups.
A Class Act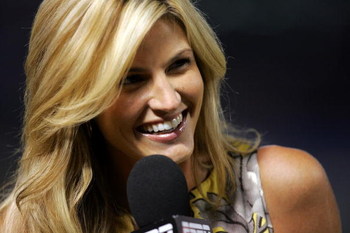 To assume that this is a publicity stunt is almost as repugnant as the act itself.
This lady, Ms. Andrews, has a very nice gig with what I assume to be good pay from THE name in sports.
It does not make sense for her to jeopardize her career with such a sophomoric act. She has nothing to gain and everything to lose.
To make matters worse USA TODAY columnist Christine Brennan recently tweeted: I wish it didn't happen to Erin, but I also would suggest to her if she asked (and she hasn't) that she rely on her talent and brains and not succumb to the lowest common denominator in sports media by playing to the frat house.
Once again, Erin Andrews has been in the business since 2001. Before starting at ESPN in May of 2004, she spent two years with Turner Sports in Atlanta. Duties varied from reporter to studio host for the Braves, Hawks and Thrashers.
I guess I must have a warped or misguided concept of feminism in the year 2009.
I assumed that we had the right to capitalize on our God given talents in our pursuit of happiness. Even if our God given talents include but are not limited to brains and beauty.
Keep Reading