Big Blue Preseason: Intriguing Position Battles Abound for New York Giants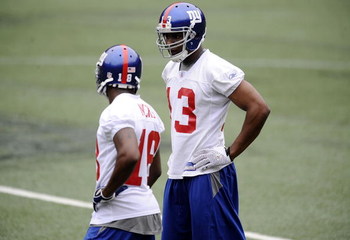 As any hardcore fan of the NFL can tell you, watching your favorite team's four preseason games each year not only whets the appetite for the excitement of the regular season, but also plays host to many position battles. These fights for roster spots between the wily vets and young guns can be fun to watch as a fan.
The New York Giants have been establishing a youth movement over the past couple offseasons primarily due to the excellent draft classes General Manager Jerry Reese has assembled.
In this slide show, I will be detailing some of the more exciting position battles to keep an eye on this preseason.
Wide Receivers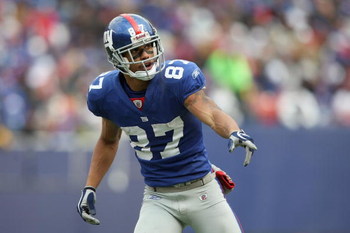 With the departures of the two starting veteran wide receivers last year in Amani Toomer and Plaxico Burress, there have been a lot of questions and uncertainty surrounding this position all offseason.
Before the draft, rumors circulated that the Giants were trying to acquire either Braylon Edwards or Anquan Boldin, but these proved to be false as each player's respective price tag of draft picks was too high. Then again, Big Blue probably didn't have the salary cap space to obtain them and/or sign them to a new deal anyway.
All eyes are on the rookie from North Carolina, Hakeem Nicks. Not surprisingly, Nicks has often been compared to Anquan Boldin in both body-type and play-making ability. The Giants are hoping that he will win a starting spot in training camp, which would enable Steve Smith to move back inside at the slot position where he thrives.
That would leave Domenik Hixon (pictured), Sinorice Moss, and Mario Manningham battling for the final starting wideout position.
I think that this could finally be the year that Moss develops into a legitimate, starting-caliber receiver. It would greatly benefit the Giants having Moss as a starter (hopefully he can stay healthy...fingers crossed), because it would allow Hixon to go back to full-time kickoff and punt return duty.
Also, look for rookie Ramses Barden out of Cal Poly to make an immediate impact as a red zone threat.
Linebackers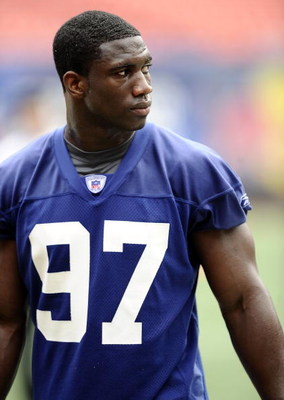 The Giants have lacked quality at the linebacker position for years now.
Of course, MLB Antonio Pierce is one of the best in the business at lining everybody up and reading offensive audibles, but recently his flanking SAM and WILL linebacker positions have served as a turnstile each offseason. There has been depth, but not necessarily "star" quality.
Some examples include: Carlos Emmons, LaVar Arrington, Kawika Mitchell, Mathias Kiwanuka, Gerris Wilkinson, Reggie Torbor, Chase Blackburn, and Bryan Kehl. Needless to say, there has been little in the way of consistency for Big Blue's linebacker positions.
This year should be different though. An aging Antonio Pierce is still a lock at middle linebacker, and with the addition of Michael Boley on the weak side, already the corps is looking to be more solidified.
It should be noted, however, that Boley will be serving a one-game suspension for the season opener, so Bryan Kehl, Gerris Wilkinson, and Chase Blackburn will be jockeying for the interim position.
My money would be on Bryan Kehl to win that spot in training camp, but it's always hard to predict who will step up when we're talking about "pre" preseason.
On the strong side, 32-year-old Danny Clark looks to retain his position, but faces stiff competition from rookie Clint Sintim (as seen in the picture, now sporting Kiwi's old number). I would expect Danny Clark to keep his starting spot for at least the first four or five weeks of the regular season. This is primarily because of his knowledge of the defensive schemes and system having already played a year in it.
I still think that with the athletic intangibles that Sintim possesses, it will only be a matter of time before he slides into the starting role. And although Zak DeOssie is listed as a SAM linebacker, I would expect most of his contributions to come from long-snapping and special teams (that is if he makes the team).
Backup Running Back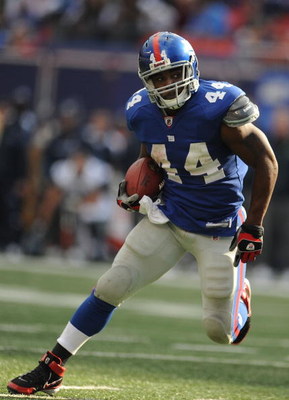 Brandon Jacobs locked down the starting halfback position this offseason by signing a four-year, $25 million deal with Big Blue. The backup running back spot will be even more important this year, mainly due to the loss of stud RB Derrick Ward who compiled 1,025 rushing yards last season, and the injury prone nature of Jacobs' powerhouse style.
The smash-mouth identity of the Giants ground game will still be intact though with Brandon Jacobs leading the way as the team's monstrous, 264-pound battering ram.
The problem is, he has yet to play a full season because of nagging injuries he's accumulated each year in the league. Eventually, the injuries he's amassed and his age will catch up to him and the Giants will need to have solid, dependable depth behind him.
I look for Ahmad Bradshaw (pictured), coming into his third year, to have a breakout season. We saw glimpses of his explosive talent in his rookie year, just look to the Week 16 matchup against Buffalo from two years ago for proof where he ran for 150 yards. Bradshaw's role was diminished last year because of Ward's dominance but this season he will be expected to slide into that spot.
Additionally, the Giants will continue their "running back by committee" system that resulted in the leading rushing attack last season with fellow tailbacks Danny Ware and rookie Andre Brown.
Brown could be an asset in the passing game, catching balls in the flat and from screens, something that Ward was so adept at.
Tight Ends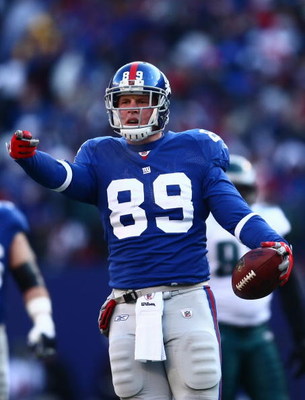 With the addition of rookie Travis Beckum, the Giants tight end situation just got a little more interesting.
Beckum is an "H-back", not to be confused with a half back, who will be able to line up all over the field like Chris Cooley of the Washington Redskins. He can play in the slot, out wide, in the back field, just about everywhere.
This added versatility has led to offensive coordinator Kevin Gilbride installing plays in the playbook specifically for Beckum.
Kevin Boss (pictured) is the starter, red zone threat, and reliable target that Eli so desperately needs this season. He is a lock at starter no doubt, but it'll be interesting to see how the rest plays out.
Rounding out the roster at tight end are blockers Michael Matthews and Lee Vickers, and the young Darcy Johnson.
Vickers is definitely solid at run-blocking, but his value ends there. He is approaching 30 and the Giants are high on Matthews because they believe he will be the long-term run blocking TE they need.
With Beckum now in the mix, that also reduces the value of the pass-catching TE Darcy Johnson who received ample playing time down the stretch of last season. Ultimately, I think he will be deemed expendable.
My prediction: Boss, Beckum, Matthews.
Offensive Line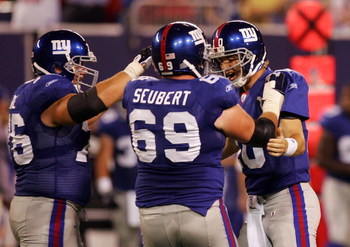 The best offensive line unit in the league headed by Pro Bowl right guard Chris Snee, comes into the 2009 season lacking depth.
An aging Kareem McKenzie at right tackle and 32-year-old center, Shaun O'Hara are still some of the best offensive lineman in the league, but with no injuries along the line for the past two seasons, they may be long overdue.
The Giants were able to steal rookie RT William Beatty with the 60th overall pick in this year's draft. The organization hopes that Beatty can learn quickly and mature into McKenzie's replacement should he go down.
Despite dealing with a back injury for the better part of last season and subsequently wearing down late in the year, McKenzie persevered and didn't miss a game. I would predict that Beatty will become the starter next year and McKenzie will be let go after his contract expires this season.
At left tackle, David Diehl has been rock solid. Surprisingly, left tackle isn't even his natural position, and the Giants should probably start considering moving him back to guard.
Drafting an O-lineman high in the draft next year should be a priority before this veteran line starts to slow down. Young depth in Guy Whimper, Kevin Boothe and Adam Koets look promising for the future, but they are all still projects.
Free agent acquisition Tutan Reyes should fill the void left by Grey Ruegamer's departure. Reyes can play any position on the line in a pinch, including center, which should ensure he makes the team and will be an asset going forward.
Defensive Line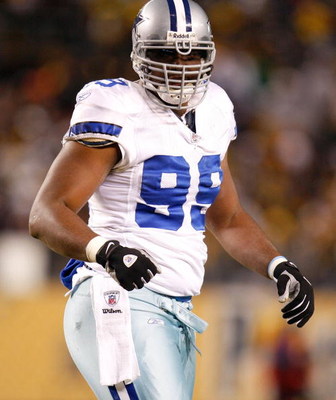 The Giants were extremely aggressive this offseason in bolstering their defensive line. With limited depth at defensive line in the draft, Jerry Reese turned to free agency and scored big. With the additions of Rocky Bernard from Seattle and the 6'7", 304-pounder Chris Canty (pictured) from division rival Dallas, the Giants have created the best defensive line in the NFL.
Returning from a season-long knee injury, Osi Umenyiora is back to help bookend the D-line with Pro Bowler Justin Tuck and Mathias Kiwanuka (via substitution).
Unfortunately, big Fred Robbins may not be able to recover from the knee injury he sustained in the playoffs last year, but the added depth now will help alleviate any concerns.
Third Backup Quarterback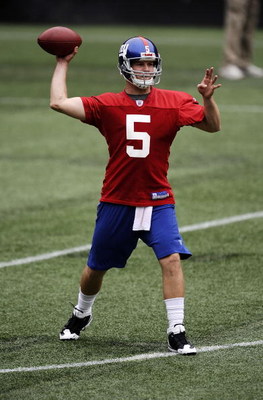 Eli Manning and David Carr are, at least currently, firmly rooted as the Nos. 1 and 2 quarterbacks.
However, with a Manning mega-deal extension soon coming (media rumblings are reporting a possible $120 million deal!), and Carr only guaranteed for another season, the third quarterback spot may not seem important now, but it will be essential for the future.
To be blunt, I think it's a foregone conclusion that Rhett Bomar (pictured) will win this roster spot if the Giants carry three quarterbacks this year.
Andre Woodson is a big, strong-armed quarterback who can make plays with his legs. The problem is, his mechanics are awful, he made poor decisions throwing the ball, and he has a slow release. He resided on the Giants practice squad all of last season and hopefully will have improved overall.
Despite being a rookie, and having some mechanical issues of his own, fifth-round pick Rhett Bomar should win the third quarterback spot with ease. He has an absolute canon of an arm, and represents more of the prototypical quarterback the Giants look for.
Bomar was on the roster with Oklahoma for his freshman season, but left to play for Sam Houston State, a very small school. That played into why his draft stock fell all the way to the fifth-round. If he develops under the tutelage of Manning and Carr, he could turn into excellent trade bait.
Season Outlook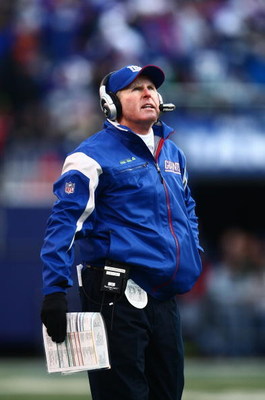 The G-Men will have a tough road ahead of them this season. Their schedule is far from easy and the Eagles are looking like a legitimate Super Bowl contender.
I still expect this team to win the division and make a run at the Super Bowl, but I don't foresee a championship title for another few seasons. The Giants have tons of talent and depth, but they are now one of the youngest teams in the league.
Head Coach Tom Coughlin (pictured) will have the boys ready for the postseason this year though and the team will want redemption for their late-season collapse and one-and-done effort in the playoffs from just a year ago.
Not to worry Giants faithful, the window of opportunity is still opening, not closing.
2009 Regular Season Record: 12-4
Keep Reading

New York Giants: Like this team?