Halladay Anyone? Yankees and Red Sox May Battle It Out!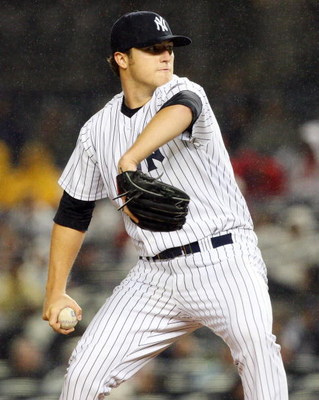 Every GM in baseball is aware that the best pitcher in the game is on the trading block, but only a few teams can actually afford to relinquish their top prospects and payroll to acquire the Toronto ace.
This slideshow will highlight all the teams in play for Halladay, and what they NEED to include if a deal were to get done. A little more emphasis will be on the Jays two AL East rivals, the Red Sox and Yankees, since both teams could afford to give up their top prospects to win a World Series Title.
Philadelphia Phillies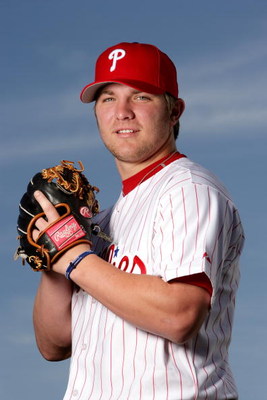 From Day One of the Roy Halladay sweepstakes, headlines all over the web claim that the defending World Series Champions have the edge on acquiring The Doc.
Although there may be some substance to this, it most definitely isn't as cut and dry as some baseball analysts are making it out to be. If it was as easy as they say, Halladay would be a Phillie already.
With the Phillies running away with the NL East, writers across North America sincerely believe that they don't need Roy Halladay at this point in time.
Those type of statements, however, are absolutely ludicrous. Philadelphia management realizes that the acquisition of Roy Halladay could bring the team championships for the next two-plus years, as long as Doc is under contract.
No matter what team you are, if you can sell the farm and know you will have a great chance at winning a World Series this year and next, then it is no question that you do the deal.
With all that said, lets look at the players that would have to be going north of the border in order to complete a deal.
Kyle Drabek:
The star pitcher of the Phillies' farm system, Drabek would have to be a part of any deal involved with Roy Halladay. After undergoing Tommy John Surgery in 2008, Kyle has returned to minor league baseball and put up impressive numbers in both Single and Double A: 9-2 with an ERA of 2.83 and 111 strikeouts in 114 innings pitched.
His arsenal features a good fastball and a hard curve, and at the age 21, he can be future ace for the Toronto Blue Jays for years to come.
Lou Marson:
Marson is the Phillies top catching prospect and probably a player they would prefer to hold onto.
With their current MLB catching situation a bit weak, Marson may be back in the majors with the big club sooner rather then later.
In AAA this year, Marson continues to hit over .300 and has produced an outstanding On-Base Percentage of .384. The acquisition of Marson for the Jays may mean the converting of current future catcher JP Arencibia to DH or 1B.
Michael Taylor:
Taylor is a budding star in the Phillies minor league system and has all the potential to be a Five Tool Player in the big leagues.
He is an outfielder who has just been promoted to Triple A after hitting .333 with 15 home runs and 65 runs batted in with Philadelphia's Double A affiliate. Taylor would be the position player gem of any trade involving the Phillies, and could see time in the majors as soon as a deal could be reached.
I would expect to see another prospect thrown into the deal, but if these three were included, the Blue Jays would be receiving good value for their ace. All of these prospects are very young and are close to being MLB ready.
If you're wondering why I didn't include 2009 pitching sensation JA Happ, it is simply because I don't believe his success will continue in the big leagues, never mind the AL East. He has never put up dominating numbers in the minors and at the age of 26 (going on 27), he seems to be one of those guys whose value may be at its highest right now. I could be wrong here, but I see Happ hitting a wall very soon.
Possibility of a deal like this getting done with the Phillies: 8/10

Chicago White Sox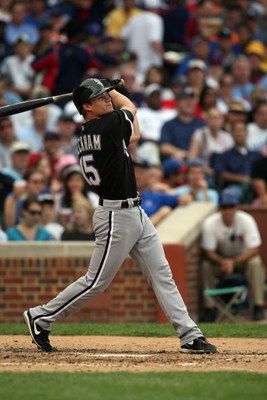 Even though the White Sox record is barely better then the Blue Jays, the team from South Side Chicago has the benefit of playing in baseball's worst division: the AL Central.
The Sox are currently behind the Tigers by two games, so the addition of Halladay would cement them as the top contenders in the Central and possibly even the American League.
A Chicago beat writer suggested the idea a couple of days ago about the possibility of Danks and Ramirez heading north to Toronto in exchange for Halladay. Although that deal isn't bad at all, it still needs some alterations in order to land the best pitcher in the game.
John Danks:
Danks is a solid young pitcher who has already shown at the tender age of 24 that he can compete in the majors. With a flashy ERA of 3.32 last year and another nice season occurring for him at this moment, Danks would be able to step up to the top of the Jays' rotation and be a pillar there for years to come.
Gordon Beckham:
Why ask for Alexi Ramirez when the Sox have an elite prospect like Beckham? Gordon has hit the ball at all levels since being drafted 8th overall only a year ago, and when trading the best you need get the elite prospects in return.
It would be very difficult for Kenny Williams to give up Beckham, but having the opportunity to acquire the best pitcher in the game doesn't happen quite often. Why hold onto the future when the present time may hold October glory in return? If any deal were to be made by the Sox for Halladay, Beckham and Danks would have to be involved.
The Possibility of Halladay going to the White Sox for these players: 5/10
The ranking here should be about a 3, but unlike most teams, the White Sox need to compete with the Cubs in order to achieve headlines in Chi-Town. Although they will never be as cherished as the Cubs are, the Sox would make some serious noise in Chicago if they acquired Roy Halladay. With the constant struggles that Cubs fans go through, this may be the type of deal which finally sees a few fans convert to the South Side.
Anaheim Angels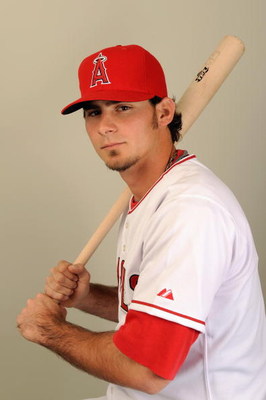 I really don't see the Angels as trading partners with the Blue Jays, but reports say the team is intrigued by the prospects of landing Roy Halladay, so it's worth mentioning.
The players that would have to be involved to get a deal done:
Brandon Wood:
Wood's inclusion in a hypothetical deal is a no brainier. Brandon has been the foundation of the Angels farm system since he was drafted back in 2003, but unfortunately he hasn't been able to cement himself as a big leaguer, even though his minor numbers have been phenomenal.
Last year, he hit over 30 homeruns in Triple A and this current season he is hitting .313 with 17 homers and 52 runs batted in. Wood is now 24 and it is time for him to grab a permanent spot in the majors, but that type of status is not given but earned.
He is currently playing for the Angels, but his numbers have been awful and he has done nothing to stick around. Angel's management will tell you that they still believe in Brandon and have no interest in trading him, but there comes a point they need to alter that approach. Maybe the acquisition of Roy Halladay may finally change their mind.
Sean Rodriguez:
Sean is in the same exact boat as Wood, since he has put up stellar numbers the past two years in Triple A, but failed to impress in his opportunities in the big leagues.
He is destroying the ball this year with the Salt Lake Bees with 23 homers and 74 runs driven in. Rodriguez plays second base, which of course is the same position of Jays All-Star Aaron Hill, so there would be questions on where he would play if he landed with the Jays. Logically, I would assume the Jays would move Hill back to his natural position of Shortstop next season, but JP Ricciardi has reiterated in the past that Hill is staying put at second base. The only problem with that is JP may not be around to make that decision in a years time.
Joe Saunders/Jered Weaver:
This is where the deal is lost. In my opinion, one of these two pitchers need to be included in such a deal for it to work.
Both are young and established big league players, but the Angels would see either of them included in such a deal as being too much. The problem here is if you don't include either one of them, the deal would be seen as too little from the Angels side of things. This is why I don't see a deal occurring between the Jays and Angels.
Possibility of these players being included in a trade: 1/10
Milwaukee Brewers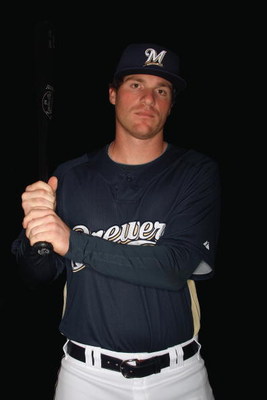 The Brewers are another team that i cant see the Jays trading with. The reason for this (just like the Angels), is they don't have enough minor league depth to offer the Jays. If a deal were to take place, their two best prospects would have to be included:
Mat Gamel:
Gamel destroyed the ball in the minors the last two years and has finally received the promotion to the big leagues that he rightfully deserved. He has been struggling since his promotion, but the Brewers front office is not the least bit concerned and still see him as an elite player moving forward. He projects to be an all-round solid major league third baseman and would be a perfect replacement for the soon to be departing Scott Rolen.
Alcides Escobar:
It has been noted that JP Ricciardi is a big fan of the young talented shortstop, but there is no way the Brewers would include their only two elite prospects in one deal. Although it would net them a pitcher like Roy Halladay, the Brewers future would be left with nothing.
Escobar is solid defensively and has hit around .300 at all stops in the minors. What is most impressive is he can steal bases with the best of them, as he already has 33 stolen bags this season in Triple A.
This amazing talent would be perfect for a Toronto club which has struggled to produce a shortstop over the last decade, but having his inclusion in a deal with Gamel is extremely unlikely.
Possibility of Halladay being traded for these players: 2/10
The Brewers do not have any pitching depth in the minors to offer the Jays, so Gamel and Escobar will probably be the only two they are interested in, even though the Brewers would still have to include some sort of mid level pitching prospect as well.
I marked this down as a 2 rather then a 0 since Gord Ash, the Brewers' Assistant General Manager, has been spotted at Halladay's last start and they have gone public about their interest in the big right-hander.
St. Louis Cardinals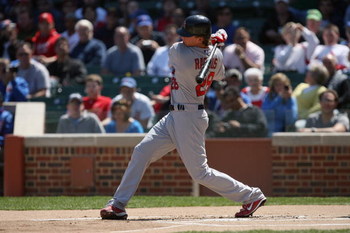 If I had to select a darkhorse in all this Roy Halladay trade talk, the Cardinals would be my team. Out of all the playoff contenders, they are the ones that probably need him most and have the young talent to offer the Jays a perfect deal. These are the three young players that would have to be included:
Colby Rasmus:
Rasmus is currently enjoying a solid rookie season with the Cardinals as he has been mentioned as a possible R.O.Y candidate. Rasmus is a player who possesses strong power at the plate, but lacks the necessary plate discipline a hitter needs to become very successful in the majors.
He has never shown great contact in the minors and that has continued into his professional career as well. Other then that, Rasmus does have the potential to be a consistent 30 homer player and may learn to become a better hitter at the plate since he is still only 22.
Brett Wallace:
Wallace was St. Louis' first round pick in 2008 and has already made the jump all the way to Triple A. He has hit the ball very well in all his minor stops and projects to be an excellent all-round third baseman one day. He has the frame and the swinging approach to be a .300 hitter with power in the big leagues and is regarded as one of the most polished minor league players out there.
Chris Perez:
Perez has struggled out of the bullpen this year with the Cardinals, but he has the stuff to thrive in relief. Regarded as a future closer, Perez would be an ideal acquisition for a Jays bullpen which currently possesses way to many holes.
Another pitcher would probably be asked to be included, such as Clayton Mortensen.
Chances of this deal occurring with these players: 6/10
The only problem I see with a potential deal with the Cardinals is they don't have the young pitching prospects that the Jays would desperately need in return for Halladay. Mortensen could be that guy, but that's too risky of a chance for Ricciardi to take.
Los Angeles Dodgers
The Dodgers arguably have the best team in baseball, but many analysts don't think they have the veteran pitchers needed to succeed in October baseball. Roy Halladay would be the perfect fit for this team, and would open a championship window for the next few years with this exciting young ball club.
I have to imagine that there is only one player that Ricciardi would be seeking from the Dodgers, and that is young sensation Clayton Kershaw. I won't get into any bio about the pitcher, since every baseball fan is fully aware how good and electric this young player is.
Chances are this deal would never even be discussed, but if you're Ned Colletti, how can you not think about the opportunity you would be passing up on in regards to Roy Halladay. Some will argue that Kershaw is as good as Halladay right now, but that is completely bogus. Kershaw does not possess the durability, poise, and determination that Halladay can bring to the table, and that could be the Dodgers undoing in the playoffs.
With no real veteran experience in their starting rotation (Jason Schmidt doesn't count), the Dodgers could very well unfold in those pressure situations that constantly mount in the playoffs. Halladay would be able to brush aside those emotions and get the job done, and Colletti should be fully aware of that.
Basically, Colletti needs to ask himself this question: Do I want to trade Kershaw and win the World Series now OR do I keep Kershaw and stay competitive for a very long time?
It is every GM's job to win a World Series, and Colletti would put his club in the driver's seat this year if he acquired Roy Halladay. In two or three years when Kershaw becomes more accustomed to the MLB and is a consistent Cy Young Candidate, whose to say the Dodgers will still have the same success offensively or defensively as they do now? It seems to me at least that their time to win is now, so why hold back Kershaw when Halladay is your ticket to a championship?
Odds of this even being discussed: 0.5/10
Won't happen......but worth a discussion on B/R
Boston Red Sox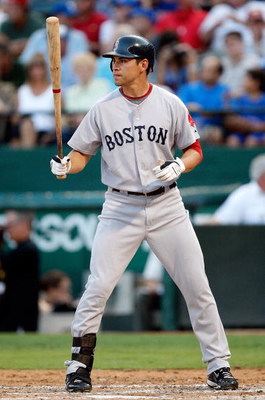 With Wakefield and Dice-K out and the John Smoltz experiment failing dramatically, the Red Sox may be in the hunt for a starting pitcher. Why look any further when Toronto's Roy Halladay is available? Players that would have to be included in any deal:
Clay Buchholz:
Buchholz took the game by storm when he pitched a no hitter in only his second start in the big leagues. Since that time, he has found it difficult to crack the Red Sox starting rotation, but with the injuries they are currently dealing with at the moment, Buchholz is being given the opportunity to showcase his talents to the Red Sox brass and the watchful eye of JP Ricciardi.
The gem of the Red Sox minor league system, Buchholz has the potential to be an ace type pitcher for many years. If the Jays were to trade within the division with the Red Sox, Clay and many others would have to be included.
Jacoby Ellsbury:
A fan favorite in Boston, Ellsbury would have to be another centerpiece of any deal for Roy Halladay. He is the prototypical lead off hitter that the Jays could use: Hit for a great average and steal a lot of bases.
Epstein would not want to trade Jacoby, but in order to get something you need to give up something, and that notion rings true here. Ellsbury is young enough that he would be a centerpiece in the Jays outfield for multiple years.
Daniel Bard:
Bard has been striking guys out with this hard fastball in the Red Sox minor league system at an astounding rate since being drafted back in 2006. He is finally up in the majors and has been lights out in the Red Sox bullpen. He has future closer written all over him, but with Papelbon as their stopper, it doesn't seem like that will happen in Boston.
Possibility of a trade like this occurring: 7/10
I really do believe that Theo Epstein will pay a premium price in order to obtain the best pitcher in the league. His hitters have been fooled by Halladay for years and they would want nothing more then having him on their side. In order for a trade like this to occur, the Jays may possibly have to include a player to replace Jacoby in the outfield or Bard in the bullpen. Alex Rios or Jason Frasor seem like the most likely candidates.
New York Yankees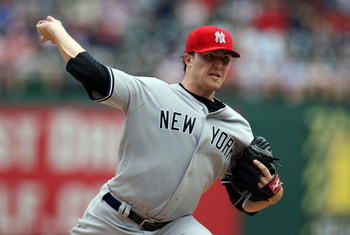 Derek Jeter... Alex Rodriguez.... Johnny Damon...what do all these players have in common?
They are all on record crediting Roy Halladay as the best pitcher in baseball. It is quite obvious why the Yankees would want Doc, since their rotation with him would automatically win New York the World Series. Add Doc to CC, AJ, and that juggernaut offense, and you've got yourself a special team. The question of course is who do they need to give up?
Phil Hughes:
Hughes is an electric arm who is finally beginning to succeed in the majors, barring the fact it's as a setup man. The Yankees see Hughes as an ace in their rotation one day and he has all the tools to deliver on that wish. At the age of 23, Hughes would be given every opportunity to thrive in the Jays starting rotation and would be the absolute perfect fit to replace Doc over the next decade.
Jesus Montero:
At the age of 19, Montero is regarded as one of the top prospects in all of baseball. He is a gifted hitter with loads of power and potential. It is difficult to put a ceiling on how amazing this young player can become, but some guess he could be the best hitting catcher in the MLB by the age of 25.
Currently this year, in between Single and Double A, Montero is hitting an outstanding .334 with 15 homers and 61 runs driven in. Last year, he hit .326 in low A ball. With Francisco Cervelli blossoming as the Yankees catcher of the future (mainly due to his defensive capabilities), Montero could possibly be parted with in a deal to acquire Halladay.
Austin Jackson:
Jackson is hitting the ball extremely well in Triple A this season, but there is no room for him on the big club.
With Matsui, Damon, Gardner, Swisher and Cabrera all in the fold with the Yankees, it may be awhile till Jackson gets his chance to make the big club. There is no room for him on the Yankees, so trading him to the Jays won't affect the club in anyway. Jackson is 22 years old and is currently hitting .318 with 17 stolen bases with the Yankees' Triple A affiliate.
Chances of this deal occurring: 8.5/10
This is the deal I like best and the one I think has the best chances of happening. All the players involved are either major league ready or at least have superstar potential. It is exactly the type of deal the Rangers received for Mark Teixeira, and could have the same impact on the Jays in a year or two. Cashman has reportedly contacted Ricciardi already and asked him to call him before JP trades Doc away to another team so he can match and beat the deal. Well if this is the case, this is exactly the type of deal it would have to be.
Keep Reading