Buffalo Bills: Ten Things I Wish Had Happened in the Last Ten Years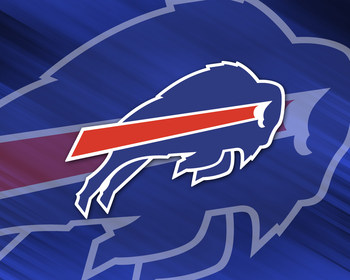 The Buffalo Bills have endured many changes over the past 10 seasons while remaining out of the playoffs. There are somethings that the organization did very well to help the franchise, like regionalizing, and bringing in a few big named free agents. The Bills also did some other things poorly like not keeping homegrown talent that would have benefited the Bills more in the long run, or not letting certain quarterbacks start in certain playoff games. Here are 10 things I wish could have happened through out the past 10 years that might have impacted the club and ended their playoff drought.
10. Eric Moulds Re-signed as a Tight End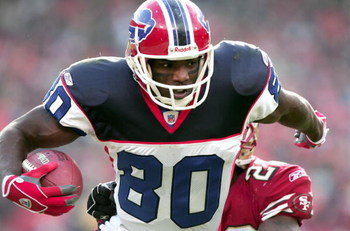 While I realize that this idea might be pretty far fetched I think it could have been a pretty interesting experiment. Moulds left the Bills on a poor note, signing as a free agent with the Houston Texans and then the Tennessee Titans the following season. He had little success in both places acting as the number two wide-out in Houston and in a reserve role for the Titans. In Moulds' final season as a Bill in 2005-2006 he was still dominant and got good separation despite being double teamed, and helped his successor Lee Evans to emerge.
Following his final season with the Bills, he began to carry more weight and his game slowed. Despite this, I think he could arguably have been the tight end that the Bills have missed since Jay Riemersma. While he began to lose speed as one of his threats, he would have still been faster than the average TE and he has always had the physicality to cross the middle of the field. He was also and exceptional blocker as a WR, and while blocking on the line as a TE is different, I do not doubt that it wouldn't have been any worse than what Buffalo has seen recently from that position.
The signing of Moulds as a TE would have also been a nice ending to a long career in Buffalo that ended on a sour note, the highlight of which was Moulds pulling himself out of a game, ending his consecutive catch-per-game streak. The idea might have been far less appealing to Moulds who was recently quoted saying that the "T.O. experiment" in Buffalo could only end well with the right coaching staff in place, stating that that staff was in New England.
Moulds is second to only Andre Reed in most WR records for the franchise and there has recently been rumblings of possibly putting his name up on the Wall of Fame.
9. Peerless Price Signed and Not Re-signed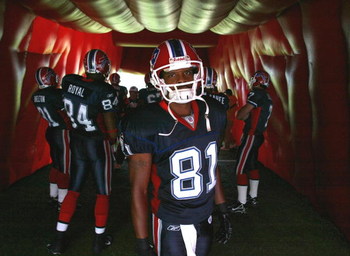 It was an interesting and almost exciting story when it happened, as I've always enjoyed when players finish their careers in the city where they were drafted. Price enjoyed the most success of his career in Buffalo, specifically in 2002 when he caught 94 passes for 1,252 yards. After that season the Bills knew they couldn't have afforded to keep him, thus deciding to franchise tag him in order to get some sort of compensation. He was later traded to Atlanta for a first round pick that the Bills spent on Willis McGahee.
Price enjoyed hardly any success in Atlanta and was released on bad terms. Next, Price took a quick stop in Dallas to reunite with quarterback Drew Bledsoe who had helped him put up his career numbers. Despite Bledsoe throwing him the ball, Price couldn't find the production he had in Buffalo. Then, taking the advice of former teammate Eric Moulds, Price re-signed with the Buffalo Bills where he filled the second WR role that the Bills desperately needed. He contributed with below average numbers, but had one of his more memorable catches, scoring the gaming winning touchdown against the Houston Texans in a last minute come-from-behind effort by the Bills in 2006.
Salary cap situations aside, I wish that Buffalo would have found a way to keep Peerless Price on the roster after 2002. Him leaving left a hole in Buffalo's receiving corp, one in which Josh Reed was not yet ready to fill. Moulds and Price were one of the scariest WR tandems in the league at the time, and Bledsoe still had the arm to get them the ball.
8. Antoine Winfield and Pat Williams Retained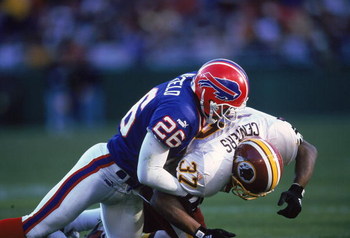 Both players were in the prime of their careers when they left Buffalo, and both of them have enjoyed year after year of great success playing for one of the NFL's toughest defenses in the Minnesota Vikings. The Bills found adequate replacements in Nate Clements and Terrance McGee following Winfield's departure, but a gigantic hole was left on the defensive line when Williams left. Buffalo just recently filled that void this past offseason with the acquisition of Marcus Stroud.
7. Catering to J.P. Losman's Strengths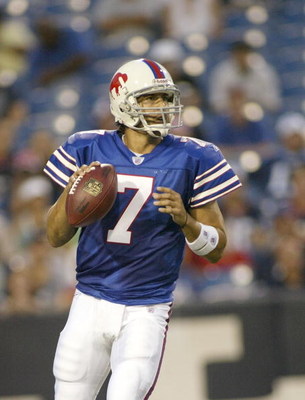 I'm not ashamed to say that I was one of the biggest J.P. Losman homers out in Bills Nation. The thought of what he might have been is scary, and what he actually was is scarier. Drafted in the first round in 2004, Losman was known for his mobility and arms strength. In the start of the 2005 NFL season he was named the starting QB of the Bills after the release of Drew Bledsoe.
Like any talent in the NFL, we saw flashes of greatness throughout his time in Buffalo, the highlights being most of his 2006 season where he put up respectable stats and lead the team to consecutive comeback wins over the Texans and Jaguars. He showed even more promise in an exciting game against the Bengals in 2007 season. But with all of his flashes of hope and ability to throw the long ball or scramble, his career in Buffalo was marred with benchings, QB competitions, and disappointment.
Here are problems as I see them regarding JP's lack of success in Buffalo: Offensive scheme and a misuse of his abilities. I never thought I'd say this, but Mike Mularkey initially had the right idea about how to use Losman. He opened up the season, sending Losman on roll-outs, using the play action pass, and essentially airing it out, (to the extent that a second year quarterback could handle). Had the coach actually stuck with Losman instead of switching back and forth between him and Kelly Holcomb, Losman might have developed for the better.
Following the end of that season Mularkey quits, enter Dick Jauron and Offensive Coordinator Steve Fairchild. The coaching staff stages a QB competition where JP easily out shinned veteran Holcomb, and they try to transform him into a pocket QB that dinks, dunks, and checks down the ball efficiently after reading the defense. This is not JP. Anyone who watched him play at Tulane can see that he was an athlete who relied on his raw abilities to improvise, thus all of the early comparisons to Brett Favre.
While I highly doubt that he was as bad at reading a defense as people say he was, I believe that he was so stuck on thinking about whether or not he made the correct read according the the offensive scheme, that he was doing more thinking and less reacting. This resulted in late throws, holding on to the ball, and hitting his receivers when they weren't in stride. During his time coached under Jauron, the offensive got away from rolling out the QB and even throwing the deep ball for that matter. It became a more conservative offense, one fit for Trent Edwards abilities.
J.P. Losman saw four different Offensive Coordinators in five years, a misuse of his natural tools and the installment of a "west coast offensive", thus bringing upon his demise in Buffalo and his decent into the UFL.
6. Keeping Drew Bledsoe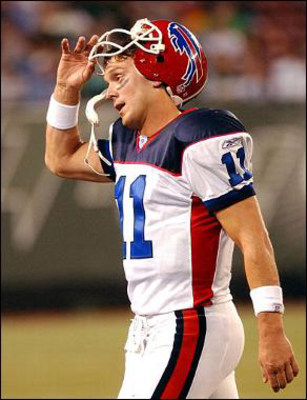 I was extremely excited when the Bills acquired Drew Bledsoe from New England, and you could say that he did reasonably well here. He went to his fourth Pro-bowl in 2002 and even set a few team passing records. Bledsoe also led the team on a winning streak at the end of the 2004 season, and were one win shy of making the playoffs. Even though that season ended on a humiliating loss to the Pittsburgh Steelers' back-ups, I was excited about where he could lead the team the following season. I also enjoyed the idea of him tutoring a healthy J.P. Losman who was coming off of a rookie season with a broken leg.
Instead of building on the success of the previous year, coach Mike Mularkey chose to go with the inexperienced J.P. Losman to lead the team the following season, banking on the young quarterback's talent and mobility to compensate for the team's lack of an offensive line.
5. Building Through the Draft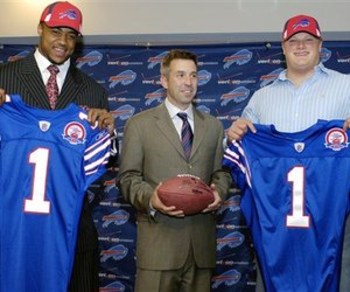 It has finally happened in more recent years, but there was a good five or six year stretch where Buffalo was easily trading away draft picks, or drafting only skill positions in the first few rounds. In their defense the team drafted Mike Williams in the first round of the 2002 draft, but that never panned out. Besides drafting a ton of skill position players, the franchise went Free Agent crazy under Tom Donahoe, signing players like London Fletcher, Lawyer Milloy, Takeo Spikes, Sam Adams, or even trading for Drew Bledsoe.
While all of these players were fun to watch and were exciting in the beginning of their tenure in Buffalo, we have recently seen the repercussions of those signings because the Bills never really developed players behind them. In the last four seasons we now have seen players like Paul Posluszny, Donte Whitner, Keith Ellison, and Kyle Williams fill the roles of their predecessors, but none of them were developing immediately behind them on the roster, instead, most were drafted as replacements for them, in one form or another.
4. A Proven Coach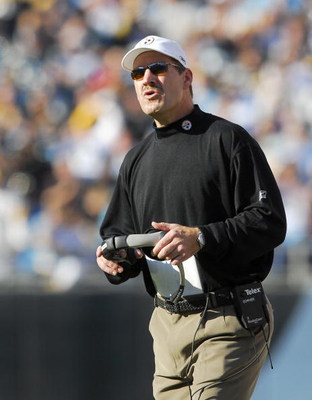 This one is pretty straight forward. I would have loved to see a coach with a proven record of success. Depending on how things play out this season, here are some names I'm thinking about: Bill Cowher, Marty Schottenheimer, Bill Billick, Mike Holmgren, John Gruden...heck even Steve Mariucci!
3. The Birth of a Super-Star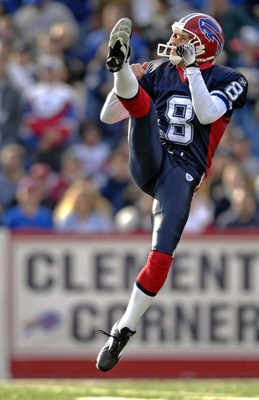 The recent signing of Terrel Owens got me thinking about who could be considered the biggest superstar that the team has produced in the last ten years or so. You could say maybe Pat Williams or Antoine Winfield, but they also left. In my opinion... In the last ten years there has been maybe one player on Buffalo's roster that could even come close to being considered a "superstar" (if you can even call it that), and that is punter Brian Moorman.
Moorman is everything that the city of Buffalo loves in a player. He was undrafted and worked his way through NFL Europe to become a Pro Bowl Punter. Not to discredit Moorman, but what does that really say about your team when the face of your franchise is a punter?
2. I'd Rather Have a Small Flutie than a Big Johnson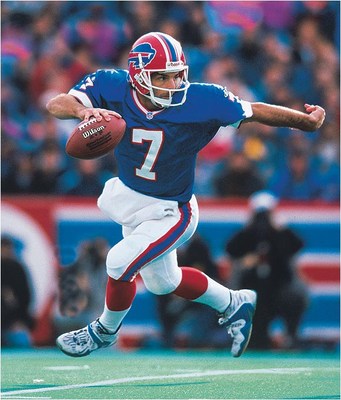 This topic always breaks my heart and confuses me a bit. Flutie leads the team to the playoffs, and is then benched for Rob Johnson in the infamous Music City Miracle/Music City Mistake/ Home-run Throwback game. Johnson fared well in the game, but Flutie had that team doing something special all season. If Flutie had played that game, I'm inclined to believe that the Bills would have gone and maybe even won the Superbowl that year. Yup, I said it.
Coach Wade Phillips was recently interviewed stating that in hindsight he probably should have started Doug Flutie.
1. Consistency and the Playoffs
I am probably one of the few people out there that doesn't mind that the Bills retained Head Coach Dick Jauron and his coaching staff. The local media has him labeled as one of the most unpopular Bills coaches of all time. While I will never disagree with anyone in saying that some of his decisions have been questionable over the past few years I do side with the Bills and their consistency argument.
I'm incredibly tired of seeing a new staff every three years. That new staff brings in new players that fit their schemes, it fails and we start are all over again three season later.
It gets old.
The NFL has become a fickle place, where teams like the Dolphins and Atlanta can turn around over night, but teams like Detroit and Buffalo have been struggling for years. I believe its more realistic to wait around and see my team grow into a good team, then expect every single player they bring in immediately play like a seasoned veteran.
I've already heard talk this off-season about how that this could very well be Trent Edwards last season at QB. He has yet to play two full season at the position. He is entering the third year of a four year rookie contract, so once again the organization has to decide if an average quarterback (at this point) is worth mortgaging their future. Anyone remember Peyton Manning's first few seasons? Troy Aikmen's? They aren't very pretty.
The entire idea of taking the time to develop your team though is one large paradox. Matt Ryan and Joe Flacco come out of the gates and worked wonders. The Fins go from being one of the worst teams ever to winning the conference the following year. Can it be done? Sure, they are proven examples, but the NFL has seen rare instances of these type of occurrences, so I'm banking on the good old fashion means of finding success.
It's frustrating sure, but the franchise has invested so much time now into this specific team that I think it would be foolish to clean house again any time soon, (baring a total meltdown) until every piece of the puzzle is in place.
Hopefully the people at One Bills Drive are right this time around, and that consistency will end Buffalo's playoff drought.
Keep Reading

Buffalo Bills: Like this team?