The Top Five Running Backs in the Big 12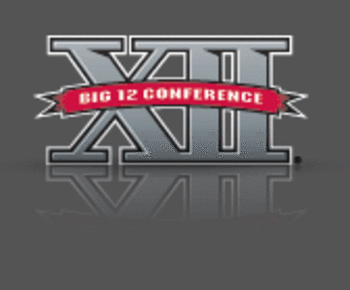 The Big 12 has been known for it's fantastic quarterbacks the past couple seasons, but there is also an array of great running backs throughout the conference. These are my picks for the top five running backs in the Big 12, so if you agree with me, that's awesome and if you don't, well that's cool too, since this is just my opinion. And if you don't agree with my picks, go ahead and tell me who you think the top five running backs in the Big 12 are.
5. Chris Brown-Oklahoma
Last season, splitting time with DeMarco Murray, Brown ran for 1,220 yards and twenty touchdowns. He especially stepped up when Murray went down to injury, rushing 27 times for 122 yards and three touchdowns against Missouri in the Big 12 Championship Game, and then rushing 22 times for 110 yards against Florida in the BCS National Championship Game.
4. Baron Batch-Texas Tech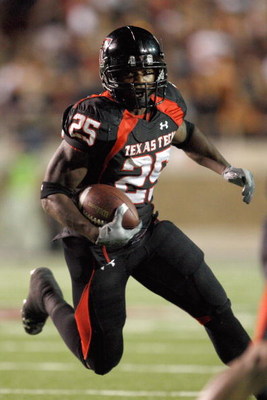 Texas Tech runs the ball?! It's shocking, I know. Texas Tech does in fact run the ball, Baron Batch ran the ball 113 times for 758 yards and seven touchdowns. But of course, it is still Texas Tech, known for their "Air Raid" passing attack so Batch caught a few balls as well. In all, Batch made 45 receptions for 449 yards and one touchdown.
3. Derrick Washington-Missouri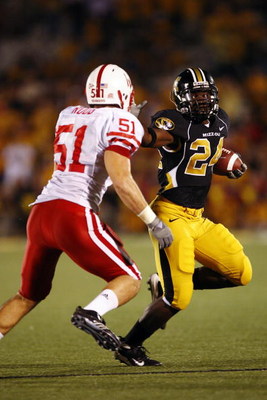 The past couple seasons in Columbia have been the Chase Daniel/Jeremy Maclin show. This year Derrick Washington has to be "the" man on offense for the Tigers. If last year's numbers are any indicator, he should more than up for the task ahead. Last season Washington rushed 177 times for 1,036 yards and seventeen touchdowns and caught another 29 passes for 277 yards and two more touchdowns.
2. DeMarco Murray-Oklahoma
Again, DeMarco Murray and Chris Brown split carries for the Sooners last season. Chris Brown was especially used for the tough yards, but DeMarco Murray was the home-run hitter for the Sooners. Before he got injured on the opening kickoff against Missouri in the Big 12 Championship Game, Murray had rushed 179 times for 1,002 yards and fourteen touchdowns and caught 31 passes for 395 yards and four touchdowns. He was also the Sooners leading kickoff return man, returning 28 kicks for 774 yards, good enough for 2nd in OU history.
1. Kendall Hunter-Oklahoma State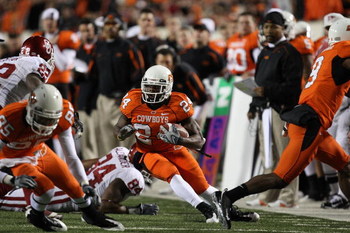 Kendall "Spud" Hunter. He's one of the the three offensive triplets at Oklahoma State this year along with Zac Robinson and Dez Bryant. Hunter was a workhorse for the Cowboys last season as he rushed 241 times for a Big 12-leading 1555 yards and sixteen touchdowns, despite sharing carries with backup Keith Toston and Quarterback Zac Robinson.
Keep Reading