Five MLB Teams That Will Break Down Before October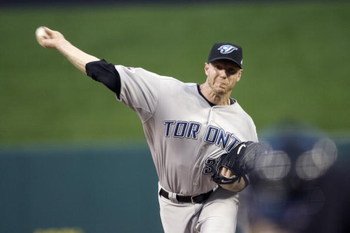 As the season wears on the amount of contenders has kept itself to be a large pool, with many teams still hanging on.
In closer races it seems that the teams can fall faster, with one or two squads always pulling ahead faster, such as in the NL Central or AL West.
You won't find any NL West squads in here, so don't both looking for them. Yet it seems with the powerhouses in the East of the American League you could easily fall away.
Here are the five teams most likely to fall out of the playoff race in the second half of the 2009 season.
5. Milwaukee Brewers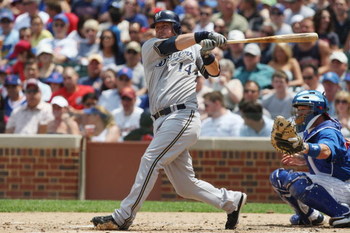 At the moment the Brewers are three games back in the NL Central, fighting with the Cubs, Astros and Cardinals for the key spot in the division.
Milwaukee isn't taking this one home though, because of one reason.
They don't have the CC Sabathia they did last year, no pitcher to push them right into the playoffs.
The closest thing they have is Yovani Gallardo, who has been great as he has gone 8-7 with a 3.28 ERA in 120.2 innings. He has an incredible 130 strikeouts, and has given up 93 hits.
He is an All-Star, but not a superstar. Jeff Suppan and Braden Looper can add their pieces to this rotation, and Trevor Hoffman can close it out.
Lets be clear that no pitcher here is an automatic win like CC was, and they will fall away in this race.
The offense has been there though. McGehee and Felipe Lopez have both been batting over .300 and added a lot of hitting support to a club that already has J.J Hardy, Ryan Braun and Prince Fielder (the Home Run Derby winner).
Yet J.J is only hitting .226, and Corey Hart is barely over the .260 mark. Neither has over 85 hits, and that is not a good sign.
The Brewers will break down and fly away in the second half, and it might seem that Ryan Braun was right to speak out for a big player like Halladay.
Tampa Bay Rays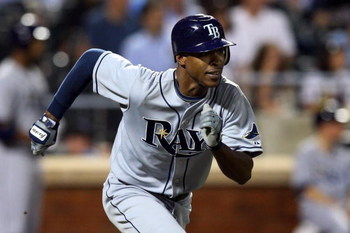 The Rays are not bad, lets get that straight. They just aren't going to be playoff worthy, in the hardest division in baseball the small-market Rays won't make any moves before July 31st.
The Red Sox and Yankees still have a very good chance of making a trade before the deadline, pushing themselves over the Rays.
James Shield, Matt Garza and Jeff Niemann all have been doing great. All of them have an ERA between 3.70 and 3.80, yet Garza actually has a losing record.
They all have pitched over 90 innings, and Garza has 107 K's on the season.
Here's something to look at though, Kazmir and Sonnanstine are both fairing poorly overall. They each have an ERA over 6.00 and neither have pitched over 85 innings.
David Price has been good and will be good in the future, but at the moment hes not great enough to hold up this team or anything close to that.
Carlos Pena has 24 dingers and they have had great performances from Crawford, Zobrist and Bartlett.
Evan Longoria got quieted, but he still has a 19-71-.280 season at the moment.
Still, the AL East is too much for a team without a perfect rotation (somewhat like the Brewers), and the Rays will fall away.
3. Seattle Mariners
You want to talk about bad offenses? Oh man, I have a bad offense here.
There are three players I would call good and they are Russell Branyan, Ichiro and Frankie Gutierrez.
Ichiro has always been a star, hes batting .363 and already has 134 hits. He has always been great and the best lead-off hitter in the MLB.
Gutierrez might be on the trade block but other than that hes been great, batting .295 with 12 homers on the season. He has been a key part of this offense, and a needed intuition for the team.
The last is Russell Branyan who has already hit 23 dingers this year. His batting average of .278 has been impressive and he has also been a big part.
Ken Griffey, meanwhile, has not been good at all. He is batting .215 with only 10 homers, the 500-club member isn't looking his normal stature and has made a dent on the team.
The pitching has been great though, Felix Hernandez, Jarrod Washburn and Erik Bedard all have ERAs under 2.90. That has been a great part of the bullpen, but what about this closer?
David Aardsma, the former Red Sox bullpen member is now a clutch closer for the Mariners. He has 22 saves with an ERA at 1.83, really great for a team that needs that position to be filled.
Still, with a team that was nowhere close to in pressure last year the team won't be able to defeat the Angels and Rangers. They won't handle the playoff situation, and they will fly away to the offseason.
2. Toronto Blue Jays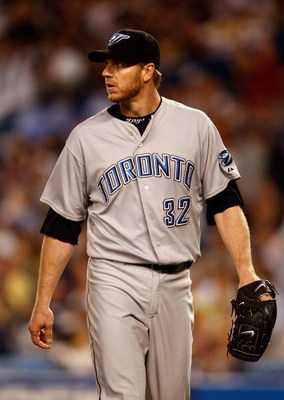 This is a hard one, remember when they were leading the AL East. Yeah, no longer.
They aren't done falling though, oh they have just begun. They are 9.5 games out of the AL East and with trade rumors flying around the team nonstop, its begun to be a bit of a parade.
Roy Halladay is on the block, who wants him? Well, you are going to have to give alot. It seems the Phillies have the best shot of anyone, but after losing Burnett last year and possibly getting rid of Halladay this year it looks like the pitching staff is out of options.
Marc Rzepcyznski might be a great pitcher to come, as he currently sits with an 2.80 ERA but with higher standards to come.
Also, Ricky Romero has been a large part of the team with his 7-4 win-loss and an ERA sitting at 3.25. His career is also just getting started, the 24-year old is going to have some great years ahead of him.
Adam Lind and Aaron Hill have both had All-Star numbers this season, Hill getting the start at second base in the Mid-Summer Classic.
Yet when Overbay and Alex Rios have a combined 19 homers at this point in the season something isn't right, and with all this buzz you just don't know what will happen to a team already so far out.
They will finish at the same record as always, just over .500. My guess? They go 86-76, a good record but not a great one.
1. Chicago Cubs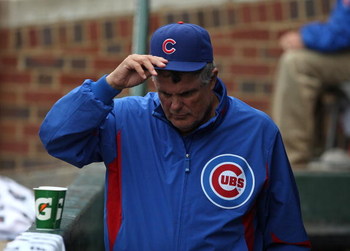 Yes, they are only two games out at last. No, they will not make the playoffs this year.
Issue No.1 for the Cubbies: Milton Bradley is a cry-baby. Coming off a great season with the Rangers the joke has only hit .239 and has more issues than he does hits. Oh my, he is no help at this point.
Issue No. 2 is Geovany Soto, what happened to the All-Star catcher? His last game was July 6, and at that point he was only batting .230.
Issue No. 3 is no starter is hitting over .297 (Theriot) and 18 homers (Derek Lee).
Neither number is exactly a high average, so now you need a good pitching core, right?
Last year Carlos Zambrano went 14-6, this year he is 6-4 so far. He isn't exactly on his usual course, and he has just as many blowouts as he used to have.
Ted Lilly has done well with a 9-7 record and a 3.59 ERA (its higher than Carlos though). He has 107 K's and leads the team in most factories, mostly because no one else is really shining.
Meanwhile Kevin Gregg, the Cubs closer, is only 18 for 21 in save chances and has a ERA of 3.25. The bullpen isn't great, and in such a division they can't make it.
My last issue with this team, there is no fire in Lou Pinella these days. He seems calmer and collected, but that isn't they need out of him! Someone get a flame or else he can't lead this team.
The Cubs will be the biggest team to fall before October, but it will not happen as fast as the Blue Jays. No, they will be a steady fall until all of the sudden they lost three or four straight and everyone realizes they are out of it.
Hope you enjoyed the list, feel free to add a few!
Keep Reading