Here's a Thought: Nathaniel's Top 100 MLB Prospects, #60-51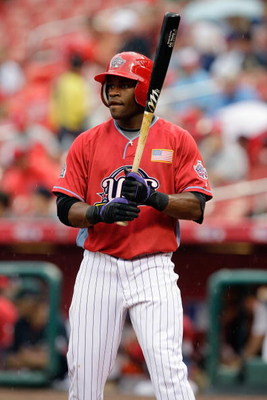 This is part five of 10 in my top 100 prospects series.
If you'd like to read other entries in this series, you can check them out below:
Overview - #100-91 - #90-81 - #80-71 - #70-61 - #60-51 - #50-41 - #40-31 - #30-21 - #20-11 - #10-1
If you don't want to read the series, and just want to read this article, here's the series intro, to get you caught up to speed (if you've read the intro before, just skip to the next slide):
Last year, I got an extremely positive response to my article "The Top 102 Prospects Who Have Yet To Play in MLB."
I decided that it was time to do something similar, and rate the top 100 prospects this year.
Before we begin, a few notes:
These prospects aren't ranked purely statistically and they are not ranked purely on scouting reports. They are ranked based on both. If you'd like to read more on how I believe one should evaluate prospects, read this.
Also, I can never keep track of who has rookie eligibility in the majors, so I made this list entirely of players who did not debut in the majors before July 15, 2009. If someone debuts after that, however (like Mat Latos), they will still be included.
I'm a bit hazy on 2009 draftees, so just because your team's first-rounder isn't on the list doesn't mean they shouldn't be. I feel like I only have good enough knowledge of about 50 or so draftees this year, and a lot of them are the A's draftees.
So don't take offense, Padres fans, when you see Donavan Tate's not on the list.
Speaking of Tate, I only ranked players who have signed or are projected to sign. "Tough signs" like Tate and Matt Purke were excluded. I did, however, rank Stephen Strasburg, just because the hype on him is so huge.
I can also guarantee that pretty much everyone in the minors was considered. I made sure to carefully look at anyone performing well or rated well. If a prospect doesn't appear on this list, I can certainly tell you why.
I hope you like the rankings. Leave any questions or comments you have for me—I'll be more than happy to respond.
Let's take a look at prospects 60-51.
No. 60: Zack Wheeler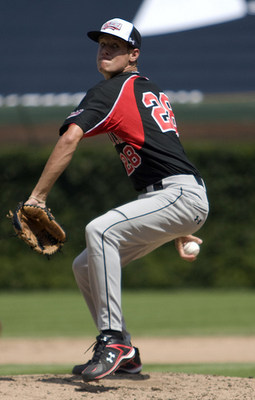 Organization: Giants
Level: N/A (unsigned)
Position: RHSP
For whatever reason, this is now the third straight slide show that's begun with a 2009 top-10 pick righty starting pitcher, following No. 80 Jacob Turner and No. 70 Matt Hobgood.
Drafted one pick after Hobgood and three before Turner, Wheeler has mid-90s velocity and can hit 96 mph. He also has a plus curveball.
His changeup is pretty bad right now, but scouts think it should become a decent third pitch.
After giving Buster Posey a ton of money last year, the Giants have shown they're willing to spend money on a top-10 pick, so signing Wheeler shouldn't be an issue. Like Turner and Hobgood, Wheeler will need to get some pro ball experience before he gets ranked higher.
No. 59: Chris Heisey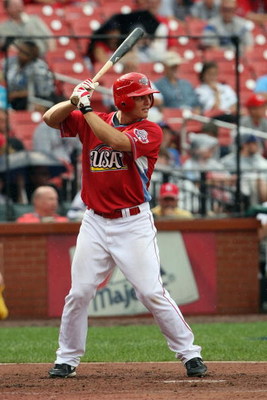 Organization: Reds
Level: Triple-A
Position: CF
Heisey, 24, is the second oldest prospect on this list, behind No. 93, 26-year-old Tommy Everidge.
Heisey rips the ball all over the field and has hit .340/.413/.561 between Double-A and Triple-A. He also is 15-for-16 in steals.
Heisey's a plus defender in center as well. He should become the next Aaron Rowand and be a valuable .300 hitter for many years.
No. 58: Michael Taylor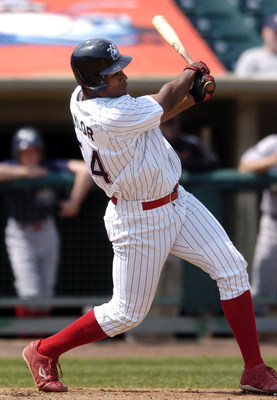 Organization: Phillies
Level: Triple-A
Position: RF
Taylor hit .346/.412/.557 across two levels last year and is at .325/.402/.561 across two more levels this year. He offers the complete package as a hitter: contact, plate discipline, and power.
He even throws in plus speed and right field defense. He could become a right-handed J.D. Drew; hopefully, he'll have fewer injuries than Drew.
No. 57: Carlos Santana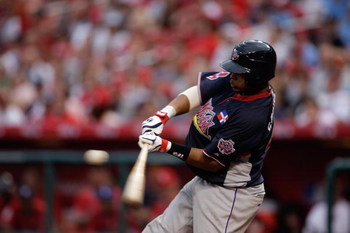 Organization: Indians
Level: Double-A
Position: C
The Dodgers have so much success converting third basemen to catcher (Santana, Russell Martin, and Lucas May) that it's a wonder why more teams don't try it.
Traded to the Indians in the Casey Blake deal last summer, Santana isn't the greatest of defenders, but he's not bad behind the plate.
His real assets are at the plate, not behind it, however. Santana makes good contact, pounds plenty of doubles and homers, and has A-grade plate discipline.
If that package sounds a lot like current Indians catcher Victor Martinez, it should.
No. 56: Jeanmar Gomez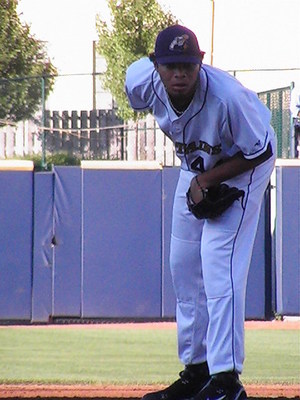 Organization: Indians
Level: Double-A
Position: RHSP
When I tacked this guy onto the back of my Top 102 Prospects last year, people must have thought I was crazy.
After all, Baseball America didn't even rank Gomez in Cleveland's top 30 prospects four months after I wrote that article.
I made plenty of errors in that list (I still can't believe I actually ranked Angel Villalona No. 1 and had something like 14 A's on there), but Gomez's inclusion wasn't one of them.
Now that he's in Double-A and has thrown a nine-inning perfect game, Gomez suddenly has far more backers than just me.
He's still just 21 and is already Triple-A-ready, if not MLB-ready, as he's dominated Double-A.
Gomez throws a good low-90's fastball, a plus changeup, and an average but improving slider. While that's overall just average-plus stuff, few pitchers throw more quality strikes than Gomez.
He's always been young for his levels and is extremely advanced for his age.
Gomez could be ready to start for the Indians next April, and should blossom into a consistent front-to-middle-of-the-rotation starter.
No. 55: Wade Davis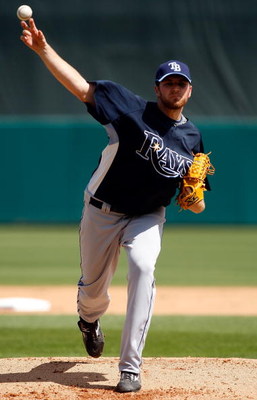 Organization: Rays
Level: Triple-A
Position: RHSP
Davis could start for probably 20 teams in the majors right now. He's having a dominating season at Triple-A and has excellent stuff, so he has little left to prove in the minors.
Davis throws in the 92-96 mph range and features one of the best curveballs in the minors. He also throws a good cutter and decent changeup.
The 23-year-old is something of a finished product, and in a perfect world, his K/BB ratio would be a little better than 2.19, but he should at least be as good as Gil Meche.
No. 54: Kyle Russell
Organization: Dodgers
Level: Low-A
Position: RF
It takes a whole lot of power to hit 21 homers in three and a half months in the Midwest League.
A pitcher's paradise, the Midwest League and its cold weather make a .400 slugging percentage an accomplishment, and the league average in that stat is usually around .360.
Russell's hitting .272/.368/.566.
He's already 23 and has big contact issues (122 strikeouts), but you can count the prospects with more power than Russell on one hand.
He does have decent speed and is a plus defender in right field. He's also playable in center.
A good comparison for Russell is Nick Swisher with even more power.
No. 53: Tyler Flowers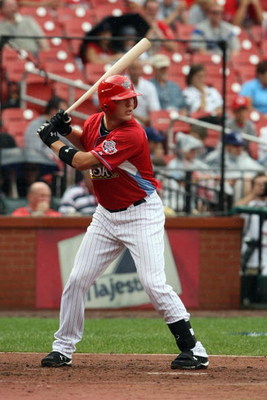 Organization: White Sox
Level: Triple-A
Position: C
Flowers is a lot like Santana. He's not a great defensive catcher, but he's the complete package as a hitter.
Flowers' power and contact grade out a little bit better than Santana's, and he's already been promoted to Triple-A, so he rates just a few spots higher.
Both should be excellent catchers for the AL Central rivals (Cleveland and Chicago) for years to come.
No. 52: Hector Rondon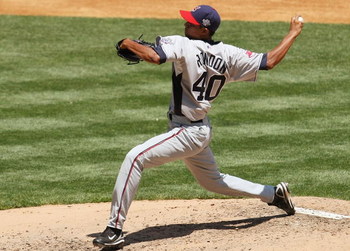 Organization: Indians
Level: Triple-A
Position: RHSP
It's impossible to talk about Gomez or Rondon without talking about the other. Both are Venezuelan righties born in February 1988.
They both throw low-90s heat and average but improving off-speed stuff. They both have excellent control.
Rondon rates higher for two reasons. The first is that he was recently promoted to Triple-A and has dazzled there, while Gomez is still in Double-A.
The second is that while Gomez's control is exceptional, Rondon's is borderline paranormal, as he absolutely fills up the strike zone with his pitches.
If his off-speed stuff keeps developing, Rondon could be an ace. In a worst-case scenario, he's still a pretty valuable pitcher in the Kevin Slowey mold.
No. 51: Eric Young Jr.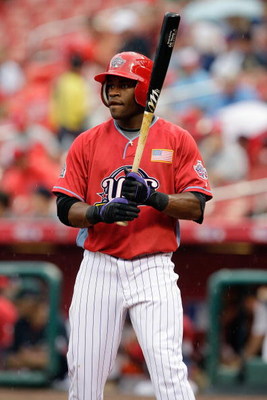 Organization: Rockies
Level: Triple-A
Position: 2B
Wrapping up the bottom half of the top 100 is the speedy Young, who's stolen a whopping 50 bases this year.
Unlike a lot of speedsters, Young has some pop in his bat, and isn't really a slap hitter. He's hitting .297/.381/.424 in Triple-A.
Anyone with his grade of speed and a .381 OBP is a huge top-of-the-order difference maker, which is exactly what Young's role will be.
Like Davis, Young has little left to prove in the minors, and is a phone call away from being a good major league player.
Keep Reading