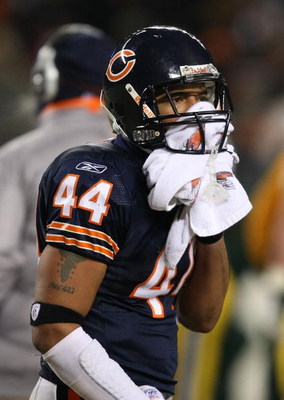 Any discussion of the 2009 Chicago Bears will invariably revolve around Jay Cutler and his sub-prime receiving corps.
Considering that the Bears last franchise QB was born during the Woodrow Wilson administration, the hype surrounded Cutler is at the very least understandable.
Still, if Chicago fans want to see their boys back in the playoffs, they'll have to rely on major contributions from some lower profile players.
The two most obvious candidates, Devin Hester and Greg Olsen, have been excluded as their names have been mentioned ad nauseam since the Cutler trade. With that said, here are my Top Five Breakout Bears.
5. Juaquin Iglesias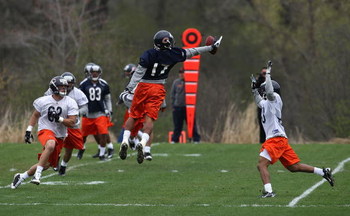 The sure-handed Iglesias is the best pure WR talent on the Bears roster. While conventional wisdom suggests that rookie receivers generally are not impact players, Iggy has better hands and runs better routes than anyone on this team.
The former Sooner should eventually establish himself as the No. 2 WR across from Devin Hester, but it wouldn't surprise me to see Iglesias leading the team in targets by mid-season.
4. Mark Anderson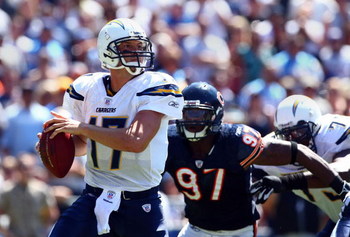 No one looks to benefit from the tutelage of new defensive line coach Rod Marinelli more than Mark Anderson.
Despite his complete disappearance last season, Anderson is only a few years removed from a rookie campaign in which he amassed 12 sacks and was second to DeMeco Ryans in DROY voting.
Marinelli knows that the key to a dominant D-line is getting to the QB, and the speedy Anderson could thrive in the new scheme. Oh yeah, he's also in a contract year.
3. Craig Steltz
Craig Steltz may not have ideal speed or range for the free safety position. However, his bag of intangibles could allow him to become more than just a starter-by-default.
New defensive backs coach Jon Hoke has raved about Steltz's understanding of the defense, communication skills, and natural football instincts.
If Steltz can produce more plays like his week nine interception against the hapless Lions last season, we could be looking at a long-term solution at free safety. The ball is in his hands (hopefully).
2. Kevin Jones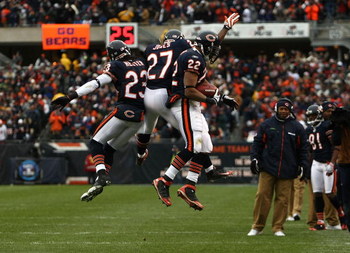 Of all the players on this list, the most vital to Chicago's success might be Kevin Jones. The Bears could have traded for a 26 year-old Joe Montana in the offseason; they're still going to get off the bus running the ball.
Word out of the Bears' camp is that Jones is as close to 100 percent healthy as he's been in years. And if Chicago hopes to make a deep postseason run, Matt Forte will need to be as fresh as possible.
With an increased role and better understanding of the offense, the additions of Orlando Pace and a healthy Chris Williams, and the affect Jay Cutler is sure to have on opposing defenses, Kevin Jones could be primed for a very strong comeback season.
At the very least, how many teams can boast a 27 year-old backup RB with 4,000+ career yards and 27 TDs?
1. Kevin Payne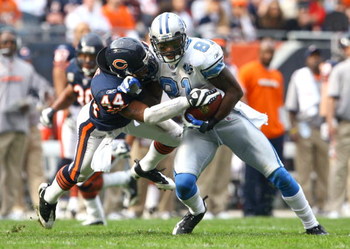 In his first season as a starter, Kevin Payne recorded 89 tackles, seven pass deflections, and his four interceptions were a team high. With production like that, tagging the strong safety as a "breakout player" may seem a bit superfluous.
In fact, it's very possible that his numbers will go down next season as opposing coordinators become less willing to throw the ball into Payne's wheelhouse for fear of the wood he could lay on a prone wide receiver.
A full offseason should help iron out his technique and give him a firmer grasp of the defense. As he becomes more comfortable with the scheme and his responsibilities, Payne will be able to react on instinct rather than raw athleticism.
If he can show the same rate of progression we witnessed between his first and second seasons, Payne has the potential to become a very good safety in the mold of former Bear and fellow Louisiana-Monroe product Chris Harris.
If Payne can play to that level, Chicago's secondary could transform from a perceived weakness to a position of strength. Once that happens, look out.
Keep Reading

Chicago Bears: Like this team?