Here's a Thought: Nathaniel's Top 100 MLB Prospects: #80-71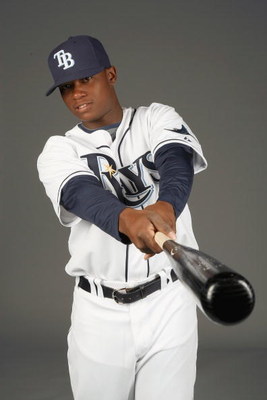 This is part 3 of 10 in my top 100 prospects series.
If you'd like to read other entries in this series, you can check them out below:
Overview - #100-91 - #90-81 - #80-71 - #70-61 - #60-51 - #50-41 - #40-31 - #30-21 - #20-11 - #10-1
If you don't want to read the series, and just want to read this article, here's the series intro, to get you caught up to speed (if you've read the intro before, just skip to the next slide):
Last year, I got an extremely positive response to my article "The Top 102 Prospects Who Have Yet To Play in MLB."
I decided that it was time to do something similar, and rate the top 100 prospects this year.
Before we begin, a few notes:
These prospects aren't ranked purely statistically and they are not ranked purely on scouting reports. They are ranked based on both. If you'd like to read more on how I believe one should evaluate prospects, read this.
Also, I can never keep track of who has rookie eligibility in the majors, so I made this list entirely of players who did not debut in the majors before July 15, 2009. If someone debuts after that, however (like Mat Latos), they will still be included.
I'm a bit hazy on 2009 draftees, so just because your team's first-rounder isn't on the list doesn't mean they shouldn't be. I feel like I only have good enough knowledge of about 50 or so draftees this year, and a lot of them are the A's draftees.
So don't take offense, Padres fans, when you see Donavan Tate's not on the list.
Speaking of Tate, I only ranked players who have signed or are projected to sign. "Tough signs" like Tate and Matt Purke were excluded. I did, however, rank Stephen Strasburg, just because the hype on him is so huge.
I can also guarantee that pretty much everyone in the minors was considered. I made sure to carefully look at anyone performing well or rated well. If a prospect doesn't appear on this list, I can certainly tell you why.
I hope you like the rankings. Leave any questions or comments you have for me—I'll be more than happy to respond.
Let's take a look at prospects 80-71.
No. 80: Jacob Turner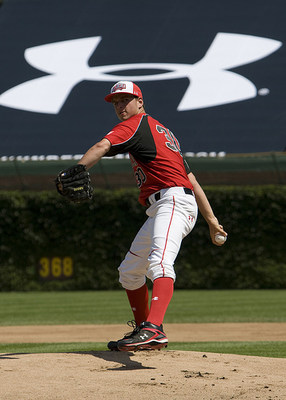 Organization: Tigers
Level: N/A (unsigned)
Position: RHSP
I'm confident the Tigers will sign Turner. They usually grab a top prep pitching prospect and pay him over-slot money, so it's almost certain they'll adhere to that strategy here.
Turner isn't too high on this list because while he has a ton of "projection," his current stuff isn't the greatest. Scouts think his current pitches (89-92 mph fastball, decent mid-70's slider, minus change) will become excellent as he physically matures.
He's supposed to be a mid-90's fastball, low-80's power slider, average changeup guy. He might get there, but there's no guarantee he will. Until Turner shows signs of improving his stuff and puts up some numbers in pro ball, I can't rank him higher than this.
No. 79: Mike Moustakas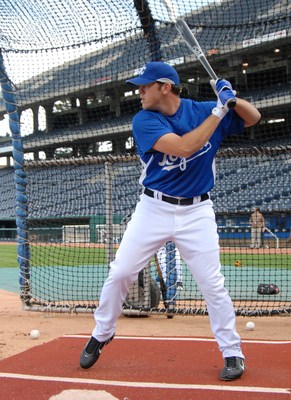 Organization: Royals
Level: High-A
Position: 3B
If there's a theme to prospects 80-71, it's former top guys who have fallen a bit due to poor 2009 seasons.
I would have ranked Moustakas probably in the 25-40 range coming into the year, and BP's Kevin Goldstein had him at 21. Baseball America's writers thought of him even more highly than that.
Alas, Moustakas is hitting .251/.291/.407 this year.
Before you get all over my case for rankings like this, remember that calling a guy a top 100 prospect at all is a huge vote of confidence. It's important to look at upside of a player, but it's also important to look at his chance of reaching that upside.
Moustakas' upside is enormous: he could be a .300 hitter with 30-plus homers and good defense at third, somewhat of a left-handed-hitting Mike Lowell.
However, he is about to turn 21, the age where prospects need to start showing some real production above Low-A. Moustakas simply hasn't done that yet. His power is there, but he's lost control of the strike zone and needs to make much better contact.
One note of hope is that Moustakas started slowly last year before having a huge second half at Low-A; it's possible he could do that again, although he's gotten worse every month. The upside is still there, but Moustakas' chances of reaching his ceiling have gone down significantly.
No. 78: Jemile Weeks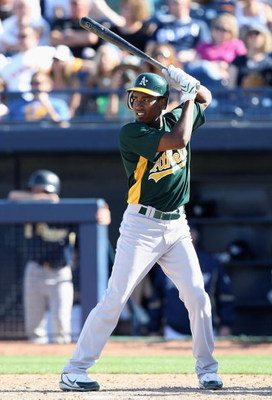 Organization: Athletics
Level: High-A
Position: 2B
This is what an infield prospect should be hitting like. Weeks isn't anywhere near Moustakas in terms of upside—it would be a surprise to see him hit 20 homers in a season, and his defense at second is nothing special.
However, Weeks' two big plus attributes—his contact and plate discipline—have shown through this year, as he's hit .307/.392/.523. He's also flashed some unexpected power, although that could be a result of the Cal League.
Weeks profiles as something of a switch-hitting Dustin Pedroia—a high-average, high-OBP, decent-power second baseman whose all-out defensive hustle allows him to be an average defensive player.
No. 77: Esmil Rogers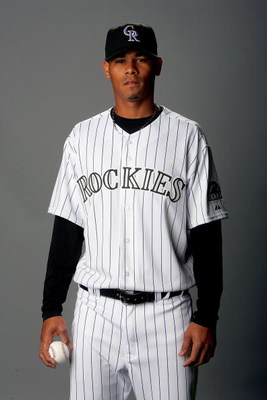 Organization: Rockies
Level: Triple-A
Position: RHSP
One of the older prospects on this list, Rogers is still developmentally young because he didn't take up pitching until he was 20. Now a month shy of 24, he was recently promoted to Triple-A.
Rogers has a good fastball and curve, and he throws a lot of strikes. He's still improving his changeup, and its improvement will dictate whether Rogers is a mid-rotation starter or power closer.
As a starter, he's a bit short of being an overpowering ace, but Rogers should be a nice complementary guy in the Gil Meche mold.
No. 76: Josh Thole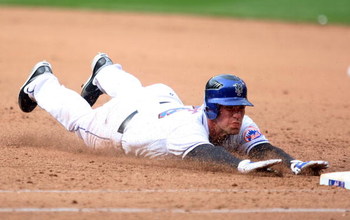 Organization: Mets
Level: Double-A
Position: C
Who doesn't love a .300-hitting catcher?
Thole rockets singles and doubles all over the park, and he's hitting .338/.410/.445 in Double-A as a 22-year-old. He's got a stellar 33/25 BB/K ratio as well.
He's a bit of a project defensively, but hey, the Mets stuck Mike Piazza behind the dish for years, so they're used to it.
No. 75: Tim Beckham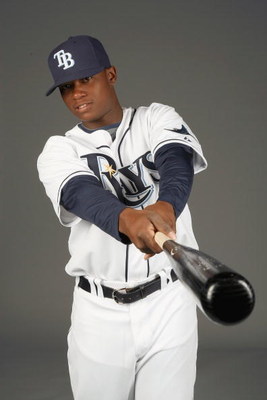 Organization: Rays
Level: Low-A
Position: SS
Continuing the theme of underperforming top prospects is Beckham, last year's No.1 overall pick. Yes, he's young, but you like to see more signs of life than .273/.327/.398 in Low-A. Aside from a good May, he's been much worse than even that mediocre line indicates.
Defensively, the news isn't any better, as Beckham has made 32 errors. He's even gone just 7-for-15 in steals.
Again, Beckham's upside is so good that I'm still including him on the list, so it's not like I'm writing him off. He could be a .290/.350/.460 shortstop with excellent defense and 25 steals per year. It's just that none of those skills are showing up now, and until they do, calling him a top-50 prospect is, in my opinion, incorrect.
No. 74: Danny Duffy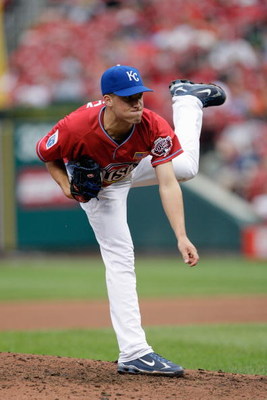 Organization: Royals
Level: High-A
Position: LHSP
Duffy looks like the next Mark Buehrle, as he works quickly and commands both sides of the plate.
The 20-year-old lefty works off an 86-94 mph fastball, and throws an average-plus curve and change. He throws plenty of strikes and has a sound throwing motion. He's not likely to get a whole lot better, but he's already very good right now.
No. 73: Greg Halman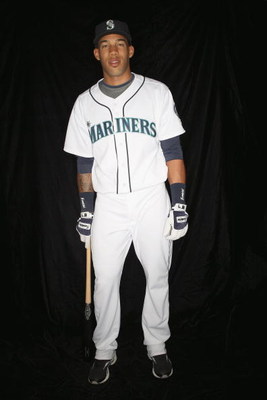 Organization: Mariners
Level: Double-A
Position: CF
Yet another underperformer, Halman won the MVP of the Dutch professional baseball league at age 17 and crushed minor league pitching through 2008.
Halman is a great defensive outfielder with an excellent arm, and he could be a 35-HR, 35-steal player in the majors.
However, all that potential's come into question this year, as he's hit (gulp) .212/.272/.461 in Double-A.
The power's nice, but Halman walks far too rarely and strikes out far too frequently. He's already whiffed an astonishing 128 times in 79 games, while drawing only 18 walks. You aren't playable with that sort of ratio.
Somehow, Halman's found a way to hit 20 homers in all of this mess, so the power is still certainly there. July's brought some signs of life as well (.274/.313/.581).
If he regains his 2008 form (.268/.320/.572 in High-A; .277/.332/.481 in Double-A), Halman will rate around No. 20. But when you strike out 40 percent of the time, that just doesn't get it done, so he falls to here.
No. 72: Pedro Alvarez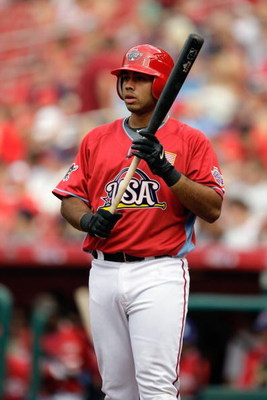 Organization: Pirates
Level: Double-A
Position: 3B
Last year's No. 2 pick only rates slightly higher than the No. 1 (Beckham).
Alvarez has hit .249/.330/.492 across two levels this year, not bad, but not exactly earth-shattering for a 22-year-old who's supposed to be a top-10 prospect.
Alvarez isn't better than average defensively, and some scouts think he'll have to move to first in the majors, meaning he'll really have to hit.
Alvarez has struck out 95 times, and he has a 25/4 K/BB ratio in Double-A.
His upside is a .300 hitter with 40-homer power, but like Moustakas, Beckham, and Halman, the tools aren't translating into anywhere near that sort of production.
At 22, he also has less time than any of those three to figure it out. To be fair, he's also had a better season than any of them, which is why he's ahead of them.
No. 71: Kyle Drabek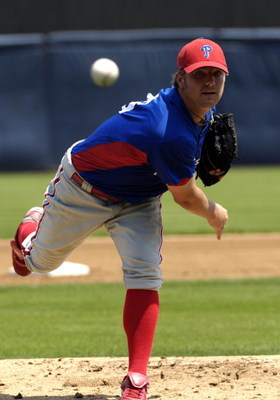 Organization: Phillies
Level: Double-A
Position: RHSP
Drabek's been talked about as the centerpiece for a Roy Halladay deal, which may be leading to him being a bit overrated. He's definitely a great prospect, which is why he's here, but he's not going to develop into a Halladay-esque ace.
Drabek throws a low-90's fastball and one of the minors' best curveballs. His changeup is likely always going to lag behind, and he'll use the fastball or curve 95 percent of the time.
He was unhittable at High-A, but his strikeout rate's taken a big hit in Double-A, and he's also allowing more homers, but he should be able to have an average homer rate at Philadelphia's hitter-friendly ballpark.
A good comparison for Drabek isn't Halladay, but another guy who recently wore a Toronto uniform: A.J. Burnett.
Keep Reading