The Best First Basemen in New York Mets History
Here is the second part of my All-Time Mets list focusing on the franchise's first baseman.
While I was looking down the list of all the Mets' starting and backup first baseman I was amazed by how many All-Stars and current and future Hall of Famers there have been at this position.
The likes of Hall of Famer Eddie Murray, future Hall of Famers Mike Piazza, and Carlos Delgado and even 1969 World Series MVP Donn Clendenon will not be on this list.
The Mets have always been a pitching ball club, but in the shadows are the first basemen who have always given huge contributions to the New York Mets.
3. John Olerud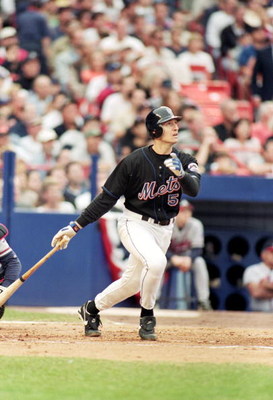 The Numbers:
G - 476
AB - 1662
R - 288
H - 524
2B - 109
3B - 5
HR - 63
RBI - 291
SB - 5
BB - 306
BA - .315 (1st)
OBP - .425 (1st)
SLG - .501
John Olerud only spent three years with the Amazin' Mets, but he helped turn a fourth place team into a contender. John's first season with the Mets was 1997 when he hit 22 home runs with 102 RBI and a .294 BA.
In '98, Olerud put together one of the best performances in New York Mets' history, repeating 22 homers, collecting 93 RBI and an amazin' .354 BA which is still a Mets' single-season record. Olerud played one more season with the Mets playing all 162 games, smashing 19 home runs with 96 RBI and a solid .298 BA making his lifetime Mets average .315, a club record. Before his time in a Mets uniform was done, Olerud hit .349 in the '99 playoffs with three homers and 12 RBI.
Olerud would go on to have a few good years with the Seattle Mariners and eventually find his way back to New York, playing 49 games with the 2004 Yankees.
2. Ed Kranepool
The Numbers:
G - 1853 (1st)
AB - 5436 (1st)
R - 536 (7th)
H - 1418 (1st)
2B - 225 (1st)
3B - 25 (9th)
HR - 118 (10th)
RBI - 614 (4th)
SB - 15
BB - 454 (7th)
BA - .261
OBP - .316
SLG - .377
1x World Champion
1x All-Star
Have you ever heard of a true Yankee?
They are player like Mickey Mantle, Yogi Berra, Whitey Ford, Lou Gehrig, Joe DiMaggio and Don Mattingly among others. They are the players who have played for the Yankees their whole career. When you think of them, you think of the Yankees.
Now, have you ever heard of a true Met?
There's only one, Ed Kranepool. He played all 1853 games of his career as an Amazin' Met. He played with the inaugural '62 Mets, the '69 World Championship Team and the '73 NL Champions in his 18 year career.
Kranepool never put together huge numbers like Olerud or Delgado but he was consistent and later on in his career, a team leader. In '69, Kranepool put together 11 home runs, 49 RBI with a .238 BA and hit a homer in his only game in the World Series.
Kranepool's best season came in '75 when he hit four homers, drove in 43 runs and batted .323 but you could argue that '76 (.292/10/49) or '77 (.281/10/40) were just as good or better.
Kranepool isn't on this list for his accomplishments on the field, in the batter's box or for his leadership, he's here because he's the closest thing to a Mickey Mantle the Mets have ever had. He even wore No. 7!
1. Keith Hernandez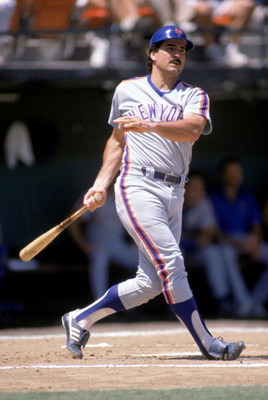 The Numbers:
G - 880
AB - 3164
R - 455
H - 939
2B - 159
3B - 10
HR - 80
RBI - 468 (8th)
SB - 17
BB - 471 (5th)
BA - .297 (3rd)
OBP - .387 (4th)
SLG - .429
1x World Champion
3x All-Star
6x Gold Glover
1x Silver Slugger
There are many reasons why the Mets went from a last place team in 1983 to World Series Champions in 1986, a main one is Keith Hernandez.
"Mex" came to the Mets in June of '83, already a former MVP and World Series Champion with the Cardinals but he still had much to do with the Mets leading the team to a World Series Championship in '86 and an Eastern Division Championship in '88.
It is well known that Hernandez hated New York at first but after that '83 season he quickly grew to love the fans and became a leader on the field and in the clubhouse, becoming the Mets' first team captain in '87.
Hernandez not only added his amazing defense to the Mets but also his bat, winning his second Silver Slugger award in '84 with 15 HR, 94 RBI and a .311 BA.
Honorable Mentions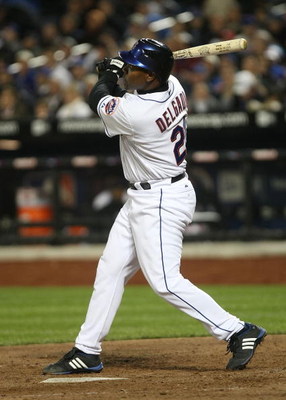 Donn Clendenon - 45 HR, 171 RBI, .267 BA, '69 World Series MVP
John Milner - 94 HR, 338 RBI, .245 BA
Dave Kingman - 154 HR, 389 RBI, .219 BA, 1x All-Star, Led NL with 37 HR in '82
Todd Zeile - 41 HR, 176 RBI, .259 BA
Carlos Delgado - 104 HR, 339 RBI, .267 BA
Keep Reading

New York Mets: Like this team?