Predicting the 2009 NFL Award Winners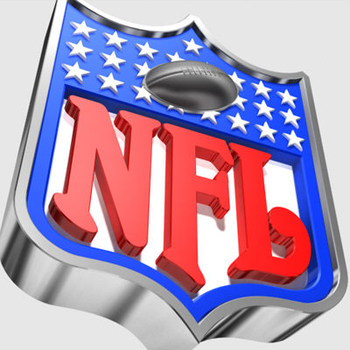 Let's face it, we are all starving for football right now.
The 2009 NFL season will be here soon (not soon enough), and it's time to start predictions.
With many people writing about the standings, playoffs, and breakout players, I decided to write my next piece on the award winners of this upcoming season.
These are strictly based on my personal feelings of how the teams/players will fare this year. I know at the end of the year I may look back on this and laugh, but for now, I would just really like to talk football.
Can you blame me?
Comeback Player of the Year: Carson Palmer - Bengals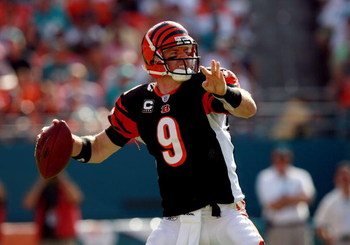 With a healthy Palmer coming back to Cincy, this pick mostly depends on how Chad Johnson (I will forever and always refer to him as Johnson) plays.
Carson has proven he has a great arm, and he has plenty of weapons at his disposal in Cincinnati. The Bengals will be much improved from last year, and Carson's play on the field will be the reason why.
Runner up: Osi Umenyiora - Giants
Offensive Rookie of the Year: Knowshon Moreno - Broncos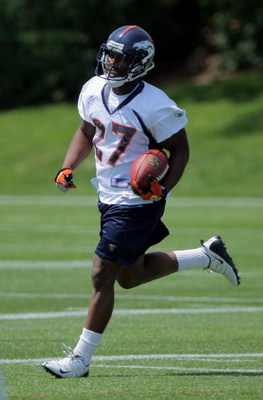 Moreno goes into Denver as "the" guy.
Denver has been known to just plug in no-name running backs and produce 1,000 yard seasons. Now with a gifted athlete like Moreno in the backfield, and Kyle Orton at QB, look for him to explode.
Even if he isn't starting at tailback, he will have a place on the field because he is a play maker.
Runner up: Hakeem Nicks - Giants
Defensive Rookie of the Year: Aaron Curry - Seahawks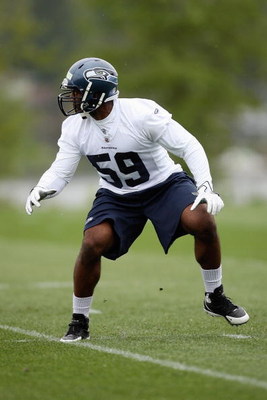 Curry is a stud, and fits perfectly in the Seahawks linebacker core.
Projected as the best defensive player in the draft by some, look for Curry to start, and lead the defense in the later part of the season.
Playing in the NFC West will benefit Curry, who is quick to pick up on things. Every rookie makes mistakes, but look for Curry to limit those mistakes and become a great linebacker for Seattle.
Runner Up: B.J. Raji - Packers
Offensive Player of the Year: Matt Forte - Bears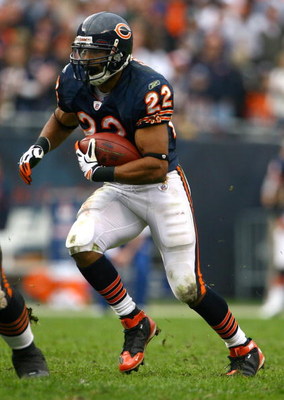 Forte is looking to break out this season.
He is the key player for the Bears, if they are going to be successful this year. Cutler doesn't have any receivers to throw to, so dumping off to Forte will be a great option.
With the Bears defense locking opponents down, the offense will look to run and manage the third downs with Cutler. He is "the" back in Chicago, and he will carry them as far as they can go.
Runner Up: Andre Johnson - Texans
Defensive Player of the Year: Patrick Willis - 49ers
This guy led the NFL in tackles last year.
He is also a monster on the field. Willis has been successful ever since he was drafted by San Fran. He has led the 49ers on defense and without him, they would be one of the worst teams in the league.
Willis is often compared to a younger Ray Lewis, and it shows on the field. His play speaks for itself, and everyone will begin to realize that he is one of the best defensive players in the league, finally.
Runner Up: Adrian Wilson - Cardinals
Coach of the Year: Mike McCarthy - Packers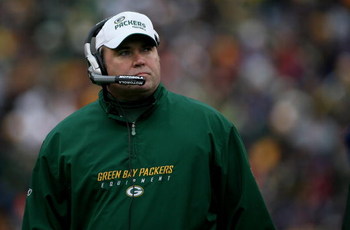 McCarthy is finally making a name for himself.
After a somewhat disappointing season last year for the Packers, look for them to rebound and contend for the division late in the season. With Rodgers behind center and Ryant Grant getting back to form, they should be good to go.
This is one of the hardest ones to predict, but Green Bay looks like one of the teams most likely to bounce back and have a great year. They have the weapons they need to get back to the top of the division.
Runner Up: Gary Kubiak - Texans
Most Valuable Player: Adrian Peterson - Vikings
Adrian has been on the prowl, and finally nabs the MVP trophy.
He has become the best back in the league, and looks to have an outstanding career, if he can stay healthy. Peterson is in the perfect situation, where running the ball is key in divisional play.
Whether he is running or getting dump off passes, he is always a threat to take it the distance. Chester Taylor will see his carries slightly diminish, and Peterson will explode. If he can stay healthy all season, look for this guy to hoist the MVP trophy.
Runner Up: Tom Brady - Patriots
Keep Reading

Indianapolis Colts: Like this team?