Amar'e Stoudemire Vs. Chris Bosh: Who Would You Take in 2010?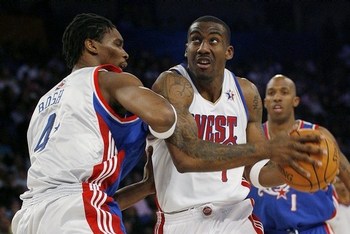 The summer of 2010 is expected to be a feeding frenzy with a huge crop of the NBA's young talent expected to be available in free agency.
The headliner is clearly LeBron James.
Dwyane Wade may also be out there.
NBA teams seem to be on a never-ending hunt for size.
The era of dominant, banging centers has morphed into the era of athletic forwards that can score from anywhere on the floor.
This brings me to my question.
In all likelihood, Phoenix Suns forward Amar'e Stoudemire and Toronto Raptors forward Chris Bosh will both be available next summer.
If given your pick, who would you choose?
Let's compare.
Statistical Rundown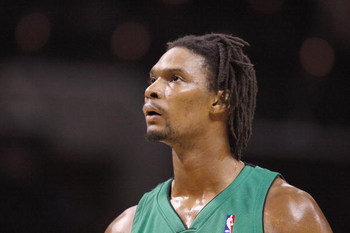 Chris Bosh Career Per Game Statistics
19.6 points, 9.2 rebounds, 2.2 assists, 1.2 blocks, 48 percent FG, 79.5 percent FT
Amar'e Stoudemire Career Per Game Statistics
21.1 points, 8.9 rebounds, 1.4 assists, 1.4 blocks, 54 percent FG, 75.5 percent FT.
Scouting Reports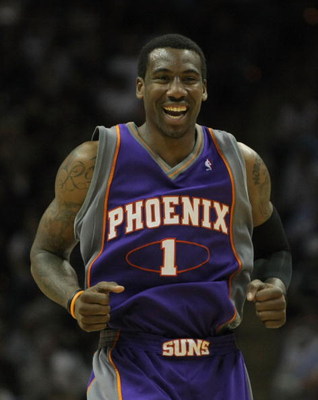 Chris Bosh
25-year-old Bosh is 6'11" and can score from just about anywhere on the floor. He's a lefty with very quick and very polished moves on the low block. He's tough to guard because of his quickness.
Bosh has great touch around the rim and is able to finish well. He can step out and shoot from mid-range, and occasionally out to the three-point line. He's an extremely versatile big. He can run the floor with guards and get out on the break.
However, he's not a great defender and is not very physically strong, which causes him trouble when defending bigger players.
Amar'e Stoudemire
26-year-old Stoudemire is listed at 6'10" and could be the most athletic big in the league today. He came into the league a raw talent but has very quickly developed into one of the most polished forwards in the NBA.
He is a monster finisher around the rim. He's strong and now has the ability to step out and hit a jumper with scary consistency from just about anywhere on the floor. He's gone from a 66 percent free throw shooter as a rookie to 84 percent last season. He has an excellent work ethic.
On the downside, Stoudemire doesn't pass the ball much, making him something of a black hole on offense. His defense could also use some work, as he has never seemed committed to giving much effort on that end of the floor.
Miscellaneous Honors/Awards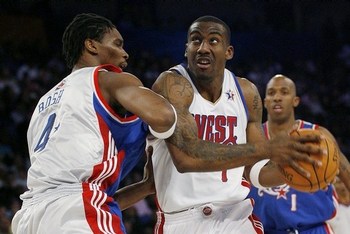 Chris Bosh
-Four-time NBA All-Star
-2006-07 All-NBA Second Team
-2008 Olympic Gold Medalist (USA Basketball)
Amar'e Stoudemire
-2002-03 NBA Rookie of the Year (first high school player to receive honor)
-MVP of Rookie All-Star Game in 2004
-2004 Olympic Bronze Medalist (USA Basketball)
-Four-time NBA All-Star
-Two-time All-NBA Second Team selection
-2006-07 All-NBA First Team selection
The Question
Which would you want as your starting power forward?
Keep Reading

Phoenix Suns: Like this team?