Five Little Known Raiders That Will Contribute Big in 2009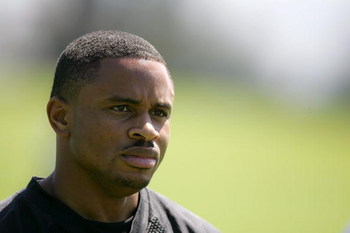 It took Nnamdi Asomugha a while to get the credit he deserved, and now he is known as the best player in his position.
The Raiders have more talent than just Asomugha, and this year I see five players that are not household names yet to have their coming out party and become play makers and some Pro Bowlers.
Lets take a look at five players who I believe will make the Leap from little known player to prime time player
Zach Miller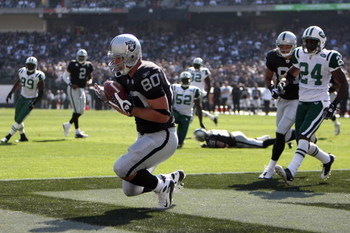 To the Raider Nation he is not a secret, and we know what he can do, but to the rest of the nation, he plays second fiddle to the Steelers tight end Heath Miller.
Expect Miller to make his presence felt early in the season, and have it continue throughout the year. He will be among the leaders in receptions and TDs for his position in the AFC and with Tony G. gone, expect Z. Miller to make his first Pro Bowl appearance.
With the addition of Heyward-Bey, the middle will be wide open for Miller.
Michael Bush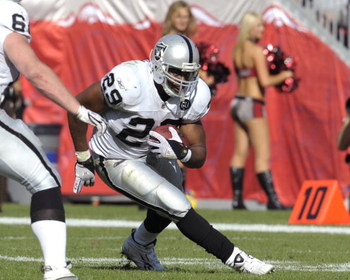 Michael Bush's coming out party started the last game of the season last year vs Tampa and it's not stopping. The Raiders may have two 1,000 yard rushers this season, but they will have one back going for over 1,000 yards and his name will be Michael Bush.
With his speed and size, he has all the tools to be our work horse. See him getting the majority of the carries along with McFadden.
McFadden will be used in many ways, but look for Bush to be our bruiser and lead our team in rushing. A McFadden/Bush combo will be a lot for other teams to handle.
Trevor Scott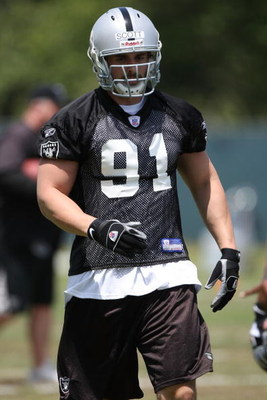 Trevor Scott is coming into his second year as a pro. He will be playing opposite of Burgess or Ellis, he may not even start, but he will be among the leaders in sacks once again for the Raiders.
He has the motor and the desire to be the best. Look for him to cause havoc in the backfield for other teams. Watch for him to have a more productive season than Chris Long, which is what we need him to do. He'll solidify our pass rush and bring energy to our defense.
Chaz Schilens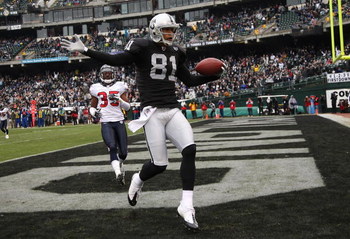 Our young wideouts are unproven and inexperienced, but these guys are hungry and they are play makers. Look for Chaz Schilens to lead our team in receptions and TDs this year.
Having Heyward-Bey out there will benefit Schilens a lot, both guys are big, strong fast guys. With a year under his belt, Schilens will be more prepared for what other teams throw at him. Watch for him and JaMarcus Russell to click right off the bat.
Chris Johnson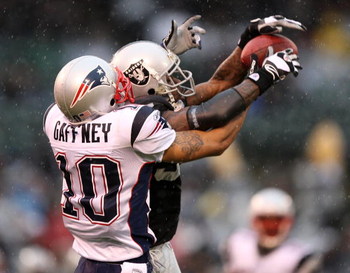 Chris Johnson, you may here his name being called more times than the other Chris Johnson this season.
His season can go one of two ways, he will be in the top three in the league in interceptions and will make the Pro Bowl with Nnamdi Asomugha or he will have an early exit from the starting line up or even the team, just like Deangelo Hall.
Playinig opposite of Asomugha means the ball is coming to your side over 75 percent of the time, it could be a blessing or a curse.
Johnson's name will be called many times this season, I'm confident in his abilities, and I believe because he is playing opposite of Asomugha, he will be in the top three in interceptions in the league.
Keep Reading

Oakland Raiders: Like this team?