The Top 10 Footballers Who Failed To Realise Their Potential
You've seen the article name, and you've seen the picture...and now you're confused.
"Isn't this article about players who DIDN'T reach their potential?" I hear you ask—indeed it is.
Cristiano Ronaldo is a player who is indeed realising his undoubted potential. League title wins, FA Cups, League Cups, a Champions League winners medal, a European Championship runners-up medal, in addition to a slew of personal accolades including the illustrious Ballon d'Or.
But what about the numerous players of unquestioned ability who never quite achieved the things Cristiano has?
Players who mesmerized the public and terrified oppositions but only far too fleetingly.
Players who could have been world beaters, players who had the raw materials to amass a similar trophy haul to Cristiano himself but ultimately fell short of where they could, nay should, have been.
I have based my choices on what a player achieved relevant to their ability. I have also only selected players I have seen play a considerable number of times. I don't feel it's fair to judge somebody I've not personally seen.
You may agree, you may disagree, you may even be surprised—debate away, but without further ado, ladies and gentlemen, I present to you The Top 10 Footballers Who Failed To Realise Their Potential...
10. Nuno Gomes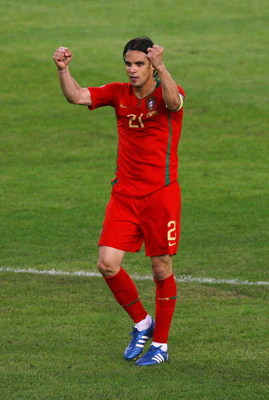 Now 33 and in the twilight of his career, Nuno Gomes holds a solid reputation within world football—which is a shame.
After moving from Boavista to the Portugese powerhouse of Benfica, Nuno Gomes' career started to take-off. Scoring 60 goals in 100 apperances for Encarnados placed him as the number one Portugese striker of a generation.
Going into Euro 2000, he was seen as the focal point of a wonderfully talented Portugese side...and he didn't disappoint.
Scoring the winner against England to cap a wonderful fightback, bagging a second round brace versus Turkey and opening the scoring in the semifinal opposing France—Gomes showed he was a player who could thrive under pressure.
Nuno Gomes left Euro 2000 as one of the most sought after fowards in Europe. Showing he could lead the line, finish off either foot, as well as proving he could cut it in the big games led to Fiorentina to come calling.
However, as the replacement for the God-like Gabriel Batistuta, Viola fans did not warm to Gomes and he found himself in and out of the team, despite a decent goal return.
This is where the story turns a little sour.
Fiorentina suffered their horrendous financial collapse in 2002 so Gomes had to be sold. Despite a respectable couple of seasons in Italian football, no big clubs showed any interest and he eventually returned home to Benfica.
Frequently injured from the moment he re-signed through until 2005, Gomes saw little action but did manage to score the winner against Spain in Euro 2004.
The 2005-06 season saw a mini-renaissance with him bagging 15 league goals but he has found a first team place difficult to come by since.
Nuno Gomes should have pushed on after Euro 2000 and cemented his place as one of the top strikers around. His movement and awareness were exceptional, as was his ability to lead the line especially considering he is not particularly big nor strong.
He could hit the target with either foot and was solid in the air. He had every attribute needed to be a top class striker.
However, injuries and maybe losing a little faith in himself after what happened in Florence has led to Nuno Gomes being considered very good but not great.
9. Lee Sharpe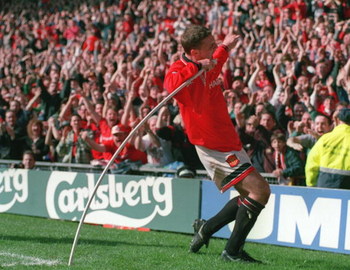 In 1990, he was widely seen as the most promising young player in English football but that was to be the biggest accolade he ever achieved.
Picked up by Manchester united after only 16 first team games for Torquay, Sharpe broke into the United first team shortly after, initially out of position at left-back.
The 1991-92 season saw Sharpe as first choice on the left flank and he excelled. Notably scoring a hat-trick against Arsenal, at Highbury, in the League Cup and winning a call-up to the full England squad. He also won the PFA Young Player of the Year that season.
Over the next few years, Sharpe was beset by injuries and in the interim a certain Ryan Giggs emerged to claim the left wing position.
When fit, Sharpe was forced to play out of postion and he didn't do himself justice.
He was also famous for his playboy lifestyle and partying all hours—a fact Sir Alex (or plain old Alex as he was known at the time!) was all to aware of.
Sharpe was allowed to leave Old Trafford in 1996, joining Leeds. He faired no better. Injuries again reducing him to a bit part player.
A fruitless spell on loan at Sampdoria was followed by spells at Bradford, Portsmouth and Exeter. He then tried his luck in Iceland with Grindavík—which lasted a grand total of seven games!
In June 2003 he announced his retirement from professional football at the age of 32.
It's so sad that he peaked at the tender age of 21. Hugely talented but seemed more interested in partying than rehabbing his injuries.
The pioneer playboy footballer.
8. Sergio Conceicao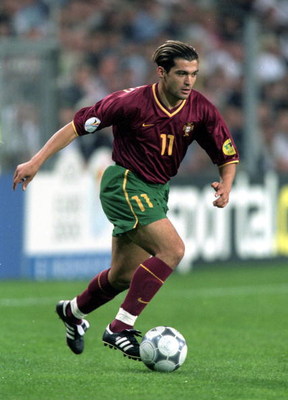 Now aged 34 and playing in Greece for PAOK, Sergio Conceicao was once considered good enough to displace Luis Figo from his favoured right wing position for Portugal.
1996 saw the start of two massively successful seasons with Porto. During this period Conceicao's trademark marauding bursts down the right wing, coupled with a good goalscoring record, helped his team to back-to-back domestic championships and a Portuguese Cup triumph.
His good form for Porto saw Lazio splash out for the winger in the summer of 1998. During his two seasons there he helped Lazio to win the Scudetto, Cup Winners' Cup, an Italian Cup (part of the double in 2000) and the UEFA Super Cup.
The summer of 2000 saw a move to Parma as part of Hernan Crespo's transfer the other way. He scored 5 goals and was a fan favourite but after only one year he would find himself on the move again.
This time Inter Milan would be the destination, as part of the Sebastian Frey transfer. Never really a first team regular at Inter, he still enjoyed a fair amount of playing time (41 appearances over two seasons).
In 2003 he re-joined Lazio, on a free. However, after only playing seven games, he was off again to re-join another former employer.
He returned to Porto and helped them to another league title but, in what was becoming a familiar pattern, left at the end of the season.
Pitching up in Belgium with Standard Liege, he won the Belgian Golden Shoe for best player of the year in his very first season.
Then controversy struck.
In March 2006, he spat on an opposing player and assaulted referee, Peter Vervecken. This resulted in a three year suspension (four-and-a-half months and the rest suspended), depending on good behaviour.
With the ban up he joined Al Qadisiya of Kuwait in July 2007 before transferring again this time to his curretn club POAK.
During Euro 2000, he single handily tore apart the Germans, bagging a hat-trick.
In his prime, Conceicao possessed great pace and strength. He was a good crosser of the ball, could comfortably beat a man with skill and he could be relied upon to chip in with goals.
I don't think the constant upheaval helped him realise his potential and if allowed to settle somewhere, while in his prime, we could be talking about an all-time great.
7. Serhiy Rebrov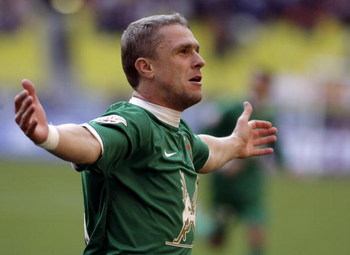 Another player at the back end of his career, Rebrov never reached the heights his talent deserved.
Bursting onto the world scene, as part of an exciting Dynamo Kiev side, in the 1997-98 Champions League and following it up the next season with another outstanding campaign, one thing was crystal clear—Serhiy Rebrov was immensely talented.
Showing fantastic close control, a wonderful first touch, the ability to play the killer pass, as well as finish from any angle, Rebrov was highly coverted.
However, a move to Tottenham was the beginning of the end for the Ukrainian. He struggled to come to terms with English football and was eventually farmed out on loan to Fenerbache.
He fared no better in Turkey and once his loan was up, he returned to England but this time joining West Ham on a free. In only 4 years he had gone from an £11 million player to a freebie.
One season later and he was on the move again, this time back to Kiev. His time back with Dynamo was checkered and he moved again—this time to Russian outfit Rubin Kazan.
Now, after helping Rubin win the league, he is off again - back to Kiev once more.
Serhiy Rebrov is a prime example of choosing the wrong club. He was wanted by a lot of top European clubs but ended up at a Tottenham side going nowhere and he lost himself.
The failed stints at Tottenham, Fenerbache and West Ham all dented his confidence and he never did become the player he threatened to during 1997-1998. A real shame.
6. Marcelo Salas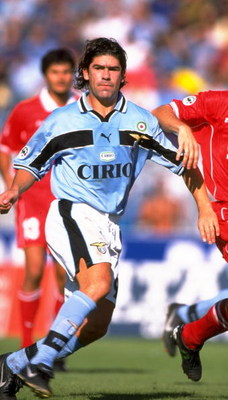 "El Matador" translates to "The Killer," a nickname Marcelo Salas never quite lived up to.
After tearing through the Argentine league with River Plate, Salas' talents were appreciated by pretty much every major European club.
After tearing apart the England defence and scoring twice in the process, during an international friendly, it was clear to see—Marcelo was ready for the big stage.
Four months later, in the summer of 1998, Marcelo Salas signed for Lazio.
He scored 23 goals in his debut season in Serie A—an impressive feat. During his time with Biancocelesti he won an Italian cup, a Cup Winners' Cup and a European Super Cup. As well as Serie A itself.
In 2001, he moved to Juventus and his troubles really began. Over the next two years he was plagued by injuries, allowing him to take part in only 14 games and score only two goals.
More than that, he just wasn't the same player. The aggression, the first touch, the desire and the anticipation were all lacking.
He left Juve and played on for a few more years with River Plate and Universidad de Chile but he never recovered the attributes that made him one of the top strikers in world football.
Salas retired in November 2008, at the age of 33.
As I said at the start, El Matador never quite lived up to that nickname...but it wasn't his fault. Injury deprived him of his talents.
Salas was a bullish player with a wonderful left foot and the ability to score great goals but injuries stopped him from achieving greatness.
5. Tomas Brolin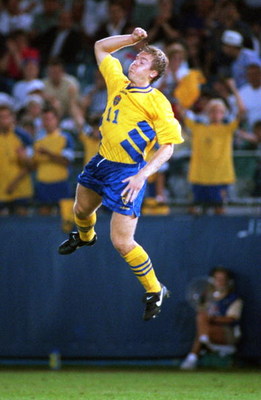 Undoubtedly one of the stars of the 1994 World Cup and finishing joint 9th in the 1994 FIFA World Player of the Year, Tomas Brolin ended up retiring only four years later.
After several seasons in his native Sweden and being considered the nations 'Golden Boy', Brolin joined Italian club Parma in 1990.
The versatile Swede could play either upfront or in midfield but most considerd his best position to be, "in the hole," just behind the strikers.
He achieved considerable success at Parma winning the Coppa Italia, the Cup Winners' Cup, UEFA Super Cup and the UEFA Cup. In addition, he was a key component of a very powerful Swedish National side.
Joint top scorer at Euro 92 and, in addition to his exploits in 94 mentioned previously, was named in the World Cup All Star Team in 1994. Brolin was a player on the rise.
Just as he was realising his massive potential tragedy struck. Nov. 16, 1994 should go down as a dark day for football, for it is the day Tomas Brolin was strechered off during a Euro 96 qualifier with Hungary.
He didn't play again for six months, but when he returned it was clear he wasn't the same. He continued to struggle for form and fitness when Leeds signed him in late 1995.
Tomas never again recovered the pre-injury form and spells with Zurich, Parma and Crystal Palace only showed how far he had fallen. Criticized for being lazy and overweight, Brolin lost all motivation to play.
What a player, what a shame.
4. Robbie Fowler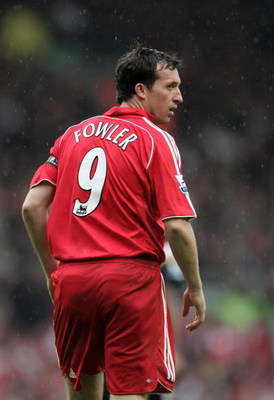 "God"—that's what Robbie Fowler was known as to the Anfield faithful.
That single statement should make it perfectly clear just how high Robbie was regarded.
He is the fourth-highest goalscorer in the history of the Premier League and scored more than 30 goals for three consecutive seasons. He was also voted PFA Young Player of the Year for two consecutive years in 1995 and 1996.
Robbie holds the record for the fastest hat-trick in Premier League history, in only four minutes, 33 seconds. Arsenal were put to the sword on that day.
Probably the most natural finisher I've ever seen, Robbie was outstanding with both feet as well as comfortable in the air. Never one to rely on pace, he was all about movement and awareness.
He scored on his debut in Liverpool's League Cup win over Fulham and scored all five goals in the second leg at Anfield two weeks later, making him only the fourth player in Liverpool's history to score five in a senior fixture.
This was only a sign of things to come.
Fowler claimed the match ball with his first league hat-trick in only his fifth league game, Southampton were the unlucky victims. Robbie went on to score 12 goals in his first 13 games.
Despite an outstanding scoring record, Fowler struggled to break into the England starting line-up, mainly due to the preference of Alan Shearer and Teddy Sheringham as a partnership.
A knee ligament injury in late 1997 caused Fowler to miss the remainder of the season and the subsequent 1998 World Cup. While Robbie was out, youth team prospect, Michael Owen was given his chance...we all know he he fared!
Fowler was now considered third choice striker behind Owen and, the recently acquired, Emile Heskey. Despite this Robbie had a very successful 2000-01 season, scoring 17 goals and lifting three cups.
Fowler's expectation of first team football led to clashes with Gerard Houllier and Phil Thompson. This is turn led to a transfer to Leeds.
After a decent start to his Leeds career, Robbie aggravated an old hip injury, causing him to miss a chunk of the 2002-03 season and even then he struggled for form and match fitness.
But his Leeds goalscoring record still reads 30 games, 14 goals. Not bad for an injured, out of form player.
A transfer to Manchester City didn't bring a change of luck and his time at the club was marred by the same issues he had at Leeds.
Somehow, Fowler ended up back at Liverpool and he was greeted like "God." Fans rejoiced.
While not a regular during his two seasons back at the club, Fowler scored some valuable goals.
He eventually joined Cardiff, then Blackburn before moving to his current club, Australian side, North Queensland Fury.
The young Robbie Fowler was a phenom and if he had kept up with the pace he set, we would be talking about Robbie Fowler the legend, as opposed to Robbie Fowler the Liverpool legend.
That slight difference ironically makes a world of difference.
Injury, and the emergence of Michael Owen, stopped Fowler becoming the world beater he had the talent to be.
3. Edmundo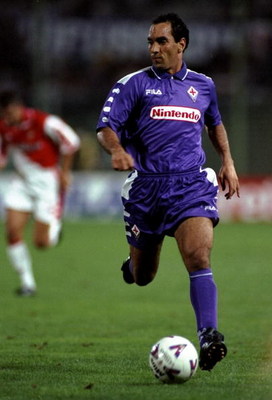 One of the most controversial figures to have played the game, Edmundo is also the oldest active player I've selected.
A complete and utter natural. In my honest opinion, Edmundo is second only to Zinedine Zidane for just how natural his ability is. He could have never trained a day in his life, in fact that's not far from the truth, and still have been capable of magic.
Most famous, to some people at least, for being the man on the original 1998 World Cup Final team sheet in place of Ronaldo. Ronaldo played and Edmundo was not happy.
He once faced allegations of animal cruelty after hiring an entire circus to perform in his back garden to celebrate his son's first birthday. At the party he was accused of giving a chimpanzee, beer and whiskey.
He actually first came to my, and probably the English public in generals, attention during the Umbro Cup in 1996. Along with Roberto Carlos, he was the outstanding player on display.
A fantastic performance against Sweden, where he scored the winner, made me take notice and when he put the final nail in the coffin against England I was blown away.
He is also famous, to the British public anyway, for the way he left half the Manchester United defence for dead with one outrageous turn and subsequent goal during a game in the World Club Championship.
To list the clubs he has played for would take forever but his time with Vasco de Gama and Fiorentina are his most famous.
Brought in to partner Gabriel Batistuta, he scored 12 goals in 37 games as well as creating numerous chances for Batigol. A relative success but Edmundo couldn't settle in Italy.
He is now back at Vasco, the very club he started with.
Edmundo had unbelievable skill, ruthless aggression, creativity in abundance and desire you wouldn't believe but it's that ruthlessness and inability to accept things out of his control that have left him as a nearly man.
2. Stan Collymore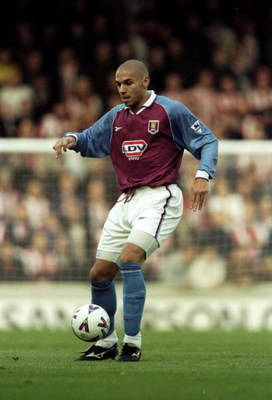 Stan the man had it all...except the mental toughness to deal with it.
His ability was unquestioned but he was often labeled a bad boy and a disruptive influence in the dressing room.
Mr. Collymore always possessed the ability to score spectacular goals and it was this trait that led to Crystal Palace picking him up.
Under the tutelage of Ian Wright and Mark Bright, Collymore soaked up the knowledge and was eager to be given the opportunity to express himself.
He moved to Southend and scored 18 goals in 31 games. A feat which helped them avoid relegation. The Collymore freight train was on the move.
He then moved to Nottingham Forest and scored an incredible 41 goals in 64 appearances before a then-British record £8.5 million move to Liverpool beckoned.
After scoring a left foot screamer on his debut, Stan went on to hit a ratio of a goal every other game and he was just as prolific in the creativity stakes.
Two seasons later, Collymore was off to his childhood favourites, Aston Villa.
Over the next three seasons, Stan bagged 15 goals but failed to hold down a regular place. Arguments with the press, team-mates and management all held him back.
Collymore was eventually diagnosed with Clinical Depression and sought treatment.
Upon his return he was loaned to Fulham, then free transferred to Leicester and then Bradford. At these clubs his MO was typical—great start, few spectacular goals, dip in form, leave!
He then packed his bags for Real Oviedo. After only a handful of games, Colymore announced his retirement.
Stan Collymore was strong on either foot, able to unleash screamers from distance on a whim. He was deadly on the volley, solid in the air, had electric pace as well as being as strong as an ox.
Stan the man had unbelievable ability but won a grand total of nothing. A meager three England caps is all he has to show for all that talent.
When you weigh it up, Stan Collymore had all the attributes the current world player of the year does...except the ability to deal with the mental pressures and that is the difference between scrapheap and glory.
1. Paul Gascoigne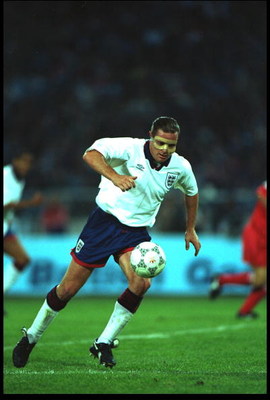 Is there anything I could possibly write about Gazza that you don't know.
It goes without saying that he was the most talented player of a generation, not the most talented ENGLISH player—flat out, the most talented player.
Gazza had a silky touch and the ability to glide through tackles. His dribbling—sublime; his through balls—exquisite. He was powerful yet delicate at the same time.
He tore through the English league, first with Newcastle, then Spurs.
He went to the 1990 World Cup as our great hope—he didn't disappoint. Fans around the world came to realise...Paul Gascoigne was for real.
He embedded himself in the nations heart with his tears in the semi final.
While at Lazio he broke his cheekbone, then leg.
Misfortune seemed to dog our Paul.
A move to Glasgow Rangers in 1995 briefly lifted spirits. Gazza led them to the domestic double, picking up the Players' Player of the Year and Football Writers' Player of the Year awards along the way.
Euro 96 saw him show the world there was life in the old dog yet. A wonder goal against Scotland will never be forgotten...neither will the ensuing celebration but that was Gazza to a tee.
Moves to Middlesbrough and Everton saw flashes of the old Gazza but not on a regular basis. A move to Burnley was as brief as it was uneventful.
He even moved to China, in hope of leaving his demons behind, to play for Gansu Tianma. Alas, they followed him. The drink and depression halted his Chinese adventure.
We all know Gazza succumbed to a horrendous knee injury caused by his own recklessness, which caused him to never fully recapture that magic.
We all know he has serious personal demons which have led to mental illness.
We all know he struggles to abstain from alcohol.
And, we all know he could have been up there with Maradona, Pele and Zidane as one of the greatest players of all time.
Is there a sadder story than that of Paul John Gascoigne?
Keep Reading