Updates from Saturday, Sept. 6
Jim Hayes of Fox Sports Midwest provides an update on Matt Adams' status:
Matt Adams back in the lineup tonight. #STLCards

— Jim Hayes (@TheCatOnFox) September 6, 2014
MLB Lineups indicates Adams will be batting cleanup:
9/6 @Cardinals lineup vs MIL Carpenter 3B Jay CF Holliday LF Adams 1B Peralta SS Molina C Wong 2B Taveras RF Lynn P

— MLBLineups (@mlblineups) September 6, 2014
Updates from Friday, Sept. 5
MLB Lineups reports the latest on Adams' status for Friday's game:
9/5 @Cardinals lineup vs MIL Carpenter 3B Jay RF Holliday LF Peralta SS Molina C Wong 2B Bourjos CF Descalso 1B Lackey P

— MLBLineups (@mlblineups) September 5, 2014
Original Text
The St. Louis Cardinals are trying to stave off the Milwaukee Brewers and Pittsburgh Pirates in the National League Central down the stretch, but they received some unfortunate news Thursday. Jennifer Langosch of MLB.com filled fans in on the details regarding Matt Adams:
Matt Adams day-to-day with a left oblique tweak. #stlcards

— Jenifer Langosch (@LangoschMLB) September 4, 2014
Adams is having a very productive 2014 campaign for St. Louis at first base. He sports a .292 batting average with 13 home runs, 57 RBI and a .781 on-base plus slugging percentage.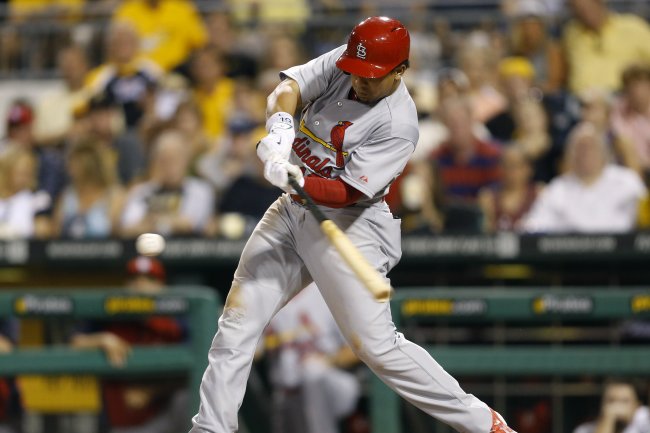 Keith Srakocic/Associated Press
Despite the solid numbers though, Adams only hit .238 in August and was 1-for-11 at the plate in the early going in September. Perhaps a few days off will help him re-establish the swing that made him such an integral part of the lineup in the early part of the season.
The Cardinals may be in first place, but they rank a lowly 27th in the MLB in total runs scored. A healthy Adams could certainly help that number improve and keep the other division contenders at bay.
For now though, he will rest his oblique.