Star forward Neymar was named the captain of the Brazilian national team for its friendly vs. Colombia.
Bleacher Report's Jonathan Johnson confirmed the news:
Brazil coach Dunga has removed PSG's Thiago Silva from the Brazil captaincy & has handed it to Barcelona's Neymar. #PSG #Selecao

— Jonathan Johnson (@Jon_LeGossip) September 4, 2014
Brazil will play Colombia on Friday, and it was already reported the 22-year-old Barcelona forward would captain the team in that match, per Sky Sports' Brazilian correspondent Paulo Freitas. But on Thursday, new manager Dunga confirmed that Neymar will wear the armband.
Spanish football pundit Sergi Dominguez shared the coach's comments on the decision:
Dunga: "Despite being 22, Neymar is a player with a lot of quality & very experienced. The captain has to set the standard for the others."

— Sergi Domínguez (@FutbolSergi) September 4, 2014
Fans and pundits reacted in shock on social media to the news, discussing the merits of Neymar's ability to be an effective captain.
Selecao Brasileira, one of the team's biggest fans on Twitter, tweeted this picture to accompany his opinion:
That's how a true captain acts. Neymar is the type of players who need someone like Thiago to make things up for him. pic.twitter.com/g9lV4pvcNz

— Seleção Brasileira (@BrazilStats) September 4, 2014
Dominguez also questioned the move:
Just days after Dunga saying Neymar isn't a 'craque' [great player] yet, now hands him in the captain armband.

— Sergi Domínguez (@FutbolSergi) September 4, 2014
Neymar is one of the biggest names in the sport, arguably the best talent to emerge from Brazil in the past decade. He's been in the spotlight since his teens and finally completed the move to a European top team in 2013.
He was phenomenal at the 2014 World Cup but was forced to abandon the tournament after suffering a back injury against Colombia. In the next round, the Selecao were embarrassed by the eventual world champions, Germany.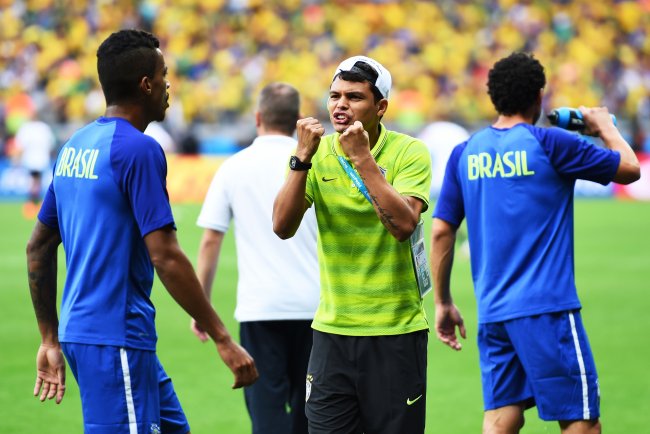 Buda Mendes/Getty Images
There's no question Neymar is used to the pressure, and he will be well-prepared for the attention and expectations that come with wearing the captain's armband. But the outspoken and colourful attacker isn't known as a leader—a trait that usually develops with age.
Neymar will get a chance to make his imprint on the side without Silva around as the PSG star will miss the friendly with a leg injury suffered during a friendly vs. Napoli.
Fans will get their first glimpse of the new Brazil captain on Friday, and against the powerful Colombians, they'll immediately find out whether or not Neymar is up to the task.