Alabama's defense didn't exactly look like itself on Saturday afternoon in the Chick-fil-A Kickoff Game against West Virginia when the Crimson Tide gave up 365 yards through the air in a 33-23 win over the Mountaineers.
The absence of senior linebacker Trey DePriest was a big reason why.
DePriest sat out the opener with what head coach Nick Saban termed a "minor NCAA infraction," and the absence of the quarterback of the defense caused confusion in the back end of the unit.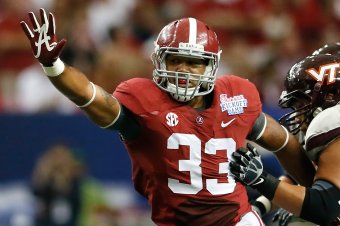 Kevin C. Cox/Getty Images
"We made a lot of errors," Saban said after the game. "When you have leadership out there, you know, a guy who calls the defenses and everybody's really confident in the call that they're making and directing the whole thing just like a quarterback. We didn't have that in this game. We didn't have anybody who's every played before."
Saban announced on Wednesday that the quarterback of his defense is back.
"He's back on the team," Saban said on the SEC coaches teleconference. "He wasn't suspended by me, so he made a mistake, he paid for it, and he's available to play. And we're looking forward to him having the opportunity to play and hopefully affect our team in a positive way as well as him performing like he's capable of."
That's big news for the Crimson Tide because while inconsistency in the secondary was the most glaring issue for the defense on Saturday, Saban consistently brought up the absence of a leader on defense in the postgame press conference when discussing what the problem was.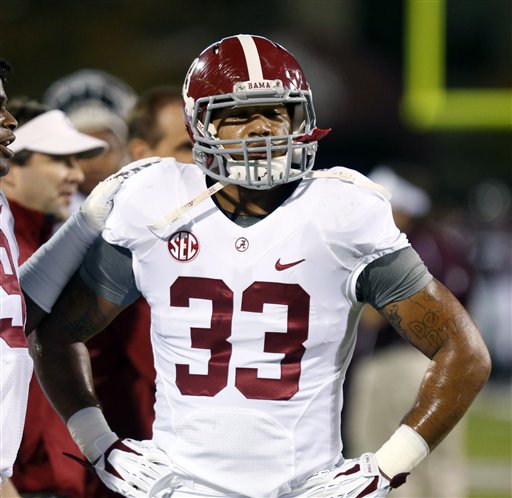 Rogelio Solis/Associated Press
DePriest finished third on the team last season with 65 tackles and was being counted on to fill the leadership role vacated by superstar C.J. Mosley, who exhausted his eligibility after last season.
Assuming DePriest is healthy—he has been dealing with a minor knee injury during fall camp—the confusion that reigned supreme on Saturday won't be there this weekend when the Crimson Tide host Florida Atlantic in the home opener in Tuscaloosa.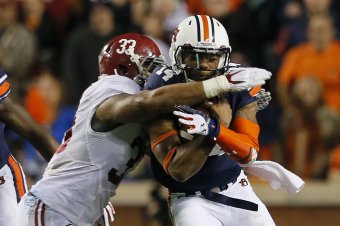 Kevin C. Cox/Getty Images
Will the execution be there, though?
DePreist's return is coupled with the possibility of cornerback Eddie Jackson moving into the starting lineup in favor of Bradley Sylve, who was picked on by the Mountaineers. Jackson practiced with the first team opposite Cyrus Jones on Tuesday, according to AL.com, but that doesn't necessarily mean he'll start this week.
"He has practiced, he has done well, and I feel like we'll play him some in this game in some kind of way trying to ease him back into what he has to do to become a player at his position, which he's totally capable of," Saban said on Wednesday. "A very good player who we're anxious to get back in the lineup, but certainly not at the expense of putting him at any risk."
How much will Trey DePriest's return help Alabama's defense?
Whether the secondary issues are fixed or not, getting DePriest back is a huge boost for the Tide. Saban specifically referenced the importance of having a veteran linebacker making the calls against today's exotic offenses, which are prevalent on the schedule.
Alabama's next four opponents run some variation of the spread. Florida Atlantic is veering more toward a run-based spread, Southern Miss head coach Todd Monken's offense thrives with tempo, Florida offensive coordinator Kurt Roper was brought in specifically to pick up the pace, and Ole Miss has been playing "fastball" since Hugh Freeze was hired prior to the 2012 season.
The quarterback of the defense is back, and if all goes according to plan, DePriest will bring some stability to the Crimson Tide prior to the start of the SEC schedule.
Barrett Sallee is the lead SEC college football writer and video analyst for Bleacher Report and co-host of the CFB Hangover on Bleacher Report Radio (Sundays 9-11 a.m. ET) on Sirius 93, XM 208. Quotes were obtained firsthand unless otherwise noted. All stats are courtesy of CFBStats.com, and all recruiting information is courtesy of 247Sports.