Seattle Mariners All-Time Team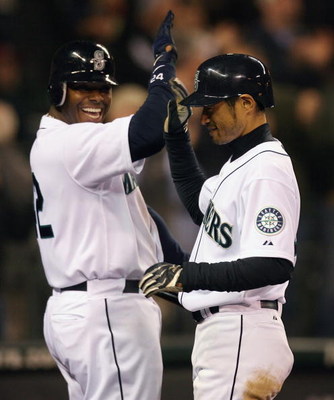 After seeing the Yankees all-time starting team the other day, I thought I would take a stab at an all-time roster for my hometown team—the Seattle Mariners.
Before getting too far into this, I would like to bring up the pertinent question of the slideshow:
Other than the Yankees, is there a better starting nine in baseball history than the Seattle Mariners?
No, really. I'm being serious. I count four surefire Hall of Famers, one borderline HOFer, and one potential future HOFer (Felix Hernandez). Plus, I haven't even talked about our Hall of Fame-caliber manager and Hall of Fame-caliber GM.
Taking it one step further, I would argue that the Seattle Mariners have been the extended home of the best starting pitcher, center fielder, shortstop, right fielder, and designated hitter of the last 25 years.
Too bad miserable, rainy Seattle couldn't convince half these guys to stay.
Let's take a look.
Catcher - Dan Wilson (1994-2005)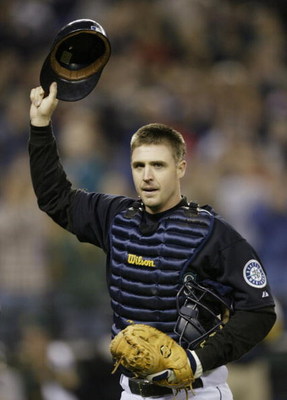 Career Statistics:
Hits - 1,097
HR - 88
RBI - 519
Batting Average - .262
Slugging Percentage - .382
One-time All-Star
Admittedly, this is probably the Mariners weakest starting position. Dan Wilson was a solid defensive catcher who only once hit more than 18 home runs in a season.
Still, and this can't be overlooked when evaluating the catcher position, Wilson appeared to be a great teammate and an excellent handler of the pitching staff.
Catcher is actually the position with arguably the greatest what-if in Mariners history. On July 31, 1997, the Seattle Mariners made one of MLB history's most short-sighted moves when they traded both Derek Lowe and Jason Varitek for reliever Heathcliff Slocumb.
Slocumb had a mediocre performance down the stretch, and all Lowe and Varitek did was, you know, end the longest World Series drought in history.
Varitek would have looked very nice wearing a M's jersey.
Thank you, Woody Woodward.
First Baseman - Tino Martinez (1990-1995)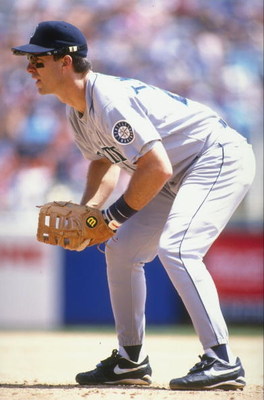 Career Statistics:
Hits - 1,925
HR - 339
RBI - 1,271
Batting Average - .271
Slugging Percentage - .471
Two-time All-Star
Martinez came up with the Mariners and even helped Seattle top the hated Yankees in the 1995 playoffs with a 31 homer, 111 RBI season.
Of course, he then initiated the trend of all the great Mariner players of the 1990s by jumping ship to join the Yankees. If you can beat 'em, then join 'em? I guess.
Either way, this position was a very surprisingly close race as the Mariners have had three different All-Star third baseman in their short history—Martinez, John Olerud, and the original Mariners star, Alvin Davis.
Despite leaving when he had just blossomed into a star, Martinez won out because the man was an unstoppable force in the second half of that magical "Refuse to Lose" 1995 season.
Second Baseman - Bret Boone (2001-2004)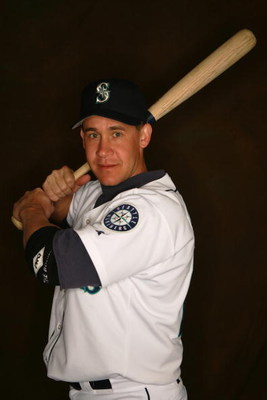 Career Statistics:
Hits - 1,775
HR - 252
RBI - 1,021
Batting Average - .266
Slugging Percentage - .442
Three-time All-Star
Four-time Gold Glove Winner
Boone personified the record-setting 2001 Mariners with his outrageous 37 homer, 141 RBI where-the-hell-did-that-come-from season. Both were records for second basemen at the time.
In nine major league seasons before that, Boone had never hit more than 24 home runs or driven in more than 95 runs.
Boone also played absolutely spectacular at second base, helping the Mariners form arguably the best infield defense in the major leagues while he was there.
Lastly, Boone provided some of the best Mariners commercials of all-time with his trademark bat flip.
Shortstop - Alex Rodriguez (1994-2000)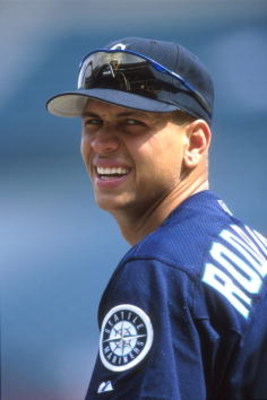 Career Statistics:
Hits - 2,455
HR - 570
RBI - 1,656
Batting Average - .305
Slugging Percentage - .577
Three-time AL MVP (2003, 2005, 2007)
12-time All-Star
Two-time Gold Glove Winner
One-time Batting Champion
Five-time AL Home Run Leader
This is where the Mariners all-time roster begins challenging any other MLB teams' all-time roster except the Yankees.
Despite steroid allegations, Rodriguez is undoubtedly the greatest offensive shortstop of all-time.
In fact, I would argue that Rodriguez' best offensive seasons were with the Mariners.
In 1996, his first full season with Seattle, Rodriguez hit to the tune of a league-leading .358 batting average, 379 total bases, and 36 home runs. He was robbed of the MVP by Juan Gonzalez.
In 1998, Rodriguez posted another uniquely monster offensive season with 42 home runs, 46 stolen bases, and a league-leading 213 hits. Again, he was robbed the MVP by Juan Gonzalez.
Whatever you think of Rodriguez the person, it is hard to argue with his production.
Third Baseman - Adrian Beltre (2005-2009)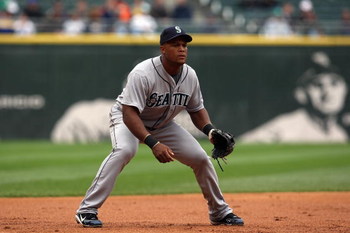 Career Statistics:
Hits - 1,658
HR - 247
RBI - 893
Batting Average - .270
Slugging Percentage - .455
Two-time Gold Glove Winner
One-time NL Home Run Leader
If you can force yourself not to look at his ghastly $64 million contract, Beltre is a solid offensive player. At times, he's even a spectacular defensive player.
Beltre is famous for one of the greatest contract year aberration seasons when he crushed 48 home runs with 121 RBI for the Los Angeles Dodgers in 2004. He had never before topped 23 home runs or 85 RBI.
The Mariners then scooped him up with a ridiculous contract.
Has he lived up entirely to that contract? No.
If his contract was $25 million instead of $64 million, would everyone think he is better than they do now? Yes.
All in all, third baseman is the position least represented in the Hall of Fame and thus arguably the hardest position to find a great player. Beltre is no Hall of Famer, but he is a solid option for any team at the hot corner.
Left Fielder - Raul Ibanez (1996-1999, 2004-2008)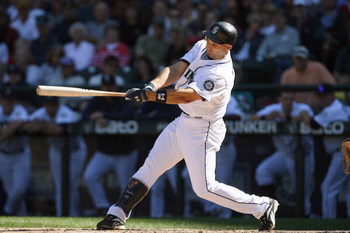 Career Statistics:
Hits - 1,450
HR - 204
RBI - 854
Batting Average - .287
Slugging Percentage - .481
One-time All-Star
Ibanez came up with the Mariners and appeared to be nothing more than a utility player or pinch hitter. But then he kept getting better and better...until they finally started investigating him for steroid use after his torrid start in 2009.
The best attribute Ibanez contributed to a ball club was consistency. He epitomized the 25 homer, 90 RBI, .300 batting average season.
While he was often an adventure in left field, not many clubs would turn down his combination of solid hitting, consistency, and professionalism.
Center Fielder - Ken Griffey Jr. (1989-1999, 2009)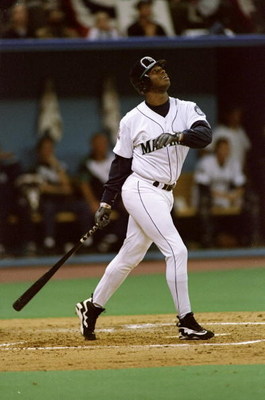 Career Statistics:
Hits - 2,731
HR - 621
RBI - 1,798
Batting Average - .286
Slugging Percentage - .543
1997 AL MVP
13-time All-Star
10-time Gold Glove Winner
Four-time AL Home Run Leader
If nothing else defines Griffey, it's the fact that during the 1990s EVERYONE watched his at-bats because they never knew what he might do next.
Concession stands emptied. Vendors stopped moving up and down the aisles. Ticket groups stopped talking.
He made baseball exciting, and that's not always easy to do.
Griffey was the best player of the 1990s.
He made the All-Star team every year of the decade and finished in the top five in MVP voting five times. From 1996-1999, he hit 49, 56, 56, and 48 home runs.
On top of all that, he played the most spectacular center field since Willie Mays while winning a Gold Glove every single year from 1990-1999.
Without a doubt, Griffey put Seattle on the map as a MLB franchise and will go down as its greatest player.
Right Fielder - Ichiro Suzuki (2001-2009)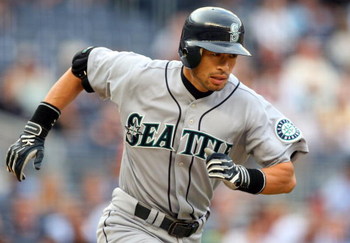 Career Statistics:
Hits - 1,933
HR - 79
RBI - 493
Batting Average - .332
Slugging Percentage - .433
2001 Rookie of the Year
2001 AL MVP
Nine-time All-Star
Eight-time Gold Glove Winner
Two-time Batting Champion
Set single-season record for most hits - 262
The most amazing thing about the Mariners all-time roster?
They have not one, but two different players whose at-bats you made sure to never miss. First, it was Griffey. Now, it is Ichiro.
Of course, the reason why you watched was entirely different.
With Griffey you never knew when that majestic swing might crush another ball over the fence. With Ichiro, you just never knew what the hell he might do next.
He might slap a ball as he is already leaving the batter's box and beat out the throw. Or he might surprise everyone by taking the pitcher deep. The diminutive man does not lack for power, as anyone who has witnessed his batting practice can attest.
Lastly, like Griffey, Ichiro is a stud defender with great range and instincts. He also possesses one of MLB's greatest all-time arms when taking into account both accuracy and velocity.
Despite joining the Major Leagues at age 27, Ichiro has already compiled close to 2,000 hits. I would not bet against him reaching 3,000 by the time he is finished.
By the way, that is on top of the 1,278 hits he racked up in Japan. Sayonara, Pete Rose.
Designated Hitter - Edgar Martinez (1987-2004)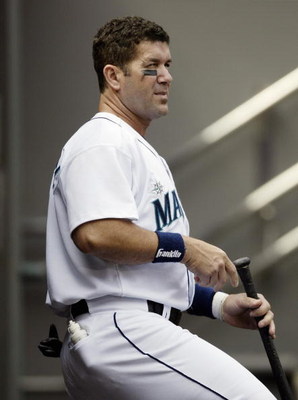 Career Statistics:
Hits - 2,247
HR - 309
RBI - 1,261
Batting Average - .312
Slugging Percentage - .515
Seven-time All-Star
Two-time Batting Champion
Edgar Martinez is Exhibit A on why the designated hitter was invented.
Martinez began his Mariners career as a slick-fielding third baseman. However, as injuries and age added up, Martinez became a liability in the field.
But man could he still hit.
Martinez racked up two batting titles and never hit below .322 between 1995 and 2000. He was also a sabermatrician's dream with three OBP championships and a career on-base percentage of .418.
Besides being the only real Mariner for life, by far my favorite little Martinez statistical gem and evidence of his unparalleled batting skill:
The man absolutely demolished Mariano Rivera.
He was a career 10-for-16 against him with two home runs, three doubles and an OPS of 1.888.
Now that, my friends, is what I call a designated hitter.
Starting Pitcher - Randy Johnson (1989-1998)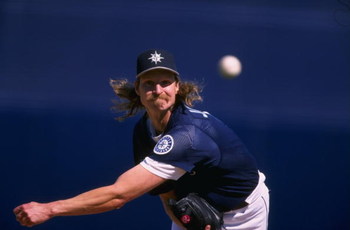 Career Statistics:
Win-Loss Record - 303-166
Strikeouts - 4,869
ERA - 3.29
Five Cy Young Awards (1995, 1999-2002)
World Series MVP (2001)
10-time All-Star
Randy Johnson is the only true stopper I have seen in my lifetime other than Pedro Martinez.
When the Mariners needed a win in their 1995 dream season, Johnson delivered. That was pretty often considering the rest of the starting staff was Tim Belcher, Chris Bosio, Salomon Torres, and Andy Benes.
Johnson went an incredible 18-2 in 1995 with three shutouts and 294 strikeouts to take home the Cy Young award.
He also won the Mariners winner-to-playoffs elimination game against the Angels that year.
Of course, Johnson would go on to win four more Cy Youngs with the Diamondbacks, a World Series MVP, and surpass the 300 wins mark this season.
Nonetheless, the Mariners were the franchise where Johnson tamed his wildness and became one of the all-time greats.
Closer - Kazuhiro Sasaki (2000-2003)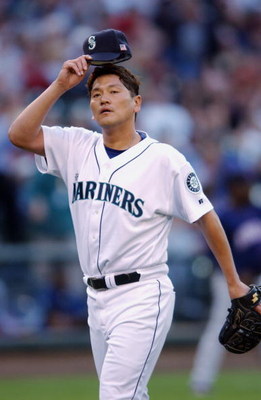 Career Statistics:
Win-Loss Record - 7-16
Strikeouts - 242
ERA - 3.14
Saves - 129
2000 AL Rookie of the Year
2-time All-Star
Unlike with Ichiro, America never got to see the prime years of Kazuhiro Sasaki, who came over to the M's at the ripe age of 32.
Still, Sasaki managed to give Seattle two All-Star appearances and three lights-out years of closing from 2000-2002.
During these years, he had 37, 45, and 37 saves and never accumulated an ERA greater than 3.45. Using a fastball and forkball combination, Sasaki continually baffled hitters caught looking for the wrong pitch.
In my mind, Sasaki will also be dearly remembered for his antics on the field.
First, he made a tradition of the post-save bow with the Mariners catcher.
Second, the man sweat more than any other closer I have ever seen. I mean, the guy looked really stressed out. That's not always what you want from a closer, but Sasaki always got the job done.
Manager - Lou Piniella (1993-2002)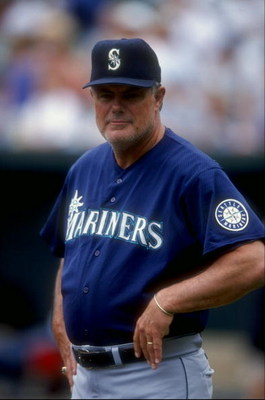 Career Statistics:
Won-Loss - 1,701-1,561
One-time World Series Champion
Three-time AL/NL Manager of the Year
Along with Griffey, Piniella was the man who turned the Mariners from laughingstock to perennial contender.
Prior to Piniella, the Mariners had never made the playoffs. In fact, they had never even won more than 83 games in their 15 years of existence.
Within three years, Piniella had turned the Mariners into division champions.
On top of that, Piniella did this in the most exciting and gratifying fashion possible. First, he lead the Mariners charge from 13 games back (in mid-August) against the Angels, which culminated in an elimination game triumph.
Piniella then added a cherry on top of the cake by helping the M's upset the Yankees in the divisional series.
Of course, Piniella wasn't completely done with the Mariners. He still had to manage them to an all-time record 116 wins in 2001.
Lastly, "Sweet" Lou provided the fans of Seattle countless moments of comedy through his ridiculous on-field tantrums. We miss you, Lou.
General Manager - Pat Gillick (2000-2003)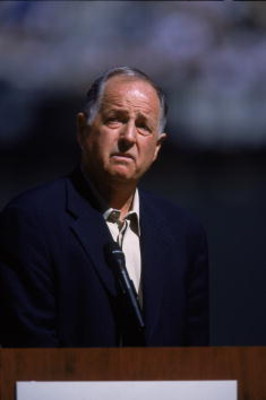 Career Statistics:
Three-time World Series Champion
10-time AL/NL Championship Series entrant
Gillick will always be remembered as the man who put together the greatest example of Bill Simmons' "Ewing Theory."
Starting in 1998, in back-to-back-to-back years, the Mariners lost a Hall of Fame player. First, it was the Randy Johnson trade in 1998. Then, it was the Ken Griffey, Junior trade in 1999. Finally, Alex Rodriguez left via free agency following the 2000 season.
Gillick responded by bringing in the following players: Kazuhiro Sasaki, Mike Cameron, David Bell, John Olerud, Bret Boone, Jeff Nelson, Aaron Sele, Arthur Rhodes, and most importantly, Ichiro Suzuki.
The Mariners didn't just become better following the exit of these stars, they became the greatest regular season force baseball has ever seen.
The 2001 Mariners went an astonishing 116-46.
It wasn't just the number of wins.
Ichiro won AL MVP, AL Rookie of the Year, and the AL batting championship in his first season. Boone finished third in MVP voting and established all-time new records for home runs and RBI by a second baseman. The team sent eight All-Stars to the All-Star game held in...where else, Seattle.
Sadly, the be-all, end-all of the season was that the Mariners couldn't get it done in the playoffs against the Yankees and are still looking for their first World Series title.
Gillick guided the Mariners to two more 93 win seasons in 2002 and 2003.
Apart from fielding a team that averaged 98 wins from 2000-2003, Gillick showed that you don't always need superstars to win big in MLB.
Keep Reading

Seattle Mariners: Like this team?