Ranking The Colorado Rockies All-Time All Stars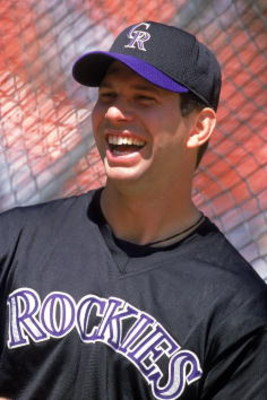 Having watched Carl Crawford steal Brad Hawpe's glory moment in the 2009 mid-season classic, I'll take a look at the Rockies' most storied all star seasons since the team's inception in 1993.

It is a list dominated by gaudy offensive numbers, mostly due to the famous Coors Field effect of the late 1990's. Nine of the ten seasons listed came from hitters, but some of them rank alongside some of the best individual seasons in recent memory.

If you happen to be a long-time Rockies fan, it's likely that you've forgotten just how exceptional some of these seasons were. Enjoy the memories.
10. Brad Hawpe - 2009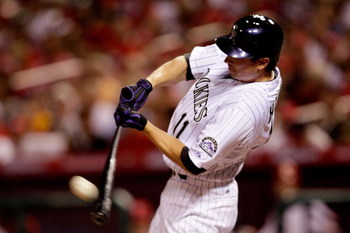 I will be honest; he's mostly on the list for prosperity sake. That said, Hawpe is quietly putting together a very solid season.

Many thought he should have started the All-Star Game, having finally become a consistent offensive force in the middle of the Rockies' lineup. He was passed up for the honor, but that doesn't take away from his superb season.

Currently, Hawpe is on pace to hit well over .300 with an OBP of just under .400. He is also on pace for 27 homeruns, 114 RBI's, and an impressive 52 doubles.
9. Brian Fuentes - 2005
You didn't think he was going to be No. 1 did you? The Rockies' only pitcher represented on the list had his best season in 2005, when he saved 31 games and carried an ERA under 3.00.

He also had a 2.68 strikeout to walk ratio, a very good number for a Colorado reliever. Finally, his 164 ERA+ (which is a statistical comparison to all other pitchers in the league in a given year) was exceptional.
8. Dante Bichette - 1995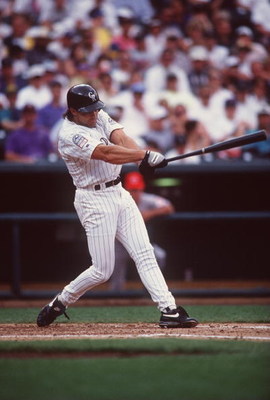 The year the Rockies moved into Coors Field was a defining one for Dante Bichette, who led the league in homers, RBI's, hits, and slugging percentage.

That year, Bichette set a career high in homeruns with 40 and finished second in the NL MVP race to Barry Larkin.
7. Ellis Burks - 1996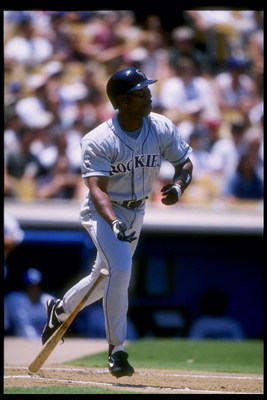 The year after Bichette made a name for himself in left field for the Rockies, the man in center matched him with an historic season of his own.

Burks, who was oftentimes overshadowed in the Rockies lineup, finished with the same number of homeruns (40) and RBI's (128) as Bichette had gathered the year before. Burks, however, also scored 142 runs, stole 32 bases, and finished third for the NL MVP.
6. Larry Walker - 1999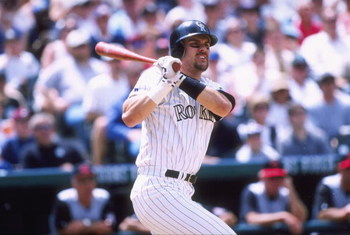 Over a half-decade, Larry Walker may have been the Colorado Rockies biggest star. He played a flawless right field and charmed fans with his style and outgoing personality.

In 1999, Walker hit an astounding .379 and actually managed to lead the league in batting average, on base percentage, and slugging percentage. It was a unique triple crown for one of the best players in the game.
5. Todd Helton - 2001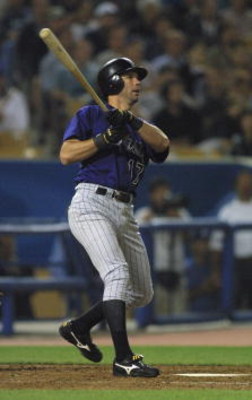 By 2001, Helton had solidified his spot among baseball's elite. He was a star, and in 2001 he reiterated the point.

Helton launched 49 homers for the Rockies that season and hit .336. Perhaps even more impressive, he also won his first Gold Glove Award, making him a dual threat as one of the sport's most impressive players.
4. Matt Holliday - 2007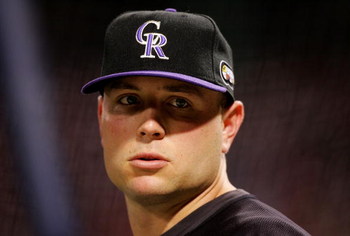 Well before the Rockies' magical run to the World Series, Holliday was seen as a devastating force in the center of the lineup.

He finished second to Jimmy Rollins in the MVP voting, but managed to win the batting crown in addition to leading the league in hits and total bases. Holliday would eventually get the better of Rollins when the Rockies swept the Phillies in the playoffs.
3. Andres Galarraga - 1993
Playing first base for the expansion Colorado Rockies, Galarraga immediately became a fan favorite when he came out of the gates hitting .370 in the team's first season.

Galarraga only managed 22 homeruns and 98 RBI, but he also only played in 120 games for Colorado. The season would be a defining one not only in Galarraga's career, but also for the budding franchise.
2. Todd Helton - 2000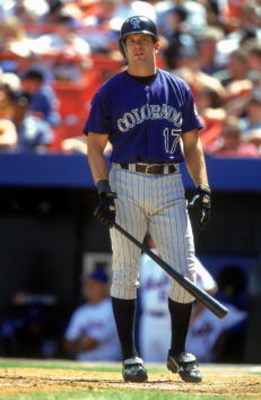 The Rockies' immortal first baseman was just becoming a star in 2000, when he won the only batting title of his career (he hit .372). He looked a little different then, without the lumberjack beard and beer keg torso, but managed 59 doubles and 42 homers for the '00 Rockies.

The performance netted him a fifth place finish in the MVP balloting, behind feuding Giants Jeff Kent and Barry Bonds. For a player who led the league in BA, OBP, SLG, RBI, and total bases, the finish was a disappointment.
1. Larry Walker - 1997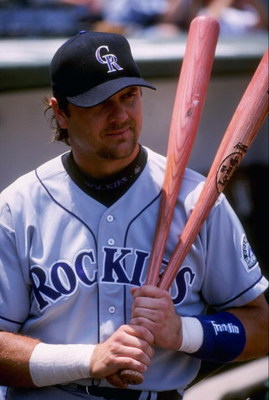 There very simply has not been a better season from a Colorado Rockies ball player than the one Larry Walker delivered in 1997. It was the first of three seasons that saw him hit for a collective line of .369/.451/.689. Walker was the best player in baseball for an extended amount of time.

Walker won a Gold Glove for his play in the field in 1997, held an OPS+ mark of 178, a ghastly number considering the era he played in, and won the Rockies' only MVP Award, picking up 22 of 28 first place votes. It truly was the best Rockies single season in history.
Keep Reading

Colorado Rockies: Like this team?