10 Bold Predictions for the 2009 NFL Season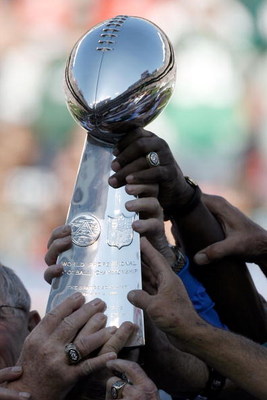 July is never fun for football fans. In my mind, this July is even worse. Last year's NFL showcased major parity and teams coming out of nowhere.
NFL fans can never get enough of this, as the league grows and changes each year. This year will be no different. So without further adieu, here are my 10 bold predictions for the 2009 NFL season:
10. Joe Flacco hits the Sophomore Slump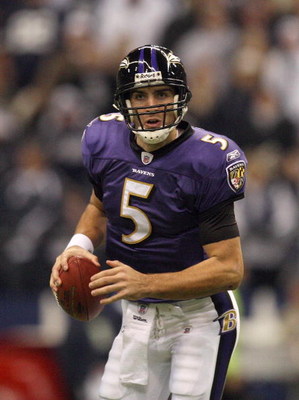 A rookie sensation last year, Joe Flacco was primed for another deep playoff run. The Diet Pepsi Rookie of the Year was in the perfect position to remain as a top contender.
It won't happen. The main reason for the dropoff will be the defense. Last year, Flacco benefited from a powerful two-headed running game and a punishing defense. The defense lost many parts, mainly to the New York Jets.
When defensive coordinator Rex Ryan left, he took Bart Scott with him. The defense will still be good, but not great. Alas, Flacco will suffer.
Prediction:
12 TD, 15 INT, 2960 passing yards, 55 percent completion, 68.5 passer rating
9. Houston Texans Win the AFC South
The pieces are in place for the Houston Texans to have their first winning record, playoff appearance, and division title in franchise history.
The Texans finished 2008 very strong, winning five of their six last games. They have one of the best front seven in the league, featuring Mario Williams, DeMeco Ryans, and Brian Cushing.
Assuming Cushing has some impact, they will succeed. Franchised Dunta Robinson leads a fast secondary as well.
On the offensive side, the Texans are developing their own version of the "triplets" with Matt Schaub, Steve Slation, and Andre Johnson. This is going to be a team to be reckoned with come January.
Prediction:
Texans: 11-5
Colts: 9-7
Jaguars:9-7
Titans: 6-10
8. Chicago Bears Head Coach Lovie Smith is Fired By Season's End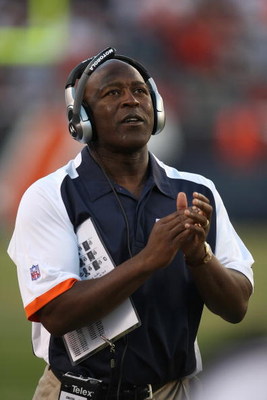 I know ownership adores Lovie. I know he took them to a Super Bowl less than three years ago.
I also know that the Chicago Bears will sorely underachieve this year.
What?! That's impossible. Jay Cutler will do wonders for this team, right?
Wrong. During his tenure in Denver under Mike Shanahan, Cutler amassed a subpar record of 17-20 with zero playoff appearances. Squadoosh. He played with Brandon Marshall, Eddie Royal, and amazing depth at RB.
Cutler also had the up-and-coming Ryan Clady protecting his blindside. Josh McDaniels tried to make the good move by shopping for Matt Cassel. The Bears defense is getting old, and Jay Cutler will have no weapons on offense. His No. 1 target will be TE Greg Olsen. After that, Lovie will be gone.
Prediction:
Bears finish 7-9 and Lovie Smith is fired by the time 2010 OTA's start, at the latest.
7. Cincinatti Bengals Make the Playoffs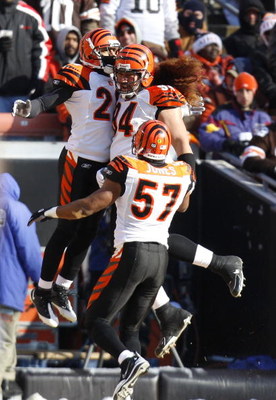 Cockiness never gets you anywhere. Let's make an exception here. Carson Palmer returns to a team that was in shambles last year on the wrong side of .500. The man formerly known as Chad Johnson is also coming off injury and will run his mouth again.
Not to be fooled, the Bengals also had an outstanding offseason. They picked up Andre Smith, Rey Maualuga, Chase Coffman, and Michael Johnson in the draft. All these men should produce from Day One. This team will be in the playoff hunt.
Prediction:
10-6, No. 6 Seed in AFC Playoffs
6. Oakland Raiders Finally Return to Contention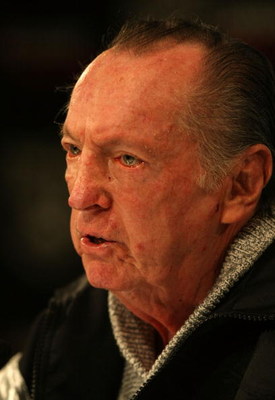 Note: Nowhere did I mention that the Raiders will neither win their division, nor make the playoffs. I simply inferred that the Raiders will win more than five games for the first time since 2002.
There is a new mindset in Oakland: Play smart, aggressive football. Not really a common mantra for the silver and black. Since the Raiders win over the Buccaneers, JaMarcus Russell has been working his tail off to shut up the naysayers. He is surounded by explosive players like Darren McFadden, Johnnie Lee Higgins, and Darrius Heyward-Bey.
All have an ability to make game changing plays. On defense, Oakland posesses that league's best shutdown corner, Nmamdi Asomugha. The front seven will be improved with the addition of Greg Ellis in the 3-4 scheme. Being in the AFC West, there is no reason this team cannot contend for the division crown.
Prediction:
7-9, Second Place AFC West
5. Brett Favre Retires (Again) After Sticking it to the Packers, Twice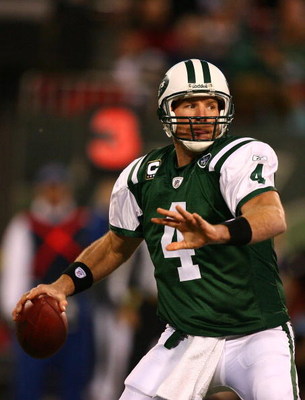 Not exactly a bold prediction, but who cares? Every NFL article these days has to include names like Brett Favre and Michael Vick.
In any case, it shouldn't come as a surprise to anyone to figure the Vikings can beat the Packers twice even without Favre. But with him (they will sign him) it will be a definite.
A promising running game and the league's top run defense will dominate their division. Favre has a decent year, and can finally put football to rest after beating the Packers, twice.
Prediction:
Vikings: 12-4
Brett Favre: 23 TD, 20 INT, 3,100 yards, 61% completion, 81.5 passer rating
4. Indinapolis Colts Miss the Playoffs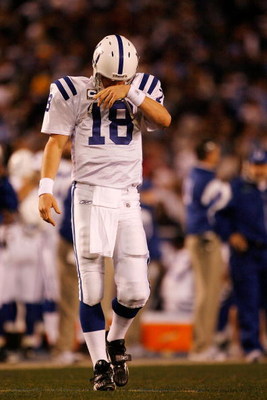 I know, Colts fans. It's hard. To be reigning as one the elites for a decade and then begin to watch it fall apart right in front of your eyes.
It had to happen sooner or later, but at least Peyton got his ring. Tom Moore and Peyton Manning had one of the best relationships a QB and an offensive coordinator could ever have. Same went for the one Manning forged with Tony Dungy.
Now both coaches are gone, and it will get worse before it gets better. We saw signs at the beginning of last year, and now it's here. Don't forget Marvin Harrison. Who's double-team will Reggie Wayne take advantage of now?
Prediction: 9-7, Second AFC South
3. Philadelphia Eagles Miss the Playoffs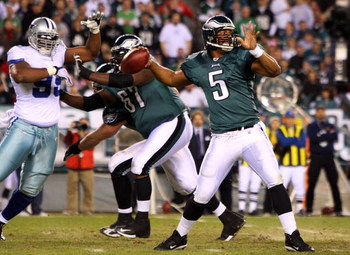 Same as the Colts, we will see the end of an era. I give the Eagles credit for being able to bounce back from a horrific start last year and make it too the NFC Championship game.
Doesn't this all sound too familiar? "The Eagles make the NFC Championship Game, but lose." I've heard that one too many times this decade. McNabb, Westbrook, and the entire defense is getting up there in age, not forget accumulating injuries.
Brian Dawkins, the leader of the defense, is gone and Jim Johnson hasn't got much left in the tank. I support the man, but he has bigger issues off the field. Andy Reid's play calling is questionable at best. Even with the addition of some new weapons on offense, the Eagles just never seem to get it done. This year will be the proof.
Prediction:
6-10, Last Place NFC East
2. Atlanta Falcons Win Super Bowl XLIV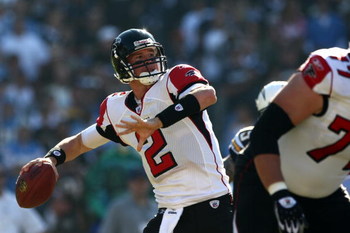 Yes, I'm a biased fan. Yes, it seems like a long shot. But this is why these are BOLD predictions and not copied off of ESPN.com. And besides, this is totally possible.
Everyone knows the offense is complete. Matt Ryan under center, Turner and Norwood in the backfield, Roddy White catching passes, and now Tony Gonzalez blocking for Turner and catching passes across the middle of the field. The offensive line remains intact, the same unit that allowed 17 sacks all season and paved the pay for the league's second best rushing attack.
People's biggest concerns with the Falcons remain with the "suspect" defense. Critics always point to the 24th best defense in the NFL, which is a misleading statistic. The defense was No. 11 in points allowed per game, which is pretty darn good for a "suspect" defense.
What they did was release deadweight old players that just slowed them down. When the Falcons lost to the Cardinals in the Wild Card round, they got burned all day. Lawyer Milloy on the long TD pass, and Keith Brooking on a 4th quarter 3rd and long. Both players are gone now. They added depth at the defensive line and the secondary through the draft.
Last year was a rebuilding year, where they went 11-5 and claimed a playoff spot. With a returning coaching staff, the Falcons look primed for a deep, deep playoff run.
Prediction:
13-3, NFC South Champions, Super Bowl Champions
1. Balance of Power Shifts to the NFC
Lastly, I make my case for why the National Football Conference will regain its position as the better half of the NFL.
Sure, the AFC has teams like the Steelers, Patriots, Colts, and the unpredictable Chargers, but who else really? The AFC has won the Super Bowl every year this decade except for when the Giants took home the prize.
Teams on the rise like the Giants, Panthers, Saints, Falcons, Redskins, Vikings, Cardinals, and even the 49ers have potential to one day be NFL Powerhouses, if not already. This year marks a turning point in history where the NFC will dominate again.
Keep Reading