The United States basketball team remained undefeated at the FIBA Basketball World Cup after a 98-71 win over New Zealand on Tuesday.
Anthony Davis continued his impressive summer with a game-high 21 points. Kenneth Faried also made a big impact with 15 points and 11 rebounds, and he was one of six U.S. players in double figures. Everyone on the roster scored at least one point in the win.
New Zealand had a strong effort to keep things relatively close before the fourth quarter, thanks in part to BJ Anthony's 11 points off the bench. However, it could not match up inside as Team USA won the rebounding battle 47-34, and 21 turnovers also did not help the underdogs.
This win helps the United States continue a solid run to start the tournament:
Team USA defeats New Zealand 98-71 to move to 3-0 in FIBA Group C play! pic.twitter.com/iQYU1OBjCH

— Bleacher Report (@BleacherReport) September 2, 2014
The Americans got off to a bit of a slow start in this game, especially on the defensive end. On the offensive end, they showed off their big-play ability, including this early dunk by Davis:
VIDEO: Anthony Davis takes flight on an insane alley-oop from Kyrie Irving. http://t.co/BKh6QCi3Z8 https://t.co/HnOx2SAXoe

— theScore (@theScore) September 2, 2014
Faried also got in on the dunking action thanks to a half-court alley-oop from Stephen Curry:
.@KennethFaried35 has a team-high 9 points, including this half-court alley-oop from @StephenCurry30. http://t.co/I6YbAjNvet

— NBA on ESPN (@ESPNNBA) September 2, 2014
However, the guard play was a bit inconsistent due to the poor effort of passing the ball early, as Sam Smith of Bulls.com argued:
USA leading 15-8 w/4:05 in first w/Rose entering. Maybe USA guard will actually look to make a pass to a shooter. Starting guards mostly iso

— Sam Smith (@SamSmithHoops) September 2, 2014
At the end of the first quarter, the United States only held a seven-point lead as the energy in the building was lower than in past games, as noted by Brian Mahoney of The Associated Press:
USA 27, New Zealand 20 after one. Seems the Americans miss the Finland crowd. Need something to get their energy up.

— Brian Mahoney (@briancmahoney) September 2, 2014
Fortunately for the favorites, the second half was much different as the big men inside started to dominate, as Jim Eichenhofer of Pelicans.com pointed out:
Anthony Davis and Kenneth Faried size and athleticism are overwhelming USA opponents. Few int'l bigs can match that combo or their energy

— Jim Eichenhofer (@Jim_Eichenhofer) September 2, 2014
Davis and Faried each had 11 points in the first half while combining for 10 rebounds in an impressive early effort to help build the lead up to 57-35 at halftime. The team consistently got easy shots and ended up hitting 62 percent of its field-goal attempts in the first half.
Also contributing in a big way early was Curry, who looked smooth while recording 10 first-half points. Zach Harper of CBS Sports joked about how well the guard was shooting:
You can tell when Steph Curry is going to knock down a shot because it leaves his hands.

— Zach Harper (@talkhoops) September 2, 2014
New Zealand continued to hang around in the second half and actually outscored the United States in the third quarter 19-18 thanks to some sloppy Team USA play. While the underdogs did not have any big performances from any player, they showed great scoring balance.
Finally in the fourth quarter, Team USA pulled away thanks to an extended run:
.@usabasketball is on an 11-0 run, opening up a 31-point lead over New Zealand on ESPN2/WatchESPN. http://t.co/ODdtbdgTPY

— NBA on ESPN (@ESPNNBA) September 2, 2014
It never became the true blowout many expected, but the United States will certainly settle for the 27-point victory.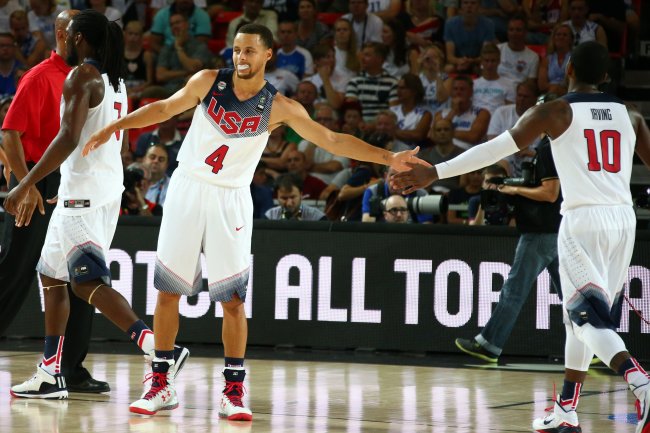 Nathaniel S. Butler/Getty Images
This was an impressive performance for a New Zealand squad not expecting to do much against arguably the most talented team in this tournament. Guard Corey Webster was excited to just get a chance for this moment:
Game day y'all, the game we dream of as ball players. NZ v USA 💯🏀

— Corey Webster (@cwebster9) September 2, 2014
Despite the final score, this is a moral victory for Webster and the rest of the young squad.
On the other hand, fans are expecting a lot more out of Team USA. After an easy opening win against Finland, the team has not been at its best over the last two contests. Head coach Mike Krzyzewski discussed what his squad learned from the closer-than-expected win over Turkey in the last game, via Jeremy Woo of Sports Illustrated:
I think sometimes when you have a game like we did the night before where you're just scoring at will, you can take it for granted. The big lesson for our team is you can't take things for granted especially when you're playing teams the caliber of Turkey.
The good news is that while New Zealand was not expected to be as tough of a matchup as Turkey, the United States still responded well after a tough start.
The squad moved to 3-0 with the win and will look to keep the momentum going against the Dominican Republic on Wednesday at 3:30 p.m. ET. While the Americans easily won when the two played in an exhibition last month, the underdogs have quick guards who can cause problems.
New Zealand will battle Ukraine in its next contest on Wednesday. After an 0-3 start, one more loss will likely knock the team out of contention for a spot in the knockout round.
Still, the United States remains the favorites in this group and the entire competition. The question is whether the team can continue to improve over the next week and find a way to bring home another gold medal.
Follow Rob Goldberg on Twitter for the latest breaking news and analysis.