San Diego Chargers 2009 Roster Breakdown: TEs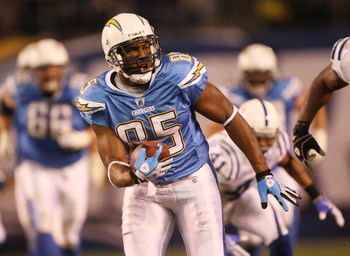 San Diego's depth chart at the tight end position features no more and no less than the best receiving end in the league, and a capable backup who is equally adept at blocking and receiving.
Added into the mix for 2009 are two rookies vying for the third spot. One, a former starter for the University of Georgia, the other, a former Colorado State standout who caught more than 140 balls and scored 20 touchdowns in his college career.
Antonio Gates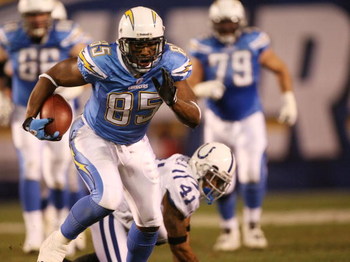 Antonio Gates remains the San Diego Chargers' biggest and most consistent threat on passing downs.
The big tight end out of Kent State was slowed somewhat by remnants of injuries sustained in 2007 and new ones suffered in 2008, but he still managed to lead the team in receptions with 60 and TDs with eight.
Gates boasts a great mix of size, strength, and speed that produces matchup problems for any defense. Too fast to be covered by most linebackers and too big to be guarded by safeties, the three-time Pro Bowler can be a nightmare for opposing teams when used properly.
Pros: Most explosive tight end in the game today, has speed to run with secondaries and strength to out-muscle linebackers, at 6'4" and 260, is a big target for QB Philip Rivers, soft hands and basketball background make him an excellent ball handler, equally effective in short and long passing game.
Cons: Even with recent improvements, still not the best blocking tight end, injuries have creeped up on him in recent years, with fears that ankle and foot conditions can be chronic, is coming off weakest season statistically since rookie year.
Season Outlook: Now, more than ever with Tony Gonzalez out of the AFC, Gates is the premier tight end in the conference, and should put up Pro Bowl worthy numbers once more. Seventy-80 receptions and 900-1,000 yards are not out of the question.
Brandon Manumaleuna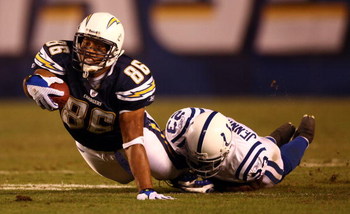 Acquired in a draft-day trade in 2006, Manumaleuna has proven himself a worthy backup to Antonio Gates, subbing in for him at appropriate times, working as a blocking back in big formations and, off the line of scrimmage, even lining up as a fullback.
A change-up to the more athletic Gates, Brandon looks and plays more like the traditional tight end, a capable receiver who can function as an extra blocker. Last season, Manumaleuna caught 15 balls for 127 yards, all season highs since joining the Chargers in 2006.
Pros: Excellent blocker who can be used in both run and passing situations, presence on field doesn't alert defenses too much, despite fact that he is a solid weapon in passing game, good strength and footwork allow him to overpower linemen and linebackers alike.
Cons: Slow even for a "traditional" tight end, isn't very useful beyond short-yardage situations even on passing downs, has been known to hold when beaten off the line in blocking situations.
Season Outlook: Manumaleuna has been averaging about 13 catches a year since arriving in San Diego, and that number is very feasible this season. He'll be a weapon in goal line situations and in third-and-short, functioning as either an extra blocker or a receiver.
Kory Sperry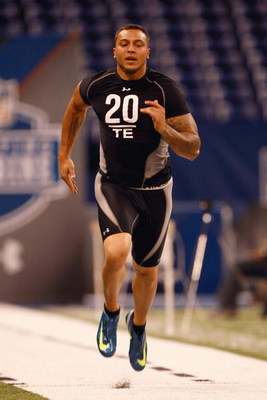 The former Colorado State stud was a three time All-MWC honoree in his college days, and was expected by some analysts to be a late-round selection in this year's NFL Draft.
However, as an undrafted free agent, Sperry latched on with the Chargers in hopes of making the team. In his college career, Kory put up numbers envied by many, catching 141 balls and scoring 20 touchdowns.
Pros: Great receiver, big, soft hands remind Chargers brass of Gates, former H-Back Ronnie Harmon, good speed creates matchup problems for defenses.
Cons: Not a good blocker, needs to work on route running, used in college mostly as a split end, lining up as a WR, thus could struggle in traditional three-point stance, suffered major injury in college that could haunt him in future.
Season Outlook: Sperry's skills and size are Gates-like on the surface, so he'll get a long look in the preseason, but Sperry will have to prove that he can also be proficient against NFL defenses when it comes to blocking and shaking defenders. Otherwise, he'll be gone.
Tripp Chandler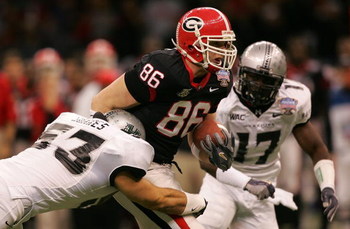 Georgia's starting tight end during the Matthew Stafford-Knowshon Moreno era comes to the Chargers as another undrafted rookie free agent. Chandler's skills were probably not used to their full potential in Georgia, with sexier passing and rushing options available to the Bulldogs at nearly all times.
After a strong 2007 season, Chandler only caught five passes in 2008.
Pros: Good blocker with intuition to help out in running game, capable receiver.
Cons: Has had disciplinary problems in past with arrest, could struggle with pro-style offense and bigger, stronger defenders on line of scrimmage.
Season Outlook: If Sperry is viewed to be a player in the vein of Antonio Gates, then Chandler is definitely Brandon Manumaleuna's counterpoint. Strong, solid but not flashy, Chandler will also get a chance to latch on during training camp and maybe the preseason.
Keep Reading

San Diego Chargers: Like this team?