After a solid start to their EPL campaign, Southampton have secured the season-long loans of Belgium defender Toby Alderweireld and Senegal midfielder Sadio Mane in a move to help remain in the top half of the league.
The club's official Twitter feed confirmed the news:
CONFIRMED: #SaintsFC beat the clock to complete a #deadlineday move for Sadio Mané from @RedBullSalzburg. #SaintSadio pic.twitter.com/Mk6ZMIWPX0

— Southampton FC (@SouthamptonFC) September 1, 2014
CONFIRMED: #SaintsFC have completed a #deadlineday deal for Toby Alderweireld. Welcome, @AlderweireldTob! #SaintToby pic.twitter.com/E3tXS0M7DX

— Southampton FC (@SouthamptonFC) September 1, 2014
Bleacher Report's Sam Tighe applauded the pair of moves:
Considering this was #SaintsFC's summer of doom, commendations to Ronald Koeman for securing great signings. SADIO MANE CONFIRMED!

— Sam Tighe (@stighefootball) September 1, 2014
The 22-year-old Mane joined Austrian club FC Red Bull Salzburg in 2012 and immediately enjoyed massive success. Over the last two campaigns, he found the back of the net 29 times in 59 Bundesliga appearances. In addition to being a deadly finisher, his speed makes him extremely dangerous with the ball at his feet.
WhoScored.com's Twitter feed provided proof of the latter:
Sadio Mané: Completed more successful dribbles (38) than any other player in the Europa League last season #rbs #saintsfc

— WhoScored.com (@WhoScored) September 1, 2014
Southampton manager Ronald Koeman praised Mane's versatility and production, and discussed where he sees him fitting into Saints' lineup:
Koeman on Mané: "He can play in different positions in the attack – he can play on the left or right and also as a number nine." #saintsfc

— Southampton FC (@SouthamptonFC) September 1, 2014
Koeman: "It is incredible how many goals he has scored from his position, and I hope that he will do the same for us." #saintsfc

— Southampton FC (@SouthamptonFC) September 1, 2014
Koeman's squad has had little trouble scoring early in Premier League action, tallying four goals in the first three contests. But Mane's speed and dribbling will add a necessary bit of creativity and playmaking from the midfield.
Alderweireld, on the other hand, will be tasked with improving the back line.
The 25-year-old comes over on a loan from Spanish giant Atletico Madrid. He didn't play much there, but he did make four starts for Belgium at the World Cup this summer, showing the ability to play at either right-back or centre-back.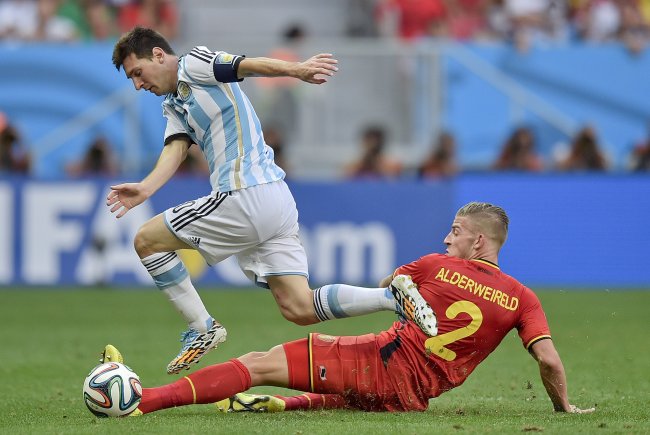 Martin Meissner/Associated Press
"He is a strong defender, and is also very good at building up the play when we play out from the back," Koeman said, via SaintsFC.co.uk. "He played in the top league in Spain and against top teams in Europe, so he has a lot of confidence and experience, and he has a big future because he is still young."
Where will Southampton finish this season?
Southampton, a League One participant as recently as 2010-11, took a major step forward last season with an eighth-place finish.
With these saavy last-minute moves from Koeman and his staff, the arrow is still pointing up for Saints, who are doing a tremendous job of restocking after losing so much talent in the offseason.