Manchester United have been the most visible players on deadline day of the summer transfer window, signing Daley Blind (per the club's website) and agreeing to a deal for Radamel Falcao (per The Telegraph's Mark Ogden).
New arrivals usually means a number of departures as well, and in the final hours before the market closes, the Red Devils are reportedly shifting their gaze toward offloading several unwanted players.
Here's the latest buzz surrounding United's transfer activity.
Uncredited/Associated Press
The Red Devils have reportedly agreed to a deal with Arsenal over the permanent transfer of Danny Welbeck, as shared by BBC Sport:
Arsenal reach an agreement with Manchester United for the permanent signing of Danny Welbeck. #MUFC #deadlineday pic.twitter.com/3rBScdzRBb

— BBC Sport (@BBCSport) September 1, 2014
The imminent arrival of Falcao gives the Red Devils a plethora of attacking options, and with the Gunners in need of an extra forward to make up for the injury to Olivier Giroud, a transfer of the England international was rumoured to be in the air throughout deadline day.
The 23-year-old was widely regarded as one of England's next great attacking talents when he first emerged for the Red Devils, but his development slowed down significantly in the past two seasons.
There no longer seemed to be any room for Welbeck in United's squad, and a transfer move seems to be the best solution for all parties involved. While it's always tricky selling to a direct rival like Arsenal, Louis van Gaal likely feels confident the striker will never make good on his once promising potential.
According to BBC Sport, the Red Devils will receive a fee in the vicinity of £16 million:
Danny Welbeck's fee is in the region of £16m from Manchester United to #AFC http://t.co/KC2gs1ia28 #deadlineday #mufc pic.twitter.com/iazJBmPHvm

— BBC Sport (@BBCSport) September 1, 2014
For a player that is surplus to requirements, such a fee presents good value. While this transfer has the potential to hurt United in the long run (imagine Welbeck scoring the winner against his old club), the Mancunians look like they'll emerge from this deal as winners.
Tom Cleverley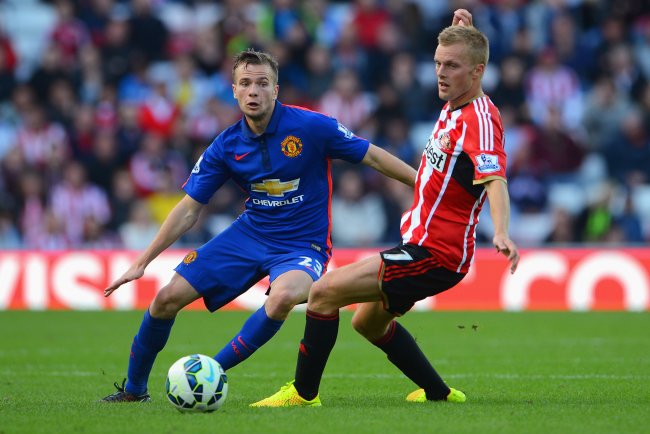 Michael Regan/Getty Images
As shared by Manchester Evening News' Rob Dawson, the rumoured transfer of Tom Cleverley to Everton might not go through after all:
Suggestions Tom Cleverley's move to Everton might not go ahead. Aston Villa already walked away. Could stay at United.

— Rob Dawson (@RobDawsonMEN) September 1, 2014
With no other suitors for the young midfielder, the deal with the Toffees appeared to be the last resort for the Red Devils, who want to offload the central midfielder.
Like Welbeck, the 25-year-old was once regarded as a top talent, but injury and inconsistent play led to Cleverley regressing over the course of his career with United. Often the target of mockery, it became clear he needed a change of scenery to help him get back into contention for a selection for the English national team.
According to BBC Sport's Phil McNulty, the transfer can only go through if the Mancunians agree to an initial loan deal:
Cleverley to Everton will only happen if Man Utd agree to a loan...time is marching on and no-one has blinked yet.

— Phil McNulty (@philmcnulty) September 1, 2014
Van Gaal would likely prefer a permanent solution as he attempts to make this squad his own in his first season at the helm of the Red Devils. With little time left to come to an agreement, the conclusion to this saga will likely depend on which party bats an eye first.
Tom Lawrence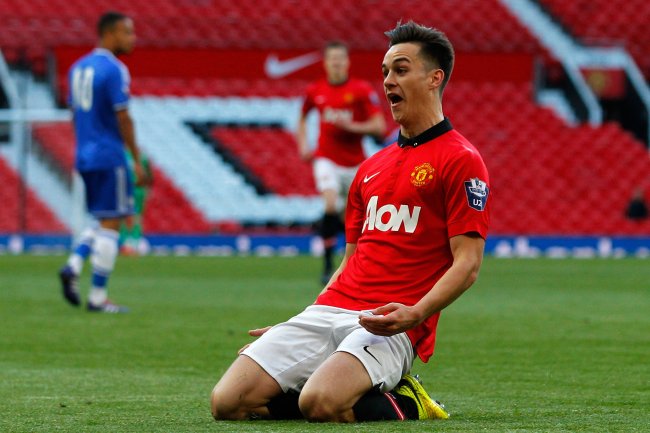 Paul Thomas/Getty Images
One player who seems certain to depart the club is talented youngster Tom Lawrence, who is expected to agree to a permanent transfer to Leicester City soon, per the Daily Mail's Adam Crafton:
Leicester and Man Utd agree fee for Tom Lawrence but personal terms not sorted yet. Plenty still to do. #mufc #lcfc http://t.co/SQUOHa9AXF

— Adam Crafton (@AdamCrafton_) September 1, 2014
The 20-year-old was one of the most consistent performers in the Red Devils' youth setup, and it comes as a surprise United would be willing to let the talented forward go before giving him a real chance with the senior side.
Lawrence rose to fame late last season, receiving his debut for the senior squad under Ryan Giggs, together with James Wilson.
The Welshman was tipped to have a great future at Old Trafford and follow in the footsteps of Giggs. Capable of playing as a striker and attacking midfielder, Lawrence excels in space and with the ball at his feet.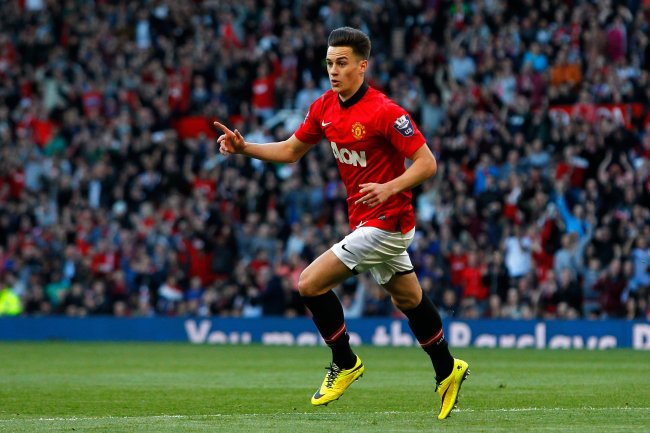 Paul Thomas/Getty Images
A move to the Foxes will undoubtedly do wonders for his young career, as he'll have the chance to compete for regular playing time at the Premier League level. He'll need further development to truly make an impact, but his potential for the future is undeniable.
Many expected Lawrence to move to a different club on a loan basis, but it appears Van Gaal had different plans, opting to move the youngster on a permanent basis.