New York Yankees' Midseason Report Card (Part Two)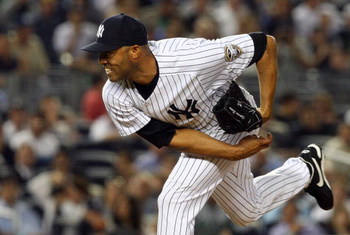 On Monday, we examined the performance of the Yankees' position players in the first half. Today, we hand out grades to the pitching staff, manager and new Yankee Stadium.
The Yankees are attempting to qualify for the postseason for an unprecedented ninth time in a decade. The Yankees of the 1950s went to the World Series eight times, while the Atlanta Braves qualified for the playoffs eight times in the '90s.
The Wild Card was instituted in 1995; the Yankees have won seven divisions and one Wild Card this decade.
If you missed Part One of the Midseason Report Card, you can check it out right here.
RHP - Alfredo Aceves, A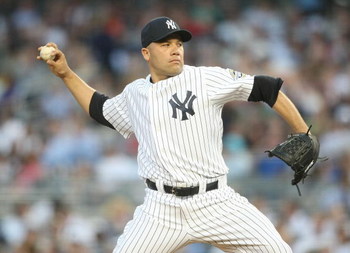 Aceves, or "Ace" as he's known by teammates, was an afterthought when the Yankees broke camp in Tampa this spring, beginning the season in Scranton.
But the big right-hander got the call to The Show in early May and he hasn't looked back. Aceves pitched to a 2.75 ERA in nine May outings and then dominated in June, allowing just two runs over 13 2/3 innings (1.32 ERA).
Aceves and Phil Hughes had taken the reigns of the eighth-inning job as the All-Star break approached, proof that Ace is among Joe Girardi's must trusted relievers not named Mo.
RHP - Brian Bruney, C-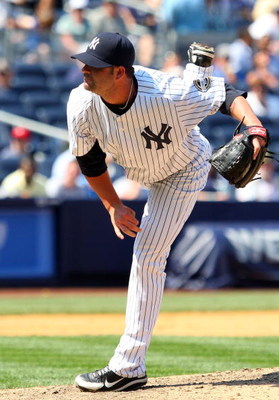 It wasn't so long ago that the Yankees' bullpen was a match stick on kerosene, as the likes of Jose Veras and Edwar Ramirez transformed close games into blowouts.
The fans wailed for the return of Bruney, a hard-throwing right-hander who had shown flashes of dominance in April before suddenly hitting the disabled list with elbow trouble.
One DL stint became two, and by the time Bruney finally returned for good on June 16, the Yankees' bullpen had underwent a transformation, going from team weakness to strength.
Ironically, Bruney has gone the opposite direction.
In seven-and-two-thirds innings since coming off the DL, Bruney has been dreadful, allowing five runs on nine hits with eight walks. More troubling, his loss of command has been accompanied by a loss of velocity.
It all makes Bruney one the Yanks' biggest question marks as they enter the second half.
LHP - Phil Coke, B+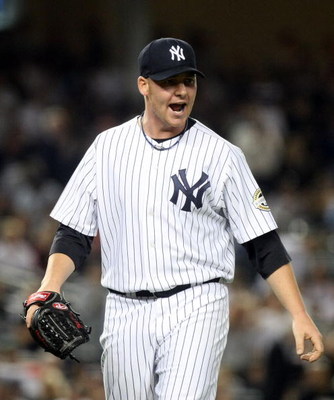 Coke was a feel-good story in an otherwise dreary September for the Yankees in 2008, a career minor leaguer who joined the big club and allowed just one run over 14-2/3 innings of work.
The performance earned the left-hander a spot in the 'pen in 2009, and Coke has performed admirably. His best stretch of work came in June, when he allowed a single run over 12 2/3 innings.
An especially bad performance in the series finale against the Angels ( 1 IP, 4 R) bloated his ERA to 3.99 over 42 appearances, but it's a misleading mark. Overall, opponents are hitting just .192 against him.
If Joe Torre were his manager, Coke's arm would be hanging by a single string by the end of the season. Luckily for him, Girardi will likely exercise discretion in dealing with his workhorse reliever.
RHP - Phil Hughes, A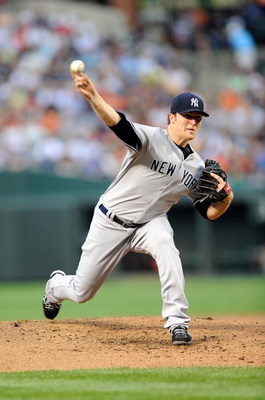 The Saga of Phil Hughes has had so many twists and turns at this point, it's easy to get lost in the news feed. Let us recap:
- Hughes is the Yankees' first pick of the '04 draft. Some dude named Joba is taken with the sandwich selection.
- Hughes rockets through the farm system, earning the "ace-in-waiting" tag.
- Hughes makes his Yankees debut on April, 26, 2007. Five days later he is pitching a no-hitter in Texas when he tears his left hamstring. He is shelved for three months.
- While on the disabled list, Chamberlain is promoted and becomes an instant sensation out of the bullpen. Joba supplants Hughes as the club's top prospect in the process.
- Hughes relieves an injured Roger Clemens in Game Three of the '07 ALDS and delivers New York's only win of the series. At 21, he is the youngest Yankee pitcher to win a playoff game.
- Hughes is the centerpiece of a proposed trade that would bring Johan Santana to the Bronx in the winter of 2007. GM Brian Cashman doesn't pull the trigger, unwilling to part with his young right-hander. The decision is widely scrutinized as Santana eventually goes to the crosstown Mets.
- With the shadow of Santana looming in Queens, Hughes suffers through a dreadful '08 season. After a winless April, he goes down with a fractured rib. He returns to the club with some success in September, but his season is labeled a bust.
- Hughes excels in winter ball and performs well in spring training, but begins the 2009 season at Triple-A nonetheless. He is called back up to replace an injured Chien-Ming Wang on Apr. 28 and makes five starts before joining the bullpen upon Wang's return.
- Using just two pitches out of the bullpen, Hughes dominates, becoming one of Joe Girardi's most trusted relievers. Since June 8, Hughes has allowed two earned runs over 18-1/3 innings with 19 strikeouts. By the All-Star break, he had become a primary set-up man to Mariano Rivera.
Who said pitching in New York was like being under a microscope?
RHP - Mark Melancon, Incomplete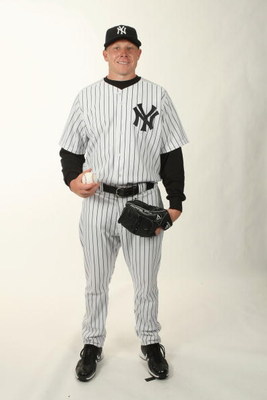 When Getty Images only has your sanctioned team photo on file by July, it's usually a sign you haven't done much. It is a funny picture, though. Is his left shoe untied? Ha.
Anyway, Melancon indeed has not done much, making three pit stops (and counting) in the Bronx this season. The Yankees do seem high on the right-hander, however. Why else would they continue to give him chances to stick?
Melancon may or may not be a contributor in '09, but look for his name to pop up again next spring.
RHP - David Robertson, B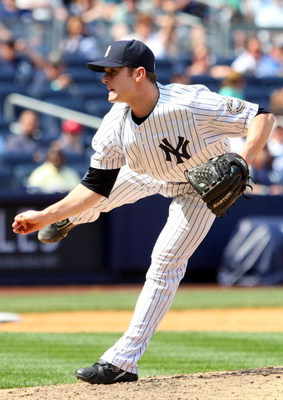 Robertson was called up by the Yanks when Brian Bruney hit the DL on May 28, and although it seemed like a temporary situation at the time, Robertson has managed to stick around.
Your stock "middle reliever", Robertson has had some nice runs of success this season, at one point going nine straight appearances without allowing a run (May 5-June 9). He has clawed his way out of the Scranton Shuttle, a seat now being kept warm by poor Jonathan Albaladejo (B).
RHP - Brett Tomko, D-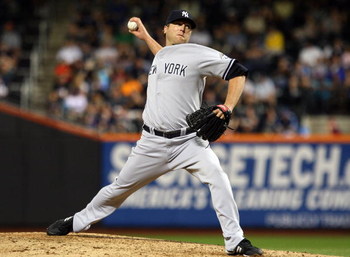 I must be in a good mood today, because there's a mean bastard lurking inside me that wants to give poor Brett Tomko a big fat "F".
But I won't. If Derek Jeter were batting .200, or Mark Teixeira had three homers, or Mariano Rivera had 12 blown saves, they would get a failing mark because those numbers would stand in contrast to to their talent level.
This isn't so with Tomko, whose numbers stink because, well, he stinks. I personally booed him off the mound at Yankee Stadium during the Luis Castillo Game, and in the afterglow of that improbable win, I even felt bad about that.
I guess I have a soft spot for the poor guy. Joe Girardi and Brian Cashman must have one, too...it's the only explanation why Tomko is still on the team.
RHP - Mariano Rivera, A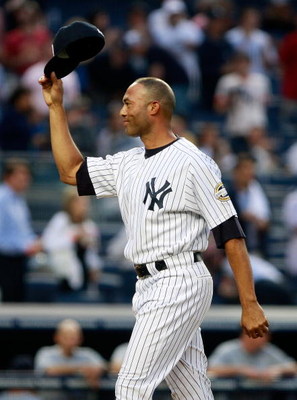 Mariano Rivera is an old man in baseball terms. The famed closer will be 40 when the clock strikes midnight on Nov. 29.
He has 505 career saves and four World Series rings and is baseball's all-time leader in postseason saves and ERA. He's now also the best closer in All-Star history. He is–quite simply–the greatest relief pitcher ever.
So, with that said, in the event that Mo is reading this, I'd like to say this:
Mariano, you have full permission to start sucking. You've given us so much more than we could've ever asked for. We will never be mad at you.
But if you'd like to continue dominating, we won't stop you. You haven't allowed a run in more than a month. You're still striking out more than a batter an inning. You're still doing it with just one amazing pitch. Call me crazy, but you seem to be just as good as you ever were.
The fact that Yankees fans have had the best closer in baseball for 13 years (and counting) is a blessing I'll never take for granted...or forget.
LHP - CC Sabathia, B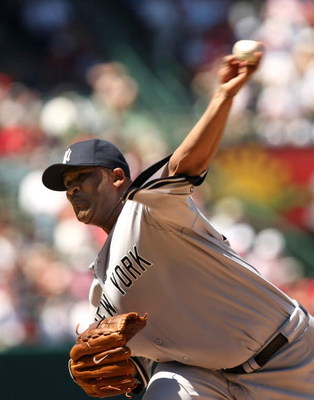 I'm giving Sabathia a pass on his up-and-down first half because it's pointless to get on his performance when he's just going to end up throwing 240 innings and ringing up 18 wins by Oct. 1.
I do believe he's that good, and he remains the key to postseason success in 2009. The Yankees have had some good teams that failed this decade, in large part because they didn't possess a true ace.
The '07 season comes instantly to mind, when a loaded Yankee team was undone by Chien-Ming Wang's untimely meltdown.
Sabathia is a name brand and true No. 1 pitcher. It would be nice to see him get his strikeout totals up, his 95 Ks through 128-1/3 innings is well off his pace in recent years. But in the end, Sabathia is a beast and pleasure to watch every five days.
The best is yet to come with Carsten Charles.
RHP - A.J. Burnett, B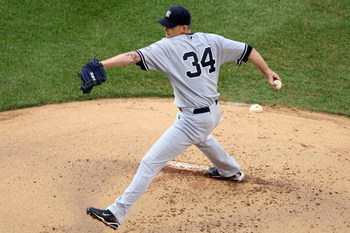 Burnett is more or less exactly the pitcher he's always been.
He'll go through rough stretches where he can't find the zone and gets hit hard and generally looks like a hopeless disaster. Example: From Apr. 19 to May 22, Burnett didn't have a win, allowing 46 hits and walking 25 batters over 44-2/3 innings.
But then he'll get hot...scorching hot. Example: He's 4-1 over his last five starts, allowing just 23 hits over 33-2/3 innings while striking out 35. He has lowered his ERA from 4.89 to 3.77 in that span.
And yet, as well as he's pitching, it's hard to fully put your trust in him. He's now been healthy for a season-and-a-half consecutively, uncharted territory for Burnett.
Has he overcome his injury issues, or should we be waiting for the other shoe to drop in the second half?
So yes, Burnett remains somewhat of a wild card as we enter the second half, but his incredible potential makes him a weapon come playoff time.
LHP - Andy Pettitte, C+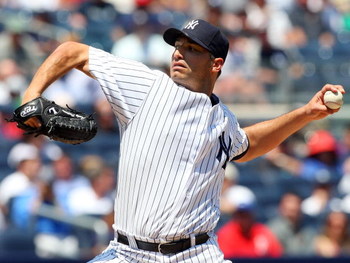 At the heart of Pettitte's inconsistencies this season is one simple, unconquerable fact: Andy got old.
Pettitte turned 37 last month, and the big lefty has long since passed the 100,000 mark on the odometer. So while he still looks like the Andy Pettitte of say, 2003–save for some added gray hairs around the temple–he has hard time replicating that type of performance.
Pettitte is what he is at this point, a serviceable No. 5 starter prone to very bad starts. Sometimes he'll be able to wiggle out of trouble, and sometimes not. Some games he's involved with will be a crapshoot.
It's weird to think of Pettitte as such a vulnerable commodity. Then again, I used to think Adam Duritz of the Counting Crows was a really cool guy. Things change.
RHP - Joba Chamberlain, C-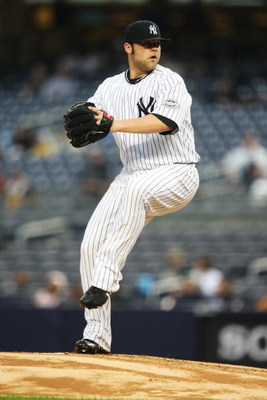 Why isn't Joba Joba anymore?
It's the biggest mystery of the first half, and one that has the entire organization on edge. A year ago, he was a star on the rise, armed with a plus-fastball, plus-slider, good command and a cocksure presence.
That's all gone now, seemingly left on that mound in Texas last August. What we have now is a tentative, uneasy young pitcher who looks...average.
Chamberlain insists he's fine and pitching well–a sentiment that has worn thin with fans and teammates–but the numbers don't lie. He's lasted into the seventh inning once since June 1 and has thrown just 13-2/3 innings over his last three starts.
He is striking out less than a batter an inning for the first time in his career and opponents are hitting .282 against him. His WHIP is 1.53 across 89 innings; it stood at 1.26 over 100-1/3 innings a year ago.
The Yankees have a number of different options on how to handle Joba at this point. They can ride it out and hope he steadies the ship. They can skip him in the rotation. They can send him to the bullpen. They can demote him.
Unfortunately, I'm not convinced any move will instantly bring on the return of the old Joba. The Yankees babied their golden boy into the abyss, and now they have no idea how to get him back.
RHP - Chien-Ming Wang, F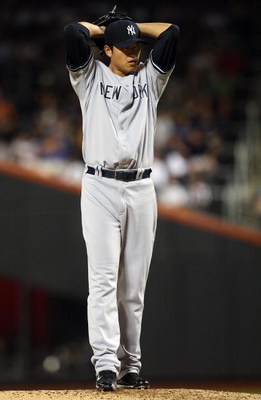 Watching the deconstruction of Chien-Ming Wang has been sad to behold. Heading into the 2007 playoffs, Taiwan's shining son was a back-to-back 19-game winner, the No. 1 pitcher of the New York Yankees.
Then he lost his way in the ALDS, getting battered twice. He was on the road to redemption in June 2008 when third base at Minutemaid Park turned into a land mine, blowing up his foot and season.
Wang is still trying to find redemption, 13 months later. He authored arguably the worst three-start stretch of a generation in April, allowing 23 runs over six innings before mercifully being shifted to the DL with, um, a hip problem. Sure, that works.
And just when he appeared to be getting back on track this month, his body betrayed him again, a sore shoulder landing him back on the DL.
The Yankees say the injury isn't serious, but it's hard to believe any news as good when it comes to Wang anymore.
Manager - Joe Girardi, B+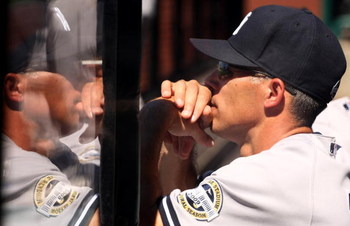 Donnie Baseball loyalist that I am, it's impossible for me to be unbiased when assessing Joe Girardi. I don't even like Tino Martinez.
But, truth be told, Girardi has held things together this season while improving on some of the bad traits that got him off on the wrong foot in New York a year ago. He has toned down the smug attitude some, and he seems to be in a better place with his players.
Keeping the lineup stable on a day-to-day basis has gone a long way toward that. Another promising sign came in June, when the Yankees managed to turn their season around following a nasty two-week slide.
On balance, Girard has done a good job, and I do believe he'll get the playoff invitation that will keep him employed in 2010.
I'm still not watching The Joe Girardi Show, though. That really sucks.
Yankee Stadium, B+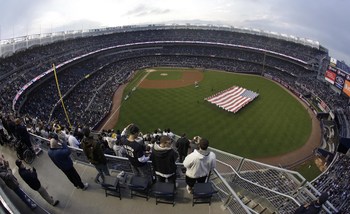 Saying goodbye to the old Stadium was easier than I thought.
Sure, it holds some pretty amazing memories for me, but as I approached the new House for the first time, it was clearly apparent the Yankees were overdue for a state-of-the-art facility like this.
The cons have been widely discussed, and I'm on board with most of them. The moat is ridiculous, Monument Park needs to be redone, the walls need to be higher and pushed back a bit. There are also areas of the park that seem a bit sterile–nothing a good paint job can't handle.
But the pros make this a facility with great promise. The fantastic sight lines, increased food and beer selection, restaurants, rare photos, museum, it's a stadium befitting of the sport's most decorated franchise.
It's been a bumpy first year, but I think they'll get it right sooner rather than later.
Keep Reading

New York Yankees: Like this team?