Manchester United have reportedly signed Radamel Falcao from Monaco on a loan deal, ending a summer of speculation around the player, according to Stuart Mathieson of the Manchester Evening News:
Radamel Falcao from Monaco to #mufc will be a season loan. Stunning piece of business. Deadline day? Bloody hell

— Stuart Mathieson (@StuMathiesonMEN) September 1, 2014
Daniel Taylor of the Guardian also provided confirmation on a transfer deadline deal that took little time to begin creating major headlines:
And now something definite: #MUFC have agreed a loan for Falcao, subject to medical and personal terms.

— Daniel Taylor (@DTguardian) September 1, 2014
Mathieson highlights the fee paid up front by United:
#mufc fee for Falcao understood to be around £5m

— Stuart Mathieson (@StuMathiesonMEN) September 1, 2014
Press photographer Craig Norwood has reported that Falcao has landed in Manchester:
Radamel Falcao landed at Manchester airport at 5:48pm BST, will now route to Carrington for #MUFC medical.

— Craig Norwood (@CraigNorwood) September 1, 2014
Despite rumours to the contrary, James Ducker of The Times reported that Falcao did not fail a medical:
Senior sources at #mufc saying Falcao has not failed medical

— James Ducker (@DuckerTheTimes) September 1, 2014
It looked as if Falcao would join Manchester City heading into the final few hours of transfer activity, per Paul Brown of the Daily Star, while Arsenal were also said to be considering the forward, noted by Jack Gaughan, Sami Mokbel and Simon Jones of the Daily Mail.
Premier League interest arrived after Real Madrid were thought to be in pole position for the player, per BBC Sport. Fortunately for United, Los Blancos' interest never seemed to peak.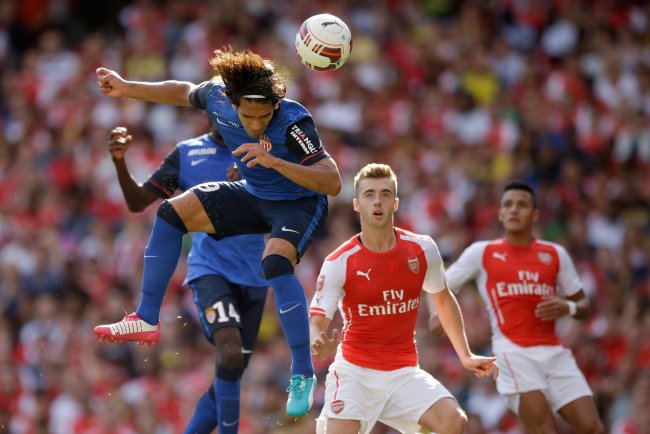 Matt Dunham/Associated Press
Paul Kelso of Sky News reports hefty wages for the Colombian:
As per earlier Tweet Falcao's advisers were seeking €15m in wages #MUFC

— Paul Kelso (@pkelso) September 1, 2014
Mark Ogden of The Telegraph passed along Falcao's wages at United:
Radamel Falcao's season-long loan to Manchester United will cost the Old Trafford club a staggering £24 million, with the forward's £346,000-a-week Monaco salary being paid in full by United.
Sky Sports resident Spanish football expert and B/R UK columnist Guillem Balague believes Louis van Gaal isn't ready to gamble on Robin van Persie's long-term fitness:
Van Gaal thinks Van Persie will continue struggling with injuries and Falcao is more than an ideal replacement

— Guillem Balague (@GuillemBalague) September 1, 2014
Such a coup should be regarded as one of the transfers of the summer. Falcao isn't an essential purchase for United, who need to add midfield and defensive signings before the deadline, but he can improve an attack that has scored just two goals in four competitive games this season, including blanks against MK Dons and Burnley.
Taking Balague's tweet into consideration, Van Persie's fitness has obviously worried Van Gaal enough to act quickly. David McDonnell of the Mirror believes United haven't taken a permanent gamble on Falcao since he recently missed much of the 2013-14 season and the entire World Cup after knee surgery:
Man Utd reluctant to commit to permanent deal for 28-year-old striker who's just returned from major knee surgery. Falcao loan ideal #MUFC

— David McDonnell (@DiscoMirror) September 1, 2014
Reports from Spanish publication AS originally indicated United and Monaco had agreed a €65 million permanent fee for the striker on a four-year contract, translated via 101 Great Goals. L'Equipe provides an alternate breakdown of the figure, however, indicating the initial loan fee could include an option to buy that would eventually see United hand over the full amount, per football writer Tom Coast:
L'Equipe have it from #ASM's end as a €10m loan deal with option to buy at €55m.

— Tom Coast (@thcoast) September 1, 2014
Javier Hernandez's potential loan move to Real Madrid, reported by Robin Cottle of the Daily Mail, will certainly help make room for Falcao. Danny Welbeck is also thought to be heading toward the exit, potentially for a loan fee of £4 million, according to Simon Jones of the same publication. Such ins and outs would represent excellent business for the Red Devils.
United undoubtedly need to invest in other areas of the squad, even though Daley Blind is expected to complete his deal before Monday is over, per Mark Ogden of The Telegraph. The versatile Dutchman provides options across the back line and in defensive midfield, but a central destroyer is needed. Links to Arturo Vidal continue to roll in, per Jamie Jackson of the Guardian, but they appear fruitless.
United chief executive Ed Woodward has received plenty of criticism from fans throughout the summer, but Falcao should soften this. If a world-class defender or midfielder can be added before 11 p.m. on Monday, United will look back on the window as a major success.
Both ends of the team are suffering with a lack of confidence so far this season, so it's no surprise to see a new addition up front. While this certainly comes from left field, Van Gaal's willingness to act decisively should be commended, especially if Van Persie is set to struggle with injury niggles this campaign.