Radamel Falcao is set to be the main protagonist of transfer deadline day, with Manchester City, Manchester United and Arsenal reportedly set to do battle for the Monaco forward.
All summer it has looked as if Falcao would eventually secure a move to Real Madrid, per BBC Sport, but with just hours remaining until the 11 p.m. deadline, the Colombian's future is still to be decided. Reports suggest the Premier League is now his likeliest destination, with City currently leading the chase, per Paul Brown of the Daily Star.
Sky Sports Spanish football expert and B/R UK guest columnist Guillem Balague believes City's chances of landing the striker rest on whether they can offload Alvaro Negredo to Valencia on a loan deal:
I imagine City wont let Negredo go if they cant agree a deal for Falcao, but City are happy the swap wont affect the financial fair play

— Guillem Balague (@GuillemBalague) August 31, 2014
Negredo doing his best to land at València: has reduced his wages. But all pending on Falcao signing for City. Club hopeful but not over yet

— Guillem Balague (@GuillemBalague) August 31, 2014
Balague also believes Arsenal don't possess the financial power to take Falcao to the Emirates, despite him being heavily linked to the club:
Arsenal are not interested in Falcao. They can't afford him

— Guillem Balague (@GuillemBalague) August 31, 2014
Jack Gaughan, Sami Mokbel and Simon Jones of the Daily Mail believe the Gunners are "keen but unlikely" to come out on top for the player's signature.
Tancredi Palmeri of beINsports indicates City remain favourites to capture one of the summer's best signings but that the English champions are beginning to get jittery over their inability to close the deal:
Falcao update: Manchester City getting extremely nervous for the delaying. Sheikh Mansour now getting directly involved

— Tancredi Palmeri (@tancredipalmeri) August 31, 2014
The Sky Blues' fight against UEFA's Financial Fair Play rules could limit their chances if Negredo isn't chopped from the wage bill, per David McDonnell of the Mirror. City have a squad and transfer cap to deal with after receiving a fine for breaching the European governing body's guidelines, which aim to quash the all-conquering financial power of the continent's richest clubs.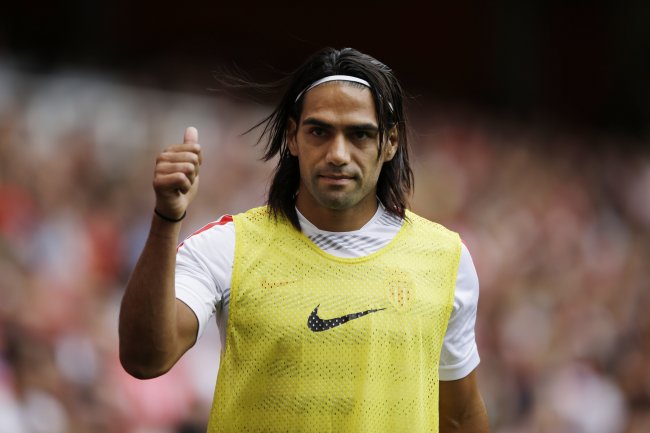 Matt Dunham/Associated Press
Such problems could see United sneak in for the player, especially considering Javier Hernandez is likely to be removed from their monthly costs when his loan move to Real Madrid is confirmed, reported by Izzy Horsefield of the Express. Louis van Gaal may wish to strengthen his forward line and wouldn't be as limited as neighbours City when trying to lure Falcao to Old Trafford.
Reports coming from Colombia pin United as favourites to snap up the player, as noted by DIRECTV Sports and Terra journalist Saris Bello. Get French Football News, via 101 Great Goals, provides the latest translation from Bello:
According to Bello, Falcao is moving to Old Trafford on a four-year deal for €65 million. Moreover, Man City's attempts to sign Falcao have come to an end due to restrictions placed on the Citizens by Financial Fair Play rules.

It is further being claimed that Falcao will have a medical on Monday ahead of his United move, and the forward will become the highest paid player in the Premier League once he becomes a Red Devil.
Palmeri comments on reports the former Atletico Madrid striker has agreed a deal with United, suggesting his destination will largely be dictated through choice:
Re news in Colombia that Falcao signed for Manchester United,what I know is that Mufc did bid and he has to decide

— Tancredi Palmeri (@tancredipalmeri) September 1, 2014
Falcao's quality needs no introduction. He is one of the world's deadliest strikers, and like Diego Costa at Chelsea, he is fully equipped to make an immediate impression in the Premier League. The Monaco man is powerful, possesses a good turn of pace and can finish a range of opportunities. Falcao's physicality makes him an aerial target, excellent hold-up player and someone who can bring others into the game.
Where will Radamel Falcao play his football after transfer deadline day?
His move could depend on exactly what type of role he is looking for. At City, he would likely start alongside Sergio Aguero when fit and see his playing time cut slightly short each match in favour of Edin Dzeko or Stevan Jovetic entering the pitch. The Etihad Stadium club represents his best opportunity at silverware.
Arsene Wenger would likely build his team around the striker, especially now Olivier Giroud is injured, per BBC Sport. United would also most likely utilise him from the start, but they would need to drop Wayne Rooney deeper to do so. The Red Devils aren't in the Champions League and are without a win after their four competitive games this season, making the Theatre of Dreams an unattractive prospect right now.
One of the three sides' ability to offer a permanent deal could swing matters. Monaco will likely be looking to gain maximum revenue from the player's departure and might as well cash in now. This would allow Leonardo Jardim four months to weigh up his squad and target permanent replacements without worrying about FFP.
Whatever happens, Falcao is likely to create many headlines on transfer deadline day. It's not often that such an excellent player is seemingly up for grabs, meaning we can expect a scramble until the very last before his future is settled.