This has to be more like what A.J. Johnson expected.
When the Tennessee Volunteers linebacker eschewed the NFL to return for his senior season on Rocky Top, part of the reason was to be around for better days. With a ton of talent being injected, Johnson wanted to play amid talent and youthful exuberance.
The new-look, freshman-heavy Vols looked the part Sunday night, flying around on defense and frustrating Heisman Trophy hopeful Chuckie Keeton and Utah State in a 38-7 rout at Neyland Stadium.
Tennessee wasn't perfect, but the Vols have plenty of talent to make some noise—especially in an SEC East that looks like Georgia and everybody else.
This 2014 edition of the Vols is totally different than that of a season ago, revitalized by a speedy, spunky bunch of newcomers who have elevated the play of the entire team and changed the program's trajectory.
And they were ready to go as soon as the ball was kicked off.
Jones on the defense: I think we've really improved our team speed. We were very active, able to apply pressure to Chuckie Keeton.

— Rocky Top Insider (@rockytopinsider) September 1, 2014
. @UTCoachJones "I knew we were ready to go by our overall demeanor yesterday at team hotel, in walk-throughs." pic.twitter.com/oQynMeeZOJ

— John Brice (@John_BriceVQ) September 1, 2014
A slimmed-down version of Old Man Johnson was the centerpiece, leading the band in a pregame drill that got the crowd hyped and then leading a revamped defense that looked surprisingly salty.
Offensively, UT found its sea legs late and ended up with a mostly impressive performance, too. The Vols made up for their shortcomings with talent and playmaking ability that simply weren't present in 2013.
An offense that was stagnant in the first half got an injection of excitement when quarterback Justin Worley finally found some of his new toys in the open field.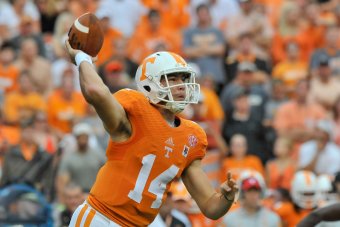 USA TODAY Sports
First, he found junior college transfer Von Pearson on a short pass, and the shifty receiver juked a defender out of his cleats on a cut that capped a 13-play drive with a 14-yard, third-quarter touchdown.
Then, with the Vols in the midst of another methodical, dominant drive as that quarter closed, they sprinted from one end of the field to the other. All their teammates on the sideline met the offense, danced, called for chaos from the crowd and looked ready to play four more quarters.
That powder keg of emotion carried over on the field.
Worley found freshman running back Jalen Hurd on a screen on the fourth quarter's first play. The jewel of UT's freshman class corkscrewed a defender, turned on the afterburners and raced 16 yards for a touchdown.
The score made it 31-0 for the Vols and pushed Worley to 12-of-12 passing in the second half on his way to hitting his first 13 second-half passes. He finished with 273 passing yards, three touchdowns and distributed the ball to several of UT's youngsters.
#Vols crushing UtahSt. Still think #UT is a year away from competing for SEC East title but Butch Jones definitely has em on right track

— Bruce Feldman (@BruceFeldmanCFB) September 1, 2014
Even though UT didn't always sustain drives, keep Worley off the ground and open big running holes, it still made big plays and flashed talent that only needs to be nourished with game reps to grow.
Players like receiver Josh Malone didn't always know what they were doing, but they still made some key plays. When they didn't, the defense shut things down.
For the first time since Eric Berry was in orange and white, there are potential playmakers all over the field, and they actually made plays Sunday.
@TonyBasilio Utah State converted just 3 of 14 third downs. Tennessee was 8-of-18 on third down.

— Football Time in TN (@FootballTimeMag) September 1, 2014
It was that kind of night in Neyland—exactly the kind of start the Vols wanted.
The defense was incredible, disguising coverages and using multiple fronts and situational players to keep USU confused. The Aggies failed to cross midfield and amassed just 97 total yards in the first half.
It was a far cry from a defense that ranked 11th in the SEC last year and second-last in rush defense. The Vols allowed just 244 total yards and 100 rushing yards to the Aggies, and a share of those came with the game already decided.
Keeton essentially did nothing.
He was pressured by the waves of speed and talent UT threw in his direction. When Utah State pieced together two big plays that resulted in its only touchdown early in the fourth quarter, it was just a frustrating footnote to a big win.
So many young players like Hurd, Pearson, Malone, Ethan Wolf, Dillon Bates, Derek Barnett and Chris Weatherd had flashes of brilliance Sunday that give long-suffering UT fans plenty to be excited about for the future.
The #Vols played 21 true freshmen and 32 newcomers. 45 pct of 71 players to see action made Tennessee debuts. #SundayNightVols

— Tennessee Football (@Vol_Football) September 1, 2014
But on a night when the excitement was elevated by all the young stars on the field, it all came back to Johnson. In the fourth quarter, the senior linebacker jumped JoJo Natson's route and intercepted Keeton.
He broke on the ball with a scamper in his step not seen previously in his career and even took it 23 yards in the other direction for further proof that he was playing faster than he has in his four years as a Vol.
Maybe all those kids around him gave the old man some pep in his step.
[ESPN Video] 4Q TENN C. Keeton pass intercepted,A. Johnson return for 23 yds: Chuckie Keeton pass inter... http://t.co/M1aUJDYFu6 #Vols

— Tennessee Vols (@BR_Volunteers) September 1, 2014
Though several imperfections festered—such as UT averaging just 2.8 yards per carry and committing costly penalties at crucial times—all the young talent and its highlight-reel flashes helped hide the warts.
It was a glimpse of better future days in the present, a nice start with plenty upon which to build.
This team has questions to answer, sure, but in a division where South Carolina and Vanderbilt just got their doors blown off and Florida is trying to regroup from a four-win season, the Vols can make a considerable move.
On Sunday, at least, the talent looked as if it's in place to take a major step forward.
Unless otherwise noted, all statistics gathered from CFBStats.com and quotes as well as observations obtained firsthand.
Brad Shepard covers SEC football and is the Tennessee Lead Writer for Bleacher Report. Follow Brad on Twitter here: