It's rare for a national title contender to trot out a first-time starter at quarterback in Week 1, but that's exactly what Alabama head coach Nick Saban opted for when he named Blake Sims the starting signal-caller prior to the Crimson Tide's opening salvo against West Virginia.
Sims, who came into the game with just 39 pass attempts despite his status as a fifth-year senior, performed admirably in a surprisingly tough 33-23 victory. Here is the final stat line for Sims, whose role as the starter figures to be a major point of contention for 'Bama as long as he has the job:
Blake Sims' Final Stat line vs. WVU

| | | | | | | |
| --- | --- | --- | --- | --- | --- | --- |
| Completions/Attempts | Yards | Avg. | TD | INT | Rush Attempts | Rush Yards |
| 24/33 | 250 | 7.6 | 0 | 1 | 6 | 42 |
ESPN.com
Saban gave Sims the nod over Florida State University transfer Jacob Coker, who's battled Sims for the starting job throughout the summer and is still very much in contention for the starting job.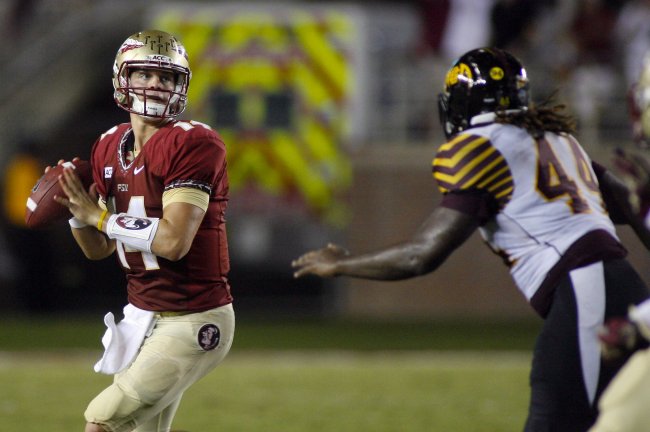 Phil Sears/Associated Press
Saban offered an explanation for the surprise choice of Sims at starter via ESPN.com's Alex Scarborough, citing his experience and comfort in the offensive system:
Both guys have done really well in fall camp and there's still a quarterback competition on our team, I don't think there's any question about that. But we needed to get our team ready to play this game with the most knowledge and experience, which Blake Sims has been in the system longer, is a little more comfortable and plays with a little better rhythm.
Alabama, of course, has national title aspirations once again, which puts the pressure on Sims to perform right out of the gate if he wants to keep the starting job. Saban will have no reservations if he thinks Coker gives the team a better chance of winning.
Sims wasn't spectacular, but he did just enough for his team to win.

Bleacher Report's own Marc Torrence noted that former Alabama quarterback AJ McCarron showed Sims some love before the game began:
AJ McCarron just hugged Blake Sims on the field before the game

— Marc Torrence (@marctorrence) August 30, 2014
Marquavius Bennett of The Anniston Star liked the way Sims took control of his players, which doubles as a referendum on his knowledge of the offense:
LMAO at Blake Sims having to physically grab Cam Robinson and put him in the right spot. That's leadership folks.

— Marquavius Burnett (@Marq_Burnett) August 30, 2014
Despite a few egregious misses, Sims was solid in the first half, completing 15 of 19 passes for 165 yards after two quarters of play. However, the majority of those completions came on short, simple passes that didn't do anything toward stretching the Mountaineer's defense.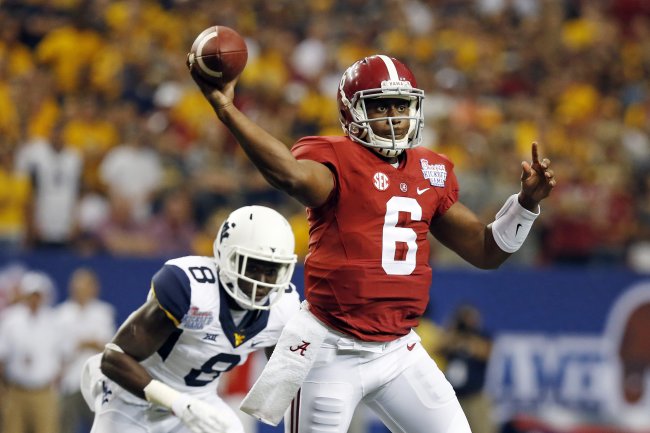 Brynn Anderson/Associated Press
ESPN's Edward Aschoff couldn't find a good reason for Sims to not play into the second half:
#Bama sticking with Blake Sims. Might as well. Didn't look bad in the first half. Missed some throws but kept the offense going

— Edward Aschoff (@AschoffESPN) August 30, 2014
Sims continued to move the ball efficiently in the third quarter by stringing together short- to medium-length passes, although it was clear that running backs Derrick Henry and T.J. Yeldon were the real stars of the show. Of course, Sims adds an extra dimension to the offense with his legs.
His bruising running did manage to (perhaps unfairly) get West Virginia in trouble in the third quarter, as SB Nation points out:
THAT's a penalty on West Virginia? (GIF) http://t.co/GzAd1qhAVd pic.twitter.com/JDv9HRGRA5

— SB✯Nation CFB (@SBNationCFB) August 30, 2014
Despite the solid stat-line, Sims was still a very polarizing figure among 'Bama fans:
I like Blake Sims. He's fun to watch, and aside from a few plays, he's done a great job.

— Michael Gray (@Hank_G) August 30, 2014
It's gonna be a long year if Blake Sims is the quarterback. Thank God I got fishing and hunting to occupy my time!

— Will Horton (@wh2132) August 30, 2014
This tweet from C.J. Fogler sums it up best:
Make up your minds, Bama fans pic.twitter.com/gRC7A3ieQy

— CJ Fogler (@cjzero) August 30, 2014
It should be noted that Sims often honed in on wide receiver Amari Cooper, who finished with 12 catches for 130 yards. In fact, only three 'Bama players caught multiple passes on the day. For the Crimson Tide to have continued success on offense, Sims will have to do a better job of spreading the ball around and making defenses regard every skill player as a potential threat.
Football writer Christopher Walsh noted in the third quarter that Sims had yet to hook up with highly-regarded tight end O.J. Howard:
Blake Sims has now attempted 21 passes. Not one has been to preseason All-SEC TE OJ Howard.

— Christopher Walsh (@CrimsonWalsh) August 30, 2014
When he did finally target Howard, it didn't end well, per Torrence:
I believe that was O.J. Howard's first target of the day. Underthrown, into double coverage, and an INT.

— Marc Torrence (@marctorrence) August 30, 2014
Coker did eventually get into the game, but it was just a cameo appearance to kneel the ball and wind down the clock.
It's not a dream start for Sims, but recent history shows it's something Alabama can work with for now.
Who should be Alabama's starting quarterback against Florida Atlantic?
McCarron himself started off the 2013 season for 'Bama going 10-of-23 for 110 yards, one touchdown and one pick—and that was with a couple years of starting experience under his belt. The Crimson Tide beat Virginia Tech comfortably in that contest, and McCarron followed up the shaky start with a fantastic four-touchdown game against Texas A&M.
It may take a similar leap in production against Florida Atlantic for Sims to gain a stranglehold on the starting job, but recent history shows that the Crimson Tide can pull out victories without extraordinary quarterback play. He doesn't have the same amount of job security as McCarron, and that pick definitely hurt him. But expect Sims to see the majority of snaps in Week 2.