It's been seven long years since the sky fell, and Michigan lost to Appalachian State. After last year's 7-6 finish, the last thing many Michigan fans wanted was a reminder of when their program started its slide into mediocrity.
Tony Ding/Associated Press
But Doug Nussmeier's offense made sure there would be no replay of the 2007 debacle, rolling out to a 35-0 halftime lead behind the running attack of Derrick Green (15 carries for 174 yards, one touchdown), De'Veon Smith (eight carries for 115 yards, two touchdowns) and the passing tandem of Devin Gardner (13-of-14 for 173 yards and three touchdowns) and Devin Funchess (seven receptions for 95 yards, three touchdowns).
Michigan coasted during the second half, winning 52-14 and exacting a measure of revenge for the program's 2007 loss to Appalachian State.
Green and Smith had dueled for the top spot at running back during camp but both played well, gashing Appalachian State for long gains while Devin Funchess showed himself worthy of his new No. 1 jersey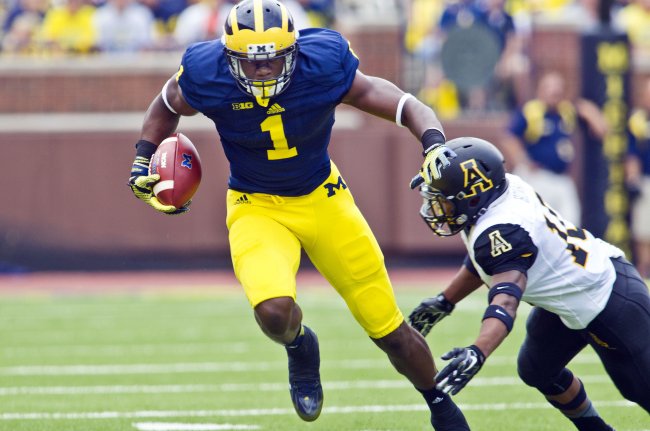 Tony Ding/Associated Press
Nussmeier was hired to rebuild the Michigan offense around a dominant running game and Saturday that's exactly what Michigan showed rolling for over 560 total yards (350 rushing, 210 passing).
The offense showed a lethal balance between the running and passing that it lacked last season, allowing quarterback Devin Gardner to distribute the ball among multiple teammates while not exposing himself to unnecessary hits from the defense.
"Devin managed the game and took care of the football," said Hoke. "He played locked in."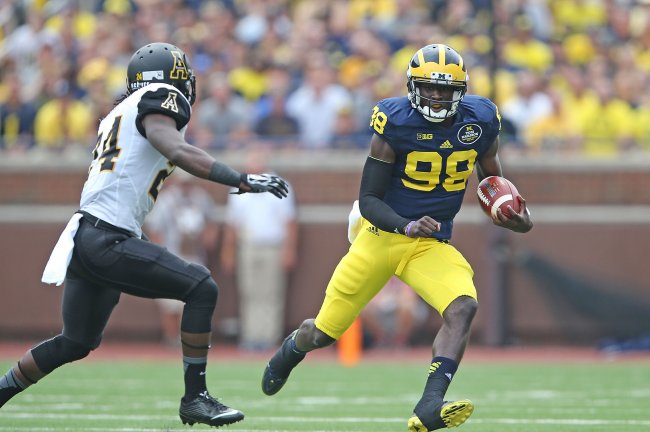 Leon Halip/Getty Images
Last season, Michigan opened with a 59-9 thumping of Central Michigan, but the offense was overly dependent on Devin Gardner. Nussmeier's new scheme proved too much for Appalachian State.
Hoke was reluctant to gush about his team's new offense.
"We won the football game, we got in the end zone, and now we play Notre Dame."
It's only one game but after seven years of hearing about the program's epic defeat at the hands of Appalachian State, Saturday's win, and most importantly the way Michigan won, is a welcome relief to Wolverines fans.
All season statistics from MGoBlue.com, official University of Michigan athletic department website.
Phil Callihan is a featured writer for Bleacher Report. Unless otherwise noted, all quotations in this article were obtained via press conferences or in person.
Follow @PSCallihan.