Everton and Chelsea played out the wildest fixture of the young 2014-15 Premier League season yet, with the visiting Blues recording a 6-3 win on a historic day at Goodison Park.
Diego Costa and Branislav Ivanovic gave Chelsea a 2-0 lead inside of three minutes, taking advantage of some dreadful defending (a recurring theme in this match). Kevin Mirallas scored a header just before half-time, setting the stage for a truly epic second half.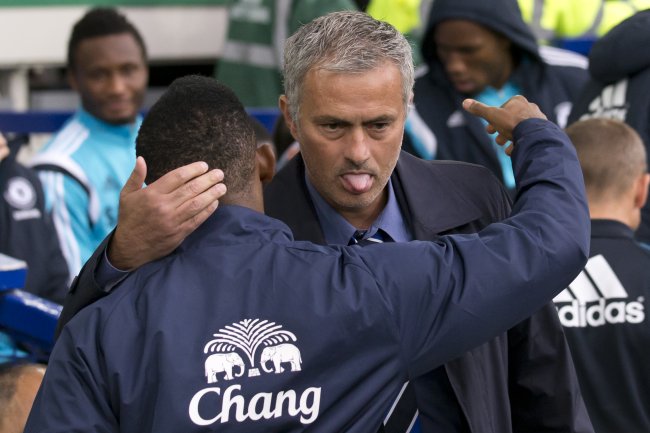 Jon Super/Associated Press
Seamus Coleman scored an own goal, and that started a chain of events that led to five goals being scored in 11 minutes. Steven Naismith pulled one back for the hosts, Nemanja Matic answered, Samuel Eto'o converted a volley and Ramires once again restored the Blues' two-goal lead.
Mirallas came close to scoring his second of the afternoon, but Thibaut Courtois pushed his effort onto the post. It was Costa who would add to his tally, effectively ending a spectacular afternoon of football in stoppage time.
As shared by the Premier League's official Twitter feed, Jose Mourinho enjoyed it as much as the people in the stands:
Chelsea boss Jose Mourinho: "To have 9 goals in a Premier League match is fantastically brilliant." #EVECHE

— Premier League (@premierleague) August 30, 2014
He praised the Toffees' group of attackers, but also expressed disappointment in his own defenders for conceding three goals:
Chelsea boss Jose Mourinho: "Everton are a good offensive side and their movement is not easy to control but 3 goals is too much." #EVECHE

— Premier League (@premierleague) August 30, 2014
He's clearly satisfied with the production of new star striker Costa, who has enjoyed a sensational start to life in the Premier League:
Jose Mourinho on Diego Costa: "He's a good finisher and he gives us what we expect from him." #EVECHE

— Premier League (@premierleague) August 30, 2014
The Portuguese manager was asked about his signing of French international Loic Remy, as reported by the Daily Mail's Sam Cunningham. The player previously failed a medical with Liverpool, but via the Sunday Times' Duncan Castles, the Blues did their due diligence:
Mourinho: 'The information we have from specialists in different areas is that [Remy] doesn't have a problem to play football.' #CFC #LFC

— Duncan Castles (@DuncanCastles) August 30, 2014
On the win, Mourinho told reporters both teams played to win, resulting in the unusual score line, per Chelsea's Twitter feed:
Jose Mourinho on the win: 'Nobody expects 9 goals in a PL game, but Everton played to win and score and so did we.' #CFC

— Chelsea FC (@chelseafc) August 30, 2014
Despite the defensive errors, the Special One praised his squad's performance on the day:
Jose: 'My team made defensive mistakes but the quality of our football was fantastic. Every time we had the ball we were dangerous.'#CFC

— Chelsea FC (@chelseafc) August 30, 2014
Roberto Martinez told reporters he felt his players reacted well to the nightmare start, per Everton's Twitter account:
RM: "We started the game uncharacteristically and were chasing the game, but at 2-0 down, we reacted well." #EFC

— Everton (@Everton) August 30, 2014
He praised his squad for their efforts in the attacking third but felt like his defenders were afraid of the Blues' powerful forwards:
RM: "We were very good going forward but it was so disappointing to be that soft with our defending. We had a sense of fear." #EFC

— Everton (@Everton) August 30, 2014
Tim Howard had a miserable afternoon in goal, with none of the six goals really being his fault. Martinez believes his teammates have to step up in support of the American international:
RM: "We need to protect Tim a bit better. Two goals were deflected in. We were chasing against the wrong team." #EFC

— Everton (@Everton) August 30, 2014
The Toffees' group of defenders remains a big worry after just three weeks of Premier League action, something that shouldn't be the case, per Martinez:
RM: "10 goals conceded in three games is not like us. We have a feeling of conceding when the ball is near our box and that doesn't help."

— Everton (@Everton) August 30, 2014
RM: "We need to be more positive with what we're good at in defence. We have 1100+ PL apps in that back five. We need to get back to basics"

— Everton (@Everton) August 30, 2014
Finally, he shed light on how he viewed an on-pitch incident between his players and Costa, when the latter appeared to mock the hosts for scoring an own-goal:
RM: "There is a real professionalism in the Premier League and I can understand why the players were unhappy [with Costa]." #EFC

— Everton (@Everton) August 30, 2014
Chelsea will play Swansea City next week in a clash of undefeated teams, and with both squads scoring with relative ease, fans are already looking forward to yet another high-scoring match.
Everton have played well so far but keep conceding too many sloppy goals, and Martinez will have to figure out what his back-four in a hurry if the Toffees are to have any chance of finishing in the top four.