The ESPN College GameDay crew kicked off the 2014 season in Fort Worth, Texas, before No. 1 Florida State's showdown against unranked Oklahoma State at 8 p.m. ET Saturday.
Below are our favorite signs, including some that didn't make it to air.
Of course, any game against Jameis Winston will include some crab-leg jokes. These actually accounted for roughly two-thirds of all the visible signs.
#GameDaySigns pic.twitter.com/mBuIYRAtOx

— Jason Bangert (@JasonBangert) August 30, 2014
The crab leg signs just keep on coming! pic.twitter.com/ggtjVqZbRf

— Patrick Horrell (@phorrell23) August 30, 2014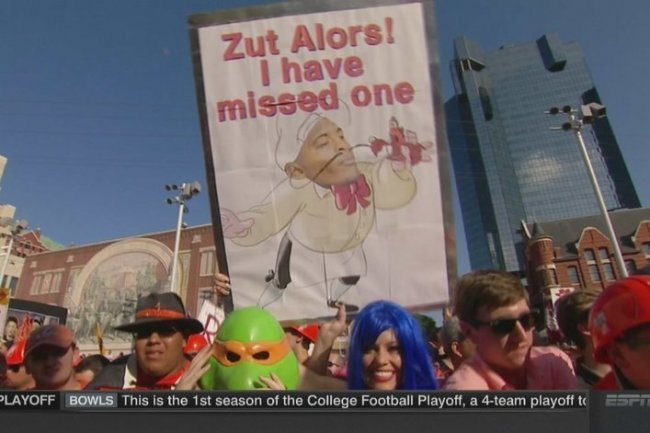 via SB Nation
That guy's sign is on point. #FreeSeafoodUniversity pic.twitter.com/By4vqBOvI0

— Troy Goin (@TroyGoin9) August 30, 2014
#GameDaySigns pic.twitter.com/z5d1GlT7Mc

— Will (@NOTSCWill) August 30, 2014
Not all of the signs were about Jameis or crabs, however. Some took shots at Kirk Herbstreit, University of Texas head coach Charlie Strong, USC cornerback Josh Shaw and former Texas A&M star Johnny Manziel, too.
This GameDay sign is just fantastic. pic.twitter.com/a7L77GNsRd

— Adam Stump (@SirMcCheese) August 30, 2014
Best #GameDaySigns pic.twitter.com/j78zKAw5rG

— geez49 (@geez49) August 30, 2014
To the #horns fan forcing his son to hold the "Johnny Clipboard" sign: #ObsessionNoted #GameDaySigns #Pathetic pic.twitter.com/Ui2qDmeRQZ

— Mr. Cannon (@sportaggie) August 30, 2014