The Top 10 Presidential Pitches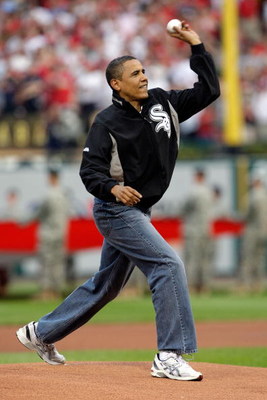 Barack Obama made headlines this week, not in the White House, but on the mound in St. Louis.
This got me thinking...what are the greatest presidential pitches of all-time?
Democratic and Republican presidents alike have thrown out the first pitch to mark Opening Days, All-Star, and World Series games since 1910.
No. 10- Ronald Reagan-1988 Chicago Cubs Opening Day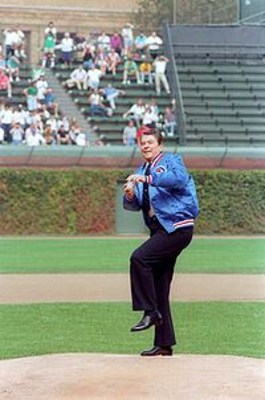 He also stayed in the broadcast booth for one-and-a-half innings.
Take that Obama.
No. 9 - Franklin Roosevelt -1937 All Star Game
If there was a Presidential All-Star team, Roosevelt would be it's captain.
Lincoln would be the first baseman, Teddy Roosevelt would be the DH, and Washington would be the starting pitcher. George W. Bush would be the bat-boy.
No. 8 - George W. Bush - 2008 Washington Nationals Open New Ballpark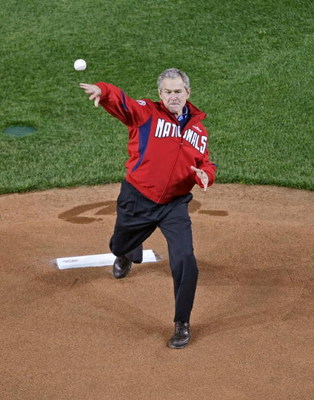 Bush came out to a mixed reaction of boos and cheers but he did deliver one of the hardest-thrown presidential pitches when he pumped in a high fastball.
Rumor has it the nationals made him an offer to be their starting pitcher that night.
No. 7 - Barack Obama - 2009 All Star game
Obama was not afraid to show where his allegiances lie when he sported a White Sox jacket.
Have you ever tried to throw in jeans and a heavy jacket? Extra points for him.
No. 6 - George H.W. Bush -1990
Bush headed into enemy territory to deliver the first opening day pitch in Toronto, Canada.
This guy still jumps out of airplanes, so that probably wasn't much of a thrill for him.
No. 5 - Bill Clinton - 1993 Opening Day
Clinton's first major challenge after being inaugurated was throwing out the first pitch in Camden yards in 1993.
Then he had an affair.
No. 4- Harry Truman- 1946 Opening Day
Truman became the first lefty president to throw out the first pitch, paving the way for another lefty: Barack Obama
The drop of his curve ball earned it the nickname "atom bomb."
No. 3 - Harry Truman - 1950 Opening Day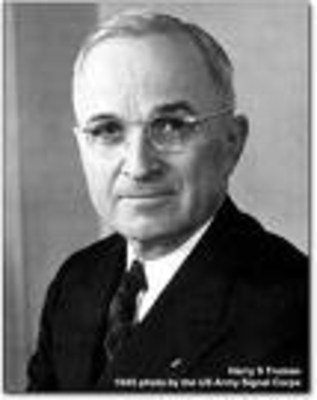 Truman threw out two baseballs, one left-handed, and the other right-handed.
Now he's just showing off.
No. 2 - William Howard Taft - 1910 Opening Day
You've gotta start somewhere:
The big man chucked it in from the stands marking the first time a president has ever thrown out the ceremonial first pitch.
I think they meant for him to go out to the mound, but they were afraid of him falling and starting an earthquake.
No. 1 - George W. Bush - 2001 World Series - Game Three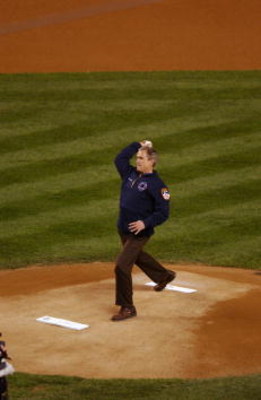 Wearing a bulletproof vest, President Bush delivered a pitch from 60' 6" during one of the Nations darkest hours.
56,000 people were all chanting "USA, USA" as he threw the pitch.
I joked around on the other slides but not this one.
I am getting chills just thinking and writing about this.
It is a moment in that I, like many others, will never forget.
Keep Reading