The 10 Best Wide Receivers in the NFL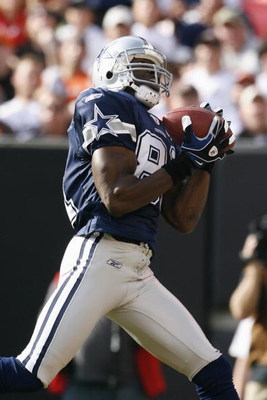 This list will show which receivers have the ability to be some of the best of next year, the next decade, and of all time. So you might not see some of the who's who of wide receivers, such as Marvin Harrison.
What you will see is some of the players who will still have an impact in this league for years to come, sorry Marvin, you will be missed. Who has the greatest combination of size, athleticism, strength, and speed, as well as the best hands, route running ability, and overall smarts to top this list?
Will it be a speedster that can outrun defenses, or a reliable catcher who can be consistent and not drop the pass? And no, it's not T.O.
No. 10 T.J. Houshmandzadeh Seattle Seahawks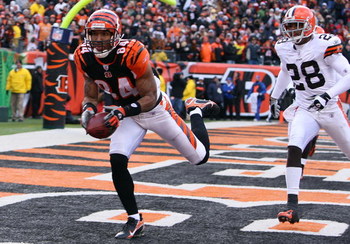 Rec Yds Avg Yds/G Lng TD 1st% FUM
92 904 9.8 60.3 46 4 55.4 0
Boy what a mouthful. T.J. Houshmandzadeh is a fantasy players dream. His 92 receptions was good enough for sixth in the league, and is considered by some to be the most reliable receiver in the NFL.
He has excellent hands, which can be seen by the fact that a lot of his catches are short, quick over the top passes. Only those players with good hands and quick reflexes are trusted with those routes.
His production was down immensely last year due to the fact that Carson Palmer was injured, but now he's left Cincy and moved on to Seattle to be paired with Matt Hasselbeck. He should no doubt bounce back and have a productive season.
No. 9 Santana Moss Washington Redskins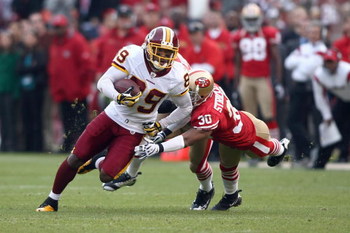 Rec Yds Avg Yds/G Lng TD 1st% FUM
79 1,044 13.2 65.2 67T 6 63.3 1
Santana Moss is without a doubt a special receiver. He has the speed and elusiveness needed to break away from would be tacklers, and has great jumping ability, with a 44-inch vertical.
Moss first gained prestige in the league as a kick returner, but his skill at wide reciever has made him a pro bowler. He was 18th in the league in catches, mainly due to his small stature.
He is no doubt a game breaker with his speed and jumping, and always plays with a chip on his shoulder.
No. 8 Calvin Johnson Detroit Lions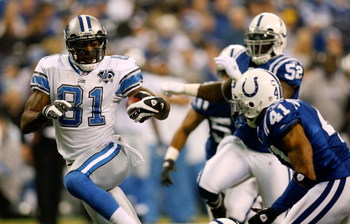 Rec Yds Avg Yds/G Lng TD 1st% FUM
78 1,331 17.1 83.2 96T 12 66.7 2
Calvin Johnson is the youngest player on this list, but when his playing career is over, he might just be the best. He was good enough for 20th on the receptions list last year, but fifth in years, and on a team that won as many games as I did last year, zero.
Johnson has all the physical attributes to succeed in this league, with a large frame, at 6'5", great speed, and a 45-inch vertical. For him to be one of the bright spots on a terrible Lions team is a tribute to his determination and work ethic. Johnson will be a star in this league.
No. 7 Hines Ward Pittsburg Steelers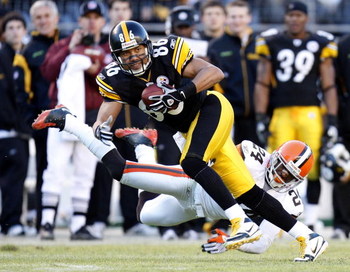 Rec Yds Avg Yds/G Lng TD 1st% FUM
81 1,043 12.9 65.2 49 7 67.9 1
Hines Ward is the professional every wide receiver should try and aspire to be. He is an everydown player who works hard and is rewarded for it. His willingness to block is attributed to his toughness and desire to win.
He's also considered to have one of the best pair of hands in the league, something that helped him become a Super Bowl MVP. Even on his down years he puts up great numbers, and is a great mentor to another player who might one day make this list, Santonio Holmes.
No. 6 Anquan Boldin Arizona Cardinals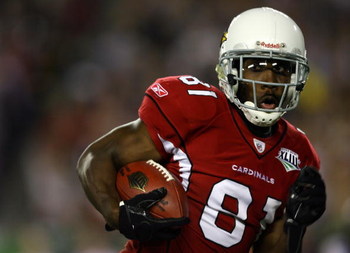 Rec Yds Avg Yds/G Lng TD 1st% FUM
89 1,038 11.7 86.5 79T 11 62.9 3
Anquan Boldin might just be the toughest man in the NFL, and surely the toughest wide receiver. In September of 2008, Boldin was knocked unconscious in a vicious helmet-to-helmet tackle and suffered fractured paranasal sinuses.
He returned three weeks later. Even with the injury, he still was able to compete at a high level, and ended the season with 89 receptions, good enough for eighth in the league, to go with 11 touchdowns.
He is gifted with great hands and an explosive first step, along with the strength and athleticism to outmuscle the leagues best cornerbacks. While he always seems to have drama occurring off the field, whenever he's on it he gives nothing short of 100 percent.
No. 5 Steve Smith Carolina Panthers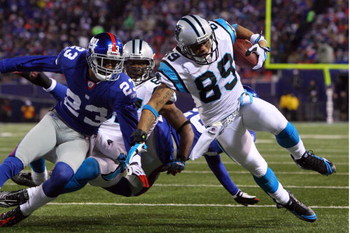 Rec Yds Avg Yds/G Lng TD 1st% FUM
78 1,421 18.2 101.5 65T 6 75.6 1
This one is going to get me in trouble. Yes, Steve Smith is No. 5 on my list. Smith lead the league in receiving yards per game last year, and he is now doubt one of the best receivers in the game.
He possess exceptional hands and has a great nose for the end zone. He has blazing speed and is a ball-seeker, snatching anything thrown near him. He is also injury prone, and has an attitude problem that causes him to drop.
While his legacy continues to grow, it's a shame that injuries have held him back from being higher. I'm sure I will hear many comments on this one.
No. 4 Reggie Wayne Indianapolis Colts
Rec Yds Avg Yds/G Lng TD 1st% FUM
82 1,145 14.0 71.6 65T 6 76.8 0
Every year Reggie Wayne has been in the league his numbers have grown. That tends to happen when you are paired up and mentored by one of the greatest wide receivers of our generation in Marvin Harrison.
Wayne is another do-everything kind of player, and has been blessed to play on such a talented team. Wayne has the ability to out run slower cornerbacks, out jump smaller ones, and out muscle weaker ones.
He has worked hard at becoming the No. 1 option in Indy, and in doing so has set himself up for a great career. He has great hands and runs perfect routes in order to get open.
His work ethic is something that puts him above others on this list. And hey, it doesn't hurt to have Payton Manning throwing to you either.
No. 3 Brandon Marshall Denver Broncos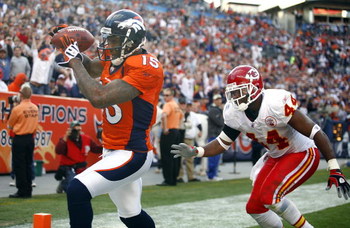 Rec Yds Avg Yds/G Lng TD 1st% FUM
104 1,265 12.2 84.3 47 6 62.5 3
Brandon Marshall might be the hardest wide receiver to take down. Known for his ability to gain yards after first contact, Marshall has great size at 6'4 230 pounds.
He also possesses amazing hands and has a knack for coming up with the ball. He was third on the receptions list at 104, and is the only player in NFL history to have at least 10 receptions in four out of five games.
That means over a five-game stretch, he had minimum 40 catches, and actually had 55. Some starting wide receivers didn't have that many in the whole season! It shows the amazing progress Marshall has made, and only entering his fourth season, the potential he has to be one of the best.
No. 2 Andre Johnson Houston Texans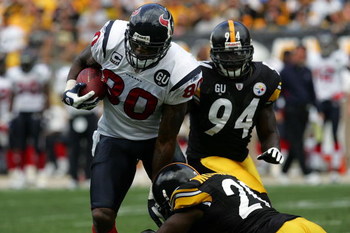 Rec Yds Avg Yds/G Lng TD 1st% FUM
115 1,575 13.7 98.4 65 8 68.7 1
Andre Johnson was the best wide receiver last year in the regular season. He lead the league in receptions and yards, and was in the top 10 for touchdowns as well.
He is a gifted athlete, and has a great sense of where he is on the field. He has the speed to outrun and strength to out muscle lesser cornerbacks. He is also fairly decent in the blocking game, again because of his athleticism.
Johnson also has the heart of a champion, and is a very proud competitor. It appears that Houston can finally look to the playoffs in the coming years now that Johnson has put the league on notice, and will be sure to prove that this season was no fluke.
No. 1 Larry Fitzgerald Arizona Cardinals
Rec Yds Avg Yds/G Lng TD 1st% FUM
96 1,431 14.9 89.4 78T 12 68.8 1
Larry Fitzgerald is the best wide receiver in the NFL, and he's only 25. This guy has it all. Size (6'3, 220 lbs) strength, speed, and some of the best hands in the league.
He has an incredible nose for the ball, and seems to consume anything thrown even near him. Larry lead the league in touchdowns last year with 12, was 4th in receptions with 96, and second in yards with 1431.
The one thing that really puts him above everyone else on this list is his ability to play amazing in the spotlight, when everything is on the line. Fitzgerald set a single postseason record with 546 receiving yards, 30 receptions, and 7 touchdown receptions.
He also tied an NFL playoff record with three touchdown receptions and became the first player in NFL history to have three receiving touchdowns in the first have of a conference championship game. He followed that up with two touchdowns in the Super Bowl.
After the Pro Bowl was over it was revealed that Fitzgerald had been playing at least the whole postseason with a broken left thumb as well as torn cartilage in the same hand.
This guy is just flat out amazing. Anyone who watched Larry in the playoffs saw a calm, composed receiver who took what the defense gave him and waited for a mistake, often turning them into points.
He is in my mind easily the best wide receiver in the NFL, and at the tender age of 25. He will be a joy to watch ascend the record books and carve out a legacy worthy of some of the greatest.
Keep Reading