Late August is a tough time of the year for the NFL as a whole. Coaches must make difficult roster cuts, and many players are suddenly without homes for the coming season as a result. As teams continue to make cuts to ultimately get down to the 53-player roster limit, released players will have a chance to find a change of scenery.
This could be due to a multitude of reasons. If one team is extremely deep at one position, it could cut a player capable of making several other NFL rosters. This could lead another team to pick up the released player to add much-needed depth.
The deadline for teams to whittle down rosters to the final 53 is Saturday at 4 p.m. ET, but teams have already begun to make some significant cuts. Let's take a look at a few players who were early casualties worthy of a roster spot this season.
BenJarvus Green-Ellis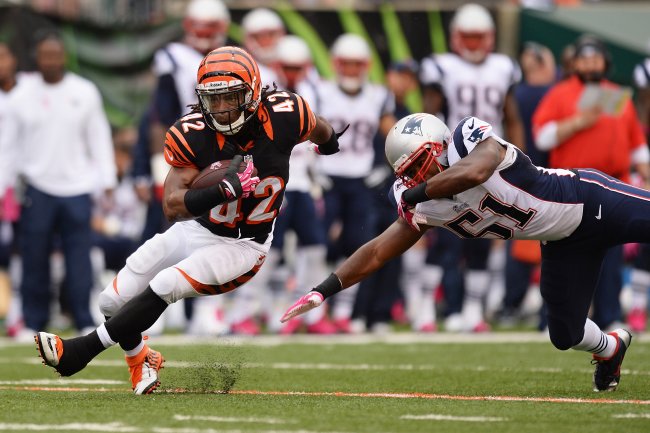 Jamie Sabau/Getty Images
On Friday, Jason La Canfora of CBSSports.com tweeted the Cincinnati Bengals were releasing running back BenJarvus Green-Ellis:
The Bengals are releasing RB Benjarvus Green-Ellis, going with youth in the backfield and letting the veteran go

— Jason La Canfora (@JasonLaCanfora) August 29, 2014
The Bengals' official Twitter account later confirmed the news:
NEWS: #Bengals terminate HB BenJarvus Green-Ellis

— Cincinnati Bengals (@Bengals) August 29, 2014
Green-Ellis is a seven-year veteran who was ousted by the Bengals due to a youth movement in the backfield. With second-round picks Giovani Bernard and Jeremy Hill set to carry the workload this season, there was no room for Green-Ellis in the mix.
While the veteran ball-carrier isn't exactly a sexy option in the backfield—he's known for his downhill running, not his elusiveness—he is still capable of serving as a short-yardage option for teams in need.
Last season with Cincinnati, Green-Ellis only averaged 3.4 yards per carry; however, he's proved in the past that he has a nose for the end zone, scoring 13 times in 2010 and 11 times in 2011 with the New England Patriots. In 2012—his first year with the Bengals—he rushed for a career-high 1,094 yards.
Green-Ellis may not be the workhorse he used to be, but he can still be utilized as a chain-moving back for several NFL squads.
Pat Angerer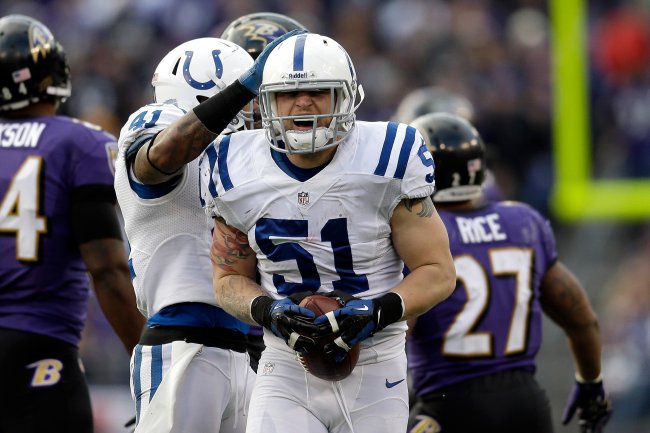 Rob Carr/Getty Images
NFL Network's Ian Rapoport announced Friday the Atlanta Falcons released fifth-year linebacker Pat Angerer:
#Falcons are releasing LB Pat Angerer, I'm told. Also cut LB Yawin Smallwood, their 7th rounder. A bit surprising on Angerer, who is healthy

— Ian Rapoport (@RapSheet) August 29, 2014
Rapoport also noted in the tweet that Angerer is healthy, which was the biggest cause for concern regarding the linebacker.
Over the past two seasons with the Indianapolis Colts, Angerer was plagued by injuries, making appearances in just 22 total games. However, the former second-round pick proved he can be a tremendous asset as a starter when healthy.
In 2011, Angerer led the Colts with 148 combined tackles, adding one sack, two forced fumbles, one fumble recovery and one interception to his numbers. Certainly, that kind of production would be welcomed by many NFL teams that may be a bit thin at linebacker.
Don't expect to see Angerer on the open market long—especially due to his current healthy status—as linebacker depth is extremely important.
Marc Mariani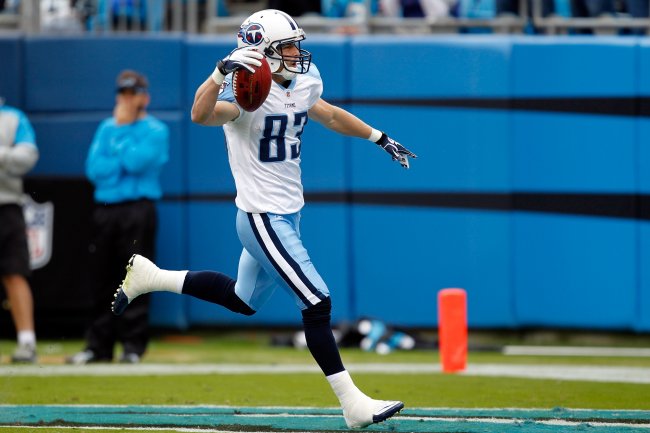 Streeter Lecka/Getty Images
Jim Wyatt of The Tennessean announced Friday the Tennessee Titans released wide receiver and special teams ace Marc Mariani:
#Titans WR Marc Mariani has been released

— Jim Wyatt (@jwyattsports) August 29, 2014
A seventh-round selection in 2010, Mariani has only five receptions in the NFL; however, that's not where his value lies. A return specialist, Mariani flourished as the Titans' kick and punt returner in 2010 and 2011 before a terrible leg injury forced him to miss the 2012 season.
During his two seasons as a returner, Mariani returned two punts and one kickoff for touchdowns while averaging 24.8 yards on kick returns and 11.2 yards on punts. Putting those numbers into perspective, in 2013, those averages would have ranked ninth and eighth, respectively among NFL teams.
Wyatt tweeted Mariani's comment regarding his departure from the Titans:
"All good things must come to an end,'' Marc Mariani said via text. "Hopefully I'll land somewhere else soon." #Titans

— Jim Wyatt (@jwyattsports) August 29, 2014
Acquiring Mariani may be a slight gamble considering his recent injury; however, with the importance of field position in mind, the risk may not outweigh the potential reward. He should get another chance in short order.