The final days of the 2014 summer transfer window are upon us, and according to the latest reports, Liverpool are busy rounding out their squad for the 2014-15 Premier League and Champions League campaigns.
The Reds have made their marquee signings, and at this stage of the summer, adding depth and cutting dead weight is Brendan Rodgers' main priority. With that in mind, let's have a look at the latest buzz surrounding Liverpool's transfer activity.
Glen Johnson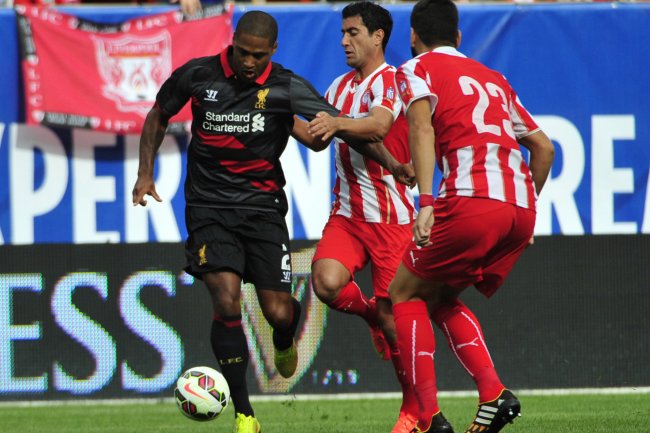 David Banks/Getty Images
The veteran full-back has just one year left on his deal, and as he told the Liverpool Echo's James Pearce, there have been no talks of a possible extension:
I'm very relaxed about my contract.

There are no talks going on with the club at the moment. There were minor talks towards the end of last season but nothing else.

I've loved playing my football here from day one. I'm more than happy here. But obviously I can only talk to the club about it when they want to speak to me.
Johnson's performances have declined rapidly over the past 12 months, and it looks unlikely the Reds will agree on a new contract approaching his current wages of £110,000 per week, per Pearce.
While depth at the full-back position was a major need for the club going into the 2014 summer window, the arrival of Alberto Moreno and Javier Manquillo and the emergence of Jon Flanagan means Johnson's time as a full-time starter may be over.
Rodgers continues to put his faith in the experienced England international, but facing some of the top wingers in football in the Champions League and Premier League campaigns, Johnson no longer seems up to the task.
The 30-year-old is often the target of mockery by fans from clubs all over the league, including his own, and Paddy Power joined in on the fun when the Champions League draw pitted the Reds against Real Madrid:
So you'll be up against Glen Johnson... pic.twitter.com/FbF2GnwLJj

— Paddy Power (@paddypower) August 28, 2014
A transfer in January seems unlikely, so if Rodgers wants any sort of return on the veteran defender, a move will have to materialise in the coming days.
Alex Song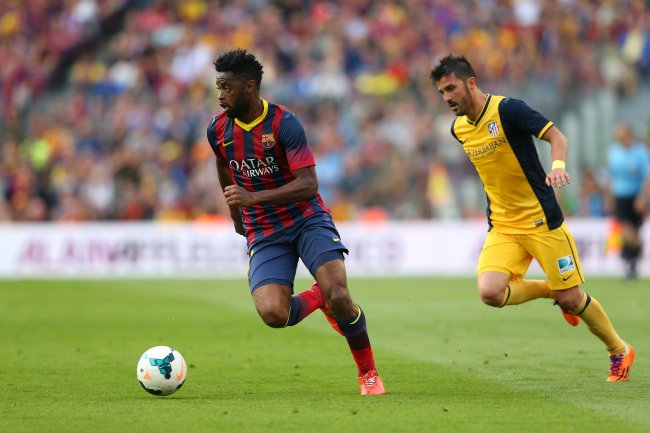 Alex Livesey/Getty Images
The Reds are still rumoured to be the preferred destination for Barcelona's Song, but according to Spanish football insider Graham Hunter, West Ham United have the inside track for his signature.
He went on the air for talkSPORT, saying: "West Ham are in this and are maybe ahead of the pack. I don't think Barcelona are asking a very big price for him at all. They want him off the books. He will be out of Barcelona by the team the window closes, possibly to West Ham, maybe Liverpool. Let's see."
The former Arsenal star failed to establish himself as a starter with the Blaugrana, often forced to play out of position as a centre-back. Andoni Zubizarreta confirmed Song is free to leave the club, per Sky Sports: "We will see if we can find a way out in the remaining days of the market."
The 26-year-old Cameroon international still holds value for any interested club, and while he may no longer carry the profile of a star holding midfielder, there's no reason to believe he couldn't bounce back if placed in the right situation.
Liverpool could certainly use depth at the position, and for a minimal investment, it makes sense to move for Song and see what he can bring to the team. Deadline deals aren't supposed to be earth-shattering—Song qualifies as a smart pickup who could pay big dividends.
Alex McCarthy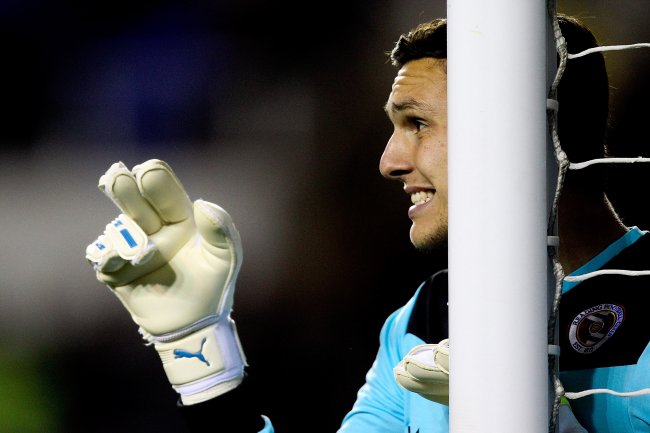 Ben Hoskins/Getty Images
Rodgers has reportedly hijacked Queens Park Rangers' move for stopper McCarthy, who was undergoing a medical with the West London side.
According to The Sun (h/t to Metro), Liverpool have matched QPR's £4 million offer and are willing to offer the goalkeeper better wages in order to lure him to Anfield. QPR believe they'll still land McCarthy, who would join the Reds as backup to and competition for Simon Mignolet.
Superfan Victor Fagerstrom loves the idea of McCarthy joining the club:
Really hope we sign up Alex McCarthy- His game against us a while back still haunts my memory. English. 24 y/o.

— Viktor Fagerström (@ViktorFagerLFC) August 29, 2014
McCarthy played a phenomenal match against Liverpool back in 2013, prompting Rodgers to agree it was the greatest performance he had ever seen from a stopper, per the Daily Mail's Riath Al-Samarrai. When asked, Rodgers said:
Yes. I was sat in the changing room with the staff and said I couldn't remember being at a game where a goalkeeper has made a performance like that, either as a manager, coach or spectator.

Normally goalkeepers make one or two saves that make a difference, but he made an incredible number of saves and when he was beat it was cleared off the line. It was a brilliant goalkeeping performance.
Mignolet is the Reds' designated starter in goal, and while the Belgian international can often put together phenomenal displays, he has a tendency to make costly mistakes that offset his greatness.
Competition breeds excellence, as the adage goes, and while the 24-year-old McCarthy won't be gifted the starting position over Mignolet, he could inspire the Belgian to more consistent performances.