Arturo Vidal has reportedly confirmed his desire to stay with Juventus, leaving Manchester United in a desperate panic to land an alternative midfield signing just three days before the transfer window closes.
The Chilean has been quiet all summer as speculation toward his future grows. However, Anthony Chapman of the Express quoted the player, who has allegedly told friends, "At this point I do not go away, I stay at Juventus."
Tancredi Palmeri of beIN Sports also tweeted the quotes no United fan will want to hear:
Vidal to his teammates today at training: "At this point I'm not going to leave anymore"

— Tancredi Palmeri (@tancredipalmeri) August 28, 2014
Juve specialist Omid Zamani translated a report from La Gazzetta dello Sport, which appears to suggest talks are ongoing between the two clubs:
Gazzetta's @carlolaudisa reports that in the background, with Man United there are talks regarding #Vidal. pic.twitter.com/8tO014Xyl7

— Omid Zamani (@OmldZamani) August 29, 2014
Gazzetta's @carlolaudisa says #Vidal to United is not over yet, there is still the possibility for a transfer.

— Omid Zamani (@OmldZamani) August 29, 2014
David Anderson of the Mirror believes Louis van Gaal has launched "a desperate bid" to land the player whose destination after Monday could define the success of United's transfer window, and indeed, the season.
Vidal is still working his way back to full fitness but should be ready for first team competition soon, per Zamani:
Good news regarding Gigi & Arturo: #Buffon & #Vidal will be back available & both are likely to start against #Chievo. (@mirkogazzetta)

— Omid Zamani (@OmldZamani) August 29, 2014
Question marks over the player's long-term health may have calmed United's interest. Vidal has struggled with knee problems in recent times and was unable to play to maximum capacity at the World Cup. It is thought this may have quelled Van Gaal's longing, per The Telegraph, but the Dutchman needs to improve his squad so badly this potential deterrent may have worn off.

Van Gaal has indicated a squad shake-up could take place in the next few days, saying, "I had a conversation after lunch with the players and I said, maybe after this weekend we shall have another group because players shall go away and others shall come in," per Rob Dawson of the Manchester Evening News.
Football writer Rich Laverty believes the new boss will have multiple targets:
United won't make the same mistakes this summer. They know Vidal is 50/50, they'll have other targets in mind being discussed.

— Rich Laverty (@RichJLaverty) August 28, 2014
It is reported United have accepted an £8 million bid for Tom Cleverley from Aston Villa, as noted by John Percy of The Telegraph. Although the midfielder's quality doesn't match up to the expectations of United fans, his departure will leave central numbers extremely short. Right now, Darren Fletcher and Anderson will likely start against Burnley on Saturday, such is the length of United's injury list.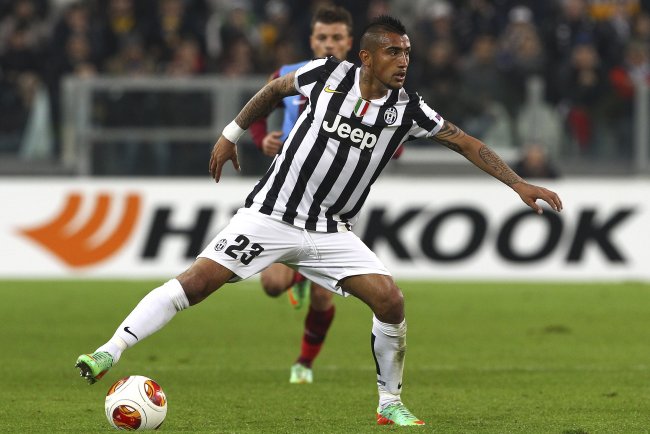 Marco Luzzani/Getty Images
Is it time for Manchester United to give up on signing Arturo Vidal?
Vidal's price tag may have inflated with the news Andrea Pirlo is sidelined for the next month, as reported by Miles Chambers of Goal.com. To let Vidal exit now would be irresponsible by the Bianconeri, as it would leave new manager Massimiliano Allegri dangerously short on world-class quality with little time to replace him.
United could use the potential transfer of Javier Hernandez as leverage, but it seems Juventus' interest in the Mexican striker is being taken into account as a separate deal from Vidal. Talks over a loan move with an option to buy have "officially begun," according to Sky Italia journalist Gianluca Di Marzio, who says the Italian club met with Chicharito's agents on Thursday.
Hernandez is a small sacrifice if it means landing Vidal, so United would be wise to thrust him into any plans to sign the midfielder. Little Pea has started the season poorly and continues to look out of place when he lines up from the off, leaving Van Gaal with no option other than to cash in.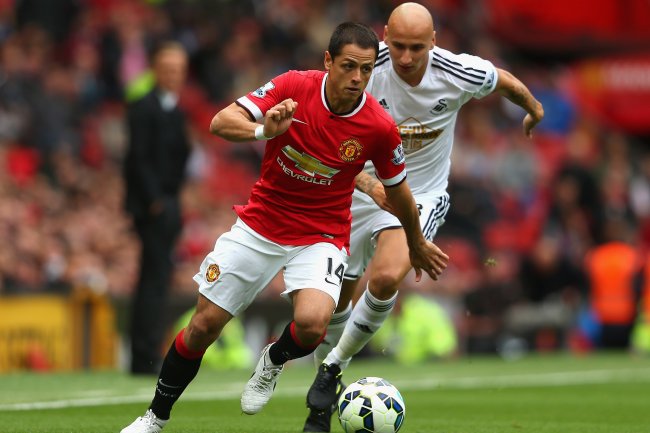 Alex Livesey/Getty Images
Ridding United of unwanted wages is key at this point, providing the new boss with optimum funds to sign new players. Any late acquisitions are likely to throw up something of a scramble. United could still do with two midfielders and two defenders, perhaps more if sales are to be made, so there's plenty resting on the final few days of the window.
These are nervy times for all involved with the club. United's winless start to the season now spans three matches and leaves the team desperate for three points against Burnley, who will put up a real fight in front of their home fans. The newly promoted club represent something of a banana skin, but Van Gaal can't afford to let his team slip, especially if Vidal's arrival isn't going to appease fans shortly afterwards.