The Top 10 Broncos of All Time: Offense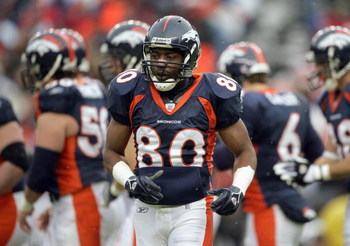 The Denver Broncos, over the past 25 years, have produced many great offensive players.
There have been many records set and six Super Bowl appearances, with the Broncos winning two of them.
Year in and year out the Broncos improve on offense, and have also been one of the best offensive producing teams in the NFL.
So I decided to break down a list of my all-time best Broncos players. I ranked the top-ten Broncos based on overall skill set, wins, and what they have accomplished in their careers, whether it be a short career or a long career.
No. 10 Matt Lepsis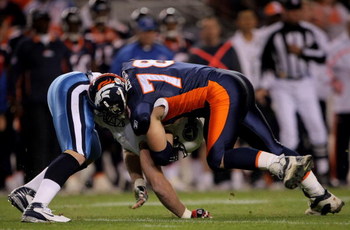 If your not a Denver fan, than many of you probably have not even heard of this name before.
This man has been one of the most underrated offensive tackles in the NFL for years. Although he recently retired after he decided that he could not play to his liking anymore, he still is one of Denver's best.
He, along with many others, anchored a offensive line that blocked for many 1,000 yard rushers and all QB's coming through.
No. 9 Ed Mccaffery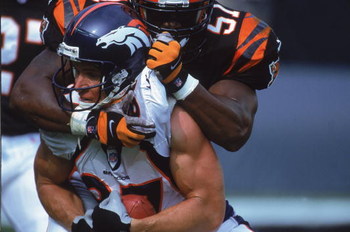 One of the toughest Broncos to play the game, whether he was blocking defenders or making clutch catches to help win the game. He was always a guy you could count on.
Ed Mccaffrey started his career with the NY Giants, and had a one year stint in San Fran before coming to the Denver Broncos.
As a Bronco, Eddy Mac had three-consecutive 1,000 yard seasons. In nine seasons with the Broncos, Ed had 6,200 receiving yards and 46 touchdowns.
No. 8 Jake Plummer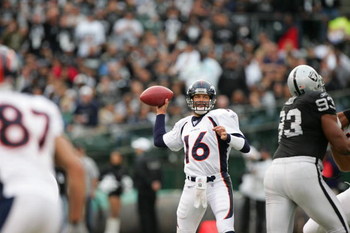 Personally I liked Jake Plummer for one thing: he won games and he won often.
Year after year with the Broncos, Jake Plummer won games and took this team to the playoffs. He may not have had the prettiest numbers as a passer, but when it came to closing games and doing everything it took to win, Jake was your guy.
Jake Plummer even holds the Broncos records for consecutive passes without an interception and winning percentage.
No. 7 Mark Schlereth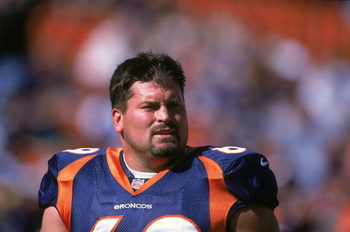 Mark was selected in the 10th round of the draft by the Washington Redskins. After playing six seasons with the Redskins, he signed on to be a Denver Bronco for his remaining six.
Mark won three Super Bowl rings, one with the Redskins and two with the Broncos.
He was a testament to how gritty and nasty offensive lineman were. Before his career had ended Mark had 29 surgeries! 20 of those being on his knee.
Mark clearly is one of the best Broncos of all-time and should be a Hall of Famer.
No. 6 Tom Nalen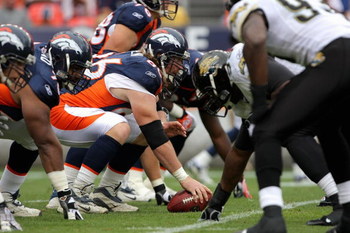 Tom Nalen has not only been one of Denver's best players in the last decade, but he has been one of the most underrated and highly skilled players in NFL history
Tom started off his career pre Superbowl era with the Bronco's, and the rest is just history.
Tom anchored an offensive line that helped running backs such as Terrell Davis, Clinton Portis, Mike Anderson, and Tatum Bell run for over 1,000 yards. Along with his two Superbowl rings, Tom has won his right to be considered one of the NFL's best.
No. 5 Rod Smith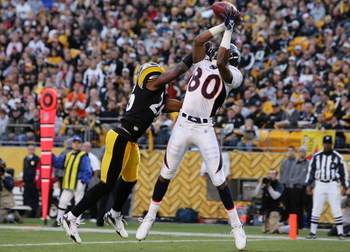 Ever since I can remember, I have been watching Rod Smith and admiring what he has done on and off the field. From making spectacular catches to blocking for his running backs, Rod did it all.
Being undrafted out of Missouri Southern State University, Rod had a lot to prove, and that he did. His first ever catch was a game-winning catch with no time left on the clock for a touchdown. This was a catch against current Hall of Famer Darrell Green of the Redskins.
Smith, in my eyes, is going to be in Canton, and he will remain my all-time favorite receiver.
No. 4 Terrell Davis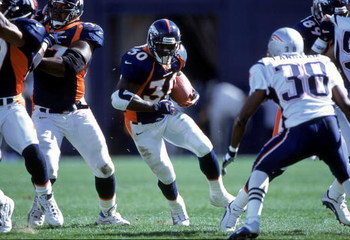 What a great football player. This is the first thing that comes to my head when thinking of T.D.
He was Denver's first and only 2,000 yard rusher. T.D. was the NFL's MVP in 1998, a three-time Pro Bowl selection from 1996-1998, three-time All-Pro First Team, had two Super Bowl wins, a member of the 1990's All-decade team, 1997 Super Bowl MVP, and two-time Offensive Player of the Year in 1996 and 1998.
All this in only seven seasons.
One could only imagine what T.D. would have done if he was in the NFL five years longer. That is the one thing holding him back from the HOF.
No. 3-Gary Zimmerman
Mean, tough, nasty, gritty. These are the words that should describe an offensive lineman.
They are the words that describe Zimmerman, one of the best offensive tackles in NFL history. Gary Zimmerman anchored a Denver Broncos offensive line to two Super Bowl victories and he is one of the main reasons why T.D. had so much success.
He recently was named to the Hall of Fame, and it is much deserving.
No. 2 Shannon Sharpe
Shannon Sharpe is considered the greatest tight end of all-time. He revolutionized the position, and he was one of the first of his kind.
Sharpe was the first TE to amass 10,000 yards, and he was constantly a safe haven for John Elway to pass the ball. Year in and year out, Sharpe was on the field making huge plays and leading this Denver Bronco team towards victory.
He will make the Hall of Fame next year.
No. 1 John Elway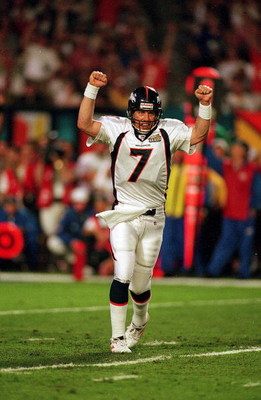 No mystery here. One of the greatest names in not only the Denver Broncos but in all of sports.
John Elway is a legend to say the least. He and his two Super Bowl rings made the Broncos into not just a old AFL team with something to prove, but a great franchise.
John Elway was drafted originally by the Baltimore Colts, but they traded him on his demand. This was the greatest decision of his life.
The rest is history. Nine-time Pro Bowl selection, five-time All Pro, 1990's NFL All-decade team, MVP of 1987, Superbowl MVP, and two-time world champion.
John Elway casts one of the biggest shadows in QB history. He is an example that all players up and coming should follow
Keep Reading

Denver Broncos: Like this team?