Adjusting to different systems amid yet another regime change, the Cleveland Browns played their starters to begin Thursday's preseason finale against the Chicago Bears at FirstEnergy Stadium.
While the Brian Hoyer-led offense generated momentum, the Browns' starting defense had a rather discouraging display. Backup quarterback Johnny Manziel did provide theatrics for the Cleveland crowd, though, as the Browns managed to notch their first exhibition win, 33-13.
FINAL SCORE: #Browns 33, Bears 13 pic.twitter.com/53a3eIQFIs

— Cleveland Browns (@Browns) August 29, 2014
Chicago deployed backups, as most other NFL teams do at this stage.
Rookie sixth-round pick David Fales was the Bears' QB for the entire game, and he even led two scoring drives in the first half against the Browns' starters.
Santonio Holmes, not appearing to have many problems adjusting to Chicago coach Marc Trestman's complex offense, badly beat Browns No. 1 draft pick Justin Gilbert for a 32-yard touchdown.
Zac Jackson of FoxSportsOhio.com expressed disappointment in Gilbert's effort:
Santonio Holmes touchdown. Justin Gilbert is alarmingly not ready for real games.

— Zac Jackson (@FSOhioZJackson) August 29, 2014
ESPN Cleveland's Tony Grossi feels the Browns should be seeking receiver help, especially with Josh Gordon now out for the season:
#Browns email to Santonio Holmes: Call us.

— Tony Grossi (@TonyGrossi) August 29, 2014
NFL Network's Ian Rapoport had an interesting anecdote about that:
They tried. Couldn't come to an agreement on money RT @TonyGrossi: #Browns email to Santonio Holmes: Call us.

— Ian Rapoport (@RapSheet) August 29, 2014
Aditi Kinkhabwala of NFL Network added more on Holmes' grasp of the playbook with his new team, adding salt to the wound:
Santonio Holmes w/ the 32-yard TD catch from David Fales. Made two Browns run into each other. And he told me he was still learning this O

— Aditi Kinkhabwala (@AKinkhabwala) August 29, 2014
Gilbert, along with 2013 third-round pick Leon McFadden, had tough nights in coverage in front of the home fans. McFadden was particularly picked on in the early going.
Bruce Hooley of ESPN 850 alluded to the receiver help the Browns need badly in light of McFadden's draft position:
WRs Terrance Williams (44-736-5), Keenan Allen (71-1,046-8) taken in third round in 2013 after Leon McFadden

— Bruce Hooley (@BHOOLZ) August 29, 2014
Another misfire by Cleveland in the draft. Last year's third-rounder may be getting the pink slip when the final roster cuts are made.
Elsewhere, the Browns have failed to stabilize their quarterback situation, and they selected Manziel—the ultimate wild card—in the first round of this year's draft. He produced an exciting spark at times on Thursday but was also erratic with his accuracy to an extent unseen during his Heisman Trophy-winning days at Texas A&M.
Throwing deeper passes, even on the move, was a strength of Manziel's at College Station. However, NFL.com's Marc Sessler offered up an appropriate analogy for that facet of his game on Thursday:
Manziel looks like he's throwing a wicker basket filled with peaches on those deep strikes. #Browns

— Marc Sessler (@MarcSesslerNFL) August 29, 2014
Nevertheless, there were flashes of brilliance that suggested Manziel, if given time to develop, could become the long-awaited answer at the all-important position. Some vintage Johnny Football plays got the Browns into the end zone and out in front for good, per 92.3 The Fan's Daryl Ruiter:
Manziel evades defenders, throws 27 yard pass to Nate Burleson for 1st & goal; then hits TE Jim Dray for 1yd TD toss; #Browns 14, #Bears 13

— Daryl Ruiter (@RuiterWrongFAN) August 29, 2014
ESPN's Adam Schefter seems to think Manziel's time could be coming sooner rather than later:
Cleveland is going to have a hard time keeping Johnny Manziel on the bench for very long.

— Adam Schefter (@AdamSchefter) August 29, 2014
Manziel did run for 55 yards on just four carries, yet he was just 6-of-17 passing for 83 yards and a score. Regardless of the supporting cast he had around him or the level of competition he faced, that won't cut it at the NFL level.
Manziel's collegiate successor, Kenny Hill, lit it up for 511 passing yards on Thursday at South Carolina.
ESPN personality Skip Bayless, a huge Manziel advocate, was shocked:
On a stunningly great opening night for new A&M QB Kenny Hill, Manziel continues to struggle throwing into 3rd q. Also stunning.

— Skip Bayless (@RealSkipBayless) August 29, 2014
Is Manziel the product of a system at Texas A&M? In light of what unfolded in and out of Cleveland on Thursday night, the question at least deserves to be asked.
As Bleacher Report's Matt Miller pointed out, at least Manziel's running seems better suited for the pros than it did in the first few preseason contests:
Manziel does look quicker tonight than we've seen in the past.

— Matt Miller (@nfldraftscout) August 29, 2014
Coach Mike Pettine's halftime comments on Manziel, per ESPN.com's Pat McManamon, were fitting:
Pettine on Manziel 1st half: ""Falls into the category of Johnny being Johnny. A couple of those plays were no, no, no, yes …" #Browns

— PatMcManamon (@PatMcManamon) August 29, 2014
More Pettine on Manziel: "He just needs to get more comfortable in his reads, take the easy throws that are there." #Browns

— PatMcManamon (@PatMcManamon) August 29, 2014
The Browns offense figures to rely heavily on the zone-blocking scheme deployed by offensive coordinator Kyle Shanahan. Prospective starting running back Ben Tate has flashed his ability, but rookie Terrance West has struggled. West lost a fumble and amassed just 13 yards on six carries against the Bears.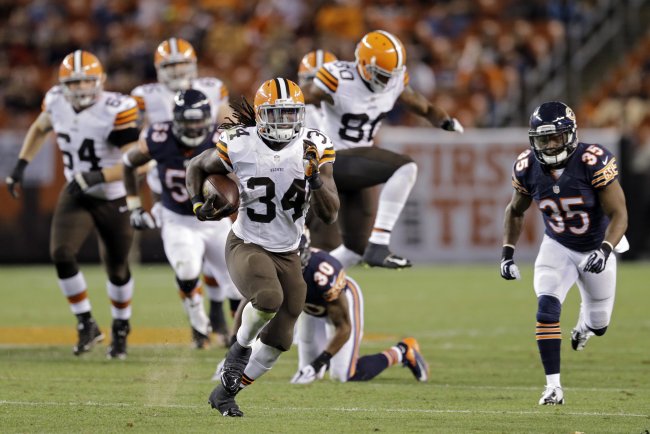 Tony Dejak/Associated Press
That's why it was so encouraging to see undrafted first-year ball-carrier Isaiah Crowell break out with 101 yards on 13 rushing attempts, including a 48-yard touchdown.
Cleveland.com's Tom Reed weighed in on the Browns' backfield while ClevelandBrowns.com's Kevin Jones suggested that Crowell locked up a roster spot with his performance:
Right now, Isaiah Crowell looks better than Terrance West. He's running hard. Obviously, playing against 3rd stringers, but still . . .

— Tom Reed (@treed1919) August 29, 2014
RB Isaiah Crowell 48-yard touchdown scamper. Wow. He's here to stay, it looks like.

— Kevin Jones (@Mr_KevinJones) August 29, 2014
Since the Bears sat just about everyone who could contribute in a big way to the team in 2014, there was a lot more to take away from Cleveland's side in this one.
However, Chicago wideout Josh Bellamy stepped up with four receptions for 78 yards to lead all players, as he competed with Holmes for leverage on the receiver depth chart. The team is hoping to see a pass-catcher step up behind the likes of Brandon Marshall and Alshon Jeffery.
The Bears enjoyed resting their stars ahead of Week 1's home matchup against the Buffalo Bills.
One area of concern is the Bears defense, which didn't look great against a Browns offense that has struggled to execute all preseason. The good news is that Chicago hosts Buffalo, a team with an uncertain commodity in EJ Manuel at quarterback.
It's hard to say how well off the Browns are on both sides of the ball. Hoyer completed six of eight passes for 69 yards against second-stringers and will travel to Pittsburgh in the regular-season opener hoping to get a win for his hometown NFL team.
How well Hoyer can fare against the starting Steelers defense and keep Cleveland competitive in the first quarter of 2014 will determine how long he's under center before the Johnny Football era begins.