A pair of fourth-quarter field goals by Josh Brown helped the New York Giants complete a 5-0 preseason with a 16-13 win over the New England Patriots on Thursday night.
While the Patriots rested most of their starters for the final week of the preseason, New York came out with its full lineup in an effort to get a final tune-up before the start of the year. This did not solve any problems, as more questions remain after a poor showing by the offense.
The Giants' offensive struggles have been a big story of the preseason after a poor year last year. This was the last chance to work out the kinks before the games started counting.
As Zuri Berry of Boston.com noted, they had a big advantage on paper in the first two series:
Kind of interesting to see Eli Manning and Victor Cruz on the field with quite a few of the Patriots' scrubs.

— Zuri Berry (@zuriberry) August 28, 2014
Despite this, Eli Manning could only complete one of his four passes for zero total yards. Doug Kyed of NESN questioned the poor showing from the starting squad:
What happened to this Giants offense? They can't move the ball against the Patriots' second-stringers?

— Doug Kyed (@DougKyedNESN) August 28, 2014
Ben Volin of the Boston Globe was much more dramatic in his assessment:
#Giants fans must be ready to jump off the Brooklyn Bridge based on the performance of Eli and the offense this camp. Look terrible again

— Ben Volin (@BenVolin) August 28, 2014
While running back Rashad Jennings had a solid 20 yards on three carries, there was not else much to like with the Giants' starting offense.
On the other hand, the New England Patriots had to be much happier about what they saw offensively. With Tom Brady getting some rest and NFL Media's Ian Rapoport reporting that Ryan Mallett would sit out in case of potential trades, rookie Jimmy Garoppolo got the start.
The quarterback finished the day 22-of-42 for 284 yards, including a 33-yard touchdown to Aaron Dobson.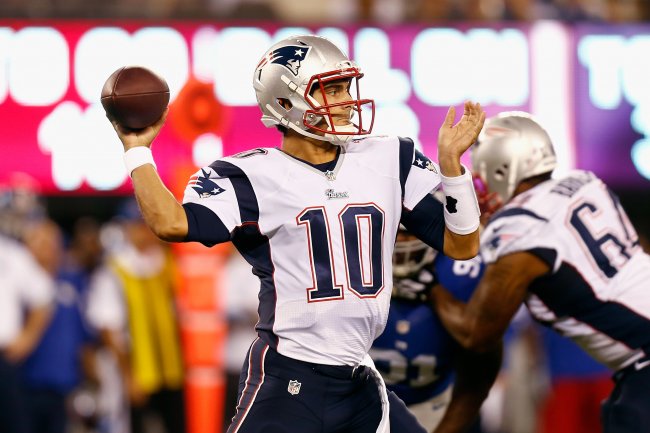 Jeff Zelevansky/Getty Images
Albert Breer of NFL.com had good things to say about what he saw from the second-round pick:
Flipping b/w college and NFL tonight, but what I've seen of Garoppolo affirms earlier games. Poise, release, accuracy, decision-making.

— Albert Breer (@AlbertBreer) August 29, 2014
Bleacher Report's Jason Cole went even further in his assessment:
Having watched both #Browns rookie QB Johnny Manziel and #Patriots rookie QB Jimmy Garoppolo live now, I would rather have Garoppolo.

— Jason Cole (@JasonPhilCole) August 29, 2014
While Tom Brady will be the unquestioned starter until he retires, Garoppolo is playing well enough to be considered a potential successor.
Also notable from New England's perspective was James White, who only managed 29 yards on 11 carries while attempting to move up the depth chart at running back. Stevan Ridley, Shane Vereen and Brandon Bolden did not play in this game.
Meanwhile, newest addition Tim Wright made his debut with four catches for 43 yards after being traded for Logan Mankins earlier in the week.
Bleacher Report's Erik Frenz likes what he saw out of the versatile player:
Tim Wright doing Aaron Hernandez-y things on the football field. Emphasis on the last four words.

— Erik Frenz (@ErikFrenz) August 29, 2014
Although it is tough to fill Aaron Hernandez's role on the field from two years ago, Wright can help improve this offense.
Things got better for the Giants once the starters came out of the game. Andre Williams played just one series, but it was enough to show what he can do, totaling 44 rushing yards on just five carries. It seems clear the rookie will have a major role in the offense behind Jennings.
At quarterback, Ryan Nassib handled the next few quarters and helped create 10 points of offense. Ralph Vacchiano of the New York Daily News gave his assessment:
Ryan Nassib finishes his night 6 of 14 for 107 yards. Not great, but he's still probably won the backup QB job.

— Ralph Vacchiano (@RVacchianoNYDN) August 29, 2014
Curtis Painter finished the game for the Giants and led two field-goal drives—one to tie the game with under nine minutes left and one to go ahead in the final minute. Although the scores do not matter much, New York can feel good about leaving with a win.
Head coach Tom Coughlin didn't get carried away with the result.
"The only thing that matters is the regular season. What is important about preseason is improvement, production and feeling like people are in the right spots. That is the only thing I can attest to," he told Tom Canavan of The Associated Press (h/t The Providence Journal).
This was the final preseason game for both teams, who will now have to play games that count in Week 1. The Giants will kick things off with a road game against the Detroit Lions, while the Patriots will remain in their division with a visit to Miami to face the Dolphins.
It is now on the coaching staffs to make the final roster cuts and do their best to prepare for the upcoming regular season.
Follow Rob Goldberg on Twitter for the latest breaking news and analysis.