The 2014 U.S. Open hasn't featured a ton of shocking upsets in the early going. Therefore, Friday's action is shaping up to be exceptional, with most of pro tennis' premier stars still intact at the season's final Grand Slam event.
Coverage is available through both television and live stream, with the latter being available to fans through both USOpen.org and WatchESPN.
Day 5 sked is out! Come see @Venuseswilliams during the day & @rogerfederer at night: http://t.co/O3JV6hXQDw pic.twitter.com/7qgEDU4AOj

— US Open Tennis (@usopen) August 28, 2014
It will be easier to view this fascinating, high-stakes tournament unfold with the long, Labor Day weekend approaching. The deeper this major goes, the more the dramatics develop—and the quality of tennis inevitably increases along the way.
Below is a breakdown of the TV information for Day 5, in addition to predictions for the top matches on the schedule.
Note: Statistics are courtesy of USOpen.org.
2014 US Open Tennis Day 5 TV Schedule

| | | |
| --- | --- | --- |
| Program | Time (ET) | Station |
| Breakfast at the US Open | 6-10:30 a.m. | Tennis Channel |
| Live at the US Open | 10:30-11 a.m. | Tennis Channel |
| Men's Round 2/Women's Round 3 | 11a.m.- 7p.m. | Tennis Channel |
| Men's Round 2/Women's Round 3 | 1-6 p.m. | ESPN |
| Primetime at the US Open: Men's Round 2/Women's Round 3 | 6-11 p.m. | ESPN2 |
| US Open Tonight | 11 p.m.- 6 a.m. | Tennis Channel |
Source: USOpen.org
Predicting Top Day 5 Matches
No. 5 Maria Sharapova vs. No. 26 Sabine Lisicki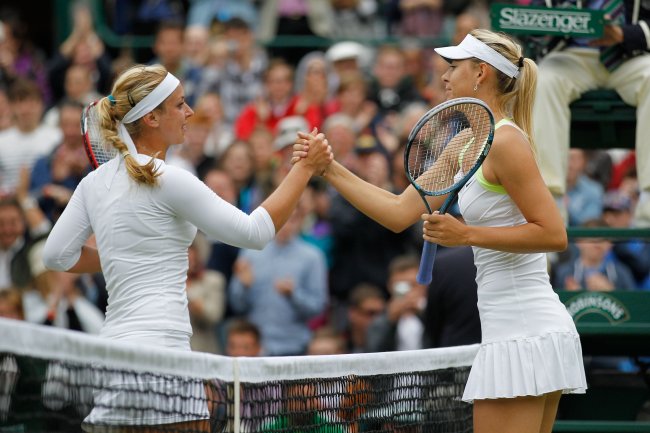 Paul Gilham/Getty Images
You may or may not have heard, but Sabine Lisicki, a finalist at Wimbledon last year, recorded the fastest serve ever by a women's player at 131 mph.
Maria Sharapova is the reigning French Open champion, so the faster surfaces aren't so much her forte these days. The opposite is true for her hard-hitting German opponent, whose consistency is perpetually in doubt, unlike her might to hit winners from anywhere.
The only problem is that Lisicki may not be able to stay steady enough even through three sets to upset Sharapova. Lisicki won 81 percent of points in which she got her first serve in against Madison Brengle in Round 2. However, she only hit 31 of 64 first serves in play—an Exhibit A in how erratic she can be.
What gives Sharapova an edge here is that she is able to get off the mat when she faces adversity, which is what happened in the second round:
#Sharapova power! The No. 5 seed climbs back to defeat #Dulgheru 4-6, 6-3, 6-2; advances to R3. #usopen pic.twitter.com/faJgeDFaCZ

— US Open Tennis (@usopen) August 27, 2014
With the way she is trending, Sharapova will likely be pushed to the limit yet again in this one. Lisicki, who has risen to the occasion in a major before at Wimbledon, could mull the momentous prospects of a victory and even go on a big run at the 2014 U.S. Open with an upset.
That will lead to Lisicki taking the second set after Sharapova has a steadier start. When it's all on the line, though, Sharapova will shine and get it done to advance.
Prediction: Sharapova wins; 6-4, 3-6, 6-2

No. 2 Roger Federer vs. Sam Groth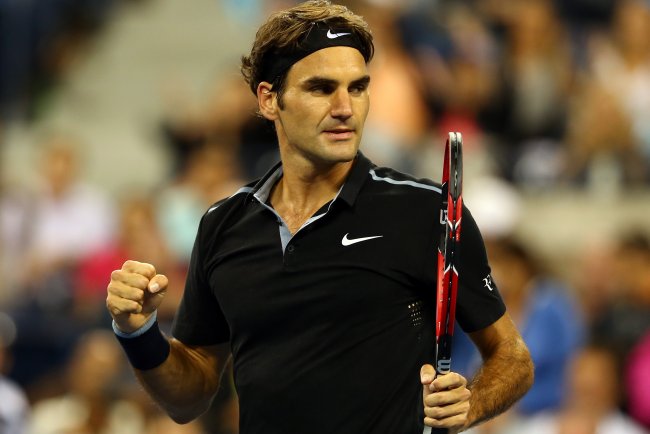 Elsa/Getty Images
This match is more about watching a master in action than it is about a tight outcome.
King Roger seems to be back to the form that resembled his dominant prime. Roger Federer is fresh off a title at the Western & Southern Open and showed little indication of slipping in his opening U.S. Open victory over Marinko Matosevic.
Brilliant serving that almost allowed him his 18th Grand Slam title in a Wimbledon final loss to Novak Djokovic has been a weapon Federer has carried with him to Flushing Meadows. A first-serve percentage of 69 and 10 aces aided Federer's straight-sets romp in the first round.
Then, there's the characteristic magic Federer has always had. Check this out, courtesy of SportsCenter:
ICYMI: Roger Federer hit a shot so ridiculous at the #USOpen, even Michael Jordan had no choice but to laugh. VIDEO: http://t.co/FROArob4eX

— SportsCenter (@SportsCenter) August 27, 2014
Someone should have told Matosevic to turn around. That is what Sam Groth is dealing with.
The New York Times' Christopher Clarey noted how Federer's all-around game still resonates with him and many other tennis experts:
In our poll of the best strokes in #tennis, Roger Federer made the top 5 in 10 categories. Not bad for age 33 http://t.co/pf8czrxEJ2 #USOpen

— Christopher Clarey (@christophclarey) August 26, 2014
Ranked No. 104 in the ATP, per the official website, Groth has little shot on paper to topple someone like Federer. What works in Groth's favor turns out to be the part of Federer's game that has largely contributed to his turnaround, but The Fed cannot boast Groth's velocity.
If Groth gets aggressive and pushes Federer on every point, things could get mighty interesting, especially since Federer was pushed to a final-set tiebreaker to start the tournament.
The more likely scenario is Federer coming out sharp, overcoming Groth's mammoth serve and disposing of his foe in straight sets.
Prediction: Federer wins; 6-4, 6-2, 6-1

No. 13 Sara Errani vs. No. 19 Venus Williams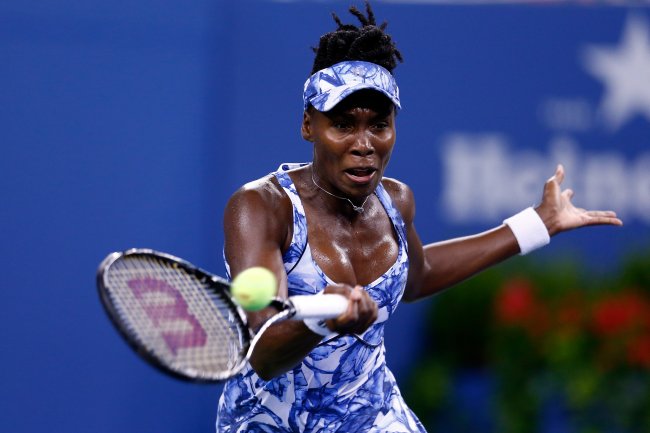 Julian Finney/Getty Images
At age 34, this could be a renaissance of sorts for Venus Williams, who is no stranger to winning at Flushing Meadows with titles back in 2000 and 2001.
Although it's way too premature to say Williams will make a run, her style of play has a chance to push her into the fourth round. Erik Gudris of USA Today points out how Williams hasn't gotten this far in years:
Venus Williams wins 61 64 v. Bacsinszky. Venus now into USO R3 for 1st time since 2010. #usopen

— Erik Gudris (@ATNtennis) August 28, 2014
Sara Errani isn't the most powerful player, while Williams can still put enough pace on groundstrokes to keep her opponents off balance. Other than a semifinal appearance in 2012, Errani has never advanced further than the third round in the U.S. Open.
Which Day 5 match are you most excited for?
The approach for Williams these days has to do with less strength and more accuracy, as she hinted in an interview with
ESPNW

.com's Johnette Howard
: "I'm not out there trying to serve hard. I used to, but now when I really want the point, I try a medium serve somewhere above 110. I try for more placement these days. It takes a lot of energy to serve, so if you can take 10 miles off and place it, it's smarter."
No matter what happens in this match, it is wonderful to see Williams still competing at the highest level so late in her career. The story of her getting to the round of 16 would be extraordinary after being bounced in the second round each of the past three years.
Based on the contrasting style of play and how it works to Williams' advantage in this one, look for Errani to be upended. Williams has proven she still has the goods to compete well on the Grand Slam stage. Second seed Simona Halep would be her projected foe in the fourth round, which would likely end Williams' run.
Then again, this is a Grand Slam, and Williams has proven to have the heart of a champion in her prolific career. Absent a ton of stunning upsets thus far, something unforeseen is due to happen in the Big Apple.
Prediction: Williams wins; 7-6, 6-3