College Football's Five Most Likely Upsets in 2009, Part Three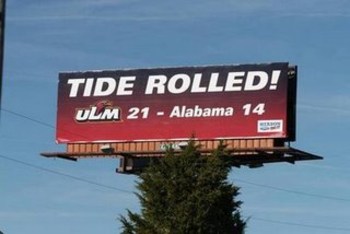 Many different people, from academics to politicians, spend an extraordinary amount of time defining each word they use. As sports fans, we are no different, especially when defining exactly what is a "sport."
Over the past two slideshows pertaining to potential upsets for the 2009 season, I have recognized that "upset" is another term that needs to be defined.
When teams are so evenly matched, does the potential for an "upset" really exist? For example, in the NCAA basketball tournament, is a nine-seed beating an eight-seed really an upset?
So, a criticism that I have received for some of the games I have chosen as potential upsets is those results are not likely to be considered upsets.
To me, in those games, anytime an FCS team knocks off an FBS team, it is an upset. Others disagreed.
Thankfully, we now move to games solely involving teams from the FBS. While Part One examined FCS teams versus non-BCS schools in the FBS, Part Two looked at situations where BCS conference teams might fall to an FCS team.
Here, I examine games where non-BCS teams have the greatest potential to upset a BCS school. There were many to choose from, but I chose these five based on greatest potential for an upset that is not likely as predictable as others. Thus, if it does take place, it would truly be considered an upset.
Once again, all comments and critiques are welcomed!
Enjoy!
Honorable Mentions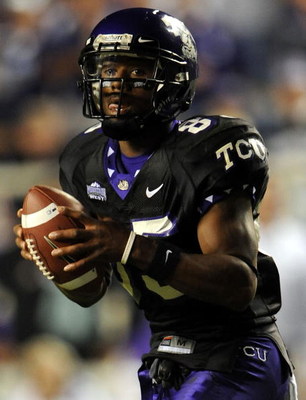 TCU at CLEMSON (Sept. 26)
This will likely happen. However, the reason I did not include it is because several will likely see TCU as the favored team.
TCU will likely come in with a victory over an ACC foe (Virginia) already under its belt. The Horned Frogs return quarterback Andy Dalton and top receiving threat Jimmy Young. While Clemson has C.J. Spiller and many returning starters, they could actually be the underdog in this game.
OREGON at BOISE STATE (Sept. 3)
An excellent opening week matchup that could receive an "even" line. Oregon is breaking in a new, but very talented, head coach, while the Broncos return starting QB Kellen Moore. It would be difficult to call this an upset if Boise State knocked off the Ducks.
TROY at ARKANSAS (Nov. 14)
It is a very late matchup against a team that has become a "David" in the FBS. Troy upsetting Arkansas might not come as a surprise to many, but it would still be an upset. However, Troy's big upsets—Missouri and Oklahoma State—both occurred at home.
Troy does a good job bringing in junior college transfers and cast-offs, so they will be talented, but it is tough to pull the trigger on this one.
WESTERN MICHIGAN at INDIANA (Sept. 12)
I feel somewhat bad for including Indiana twice in the upset lists (Eastern Kentucky on Sept. 3). Sadly, this will likely happen.
Tim Hiller is a great quarterback that few have heard of outside of the MAC. The Broncos are a pass-happy offense that should see Hiller reach 4,000 yards in his senior season. However, Indiana is so bad that this will not likely be held as an upset.
HAWAI'I at WASHINGTON STATE (Sept. 12)
Again, like the others listed here, it will not be considered an upset if it happens. Washington State has a long way to go to rebuild its program, while the Warrior offense should be explosive as they have many returning starters, including QB Greg Alexander. The UH defense should be questionable, but not so bad to struggle against the Cougars.
Hawai'i does have a late-season game at home versus Wisconsin, but I do not see that one happening.
5. Louisiana Tech Bulldogs at Auburn Tigers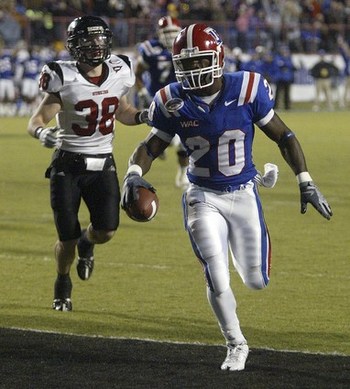 Sept. 5 (Week One)
WHY IT COULD HAPPEN
To open the 2008 season, Louisiana Tech pulled off a minor upset that went largely unnoticed by defeating Mississippi State in Ruston.
Louisiana Tech has pulled off upsets in the state of Alabama before (right, Mike DuBose?), and it could very well happen again in Gene Chizik's first game on "The Plains." I do think that Chizik will have success in Auburn, but a first game breaking in a new offense could lead to an upset.
The Bulldogs return several key starters, including starting running back Daniel Porter (pictured). Porter ran for 1,169 yards and eight touchdowns last year and looks to be one of the top offensive players in the WAC.
All-purpose wide receiver Philip Livas also returns. He caught 43 passes for 607 yards, returned both kickoffs and punts (including two punt returns for a touchdown), and ran for 327 yards on 27 carries.
On defense, free safety Antonio Baker returns, as does the team's leader in sacks, D'Anthony Smith. These two players are key to the Bulldogs' success, not just in this game, but also in terms of their chances to challenge for the WAC title.
WHY IT MIGHT NOT HAPPEN
Well, it hinges on defense for both teams.
The La. Tech secondary must replace two corners from last season. Also losing linebackers Quin Harris and Brannon Jackson and replacing Weldon Brown at corner will tough for a team that was mediocre at best on defense.
Auburn's defense was their highlight last season, and under Chizik you can bet that it will be top-notch again this season. Defensive end Antonio Coleman returns as another strong end from Auburn. The secondary is also solid, but the question mark might be at linebacker.
Nevertheless, the Tiger defense has the talent to stop the Bulldogs' running game.
On the flip side, while the Bulldogs sport a strong running game, the passing game is weak and does not provide enough consistency at QB to keep defenses honest. They had the worst passing offense in the WAC, and things likely will not improve that much (granted, they do focus on the ground).
While Ross Jenkins does return, he will likely be challenged at the QB position by former Auburn transfer Steve Ensminger.
Derek Dooley has done a lot to help turn around things in Ruston, but in order to knock off the Tigers, they need to be able to run the ball and hope that whoever gains the starting role at QB displays consistency.
4. Arkansas State Red Wolves at Louisville Cardinals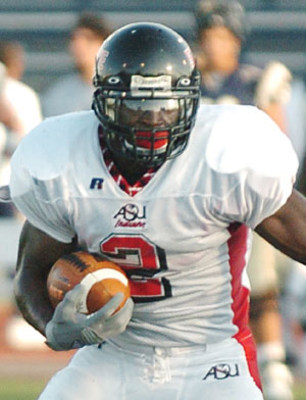 Oct. 31 (Week Nine)
WHY IT COULD HAPPEN
This is one of those games where the teams could be considered close enough in talent that a victory by the Red Wolves would not be an upset. However, even given how awful Texas A&M was last year, their loss to A-State was still an upset even after the fact. Sun Belt teams are not supposed to beat BCS conference programs.
This is a midseason matchup that could come at a bad time for Louisville. The game is sandwiched between trips to Cincinnati and West Virginia, two teams likely to compete for the Big East title. For Arkansas State, they would have already played at Nebraska and at Iowa and should be well-tested by Halloween.
Arkansas State loves to run the ball and has three returning starters who had over 500 yards on the ground, led by running back Reggie Arnold (pictured). He ran for over 1,000 yards for the third straight season and could certainly do that for a fourth straight year.
Backup running back Derek Lawson and QB Corey Leonard also had over 500 yards, each scoring four touchdowns. Their two top receivers also return—Brandon Thompkins and Jahbari McLennan.
On the defensive side of the ball, the Red Wolves do lose star linebacker Ben Owens but return a wealth of talent throughout the defense. Defensive backs M.D. Jennings and Daylan Walker return, as do linebacker Darious Glover and defensive linemen Alex Carrington and Khari Mays.
Furthermore, DE Stanley Wakwe and LB Greg Hardy both played significant minutes last season.
Louisville is going through a lot of growing pains under Steve Kragthorpe, and the defense is learning from its third defensive coordinator in three seasons. The defense was only decent at best in stopping the run last year and will be searching for an identity this season.
Louisville's offense did move the ball last year but did not produce a lot of points. The Cards do return top running back Victor Anderson but will be breaking in a new quarterback this fall.
WHY IT MIGHT NOT HAPPEN
Louisville honestly does not inspire a lot to dissuade me from calling this upset. I do think Kragthorpe will improve this year, but the success he had at Tulsa seems to have remained in Oklahoma.
What could prevent this upset from happening is the offensive line of the Red Wolves. Guards Drew Hinton and Dominic Pradtra both return, but A-State must replace the other three positions on the line.
While tackles Derek Newton and Kiano Prater are both seniors, and center Tom Castilaw is a junior, they have very little game experience.
With the game being in late October, Arkansas State has time to get these players experience, and if it goes well, they could be clicking by the Louisville game. But ASU did struggle down the stretch, and if that occurs again, then the Cards might escape the upset bug.
3. Virginia Cavaliers at Southern Mississippi Golden Eagles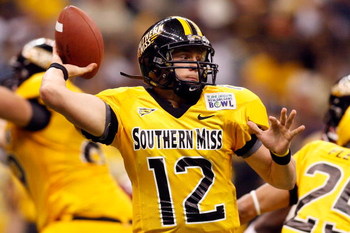 Sept. 19 (Week Three)
WHY IT COULD HAPPEN
There is nothing that a second-tier FBS school loves more than "tricking" a BCS conference team to come to their home. Just ask Troy, Louisiana Tech, and Hawai'i.
Considering that USM played Alabama so many years without having the Tide ever travel to Hattiesburg, it is nice to see the Golden Eagles lure a BCS-caliber team to The Rock.
Former Oklahoma State offensive coordinator Larry Fedora has helped revive a program that began to decline under the once highly coveted Jeff Bower. Fedora's brand of the spread offense helped convert a mediocre offense to one of the top offenses in the FBS (20th in yards per game and fourth in the offense-driven C-USA).
The offense is led by redshirt sophomore Austin Davis (pictured), who threw for over 3,100 yards last season while also rushing for 508 yards. He accounted for 32 touchdowns and will only get better.
Running back Damion Fletcher (1,313 yards, 10 TDs) also returns, as does leading wideout DeAndre Brown (1,117 yards, 12 TDs). With the meat of the offensive line returning, it should be another record-setting season for the Golden Eagle offense.
On defense, USM was decent at best but does return several key starters, including the entire secondary. Strong safety Chico Hunter is a stud, and his partner, free safety Eddie Hicks, is also very good. They return three of their four starting defensive line, and there has been discussion of converting to a 3-4 scheme.
The Cavaliers were abysmal on offense last season, and it is difficult to see much improvement this season. The QB position is unsettled with converted cornerback Vic Hall battling former 2007 starter Jameel Sewell. They will also be starting a new running back as Mikell Simpson takes over in the backfield.
WHY IT MIGHT NOT HAPPEN
What could save the Cavaliers in this matchup is their defense. While they were mediocre last year, they return many starters that bring with them experience that is so valuable to any team.
Ras-I Dowling and Chris Cook lead a strong defensive back group. They did lose linebackers Clint Sintim to the draft and Antonio Appleby to graduation, but Denzel Burrell and Darren Childs have some experience. The defensive line, while young (save Nate Collins), is also experienced.
Virginia's strength over the past few seasons has been the offensive line, and they do return a great tackle in Will Barker. It should be obvious where the Cavaliers will be running, and whoever that player is—be it Hall, Sewell, or Simpson—there should be success running behind Barker.
USM does look solid in this matchup, with the biggest losses being TE Shawn Nelson (drafted by the Bills in the fourth round) and linebacker Gerald McRath (also a fourth-rounder, to the Titans).
If Virginia is to avoid the upset, the offensive line must come together, and they have to find a way to slow down the USM offense.
2. Central Michigan Chippewas at Boston College Eagles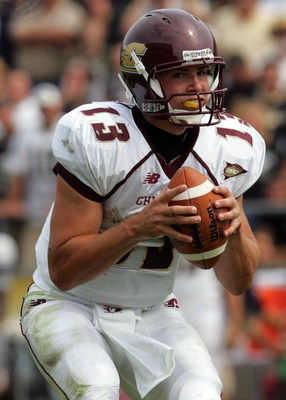 For CMU, this is actually one of three golden opportunities they have to beat a BCS conference team. They open at Arizona and at Michigan State, but this late October game seems to be their best bet at an upset.
Oct. 31 (Week Nine)
WHY IT COULD HAPPEN
Well, the man pictured—Chippewa quarterback Dan LeFevour. The soon-to-be four-year starter has been called the poor man's Tim Tebow, but actually Tebow is likely just the more publicized LeFevour.
Over the past two seasons, LeFevour has a better completion percentage (65.9 percent versus 63.3 percent), more passing yards (6,436 versus 6,032), and more rushing yards (1,714 versus 1,568) than Tebow.
Tebow does have more total touchdowns and fewer interceptions. But keep in mind that LeFevour is doing more with relatively less talent.
Aside from LeFevour, the offense returns top receiving targets Antonio Brown (998 yards and seven TDs) and Bryan Anderson (865 yards and six TDs). Central Michigan does have to replace Ontario Sneed in the backfield, but sophomore Bryan Schroeder did see significant playing time as a true freshman.
On defense, CMU returns 10 starters! Defensive tackle John Williams is the only new starter on defense, and he will be flanked by three very talented defensive linemen—tackle Sean Murnane and ends Sam Williams and Frank Zombo. Linebacker Nick Bellore is a beast, finishing with 148 tackles (second in the FBS) a season after recording 102 tackles.
For Boston College, the biggest question mark is at quarterback. Chris Crane is trying to make the Indianapolis Colts' roster, while Dominique Davis transferred. First-year coach Frank Spaziani must choose between two redshirt freshmen and a juco transfer.
WHY IT MIGHT NOT HAPPEN
If there is one thing that Boston College has proven, it's that they can recruit some talented offensive linemen. They return four offensive linemen, including tackle Anthony Castonzo and center Matt Tennant. Montel Harris ran for 900 yards as a true freshman and should run for many more yards this season.
This is troubling for a Chippewa defense that, despite returning 10 starters, was not that good last season. While the experience will help the defense, it is a tall order against what could be one of the best offensive lines in the ACC.
A good, methodical running game can also neutralize CMU by keeping LeFevour off of the field.
The Eagles' front seven is suspect, with the loss of not one but two defensive tackles drafted on the first day. The linebacking group is also thin with the loss of Mark Herzlich to what could very well be a career-ending illness.
With Mike McLaughlin back from surgery, the Eagles will be very inexperienced early on but could be improved by Halloween.
BC's strength on defense is their secondary, which helped lead the Eagles to dominance against the pass. They picked off 26 passes while allowing only nine passing touchdowns. All four defensive backs had significant playing time last season and will be key to shutting down LeFevour and company.
If the front seven of BC can develop chemistry and the offense can control the clock effectively, then the Eagles can avoid the upset.
1. Missouri Tigers at Nevada Wolf Pack
Sept. 25 (Week Three)
WHY THIS COULD HAPPEN
This is a second game of a home-and-home series. Last season in Columbia, the Tigers absolutely destroyed Nevada, as Chase Daniel and crew racked up 651 yards of total offense!
Do not expect the same outcome in Reno.
Head coach Chris Ault, in his third tenure with Nevada, has led the Wolf Pack to four straight bowl games after implementing the somewhat unorthodox "Pistol" formation.
QB Colin Kaepernick will be running the system for the third straight season and is coming off a season where he threw for over 2,800 yards while running for 1,130 yards. He threw for 22 touchdowns and ran for an additional 17 scores.
Despite his rushing total, Kaepernick was not the team's leading rusher. Junior running back Vai Taua ran for 1,521 yards and 15 touchdowns. These two helped lead the Wolf Pack to average 291.4 yards per game (second in the country) and were fifth in rushing touchdowns.
Nevada also gets back former starting running back Luke Lippincott, who was granted a sixth year of eligibility.
Nevada's passing game was good, but not great. The offensive line is experienced, with center Kenneth Ackerman and junior tackle Mike Gallett starting every game last season. Guard John Bender and tackle Alonzo Durham started a majority of the games last year.
The line should keep the Wolf Pack among the leaders in rushing and give Kaepernick time to throw (and hopefully improve his accuracy).
The Wolf Pack defense was ho-hum but does have an excellent pass rush. Junior defensive ends Kevin Basped and Dontay Moch each had double-digit sack numbers last season. Defensive tackle Nate Agaiava started all but one game in 2008, while tackle Chris Slack played in 11 of 13 games.
Starting DBs Antoine Thompson and Jonathon Amaya played in every game last year.
That pass defense is crucial against a Missouri team that must replace arguably the best quarterback in the program's history. Attempting to fill the quite large shoes of Daniel is Blaine Gabbert, whose experience is very limited.
Furthermore, they must also replace explosive wide receiver Jeremy Maclin and tight end Chase Coffman, who together accounted for over 2,200 receiving yards and 23 touchdowns.
The Tiger defense is what one could expect coming from the Big 12, but they were among the bottom in their own conference! They allowed the most passing yards per game and were middle of the pack against the run.
And then there are two anomalies about this game. Reno is almost 4,000 feet higher above sea level than Columbia, and elevation does play a role in performance.
Second, the game is on a Friday night, and for some reason, those non-Saturday games can be tricky for favored teams.
WHY IT MIGHT NOT HAPPEN
Missouri, under head coach Gary Pinkel, has established itself as an annual contender in the Big 12, at least in the North division. There are also still many weapons on offense to ease the transition from Daniel to Gabbert.
The receiving unit is not so much rebuilding as it is reloading. Danario Alexander moves to the starting WR position and is a big target at 6'5", 210 pounds. Jared Perry was the third starting receiver in Missouri's one-back, three-WR set and racked up 567 yards on 41 receptions.
Tight end Andrew Jones looks to continue the recent productive line of TEs under Pinkel (Coffman and Martin Rucker are both in the NFL).
This reload is key because despite a strong pass rush, Nevada had the worst pass defense in the FBS. While they were tied for eighth in sacks and tied for 21st in interceptions, they were dead last in passing yards allowed per game.
In fact, the Wolf Pack were the only FBS school to allow more than 300 yards per game (their 321.1 yards allowed per game were more than 35 yards more than the next worse team).
There is little doubt that this game will be a shootout. It will come down to which defense can, at the very least, force a punt or make a key stop.
Daniel passed for over 400 yards against Nevada (Missouri as a team passed for 519 yards). If Gabbert has at least half that total, and the Nevada defense has shown no improvement, then the Tigers can avoid an upset in Reno.
Keep Reading