Arsenal right-back Mathieu Debuchy came perilously close to being branded a club villain on Wednesday, as he was sent off in the Gunners' crucial Champions League play-off clash against Besiktas, which Arsenal won 1-0.
Squawka Football shared the news:
15 minutes left and Mathieu Debuchy is shown the red card for a second bookable offence. #AFC

— Squawka Football (@Squawka) August 27, 2014
Leading 1-0 after fellow new arrival Alexis Sanchez's first-half strike, the Frenchman was dismissed for a second bookable offence, putting his new side under immense pressure in the closing stages of the all-important match.
However, was the red card a fair decision?
The challenge to earn his first yellow certainly warranted a place in the referee's book, as he flew into an aerial challenge—something that Pinnacle Sports' Ted Knutson believed would even be penalised in the NFL:
That hit by Debuchy was actually outlawed in the NFL last year. Can't leave your shoulder in against airborne receivers

— Ted Knutson (@mixedknuts) August 27, 2014
Debuchy was in the thick of the action just 20 minutes later, bringing down Mustafa Pektemek inside the area for what looked like a certain penalty, but the ref was unmoved. Sky Sports Champions League began the debate in the wake of the tackle:
Should @Besiktas have had a penalty for this challenge by Debuchy? http://t.co/EiQrXzKqCu #SkyCL pic.twitter.com/NRjPdwbOGw

— SkySportsCL (@SkySportsCL) August 27, 2014
Two wrongs don't make a right, but that appeared to be the man in the middle's policy as Debuchy was handed his marching orders with 74 minutes on the clock.
Chasing Pektemek back once again, the 29-year-old looked to have won the ball cleanly, but the referee thought otherwise—as World Soccer Talk's video shows:
Debuchy is off! He's been found guilty of a second bookable offense and he's gone. #AFC https://t.co/cqhTxCqVug

— World Soccer Talk (@worldsoccertalk) August 27, 2014
A little bit of shirt-pulling before the tackle was made didn't do Debuchy any favours, but Twitter went berserk over the decision—including beIN Sports' Ally Begg and Piers Morgan—and rightly so, too:
So Debuchy's tackle was deemed as a yellow which led to red - we may as well pack up, go home & make football a non- contact sport! #ruined

— ally begg (@ally_begg) August 27, 2014
Ridiculous booking. Debuchy got the ball. #afc

— Piers Morgan (@piersmorgan) August 27, 2014
As the tackle came in, the Emirates crowd rose to their feet to applaud a great piece of dispossessing play, but that delight soon turned to anger.
With 15 minutes remaining and Besiktas pushing Arsenal for everything they were mad of, it looked like being reduced to 10 men would be too much for the Gunners. Even former Premier League manager Peter Reid had his pessimistic cap on:
Great tackle Debuchy, games gone.

— Peter Reid (@reid6peter) August 27, 2014
Fans were desperately clutching at reasons behind the sending off with the Champions League status hanging in the balance, and Paddy Power was quick to provide the answer:
Debuchy sent off! Receives a second booking for that sh*te haircut.

— Paddy Power (@paddypower) August 27, 2014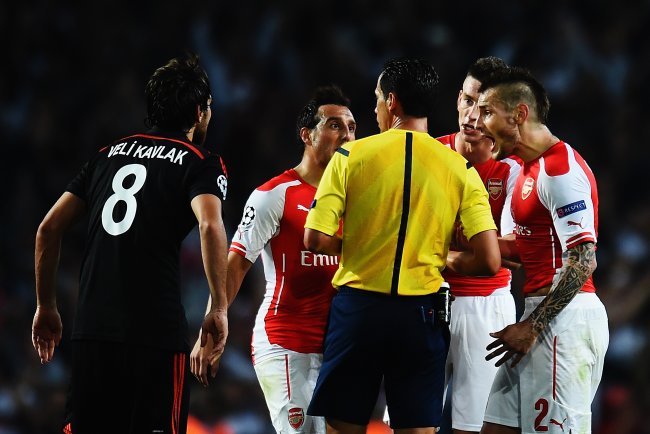 Shaun Botterill/Getty Images
Indeed, the Frenchman's hair, together with his tackling ability, left a lot to be desired, but Arsenal just about managed to hold on to earn their place in the Champions League group stages.
Debuchy will miss the opening match of the Gunners' campaign through suspension, but that'll hopefully give him some time to put in work on the training ground and sack his barber.